Renovations are generally a crazy time.
It's not so much a rule… as a law.
Let's all watch Schoolhouse Rock now – "How does a bill become a law?" Well… copious bills and invoices make things a law, I say.
Just like Sarah Richardson said, even the best laid plans go over budget. And when the dust has settled all over your brand new hardwood floors, you're going to have a bare living room.
One that isn't going to be filled with the couch you're hankering over at Urban Barn. And that coffee table from Pottery Barn.
Girl…. you have to get your butt on Craigslist.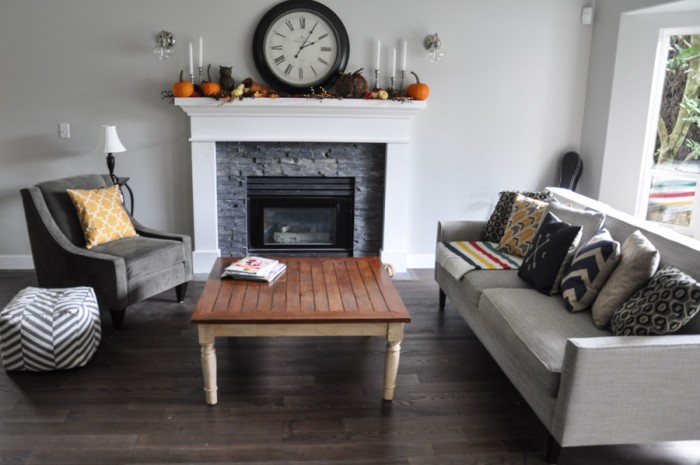 Pre-renovation, I was already having a pretty serious relationship with Craigslist. Other people's junk is almost always my treasure. And when I thought about how I was going to have an empty living room – possibly for months and months and months – I started scanning the furniture section of good ol' CL.
And there are LOTS of duds on there. Lots of "minor cat scratches, not very noticeable": the chair looks as though it has had a thorough once-over with a belt sander.
Faux leather couches: They are everywhere. And they are desperately seeking adoption.
But I had my heart set on a certain look. So when the Van Gogh Helsinki showed up in my search, my heart flew up into my chest. I had met the Van Gogh crew at IDSWest last year. I had oogled their furniture.
And it was on Craigslist. From a show home. For a quarter of the price of new!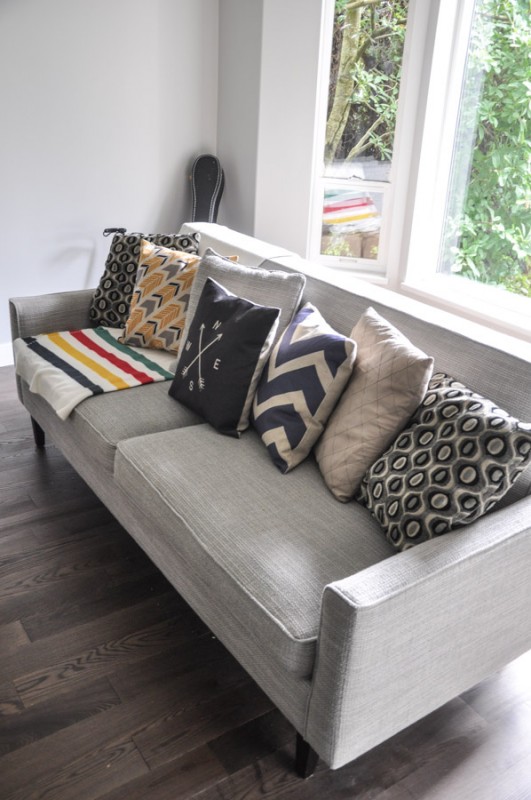 When she told me that she and her father had accidentally snapped a leg off when jamming into her (very stuffed) storage suite, and would I just take it for $150 less? I leapt up and kissed Mr. Suburble with glee! We can re-snap that leg back on.
There was also a side chair. A Brittney in grey.
I won't lie. It was a hell of a deal. I couldn't believe my dumb luck.
But maybe it wasn't just luck. I had spent a LOT of time scouring Craigslist. I had been using all sorts of keywords to do my search.
I didn't just type in "couch" or "sofa". If I wanted an old brown rec room cast off, that's what those keywords would barf up. I used brand names – "Pottery Barn", "Restoration Hardware", "Van Gogh", "Urban Barn" – to define my search.
Sometimes people don't really care what they paid for it 6 years ago. They just want it gone.
I typed in every single variation of the word "couch" or "side chair". Did I use "chesterfield"? Damn straight I did. This is Canada. We love our chesterfields and credenzas.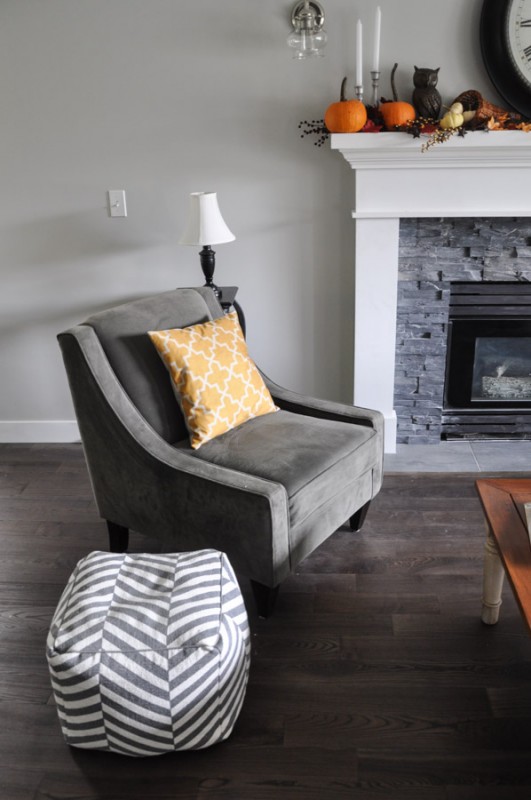 My pouf is from Target. You might have seen it in a commercial.
Mr. Suburble did. And then he walked into the living room and yelled, "Is this from Target? I just saw it on TV!"
Keen eye, friend. Maybe there's hope for you yet.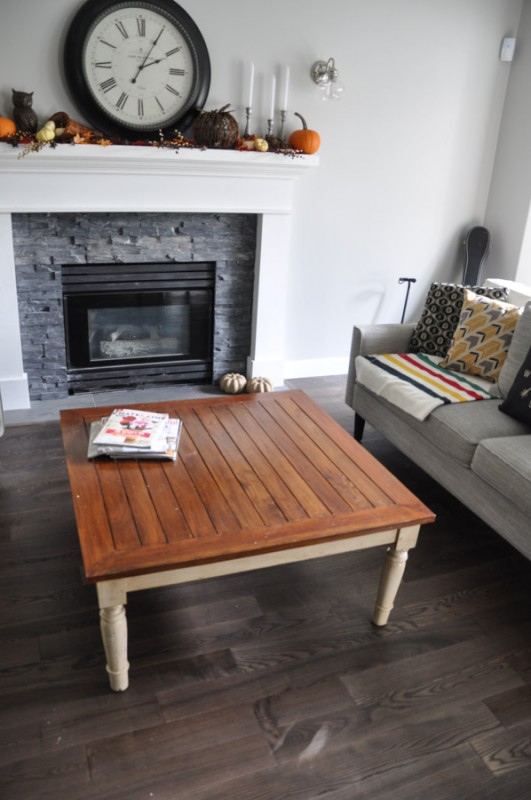 This wooden beauty came from another Craigslist ad. A couple was moving out of their – beautiful, but very masculine – house, and she was hella tired of the reds and burgundies. Autumn was over, and this guy had to go.
He's solid wood and has gorgeous legs. But I'm not sure of the colour. I intended to paint it, though a few who have walked through my front door insist that I don't.
Opinion time: paint the coffee table, or not? I want your honesty.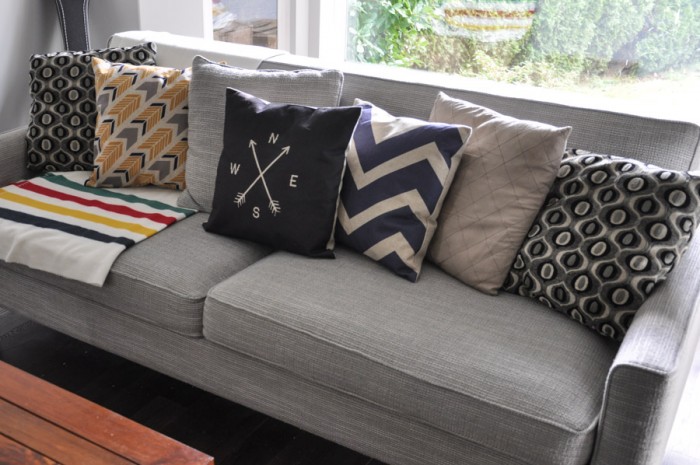 And while we're being honest, this "pillow-scape" is the most dirt-cheap thing ever. Most of the covers (the fancier ones) are from Simple Addiction. It's a very inexpensive style site; I bought the covers for less than the cost of fabric.
Some of the "filler pillows" are ugly. I know they are. I don't love them. But their prettier brothers and sisters are disguising their awkwardness.
And the Hudson's Bay throw…. oh, that's one of my favourites.
It's actually a car blanket. My mother-in-law bought it for me last Christmas after it appeared on my list. When I opened it on Christmas Day, she said, "Are you SURE this is right? It's wrapped up in nylon strapping…. with VELCRO. It's supposed to go in the back of your car…"
Yep. It's right. It's perfect.
Instead of a $300 HBC throw (with the points on it, and the history), this is a $40 fleece car blanket. Same colours, same awesomeness.
I love it. (AHHHH! And it's on sale this week!)
It fits right in with my super-duper-post-renovation budget. But I love how it's all coming together (minus the awkward guitar hanging out in the corner. It's taunting me. My practicing has been absolutely pathetic since the move.)
Aside from the probably-painted coffee table, I'm lacking a rug. I'm not sure if that will be a Craigslist find, or a save-up-and-buy deal. Only time will tell.
And while I'm peppering you with questions – one more thing: What is your best Craigslist find? I'm dying to hear your fabulous tales of used goods.