Time is flying! It feels like it was just a few days ago that Adrianne and I were arm-knitting together while I was seeing athletically-inclined people walk past the Whistler condo I was staying in.
Crib notes for that trip, by the way: didn't ski (though Mr. Suburble thought about it for about 15 seconds), ate wayyyy too much, discovered some fab new martinis, and also re-discovered my love of Lush. Smelly stuff is so nice, don't you think?

Did you miss Crafty Hour last week? Never fear – you can watch it here!
Make a Girl Scout Cookie cocktail and arm-knit a scarf. All in under an hour!
This week, we're tackling something that has daunted many, but really isn't all that hard:
Glass-etching.
It sounds scary. This is mainly because you have to wear gloves and not put caustic things in your mouth. But you are pretty good at avoiding putting burny-stuff in your mouth most days, so I have faith that you can resist the temptation whilst you're fashioning a gorgeous glass piece.
To etch along with us, you will need:
A piece of inexpensive glassware (get your butt to the thrift store or the dollar store!)
Etching Cream (like Armour Etch)
Vinyl to create a stencil – you can use specialty craft vinyl and your cutting machine, or you can use painter's tape or even contact paper. Get creative with scrapbook punches, or freehand a design with an exacto knife. Start those creative juices!
A paintbrush, and you may also want protective gloves
Access to a sink/running water
Stencils don't have to be complicated. Get a hole punch and some painter's tape, and you're halfway there. You can see the project I made this past Christmas – a snowflake candle holder. Believe me – it was easy!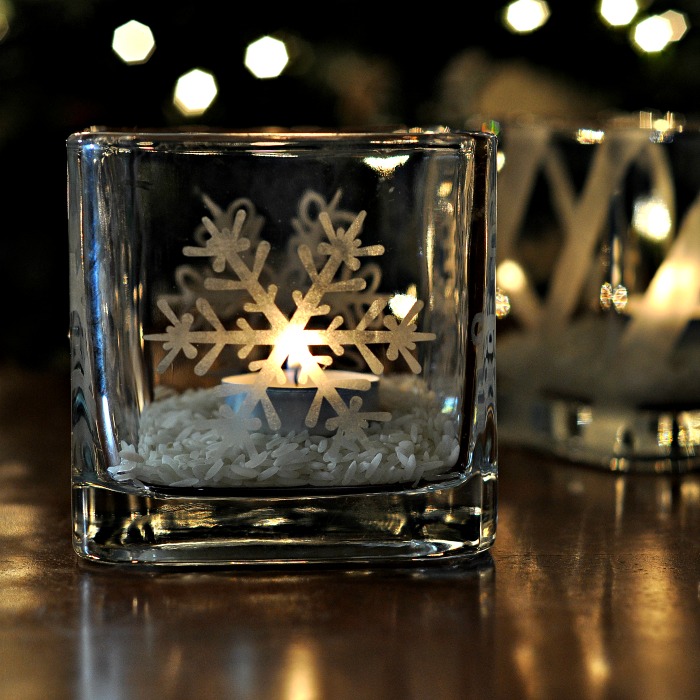 Adrianne is going to teach the cocktail on Friday. Her choice is a Sweet Tart!
To make the drink, you will need:
Vodka
Blue Curacao
Chambord or Razzmatazz
Sour Mix (or margarita mix, if you like yours a little less tart)
Join us on Friday at 5pm PST/8pm EST and let's get crafty together!
RSVP here (it will remind you, so that you don't forget). Can't wait to "hang out" with you all!