A group of us crafty (and Canadian) gals have banded together to share 9 fabulous Hallowe'eny projects. At the end of this post, check out some other fabulous DIY projects to get your spook on.
And you know mine is the one that has alcohol in it. Of course it is.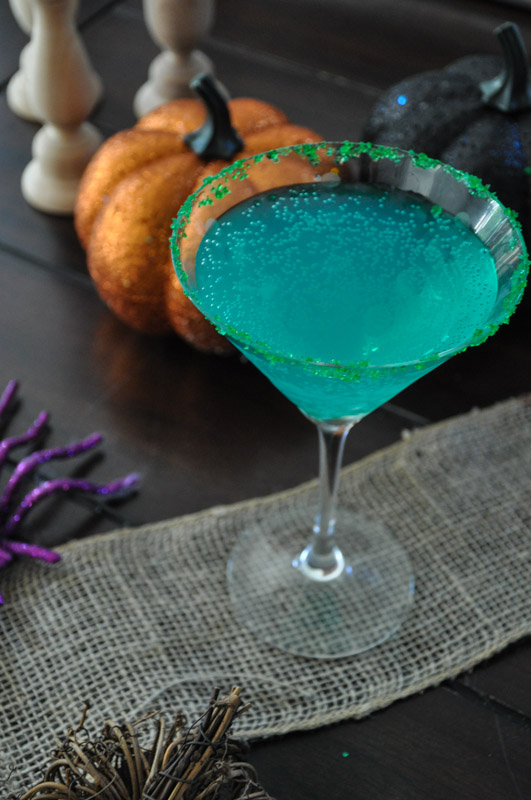 Being a little bit "witchy" can be an unfortunate side-effect of renovations (and moving). Perhaps looking at three piles of teetering boxes in your living room will grate on you one day. Or finding a scratch on your brand new, silk-oiled hardwood floors – that might cause a hysterical cackle to rise up from one's throat.
But I've discovered a concoction that will remove that witchiness from your soul. It will calm the nerves and stop you from reaching out for the corn-husk broom you keep in the laundry room.
It's called booze.
Well, civilized folks call it a martini. And it's delicious.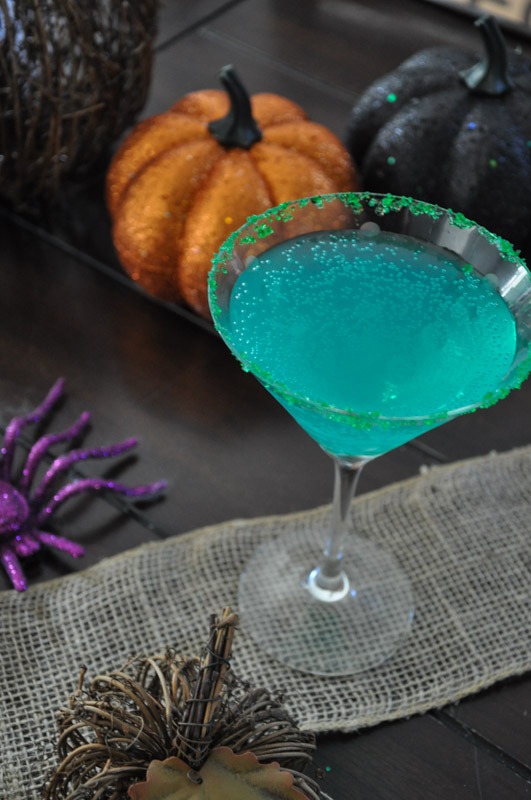 You'll notice that this martini has bubbles. That's because I put sparkling water in it – to give it a bit of body and some bubbling cauldron-type magic.
If you'd rather, you can make Witches' Brew in a highball, too. I just like the martini glass. It makes me feel fancy.
Do you see that fancy sugar on the rim of the glass? It's just sprinkles from my baking cupboard. Seriously… why haven't I done that before? The sweet of the rimmer mixes well with the slightly tart taste of the drink.
A Witches' Brew Martini
2014-10-02 00:03:08
Ingredients
3/4 ounce of Blue Curacao
3/4 ounce of Limoncello
2 ounces sparkling water or club soda
Optional: lemon juice and green sprinkles (yes, the kind from the bakery aisle!)
Instructions
Rim the martini glass with lemon juice and then dip into a plate covered with green sprinkles; garnish the glass according to taste
In a martini shaker filled with ice, mix the Blue Curacao, Limoncello together.
Pour mixture into martini glass; top with sparkling water
Serve to your witchiest friends!
Suburble https://www.suburble.com/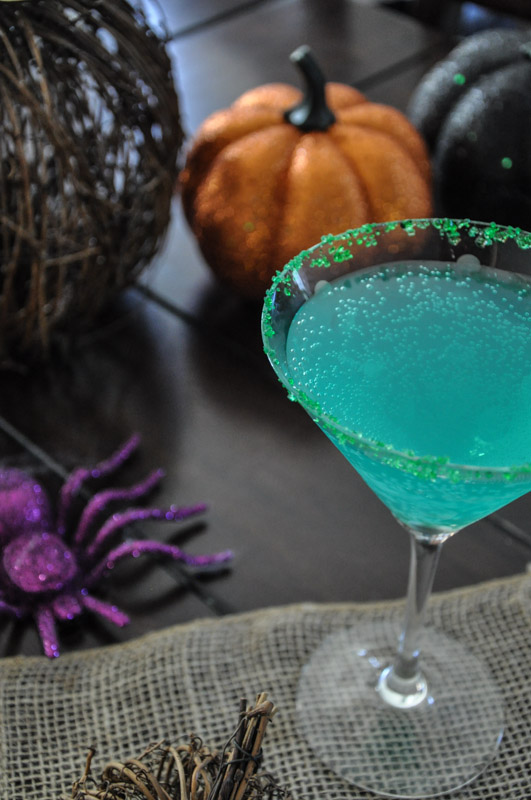 Before you slip off to a dark corner to shake off your witchy feelings with one of these brews, see what some of my other fabulous bloggy-friends have been up to! We all like to dabble in things-of-a-Hallowe'en-nature!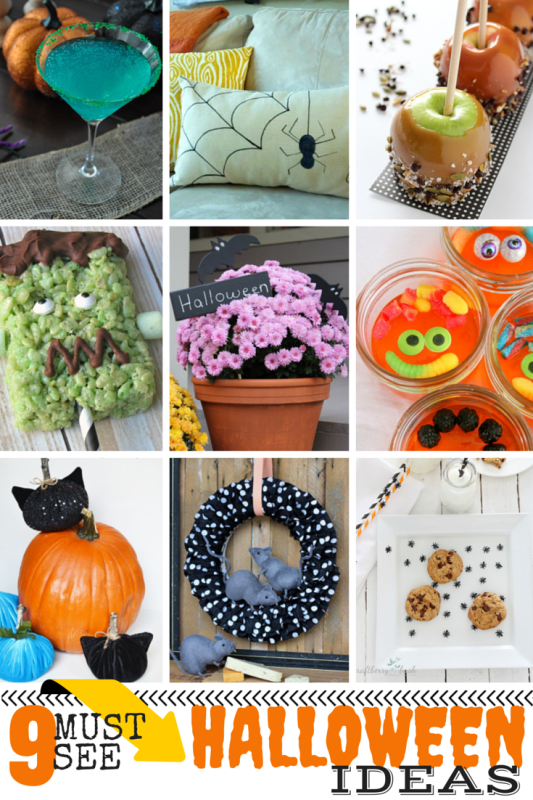 A Witches' Brew Martini from Suburble
Halloween Dropcloth Sharpie Pillow from The Happy Housie
Halloween Caramel Apples from Satori Design for Living
Frankenstein Rice Krispie Treats and Free Printable from Clean and Sensible
Halloween Planter Decorations: Chalkboard Wood Bats from The DIY Dreamer
Jello Jar Monsters from Echoes of Laughter
Black Cat Velvet Pumpkins from The DIY Mommy
Halloween Rat Wreath from Fynes Designs
Creepy Crawly Resin Tray from Craftberry Bush