Huge thanks to Whirlpool Canada, for helping us with our kitchen renovation.
As always, every word in this post – and the peek into my fridge – is entirely my own.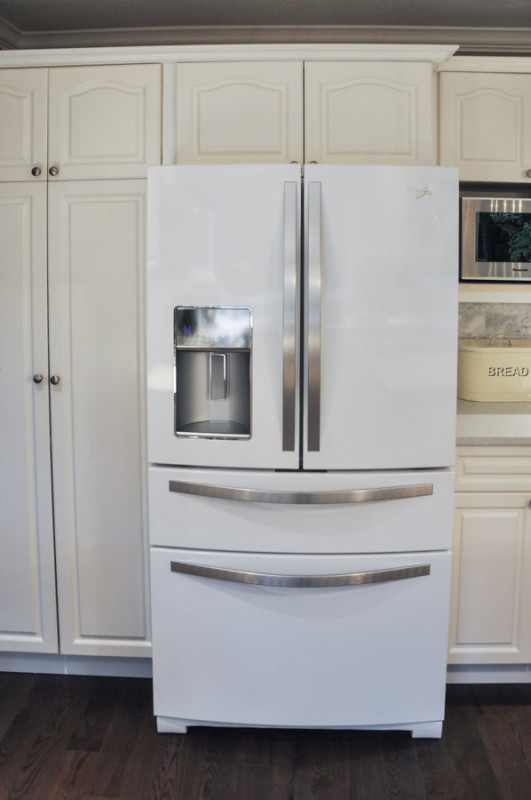 Oh… Jay-Z. I know that one day I would paraphrase you. And today is that day.
I've chatted a bit quite a lot about our kitchen renovation. As the kitchen is the hub of the home, and where I like to make most of my messes, it was really important to me to get the big things right.
I wanted a hardwood floor (do you know how many eyebrows were raised at that one!), I wanted a gas stove, and I wanted a big fridge. With bells and whistles.
And just the right amount of bling.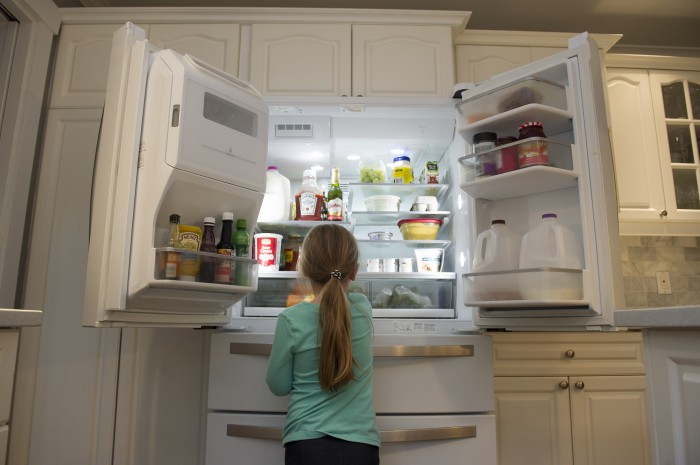 I feel like there should be swelling music at this picture… the Star Trek theme song, perhaps? Or there's a pretty good song on the Tangled soundtrack. As Lila says, "It makes tears come to my eyes, mom!"
We chose the Whirlpool Gold White Ice Four Door fridge.
Yes, four doors. It's a thing of beauty.
Our previous fridge was a small, basic model that had seen its fair share of use. In the first week of living here, two of the shelves broke right off of the door, condiments spilling onto the floor. The multiple layers of duct tape should have given away its state of exhaustion.
It was also a sign that our old fridge needed to move on to its new home.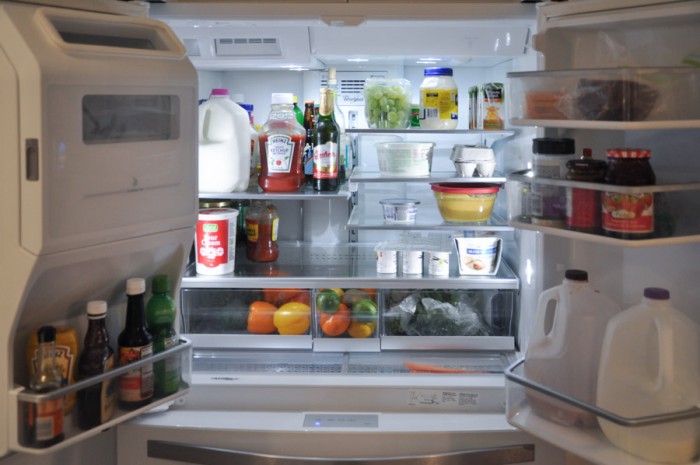 What's the first thing you notice in this picture? For me, it's the superfluous amount of milk we have in the fridge at this time. What was going on with us? But you can store TWO four litre jugs of milk on the door. Say wha….!?!?
Lactose-loving aside, we have amazing space in this fridge. You'll notice that the ice maker is tucked away on the door, and still leaves us ample room to store food. The food that I jammed (literally) into our old fridge was now stretching out its arms and enjoying life (figuratively, of course).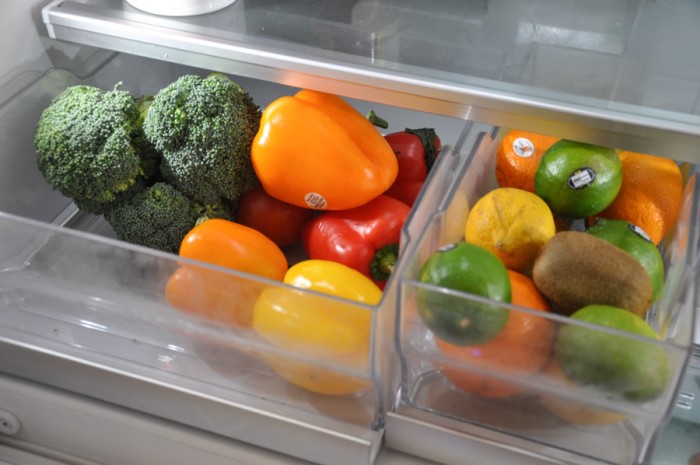 The crispers hold a great amount of food. And what I love: they slide right out. There isn't a finicky track to work with. If I clean the fridge, I grab a crisper, haul it out, wipe it down and then pop it right back in. No curse words. No awkwardness.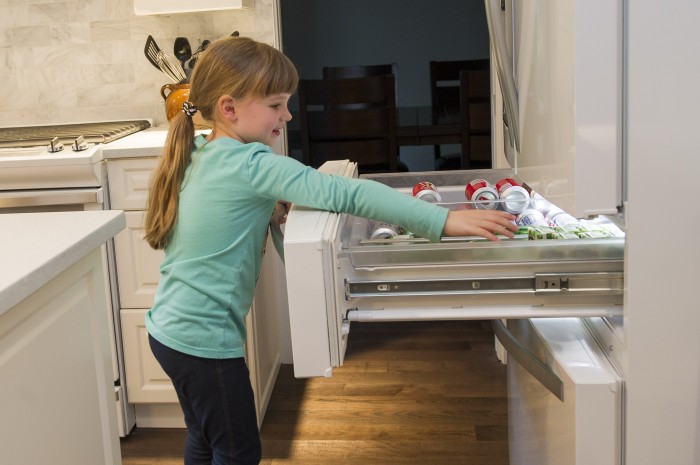 The fourth drawer – a.k.a. the party drawer or the kid drawer, depending on what's happening in the house – is probably my most favourite part of the fridge. And it's what people mention when they first spot the kitchen. "Oh… you have one of those drawers!!"
The kids help themselves to snacks from the drawer during the week. Honestly, it's huge. But when we have people over for dinners or drinks, that drawer becomes center stage.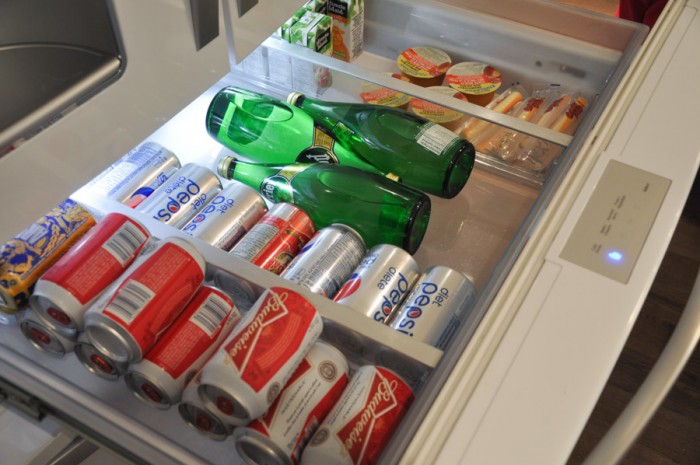 Guests feel comfortable going into the middle drawer; they know that's where they can help themselves. And the space is HUGE! The plastic tray comes out in one piece (if there are spills or whoopsie-doos) and the dividers pop up if you need to store party platters.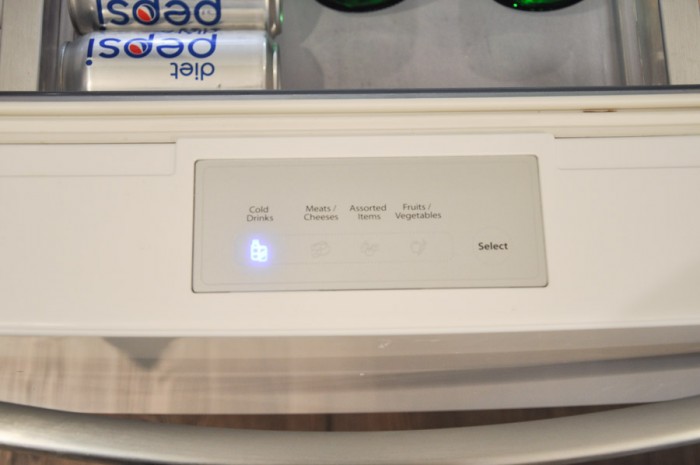 You can alter the temperature of the drawer – Whirlpool calls it the FreshStor system – to suit what you're storing!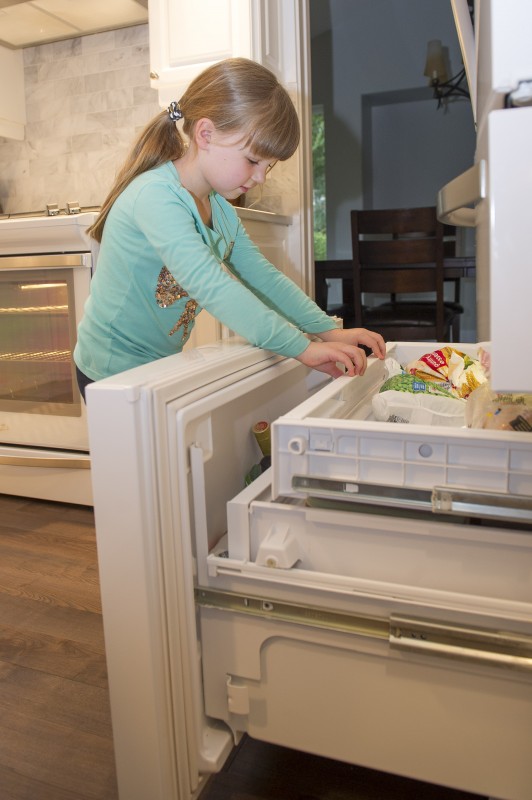 And the drawers don't stop. There are drawers in the freezer.
Seriously. The dead zone is gone.
But if you need to store a giant bird for one of the holidays, you can take the middle drawer out, and all is well. It's probably the most versatile freezer I've ever seen on a fridge!
(And isn't Lila such a good little model here? My little Vanna White.)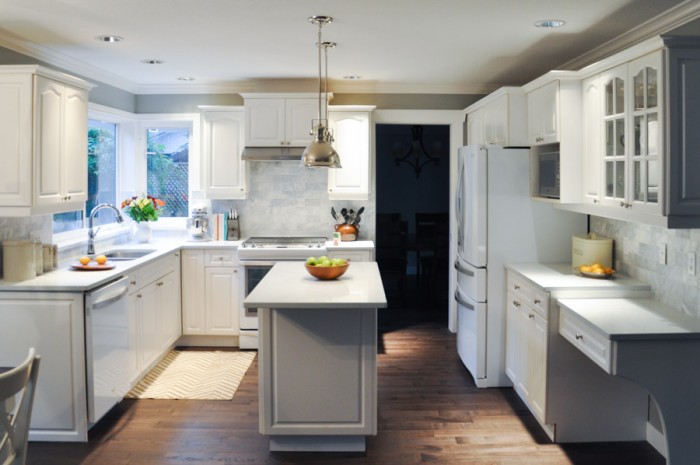 This four door fridge is a welcome addition to our kitchen. In fact, it's the most-talked-about appliance when people come to see the house. The White Ice look has been a huge hit with guests, and I love how it adds to our space.
I love my fancy little fridge with it's bling-y handles. She fits in perfectly, and does a lot of the heavy lifting. I thought I'd never meet a fridge I couldn't fill.
Until now.