Big thanks to Wayfair for providing us with our gorgeous and grown-up headboard. It's jumpstarted quite the project!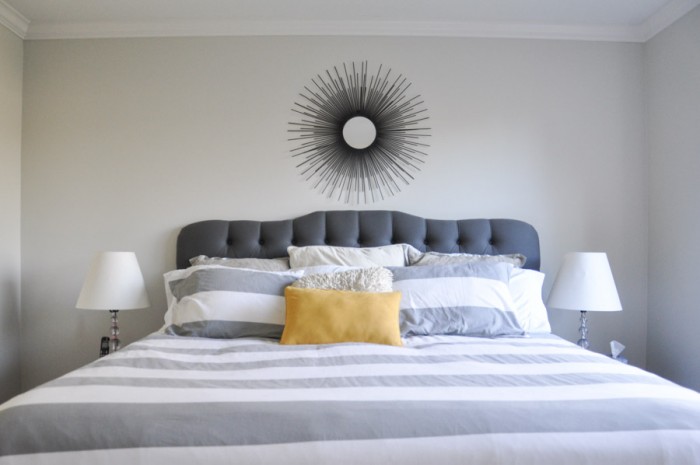 Since I've lived with Mr. Suburble, I've never had a master bedroom that I would call "an escape". I hear words such as "oasis" or "sanctuary" used to describe bedrooms.
My bedrooms have always been "gathering places for crap" or "where particle board comes to die."
Our new master bedroom is a decent size. There is space for a chair or perhaps a desk. It's not one of those huge suites where people can place an entire living room set – but it's good for us.
I can't show you the other side of the bedroom because it is currently working double-time as a Corner of Chaos. There is also something that I like to call "The Laundry Chair".
Guys, I'm getting better. But I'm not showing you my laundry chair. At least not in this post.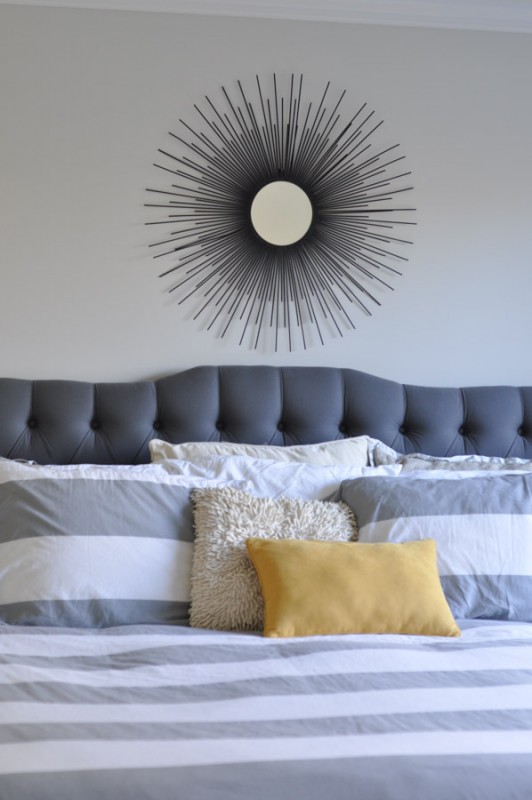 My dream is to own a master bedroom that I want to spend time in. It will be more than a sleeping room. I'd like a little desk, and perhaps a refinished dresser to hold fabulous little thrifted knick-knacks.
But the first thing I started scouring for? A headboard. I wanted a grown-up headboard that anchored the bed.
I was perusing Wayfair's upholstered headboards when I stumbled upon this grey beauty.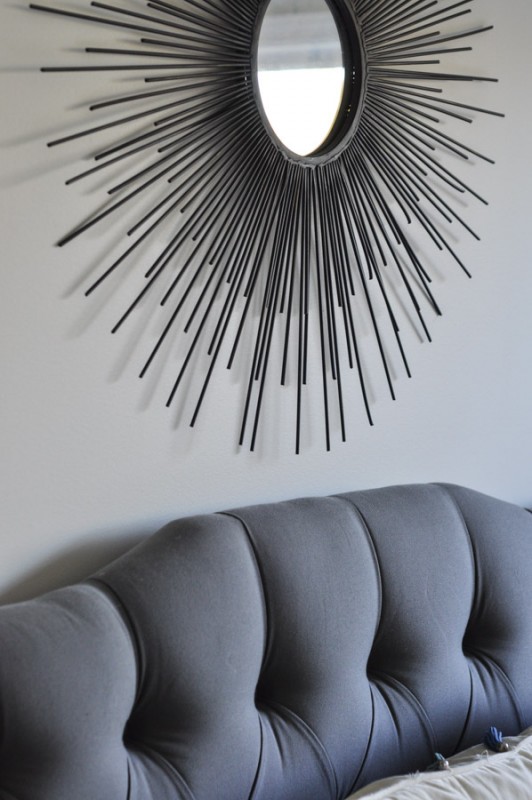 The Skyline Twill headboard is tufted, simple, and covered in a fabric that my children will not immediately ruin. These are all of the boxes that I was looking to tick.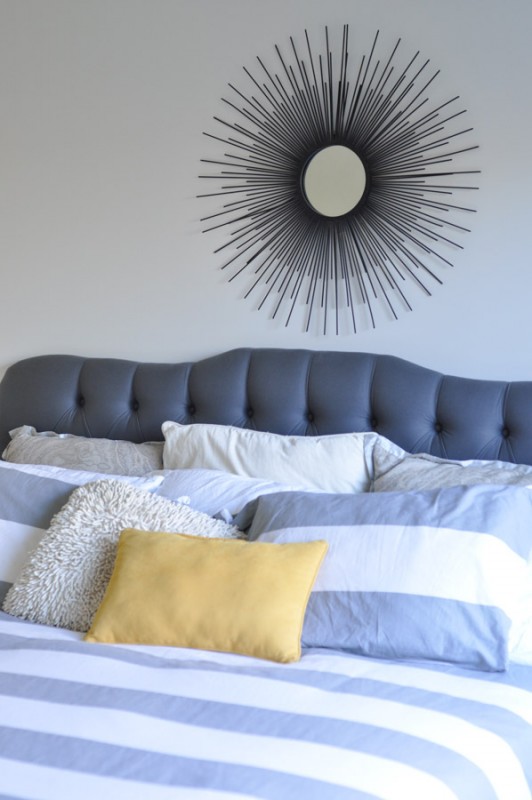 I've hung the mirror that my mother hates (Why, mom? It's so great!) above the headboard, and I've made the bed in a white and grey striped duvet cover. If you ever visit my Suburble Facebook page, you'll recognize this duvet cover. You all said that the kids would wreck it.
I got it anyways. I'm funny like that.
While I'm loving the new "this Master bedroom means business" look of the headboard and bedding, I'm thinking that I'm going to need a few punches of colour. The current throw pillows are leftovers from the last look. They're okay, but they're not wowing me. They're actually medium-to-very tired.
What do you guys think of these?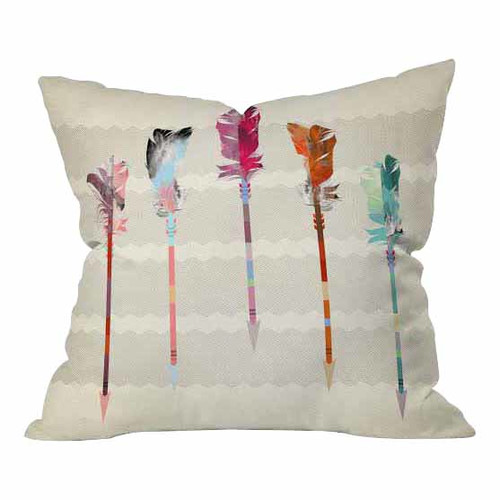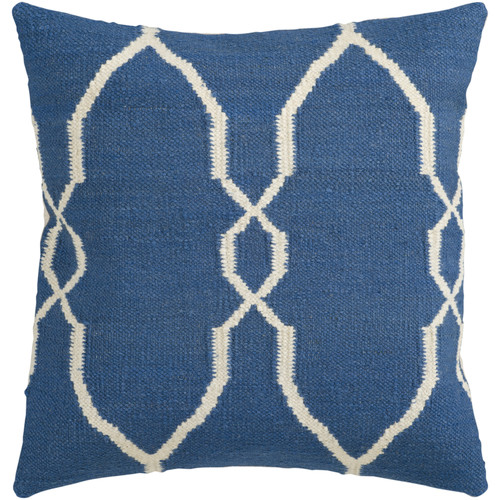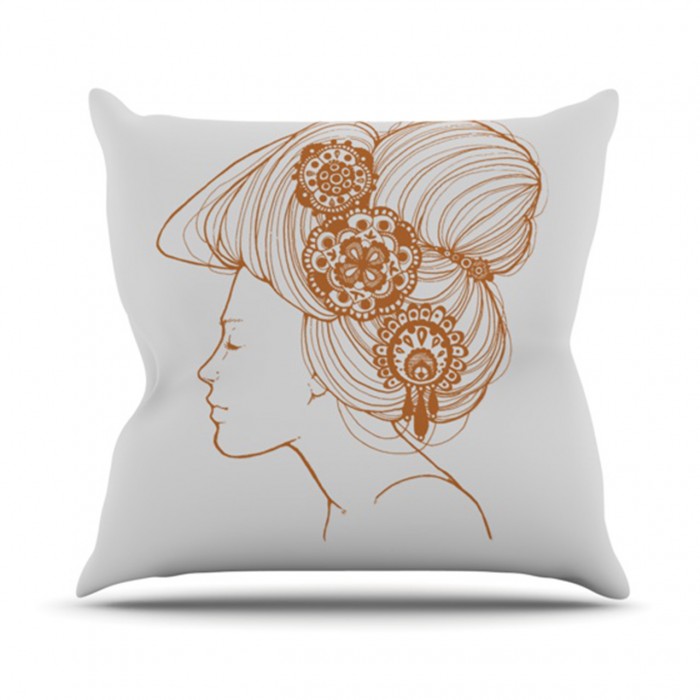 I am very partial to the pillow featuring the woman's profile.
There is another change that needs to happen in our bedroom overhaul. And that is my side tables: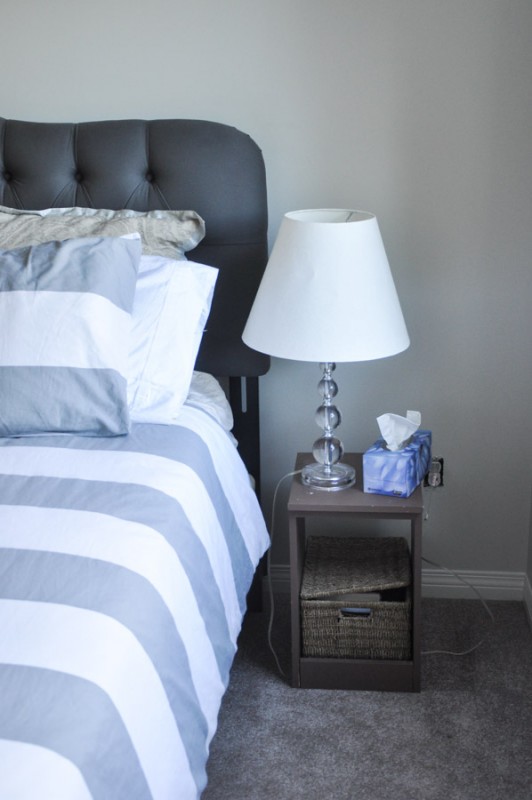 Guys, don't be jealous. But these have been my side tables since I was 13 years old.
My parents had them before I was born. They're solid little guys – but the emphasis is on "little". I painted them that brown colour when I was 18. I believe that they were blue first. If you can believe it – these are the first furniture pieces I ever painted.
And I've shlepped them around with me for nearly 20 years.
It's time to go, little side tables. You did your job for a long time, but if a pillow falls onto you, the whole flipping table is cleared.
It ain't pretty. We need to get Grown Up sidetables to match our new headboard.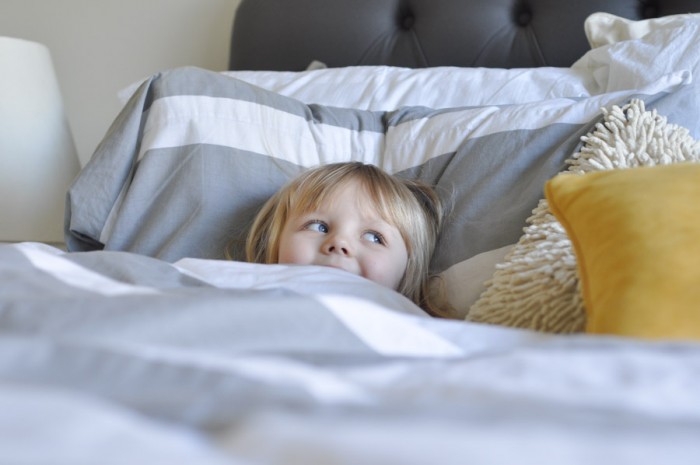 And while some of us are just happy to sneak into Mommy's bed (especially when she's taking photos), I'm really excited to dress up the room. It's going to be lovely to have a little space to sneak away to. A pretty space (with the occasional masculine touch to throw Mr. Suburble a bone) that I want to find at the top of the stairs.
I can't wait to show you the changes!