We've been working with Whirlpool during our kitchen renovation, and they are sponsoring this post. However, all opinions, references to Jay-Z and his Bey, and gas stove banter is my own. We're thrilled with our appliances and would recommend them any day.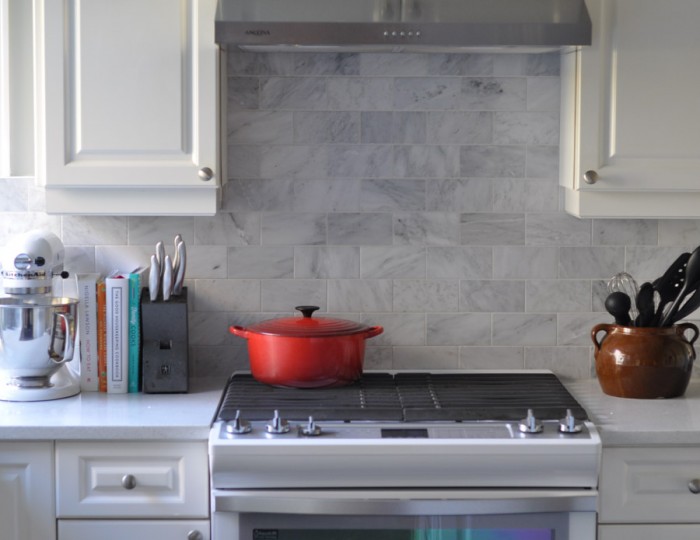 She's here! And she lives in my kitchen!
After years of dreaming of the "tick-tick-tick" noise that would come from my stove as I lit a burner, I am finally able to proudly say, "I have a gas stove."
And she's fabulous!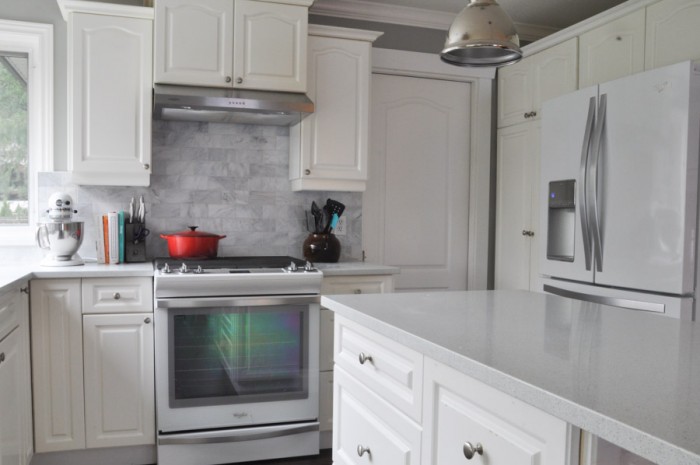 This fancy little beast is the Whirlpool Front-Control Range. The Beyonce to my Jay-Z Fridge – this oven is part of the White Ice line – a white appliance with the bling of stainless accents. When we have visitors, they nearly always comment on how much they like the white appliances with the white cabinetry. A girlfriend immediately walked over to the stove and ran her fingers over the cast iron grill. "I love this. I was thinking about what a white stove would look like, and this is so much better."
It's a backhanded compliment, but I knew exactly what she was talking about. For the past decade, stainless has been in, and white has not.
But in strides White Ice, looking all fancy-pants-like. It's a hybrid of the old-school white appliances and the newer, more common stainless steel appliances. But unlike stainless, the smooth white surface is incredibly easy to clean and is virtually smudge-free. I love how my appliances blend with my cabinets to give a monochromatic and upscale feeling. Similar to how people pay a mint to have their appliances panelled with cabinetry fronts, I got a custom look but within a cash-and-carry budget.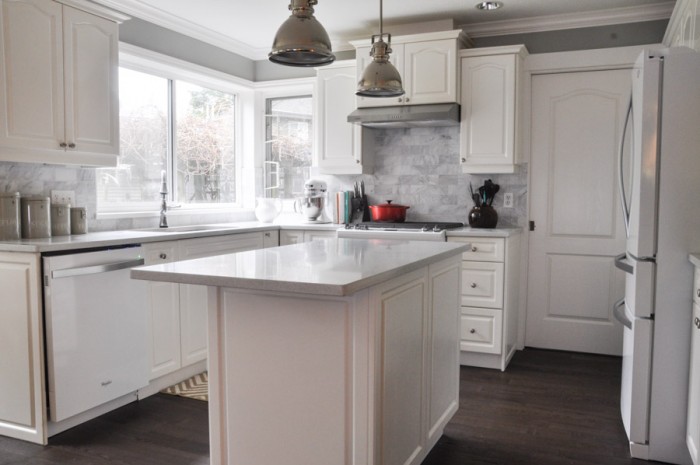 Whirlpool also offers the FIT system with the front-control range. This means that the stove will fit into my pre-existing 30″ cutout, where my previous stove lived.
You may remember that we had a $0 budget for custom cabinetry in our renovation, and so we saved our existing white cabinets. This meant that our oven had to work with what we had.
And it did.
I may have paced a bit as the guys lined up the stove with the cutout. And I may have let out a huge WHOOSH of relief as it slid right in. So many gas ranges are 32-36″ wide – Mama didn't have that kind of room here. I needed flashy, practical and 30″ wide.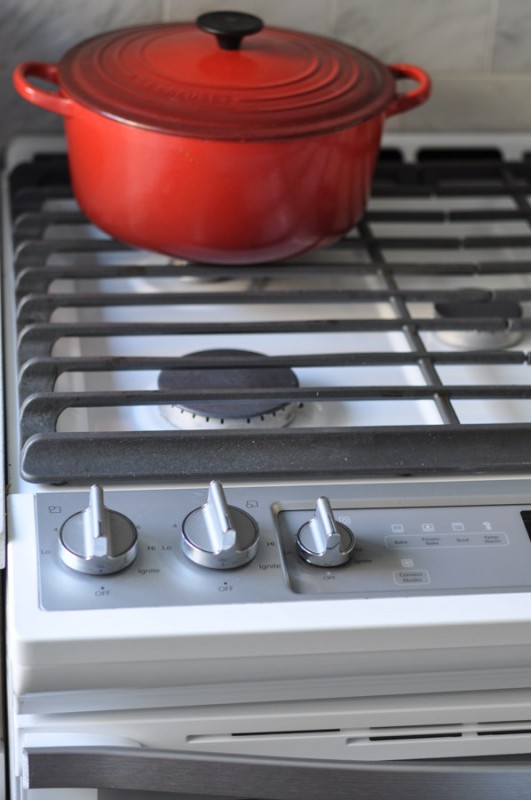 The range comes with a five burner cooktop and grates that span the entire cooking surface (you know I'm getting a griddle). This is fantastic if you've ever had the burners that slip around while you're moving pots. Our last stove – an old workhorse that had seen its day – had these incredibly frustrating burners that would slip out of their homes and travel with the pots.
When you're working with flames, it's better when the "fire guards" don't quit their jobs and go for walks around the cooktops. It was insanely annoying. I'm sure that the man who picked Johnny Old Stove up from the driveway one dark and Craigslist-y night is learning all about that.
The Whirlpool range also has a simmer element. This is amazing! The low-low heat of this element means that I can let things sit and quietly bubble away without worrying about burning the meal. Many gas stoves don't have this option – you have to buy an adapter for the element that raises it above the original burner.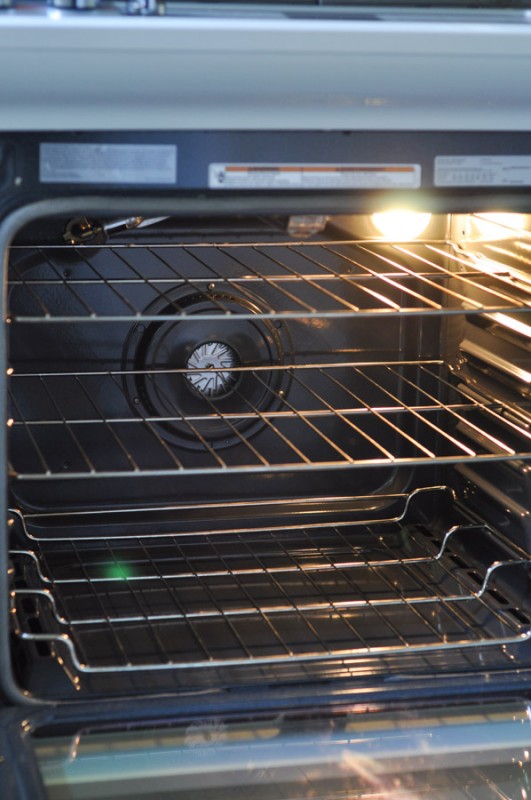 The oven is very large – it easily fits three racks, especially with the lower rack designed to rest so low to the bottom of the oven. It also features European convection – or "true" convection – with a burner at the back of the stove next to the fan.
I've never had a convection oven before, and I will tell you – I do put two or three sheets of cookies in at the same time. And they all cook evenly.
It sounds crazy, I know. But it works.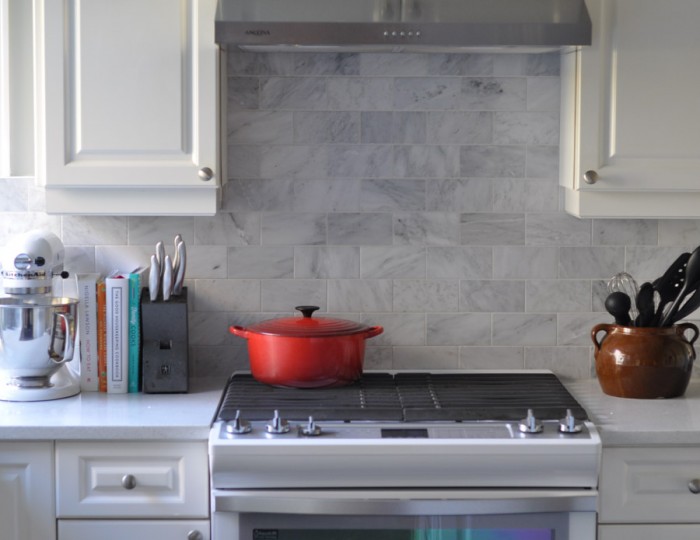 I am so thrilled with this range and how well it has performed since it moved into our kitchen. I don't know if anyone has ever coined this phrase before, but I'll say it, "Once you go gas, you'll never go back."
You just won't. It's too awesome. It's so hot. And you can pretend you're on MasterChef and narrate your cooking as you throw chicken into your pan.
…. not that I do that.
Often.
If you're looking for a way to upgrade your kitchen without having to spend high-end dollars, check out the beautiful White Ice line of Whirlpool appliances. They have transformed our space, and have changed many of our friends' minds on the trend of white appliances. They're back in, people!