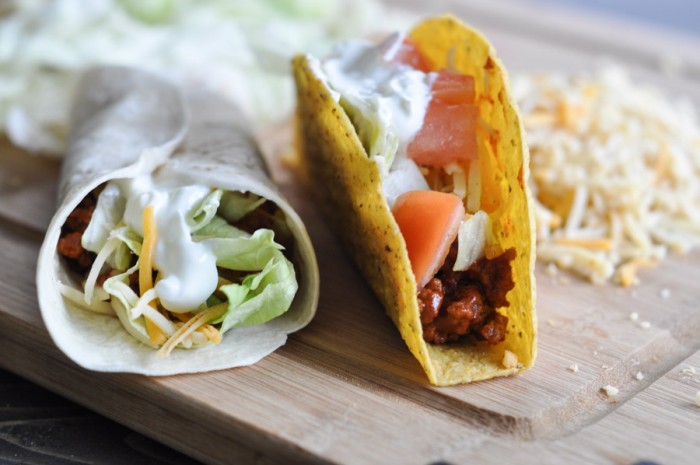 My family is big on tacos. It's one of the few meals where everyone can find something they like to eat on the table.
I'm trying, guys. I'm REALLY trying to get the kids to eat every meal I put on the table.
I'm also looking for a unicorn. So, I'll let you know whichever feat happens first.
Tacos are a great weeknight meal because they're fast and easy. You usually have most ingredients on hand – aside from the tortilla or shells – but that's easy enough to keep in the pantry. (Tortillas also freeze fairly well if you're a stockpiling-type person)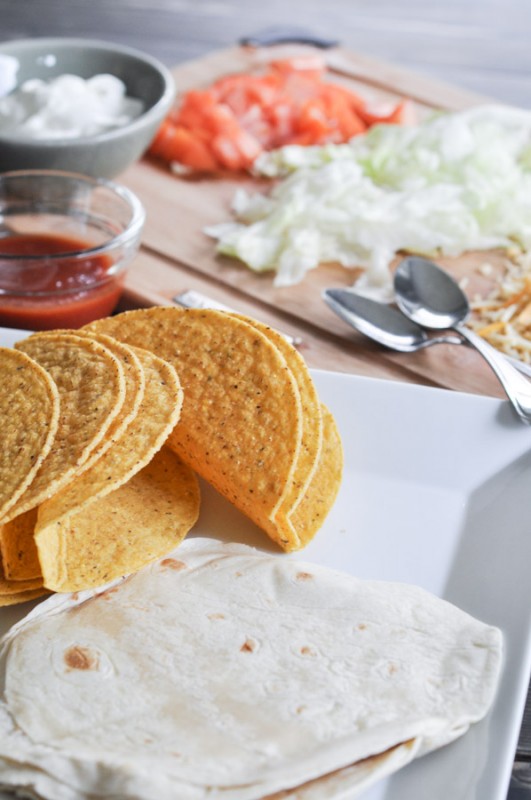 We often serve our tacos family-style. Having the food in front of the kids encourages them to grab a little bite of this or that. Someone might try a bite of sour cream (say wha….!?!?) and maybe they'll like it. Why they wouldn't, I have no idea. Sour cream is basically the most delicious condiment ever.
Mr. Suburble has been apt to say to me, "Did you want some potatoes with all that sour cream!?!?"
Har-dee-har.
And no, I don't.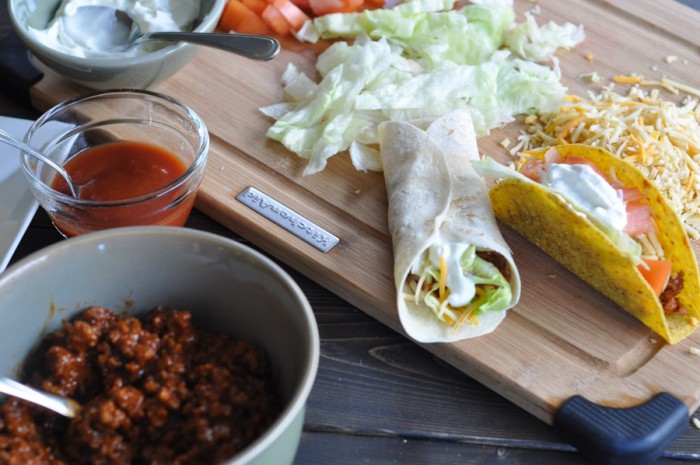 The meat for these tacos has a tomato base and isn't dry, like other taco meats. It's a spicy and filling sauce. Eat it on its own as a taco salad, or pop it in your favourite shell.
Ingredients
1 tbsp (15 mL) canola oil
1 lb (454 g) lean ground beef
4 tsp (20 mL) chili powder
1 onion, chopped
1 green pepper, chopped
1 can (284 mL) Campbell's® Tomato with Basil & Oregano Soup
1/2 cup (125 mL) Campbell's® Ready to Use Beef Broth
8 hard taco shells
1/2 cup Shredded lettuce (1 tbsp per taco)
1/2 cup Shredded Cheddar cheese (1 tbsp per taco)
1/4 cup Sour cream (½ tbsp per taco)
1/2 cup Chopped tomato (1 tbsp per taco)
1/4 cup Chopped green onion (½ tbsp per taco)
Instructions
1. Heat oil in a large, nonstick skillet set over medium-high heat. Crumble in ground beef; season with chili powder blend. Cook, stirring and breaking up beef, for 5 to 7 minutes or until browned. Stir in onion and pepper. Cook, stirring occasionally, for 3 to 5 minutes.
2. Reduce heat to medium-low. Pour in soup and broth; bring to a simmer. Cook, stirring often, for 5 to 7 minutes or until sauce is thickened. Remove from heat.
3. Fill taco shells with shredded lettuce and some of the beef mixture. Garnish with Cheddar, sour cream, tomatoes and green onion.
https://www.suburble.com/2015/01/quick-easy-tacos-campbells-soup.html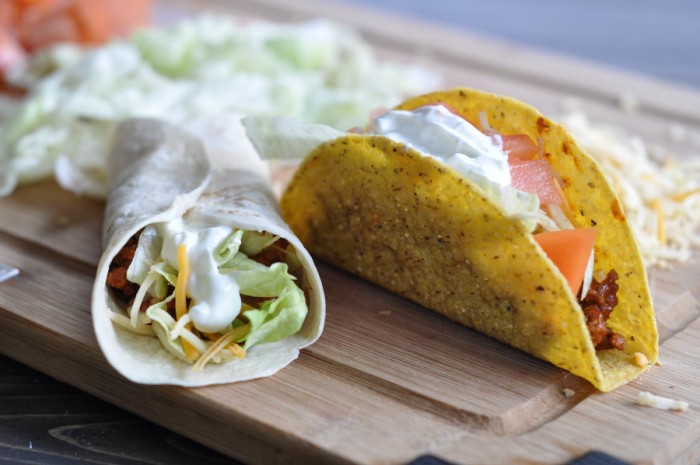 The recipe calls for Campbell's Tomato Basil soup, but you can use regular Tomato soup, if that's what it's your cupboard. You still get the same creamy tomato base for your filling.
I'll admit – the hard shells are my favourite. What about you? Soft shell or hard shell?
Disclosure: I am part of the Campbell Company of Canada Ambassador
program with Mom Central Canada and I receive special perks as part of
my affiliation with this group. The opinions on this blog are my own."