Look at those faces. You'd almost think that they helped with the quilt.
But they didn't.
They just add to the cuteness (and hambone) factor around here.
I'm still relatively new to quilting, which means that this won't be a traditional tutorial with a pattern, and tips. I'm still learning some of the basics, but I wanted to show off this super cute lap/baby quilt project that I whipped together in next to no time.
Using four fat quarters of cotton fabric, my Sizzix Big Shot Pro, and the amazing 2 1/2″ strip Bigz die, I had this quilt top done in a around an hour!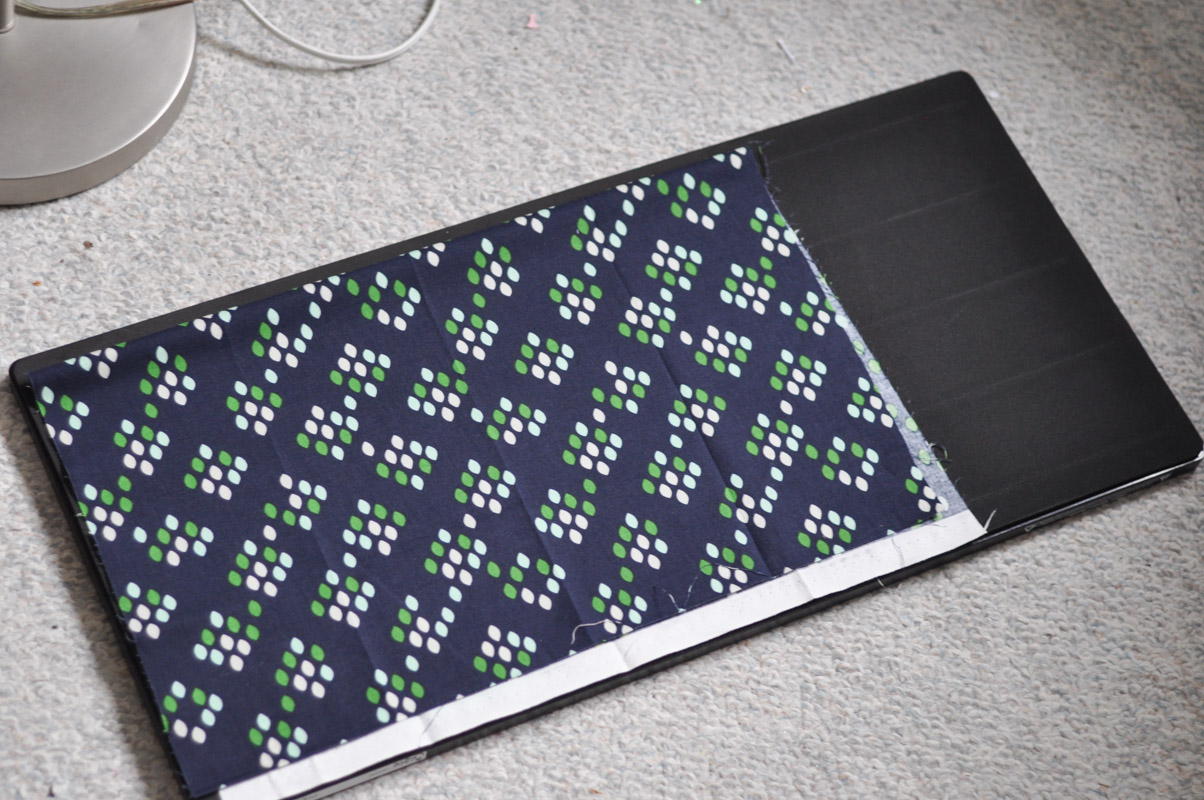 The strips Bigz die are amazing! For this quilt, I used the 2 1/2″ strip die. I opted to fold the fabric in half (keeping aware of the selvedge) and ran it through the machine in order to get perfectly cut strips.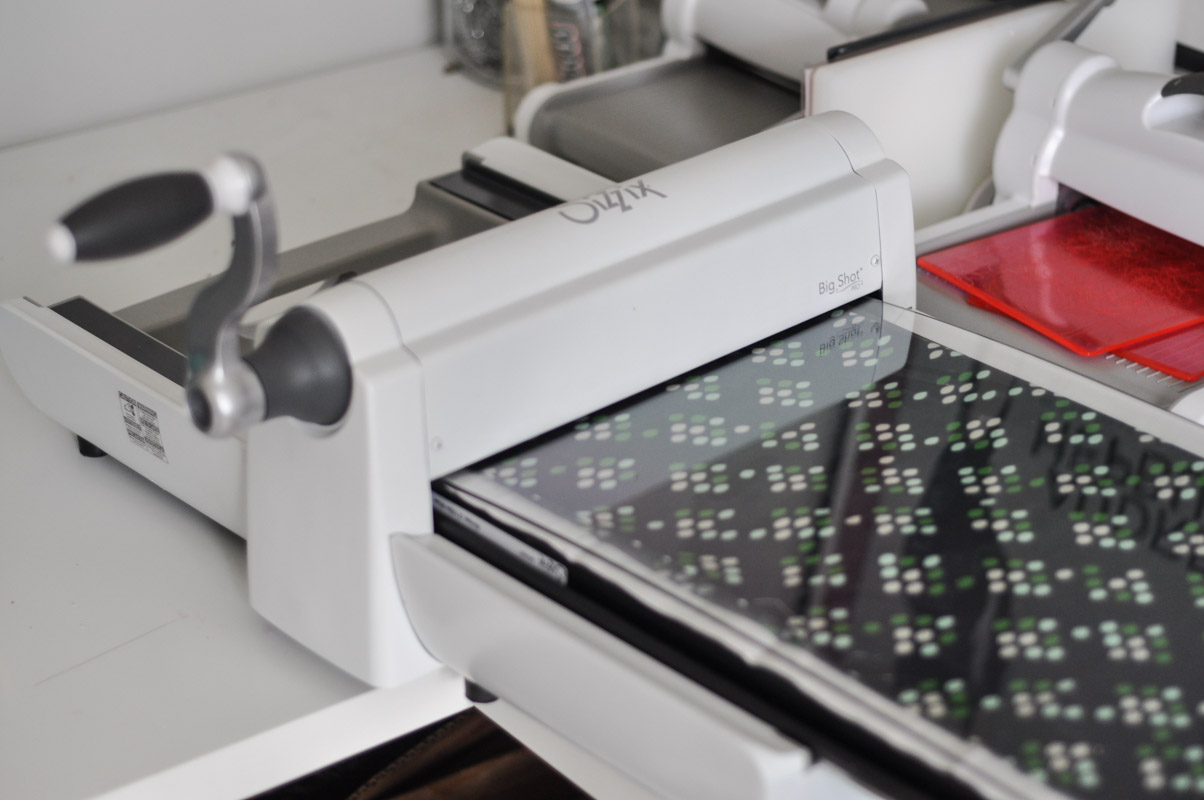 The Big Shot Pro is an absolute workhorse. It's a heavy duty cutting machine. And when I say heavy, I mean that it's also hefty. It's no wonder that it can cut so much fabric in one fell swoop.
And when I say heavy, I mean that it's also hefty. It's no wonder that it can cut so much fabric in one fell swoop. I've found it a new home in my craft room so that I don't have to move it around frequently.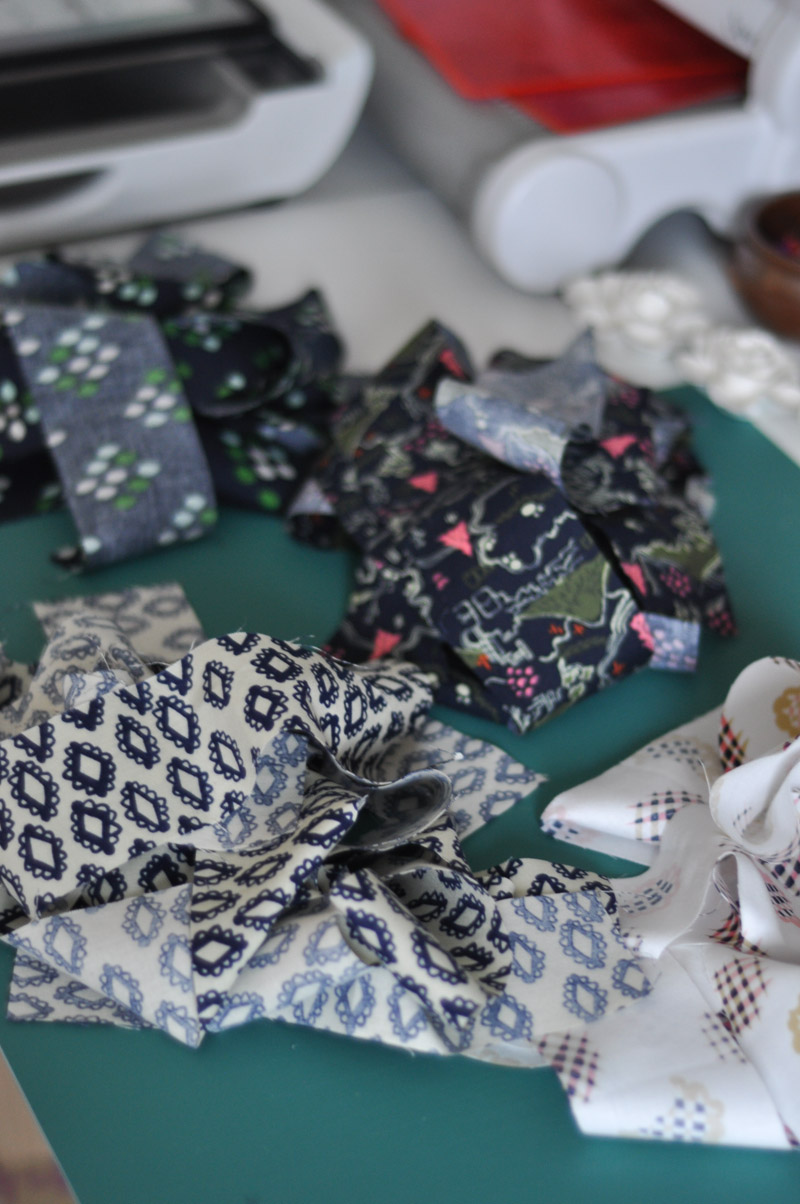 In no time flat (real time: about 10 minutes), I had four little piles of fabric. I used selections from a collection of Cotton + Steel fat quarters. I got mine from Craftsy – which is great place to get precut fabric for cheap, especially if you're Canadian. It provides prices in CDN dollars!
I followed the instructions for a Jelly Roll Race quilt with my strips. The best way to describe this is to let an expert tell the story. Jenny Doane of Missouri Star Quilt Co, take it away!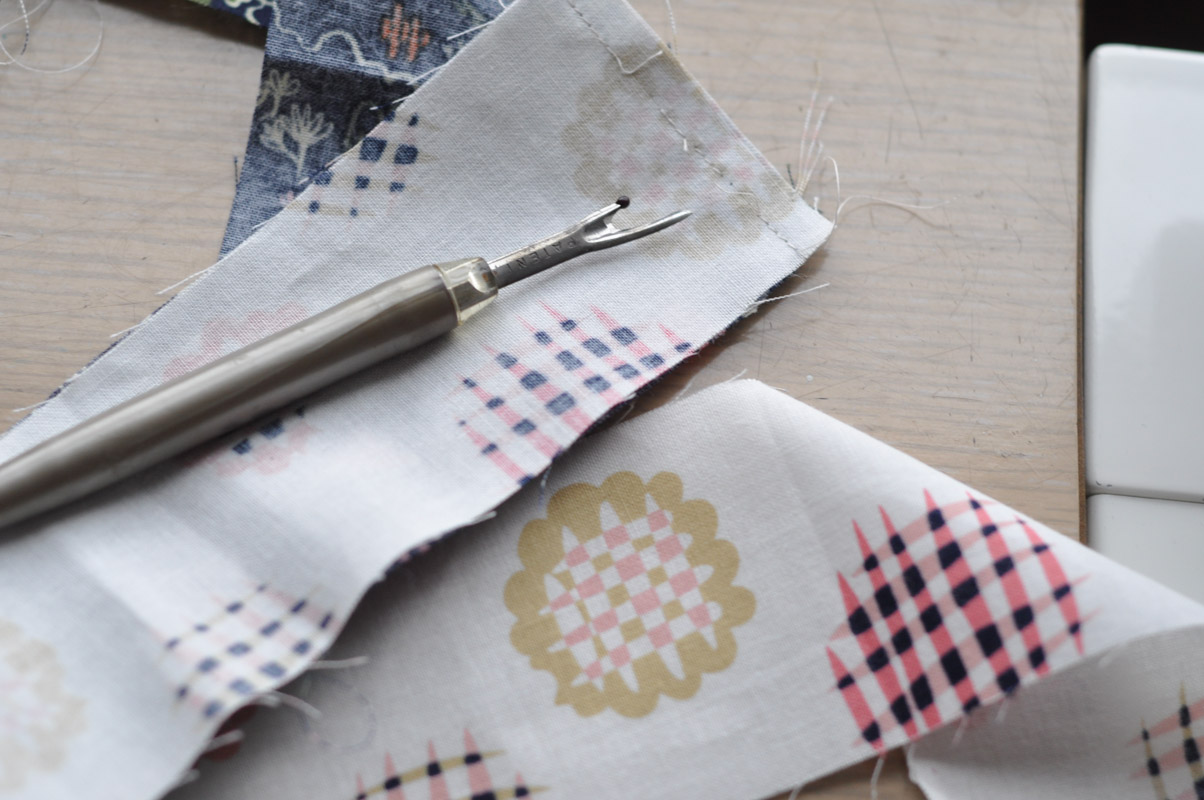 Jelly Roll Race Tip:
Make sure that you cut off that original six or seven inches from your long chain of strips. If you don't, you'll be hanging out with a stitch ripper for a while.
Don't ask me how I know…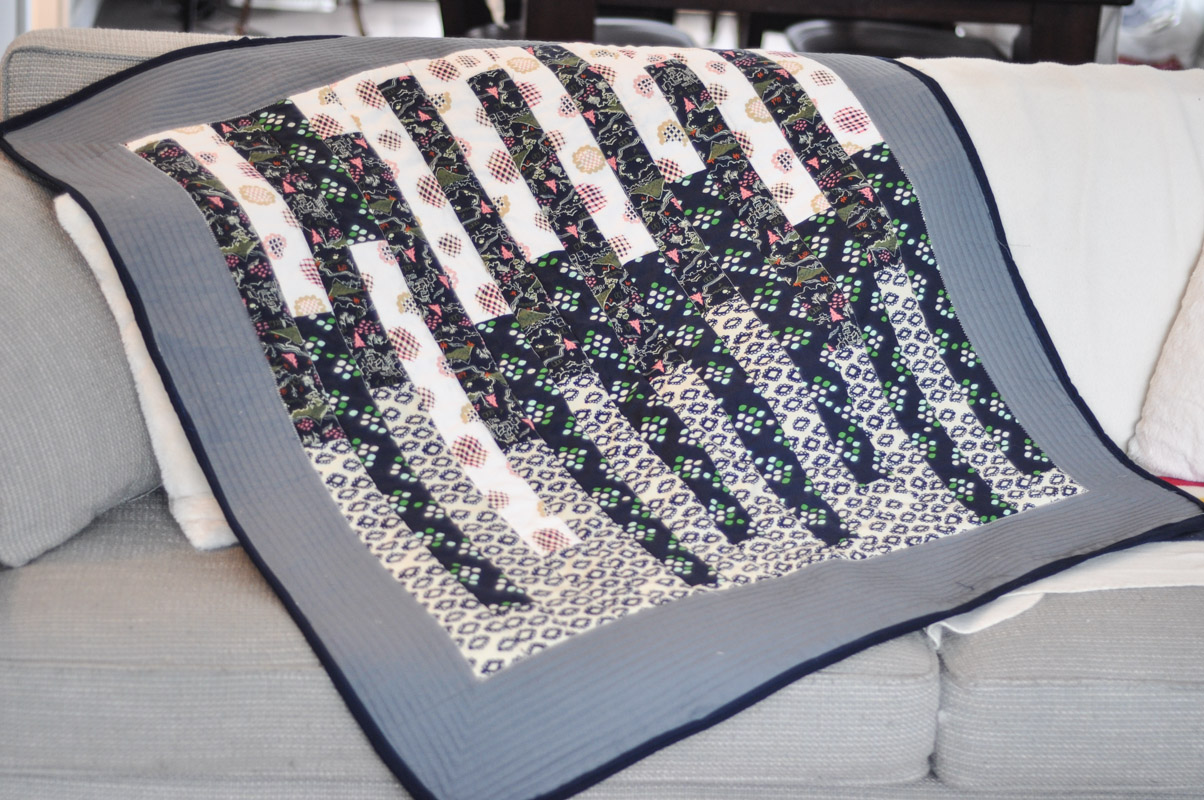 I decided to border the quilt with simple grey fabric yardage, and bound with a navy blue. Both of those fabrics are Moda yardage.
Jelly Roll Race Tip #2
Don't try to make a pattern or any sort of rhythm to your "random" strips. If I could do this over again, I'd cut another fat quarter's worth of strips and I'd be very random with my piecing. Because the quilt is small, there isn't quite enough cutting to split up the fabrics. You'll notice that the fabrics tend to stay next to each other, which doesn't usually happen in Jelly Roll races.
Either or, because I adore nearly everything that Cotton + Steel puts out, I'm still thrilled with this quilt.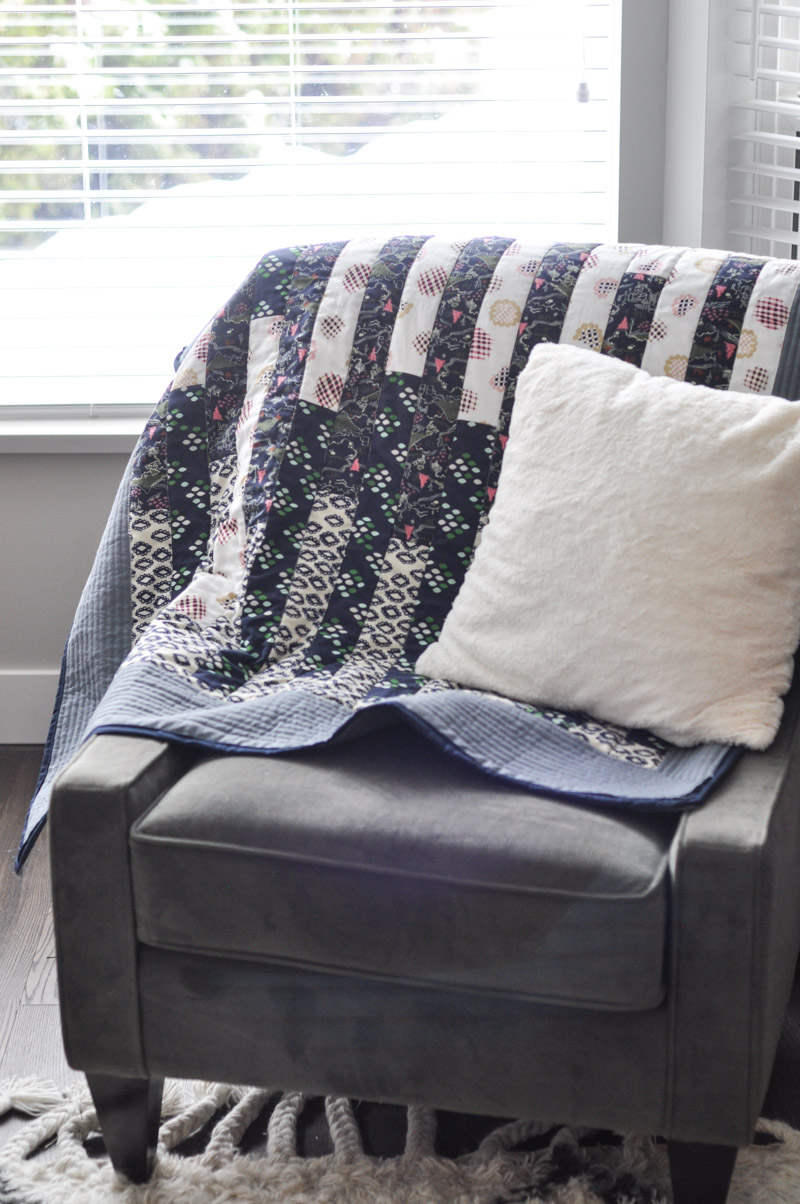 It's the perfect size for a lap quilt….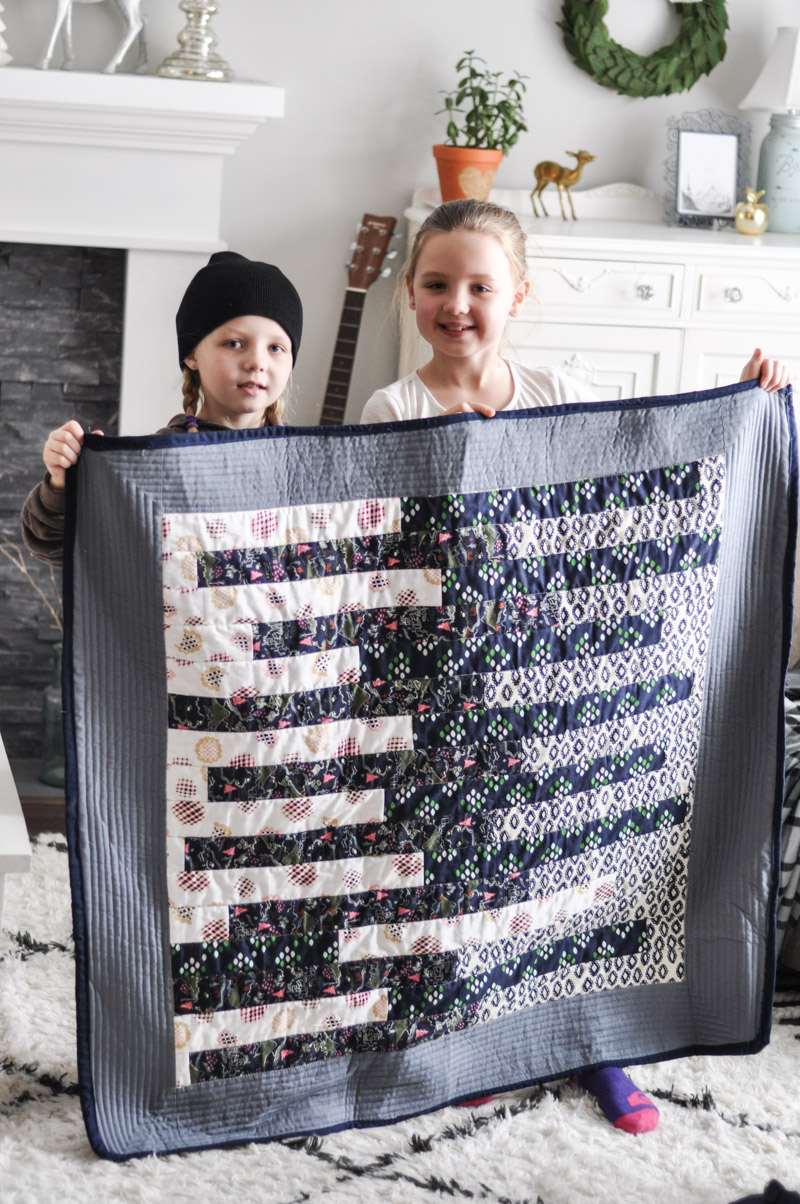 … or a baby quilt.
If you choose fabrics that have a similar background (all light or all dark), then some applique work (cut out with a Bigz die, if you love quick and precise cuts like I do) would be an excellent addition to this quick quilt.
The Big Shot Pro opens up a whole new world to quilting. This has quickly become one of my favourite craft tools!
Materials:
4 Cotton + Steel Fat Quarters (though I'd use 5 next time)
Sizzix Big Shot Pro
Sizzix Big Shot Pro 2 1/2″ strip Bigz Die
Grey yardage (border)
Navy blue yardage (binding)
Batting
Gutermann Cotton Thread in coordinating colors
Sewing Machine