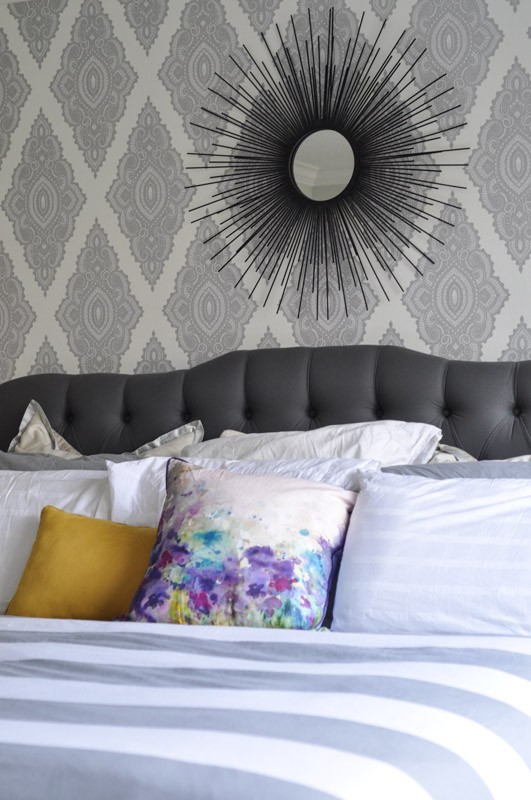 Our master bedroom just got a little bit fancier. The Graham & Brown wallpaper that I gabbed about nearly a month ago is now on our wall.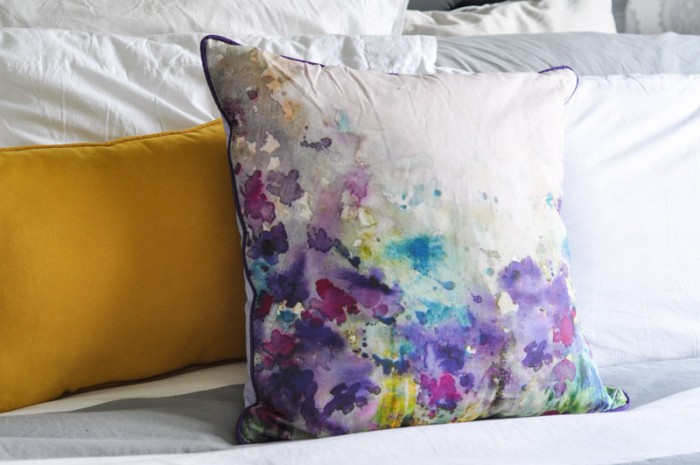 This pillow is from Graham & Brown's new line. It's called Meadow. Helloooo gorgeous. I'm working on getting some pops of colour in all of this grey; this accent is a great start.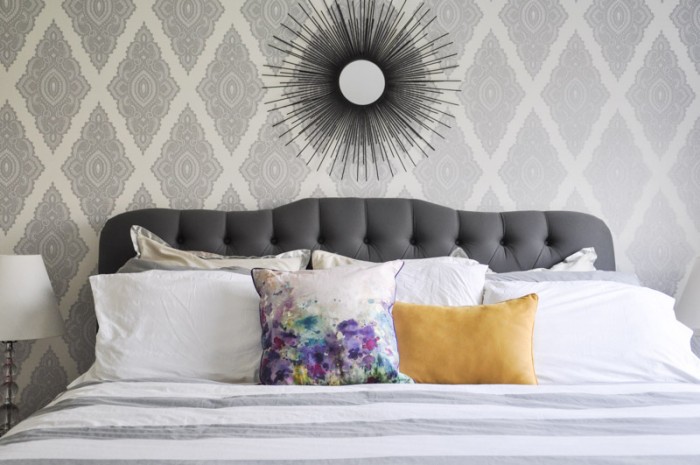 I honestly think that I love this paper – it's called Jewel in pearl and silver – more on the wall than I did on the roll. It's subtle, but still makes a statement. I wanted the bedroom to be a bit softer and more feminine than the other areas of the house.
Did I consult with Mr. Suburble on that? Nope. Not at all.
And speaking of consulting… I have a confession to make.
I didn't hang the wallpaper. Not a sheet of it.
I hired it out, and it was liberating.
Having a professional wallpaper artiste isn't as expensive as you'd think. Typically, you aren't doing the entire room, so the square footage is much smaller. And he did a wonderful job.
I asked around and got a recommendation for a skilled wallpaper hanger (a good place to try is your local paint store or interior decorating house). In our conversations, he found out that I was a blogger, and so he offered to take pictures of the work as he did it. Honestly, I think he should start his own blog – his pictures and descriptions were great. And so, I will offer you his awesome wallpaper hanging shots, should you want to go the DIY route.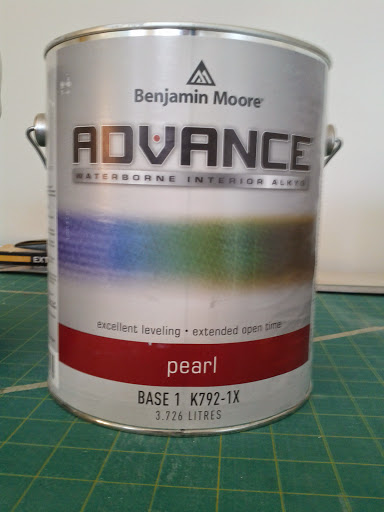 First, he painted the wall with an enamel base. I believe this was to prevent any telegraphing of colours through the wallpaper.
Once that dried overnight, he started with the wallpapering the next day. First, he used a plum bob to find the center line along the wall.



The first sheet of wallpaper went up along this line.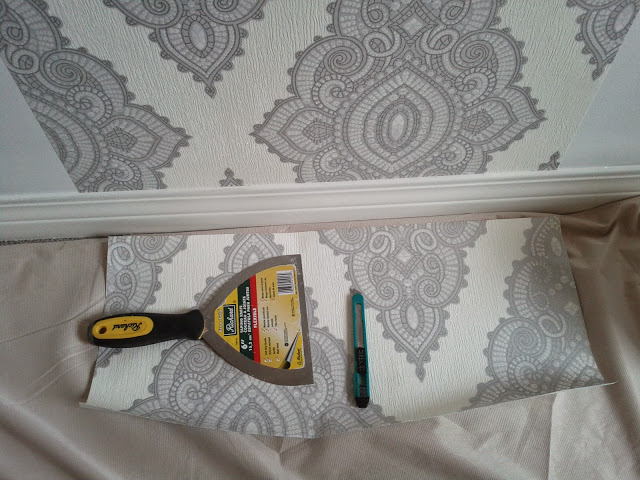 He trimmed it at the baseboard and at the crown moulding.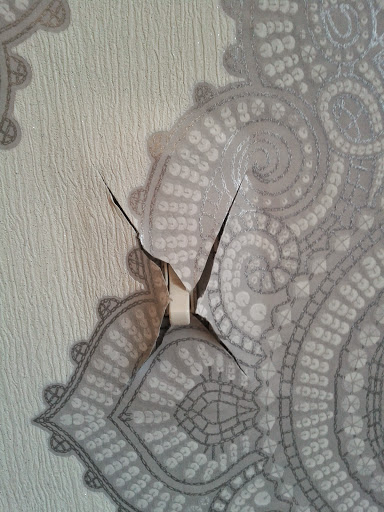 When he came to an outlet or a switch, he made "relief cuts", in order to allow for proper smoothing of the paper.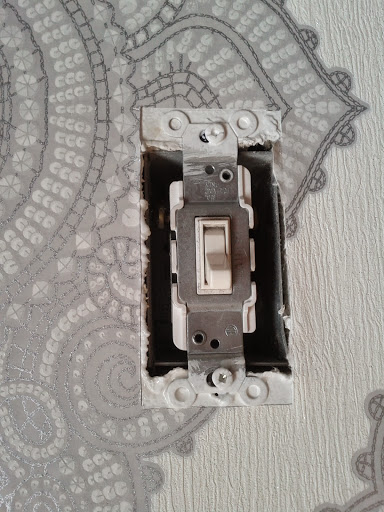 After the paper was smooth, he carefully cut out the receptacle.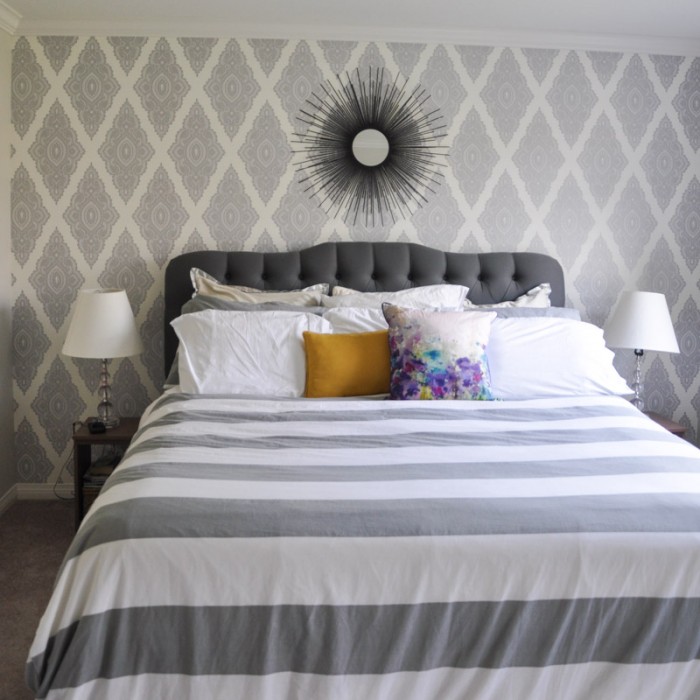 It was incredible to come home to find a papered wall waiting for me. It instantly dressed up the room. I felt like it was that much more finished.
And that nearly-finished feeling has been an impetus for me to get some other areas of the room sorted. For example – those teensy rinky-dink side tables have GOT to go.
Not only are they the wrong colour, but they're also a half a foot lower than the bed. They're dwarfed by the rest of the room. And if Mr. Suburble rolls over in the night and one of our eight million pillows falls off….
… it sometimes takes out a light and a glass of water.
Gravity: it doesn't work well with miniature side tables.
I'm not sure on the lamps, but they'll do for now.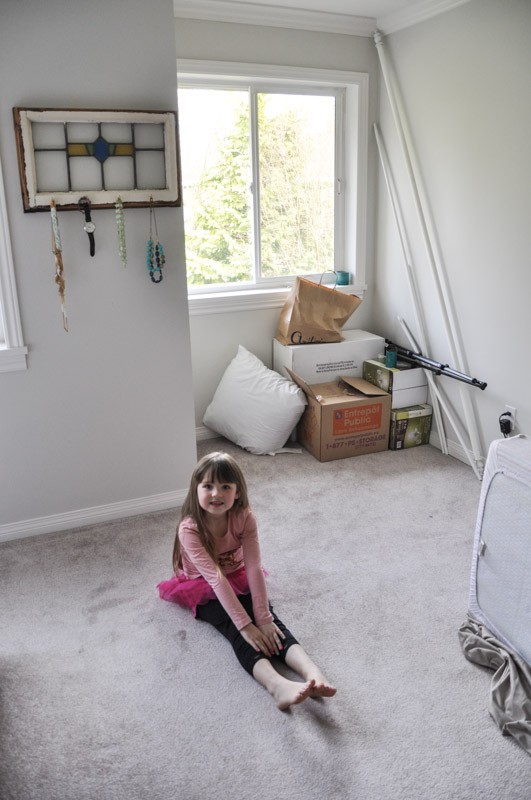 And then there's this corner.
Sigh. Aside from the cute kid (who was showing me her dance routine whilst I snapped photos), there's just a bunch of unfinished business here. I have plans for that nook. And I have the furniture in the garage that is intended for it.
I just need to grab a can of paint and get to work.
If you're looking to dress up your room with some instant pizazz, check out Graham & Brown's beautiful wallpaper and home accents. It's lovely stuff, and you'd be amazed at how quickly you can change the tone of your room.