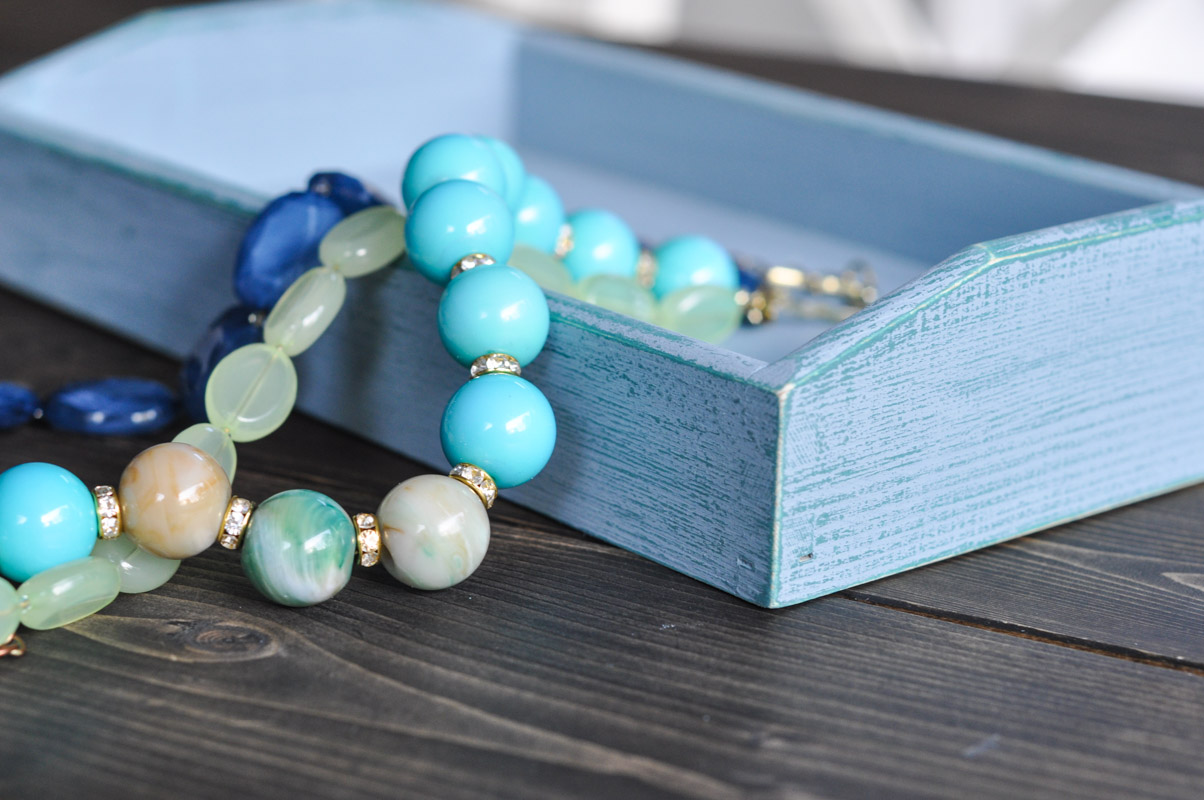 Today is an exciting day!
I am sharing a fun Mother's Day gift – well, a PART of a gift – and along with a group of very talented bloggers, we are also hosting a great giveaway. We're giving away a nearly $500 Breville food processor!
It's something you may want to gift to your mom in about a week.
Or you can keep it for yourself.
But before we get to that, I'm really looking forward to sharing this technique with you. I've been experimenting with different ways of distressing wooden pieces, and this little tray – a perfect way to gift up consumables for your mom – was done up using the wax relief technique.
It's very easy, and is perfect for someone who wants a great deal of control over their distressing/reliefing.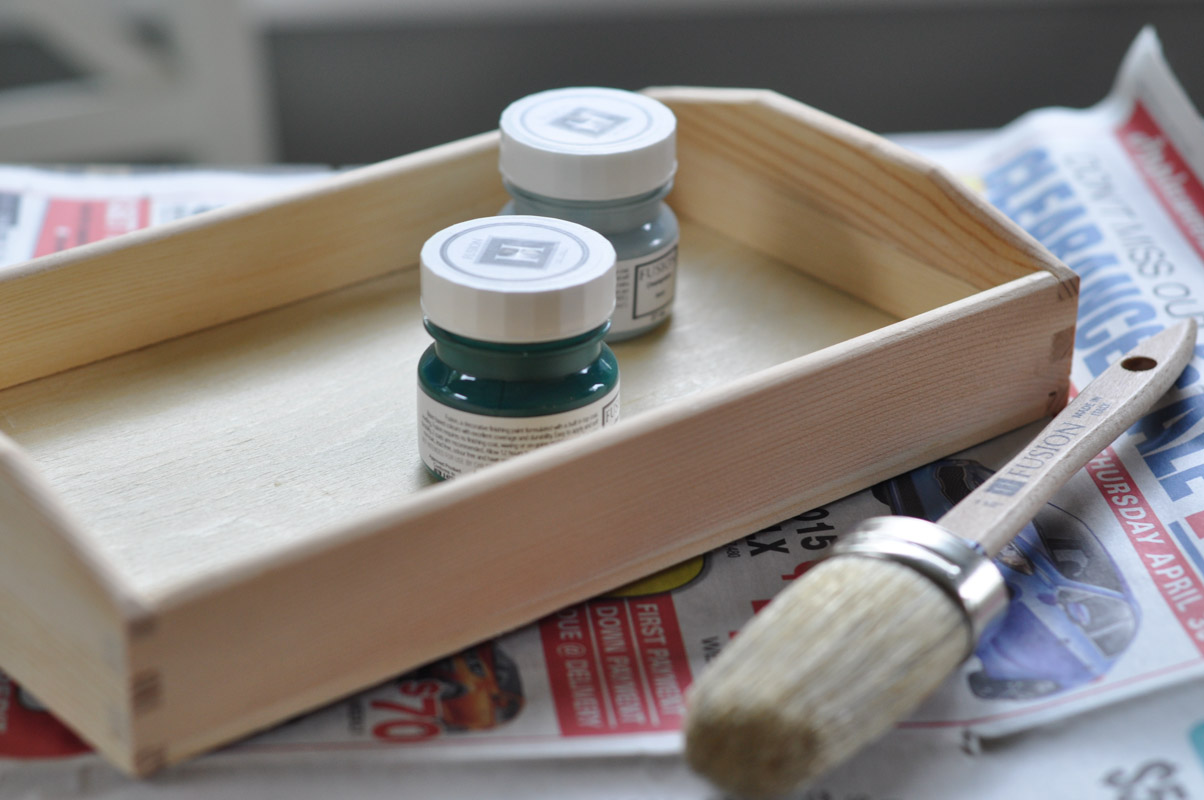 I started with an unfinished tray, and two tester pots of Fusion paint in Renfrew Blue and Champness. I knew that I wanted a lighter coloured tray with hints of a darker colour peeking through.
It would age and weather the tray – taking it from brand new, to antiqued and beachy.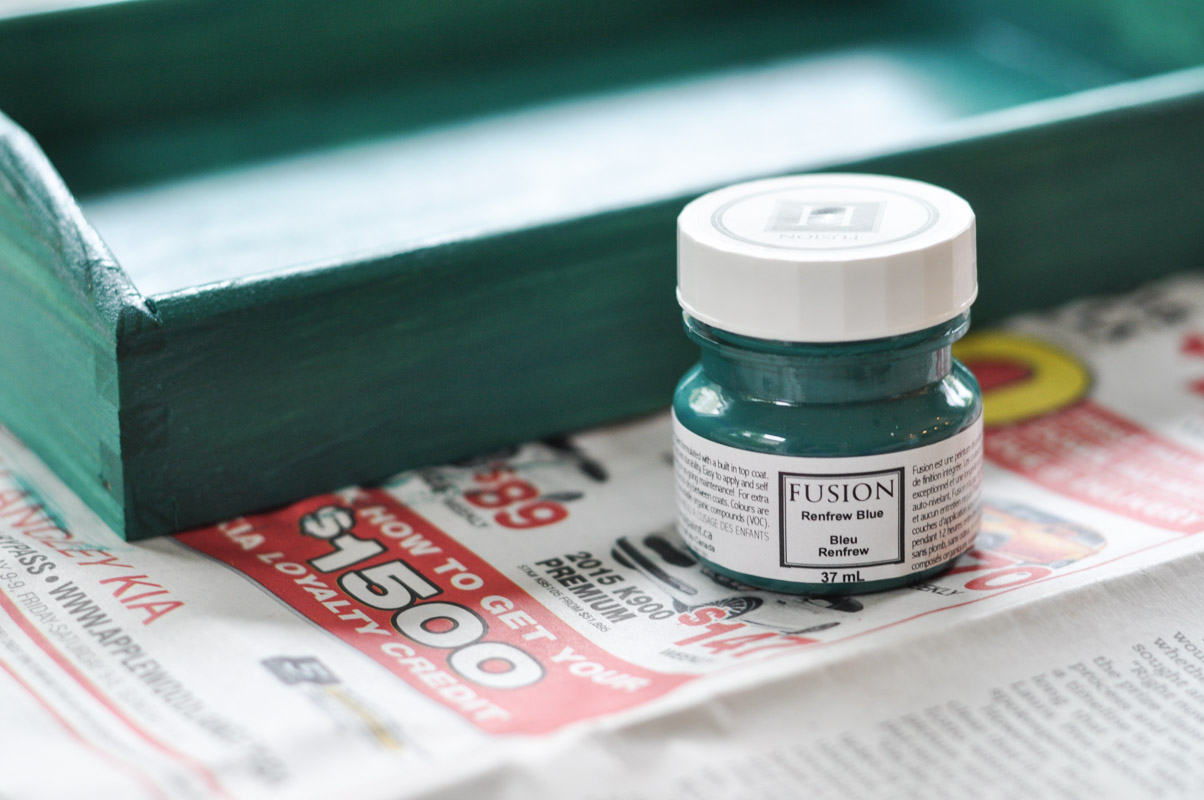 Because the wood was totally raw, it needed two coats of paint to get even coverage.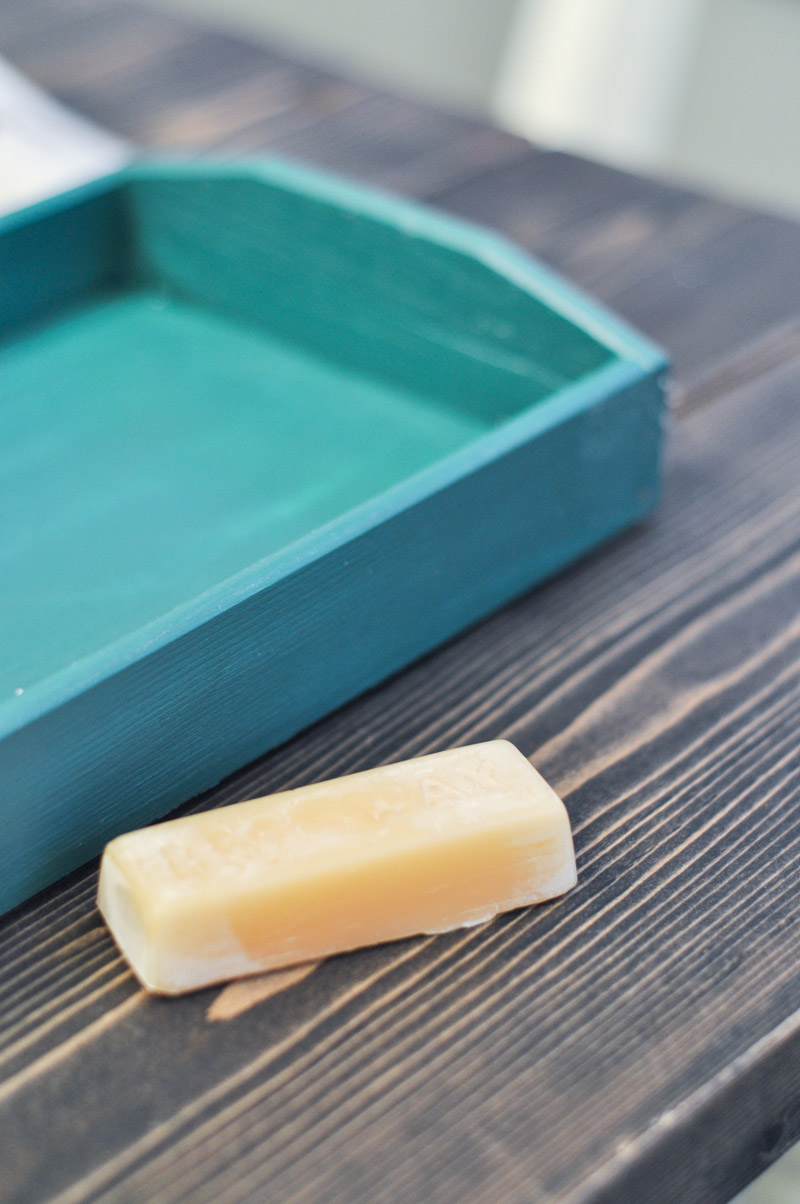 Before I painted the top coat of the lighter Champness, I applied the beeswax block where I wanted the dark blue to poke through.
This is called "wax reliefing". The wax holds the darker colour to the wood, and prevents it from coming up with the top coat. It also helps the top paint to chip off easily with just a light sand, making distressing that much easier.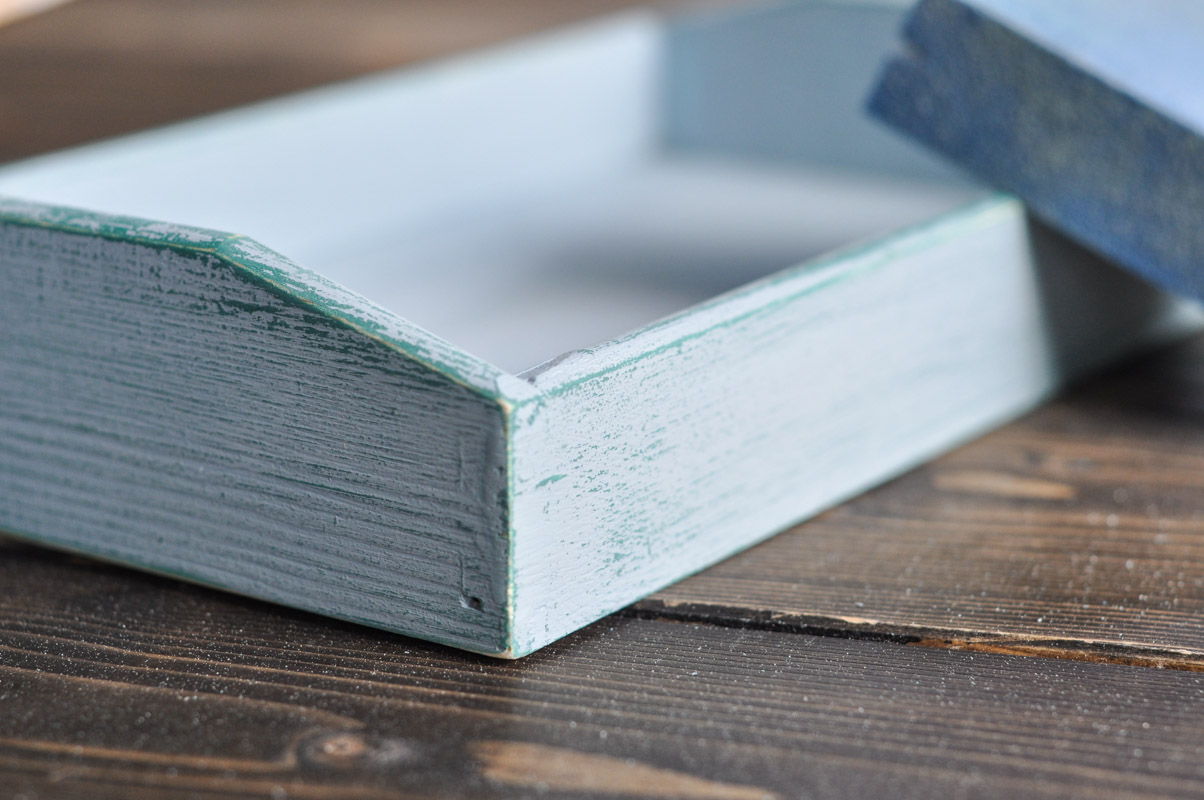 Once the top coat had dried – but within just a couple of hours of applying it, I wanted the paint to come off easily – I lightly sanded where I had applied the beeswax.
I thought about where the tray would have received the most wear. Along the top, where hands had held it; on corners, where it had been bumped into things; in the tray, where it would have been scratched by objects….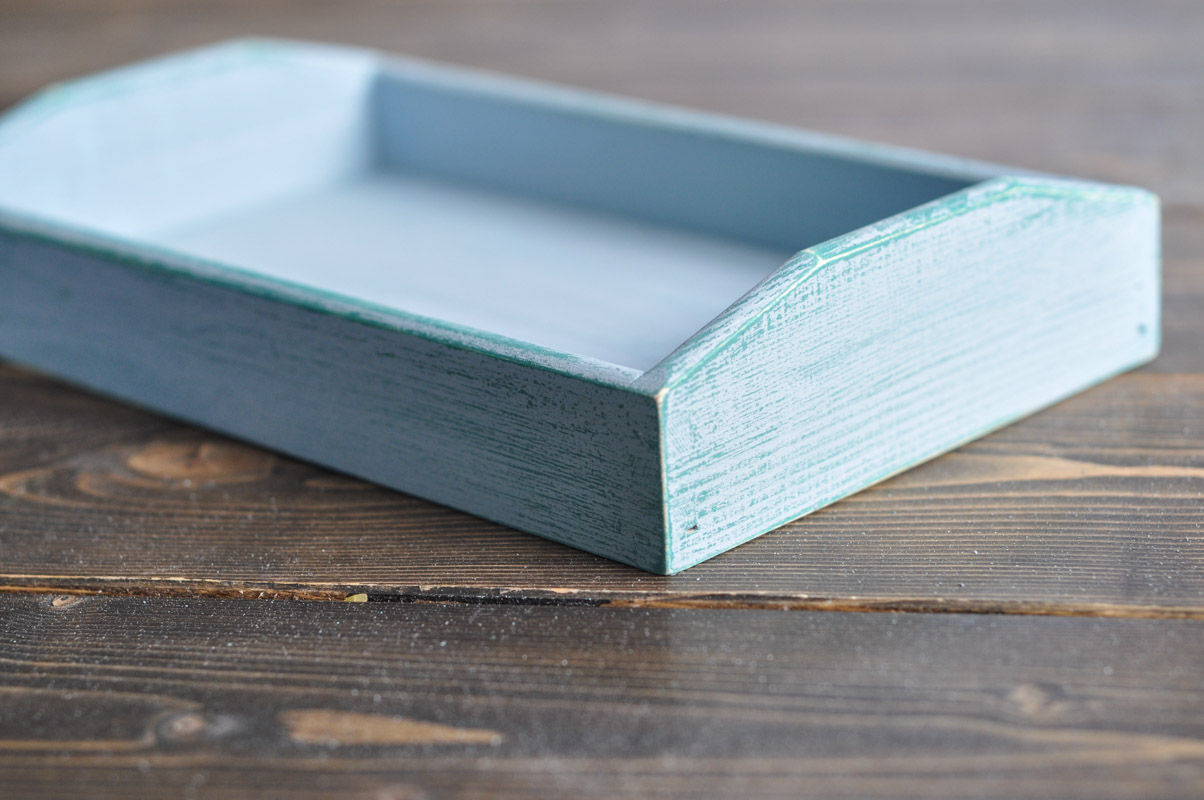 The result is that the piece looks aged and weathered. The tray appears to have had at least two coats of paint in its life, and you wouldn't ever know that just a few hours before, it was a brand new pine piece.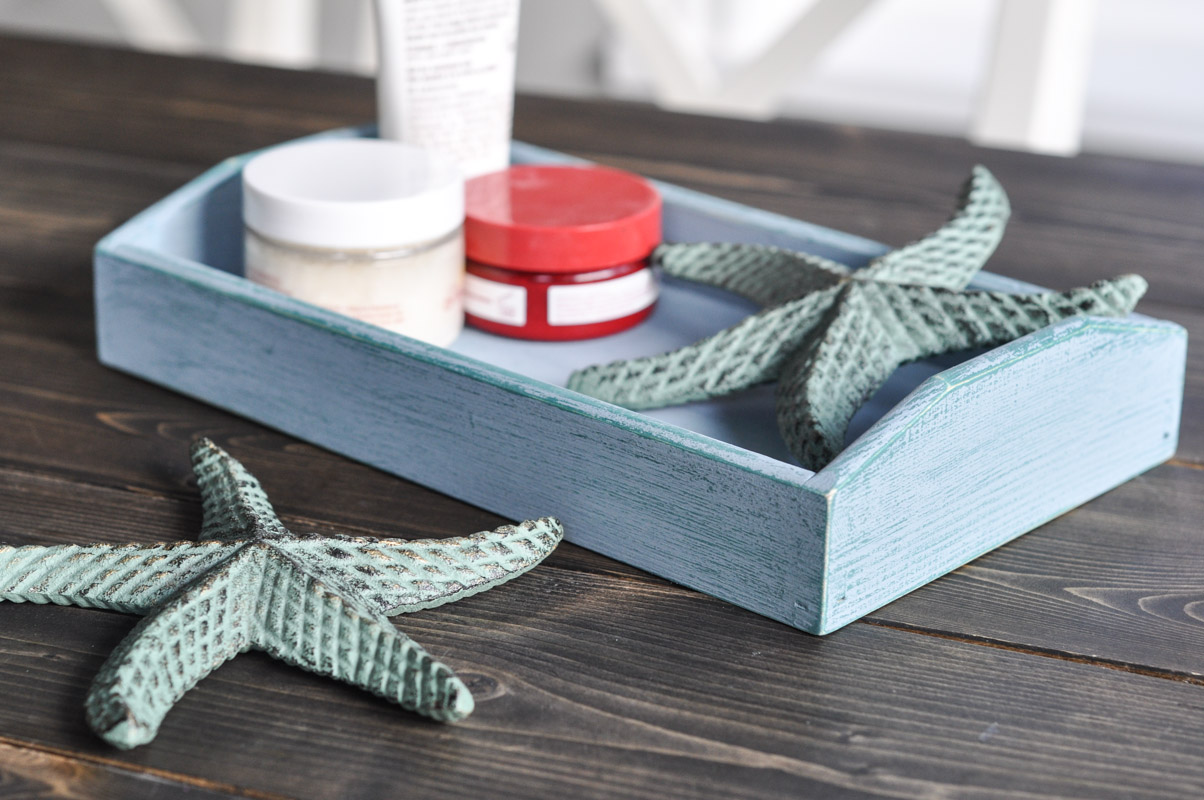 Rather than give mom a gift bag or a cardboard box to recycle, why not package up her gift in an antiqued tray that you've created yourself?
Give her a bath set to sit upon her counter…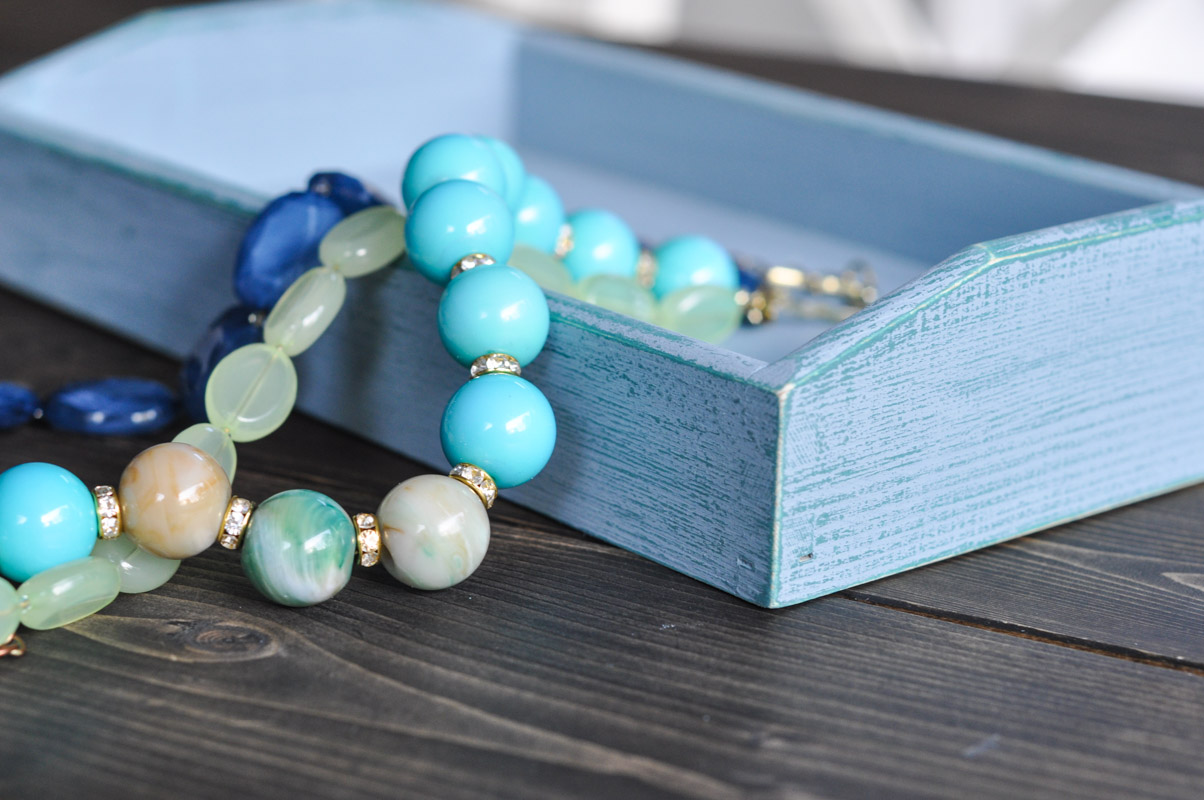 Or perhaps it's a side table tray, where she leaves the days' jewelry and her watch?
Either or, a little tray has multiple ways to be used in the home, and you can customize it to her favourite colours.
But before you break out the paint…. you're going to want to get even more ideas from these fabulous ladies: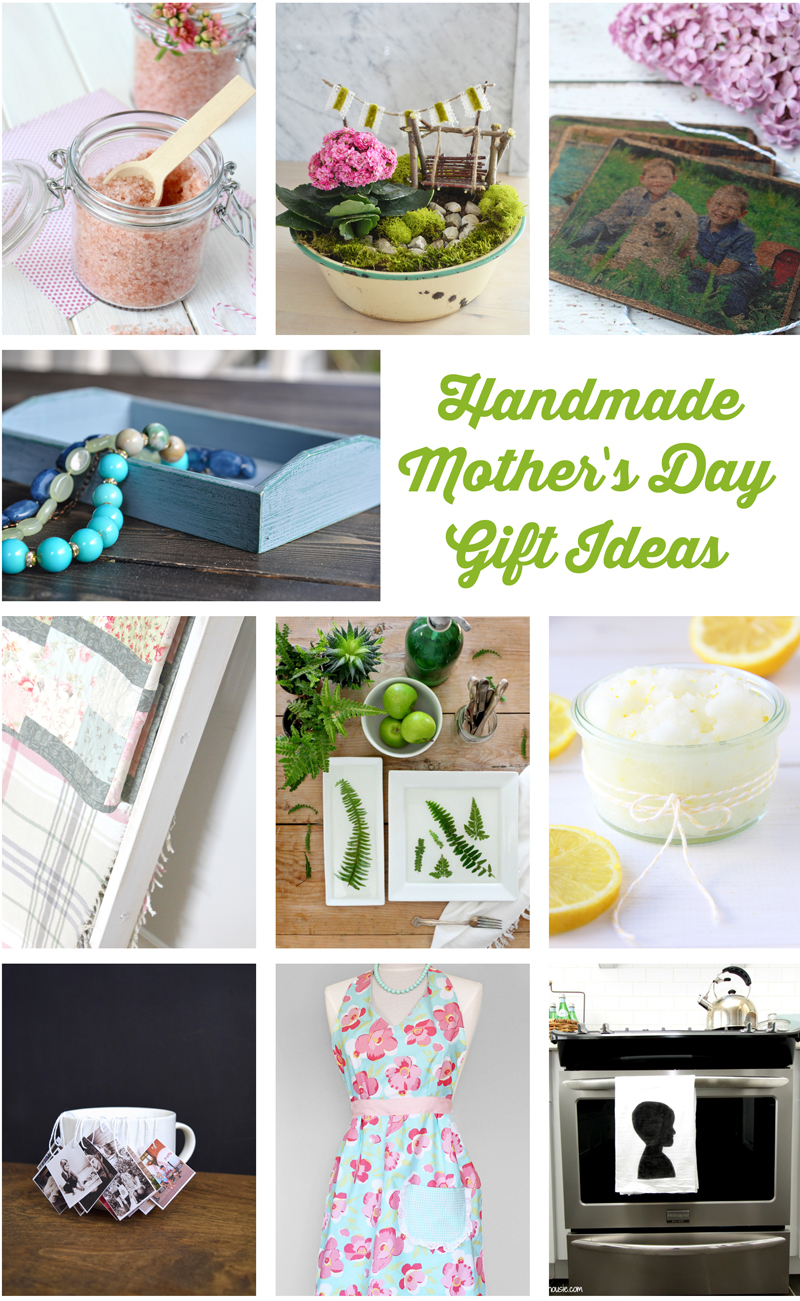 Shauna of Satori Design for Living made a Pink Grapefruit Salt Soak
Christina of The DIY Mommy shows you how to make a Mini Fairy Garden in a Tin
Jenn of Clean & Scentsible made Vintage Wood Transfer Photo Coasters
Tara of Suburble put together a Weathered Gift Tray Tutorial
Kristi of Making it in the Mountains shows you how to make a DIY Blanket Ladder
Lucy of Craftberry Bush shows you how to make this Press Fern Resin Tray
Jo-Anna from A Pretty Life in the Suburbs has a recipe for a Lemon Coconut Sugar Scrub
Alex of Northstory made these fantastic Photo Tea Bags
Virginia of Fynes Designs has a free Apron Sewing Pattern
Krista of Happy Housie made a DIY Silhouette Image Tea Towels
And don't go yet! Enter the giveaway for the Breville Food Processor – valued at $479!