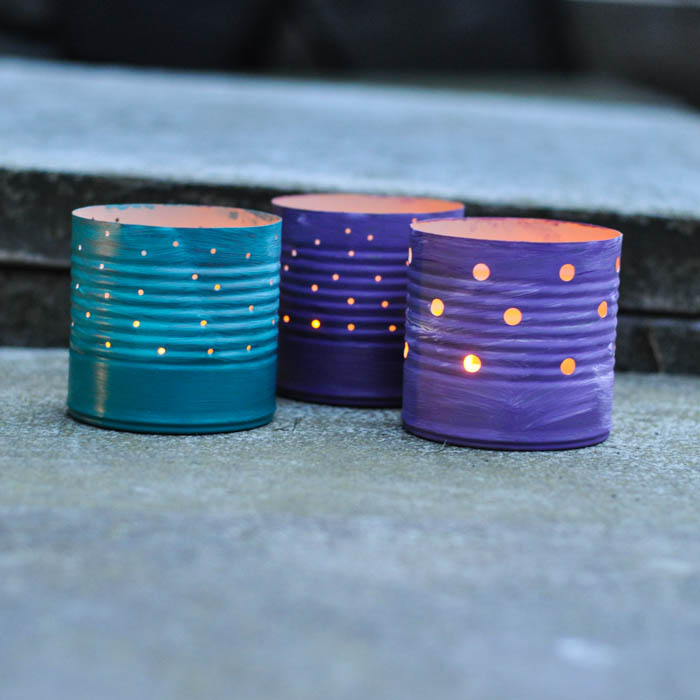 Tin cans are some of the most versatile things you chuck away into the recycling bin. I always feel a bit like Captain Planet whenever I take something out of the blue bin and say, "Well… look at this. This can be reused! Upcycling is about to happen, children!"
And my kids barely look up from their colouring. They're used to a weirdo mother who digs in the recycling bin every second day.
Tin cans are sturdy little holders of bits and bobs, they come in a gamut of sizes, and…. fantastically enough… if you have a sturdy hole punch, they can become little lanterns!
Whether it's a grown-up craft, or a kid-friendly one while camping or at a barbecue, creating tin can luminaries is quick and easy. You just need the right tool: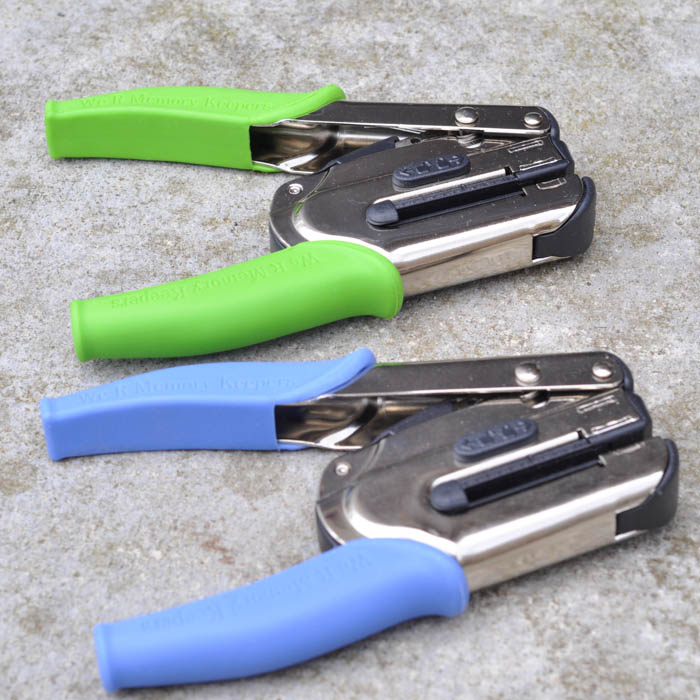 Enter the Cropadile Power Punches. These hole punches are crazy-strong. They punch through leather, metal, and various plastics (along with the standard cardboard and paper), and you don't have to be pumping iron to work them.
I have two sizes – the 1/4 inch and the 1/16th of an inch. Both are equally handy in various projects.
To make these luminaries, you will need:
Various empty tin cans, washed and dried
Acrylic paint and brushes
Strong punch (like the Cropadile)
Candles/ LED tea lights
Optional – craft wire and wire snips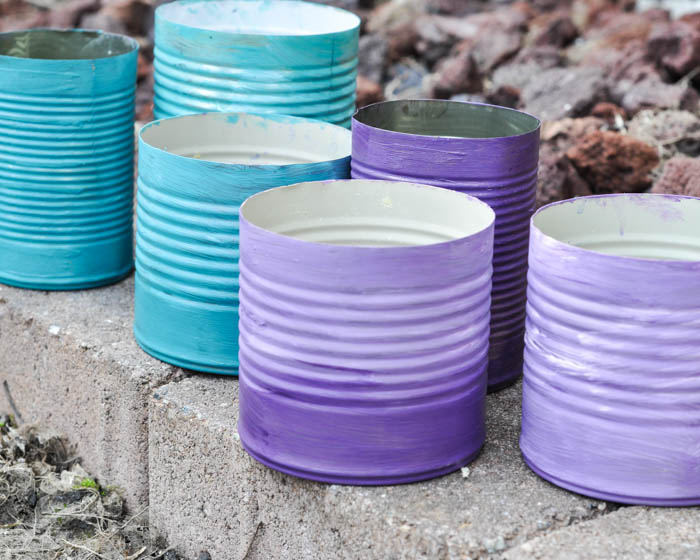 I started by painting the tin cans in a variety of colours. This is a great part of the craft to get kids involved in.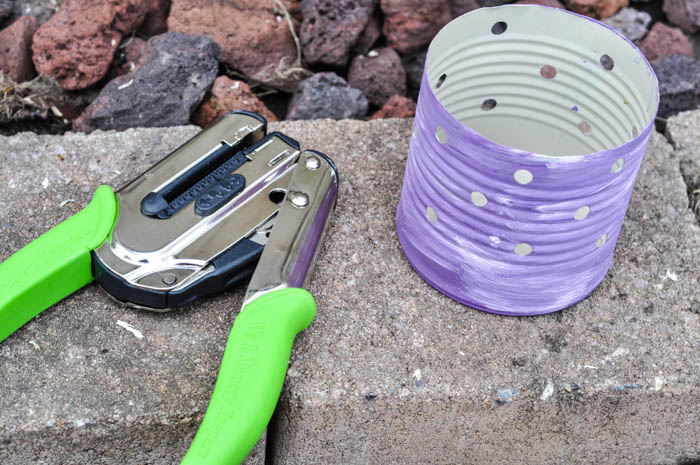 Once the paint had dried, it was "artistic punching" time. Really, I just punched out holes wherever I could. The more holes in the can, the more light it lets off.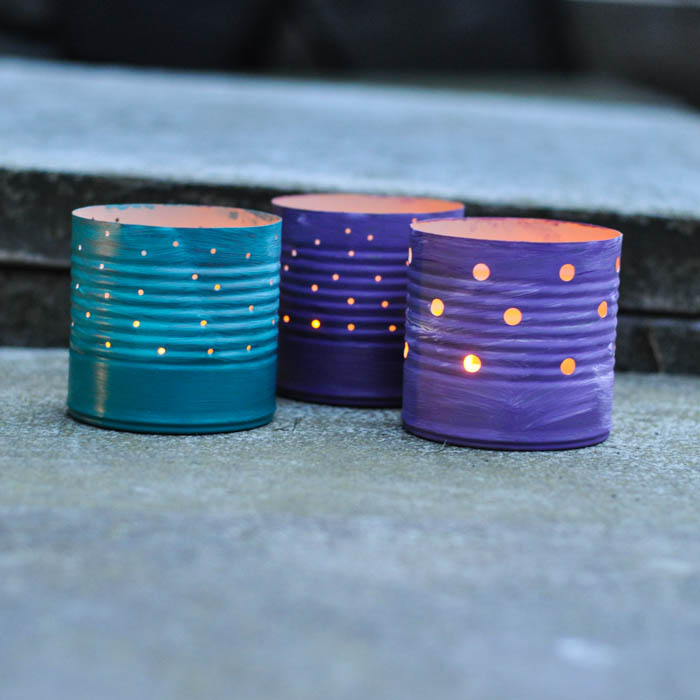 The 1/4 inch punch is almost polka-dotted in style, while the 1/16th looks a bit like a starry sky to me. I used LED tea lights because they're safer around grabby little hands, and also because the tin cans wouldn't get hot. Tea lights would work as well, you'd just have to be careful when little ones are nearby.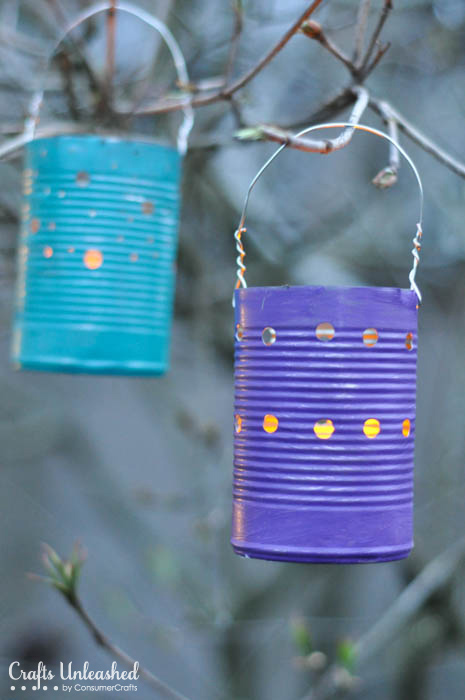 If you're having an outdoor fete, or you want to string some lights in threes, a bit of craft wire easily turns your luminaries into hanging lanterns.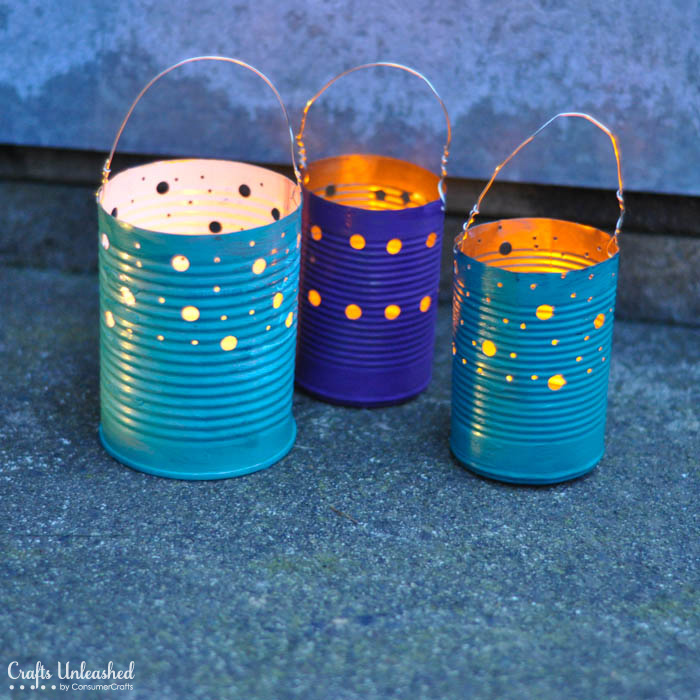 This would be perfect as a craft while camping – the little campers can use their lanterns when dusk hits. Again, LED battery operated tea lights are perfect for this. Knowing my children, someone would be spattered in hot wax if I sent them off with "real live" candles.
I like my camping trips to be less eventful than that.
Don't let that goldmine of tin cans slip out the door with the recycling! Save them and create a bit of twilight magic with these tin can luminaries!