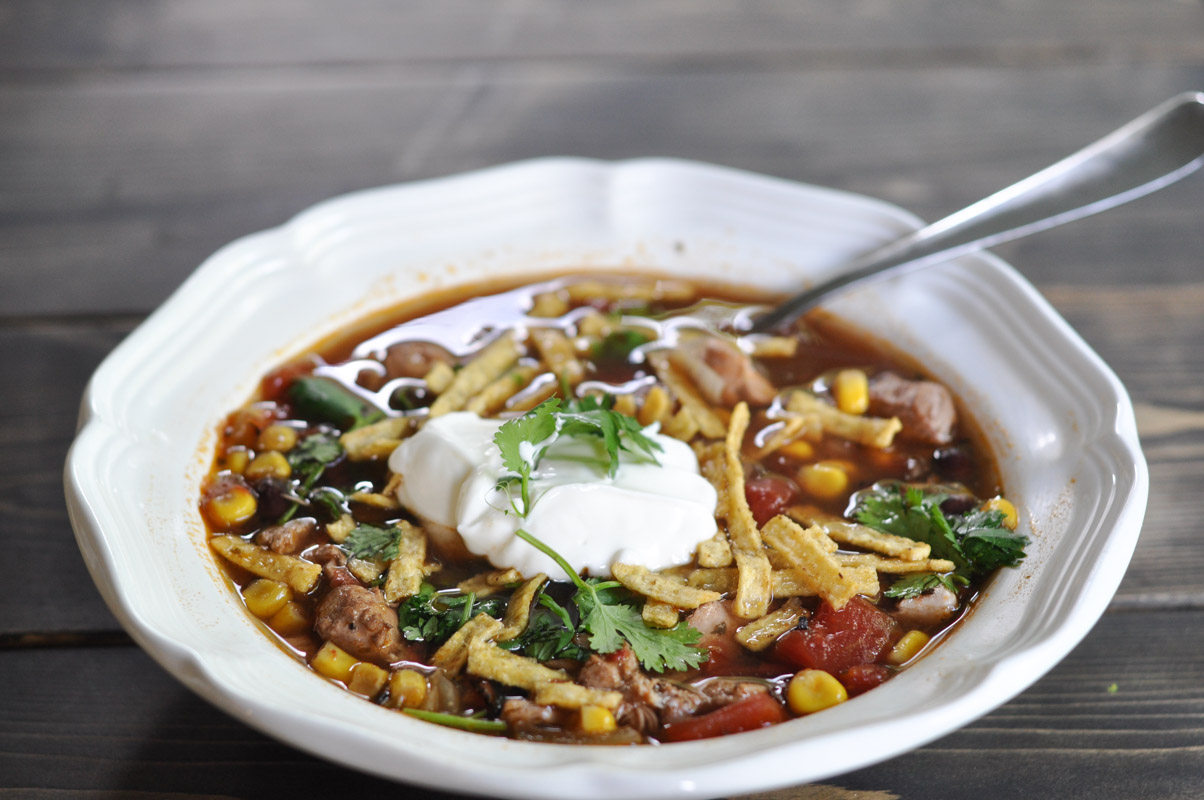 Chicken Tortilla soup has so many favourite tastes and textures – the heat of peppers, the coolness of sour cream and cilantro, and the crunch of tortilla chips.
And considering that it takes no time at all to prep and pop into a slow cooker, it's another kind of favourite: an easy meal favourite.
This recipe is my last for Slow Cooker week – Jo-Anna of A Pretty Life in the Suburbs and I have shared six delicious crock pot meals this week – be sure to visit her post after you've read/printed out this one!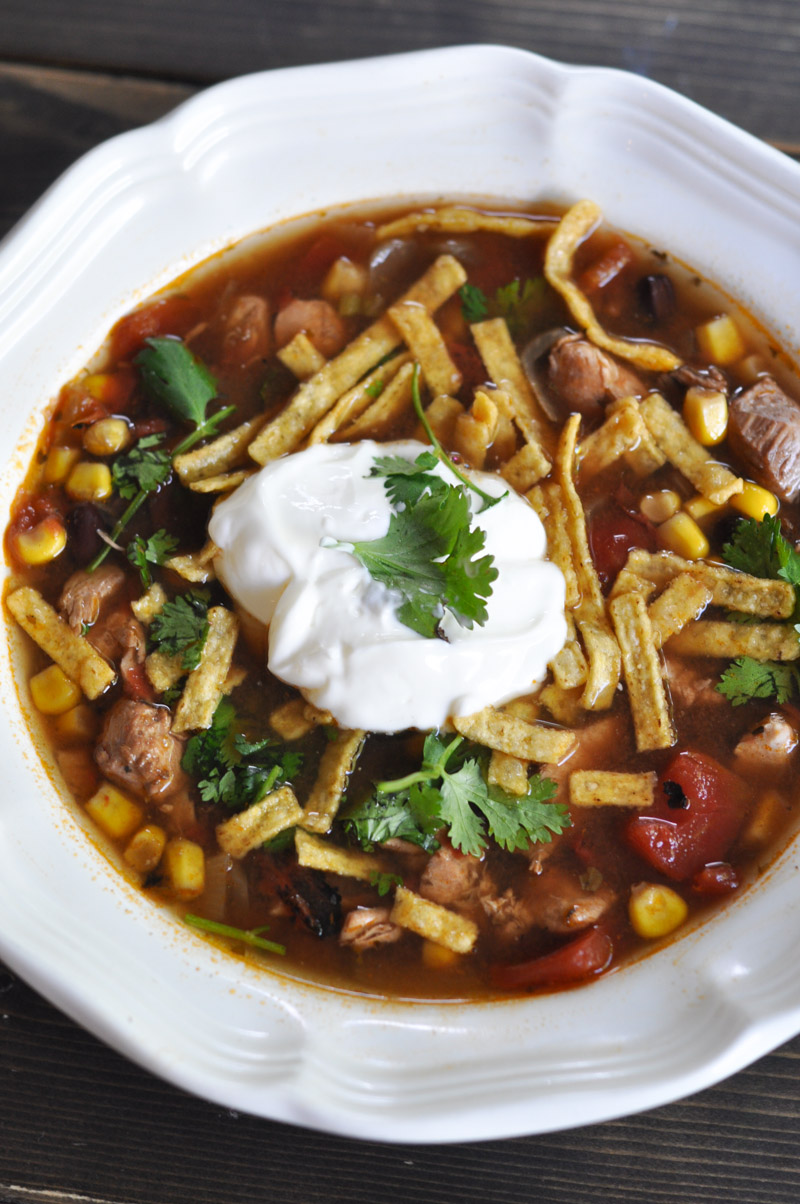 Now, many recipes call for the baking/frying and then slicing of tortillas for the tortilla chips. I admit that I am a huge cheater when it comes to this part.
I buy the salted tortilla strips from the produce section. They're meant to go on salads, but I think they're just perfect for topping this soup.
Plus, if you're coming home from work/school/whatever-takes-up-your-day, you don't want to start making tortilla chips before you eat. I want to eat whole foods as often as I can, but a few cheats keep me sane.
Slow Cooker Chicken Tortilla Soup
Ingredients
2 chicken breasts, cooked and diced
1 can fire roasted tomatoes - whole or quartered
1 tetra pack (or two cans) of chicken broth
1 medium onion, diced
1 serrano pepper, seeded and finely diced
1 cup frozen corn
1 can of black beans, drained and rinsed
1 tsp cumin
1/2 tsp paprika
1 bunch cilantro
For garnish: tortilla strips (from produce section), sour cream, or avocado
Instructions
Place the chicken, broth, tomatoes, pepper, onion, corn, beans, cumin and paprika in the crockpot insert and stir
Set to low and let cook for 6-8 hours
Add cilantro and a handful of tortilla strips before serving - also consider a dollop of sour cream or avocado slices
https://www.suburble.com/2015/09/slow-cooker-chicken-tortilla-soup.html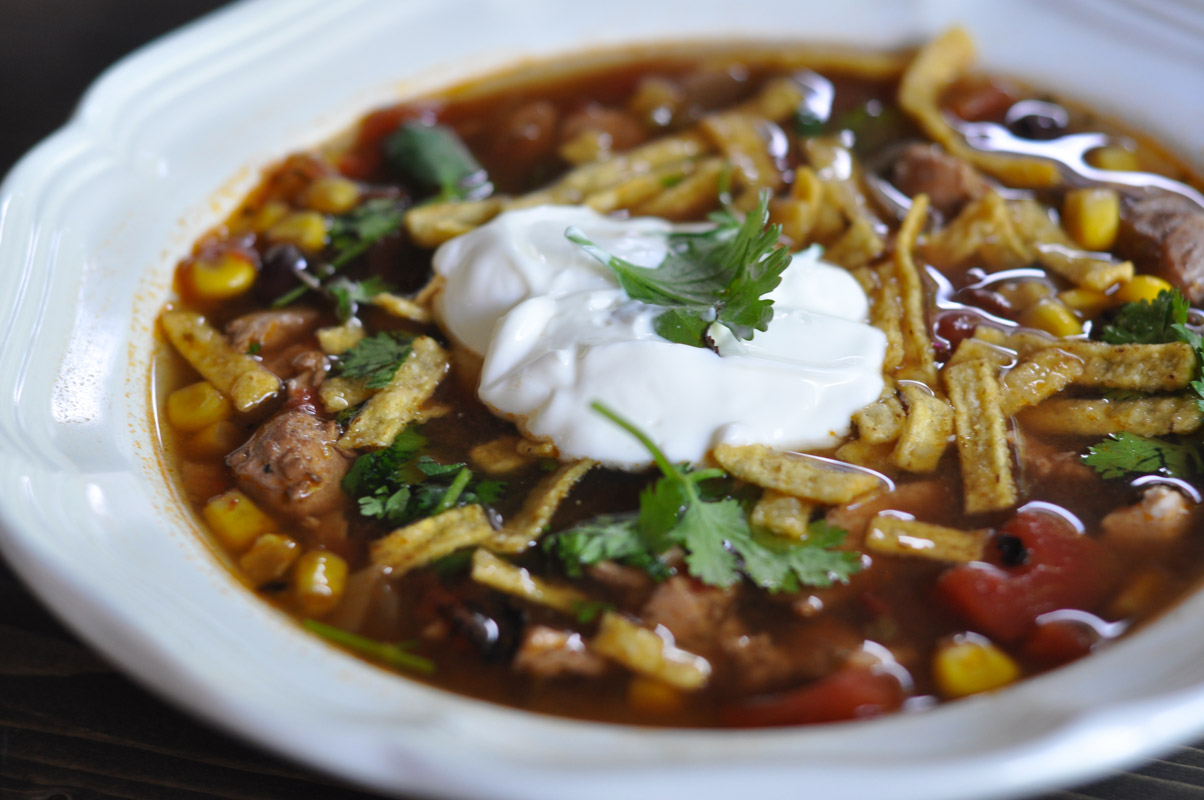 Even if you're weird like Mr. Suburble and don't like cilantro or sour cream (I don't understand that man sometimes), the soup is still quite tasty. It has a little kick from the pepper and the paprika, but is still hearty enough to be a meal.
You'll notice that I left my chicken in decent sized chunks, and this is mostly due to my aversion to shredded meats. It must be a texture thing.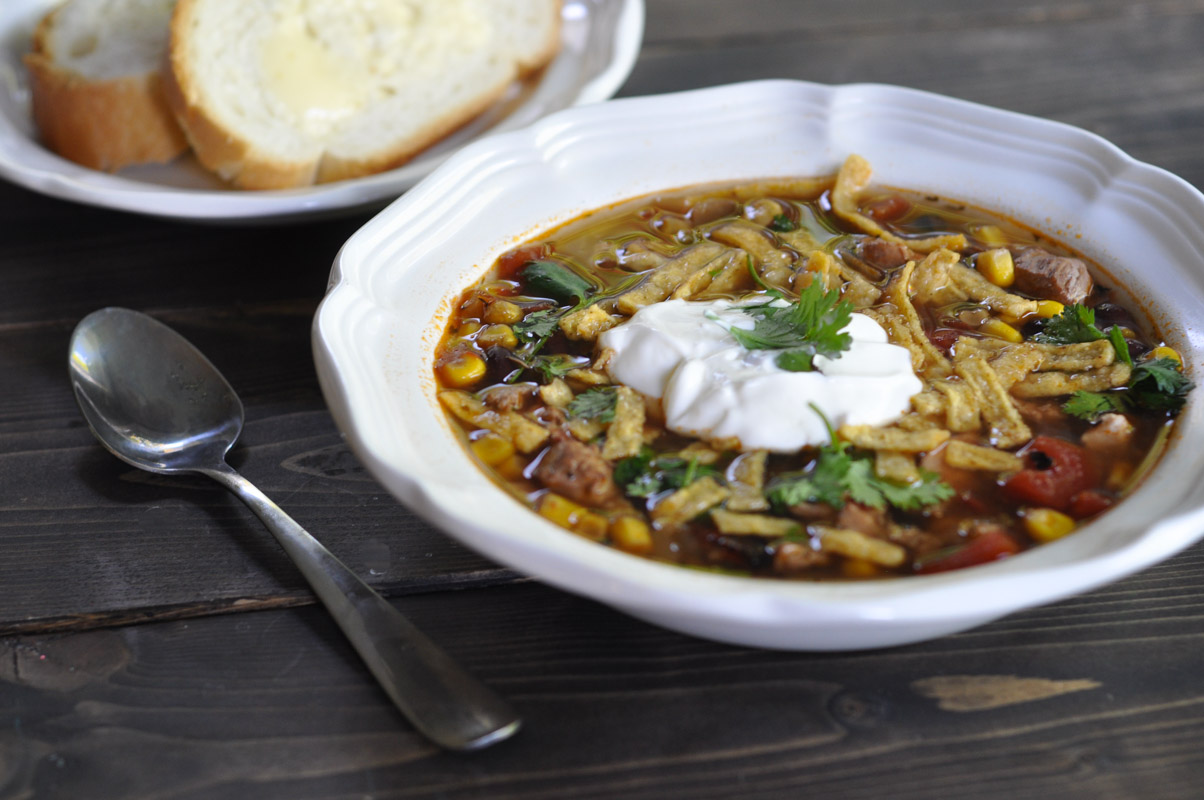 And the last tip – serrano peppers are the kind where you wash your hands after preparing them. Don't be a goof like me and forget all about that part… then rub your nose.
You'll become a fire-breathing dragon. An uncomfortable one.
This recipe is definitely going to go on the "sure fire rotation" in our house. We gobbled it up and had leftovers for the next day. A winner for us!
Pop over to A Pretty Life In The Suburbs to get the recipe for Crock Pot Creamy Pumpkin Spice Steel Cut Oats from Jo-Anna!