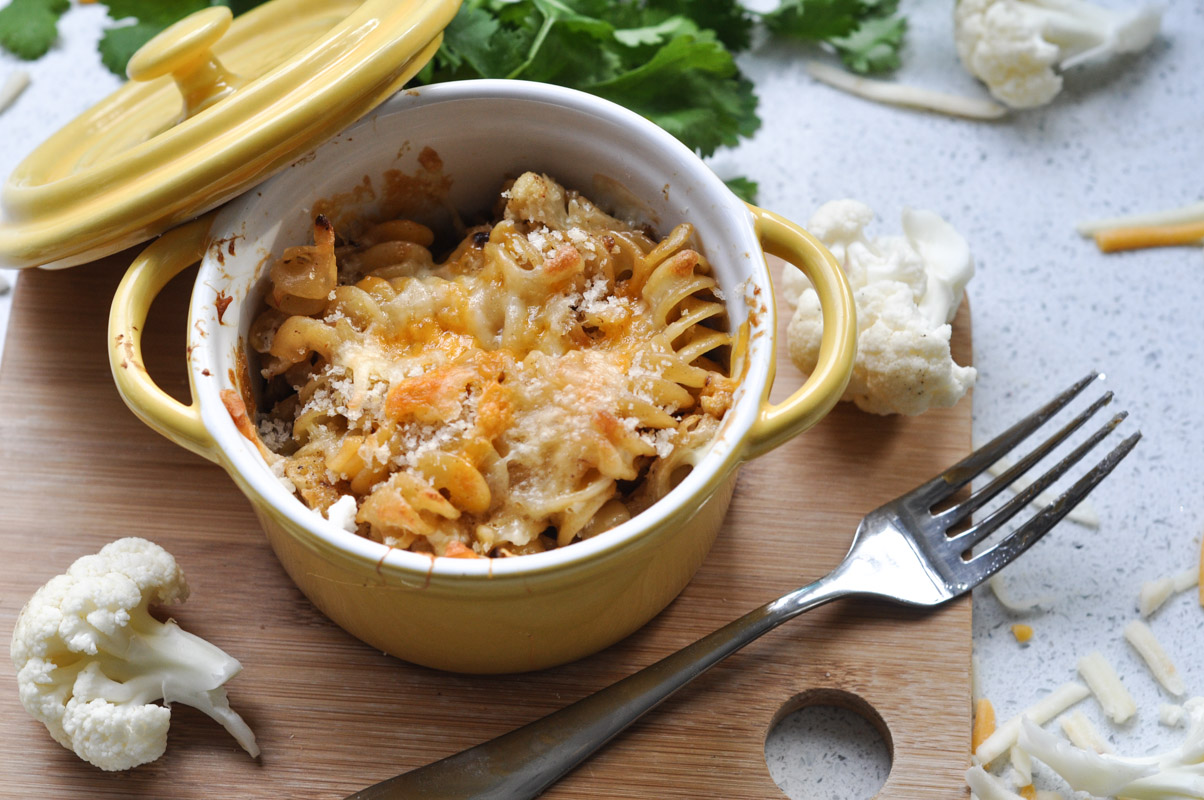 I'll be honest: I can't wait for Mr. Suburble to read this post.
He ate this baked mac and cheese quite happily the other night. He even said, "It would be even better if you popped some broccoli into this."
"Oh, good idea, hon. I'll do that next time…"
*Cue evil cackling from the kitchen*
He was eating cauliflower among his noodles the whole time, and didn't have a clue! In the Sneaky Pete school of cooking, this is a good one.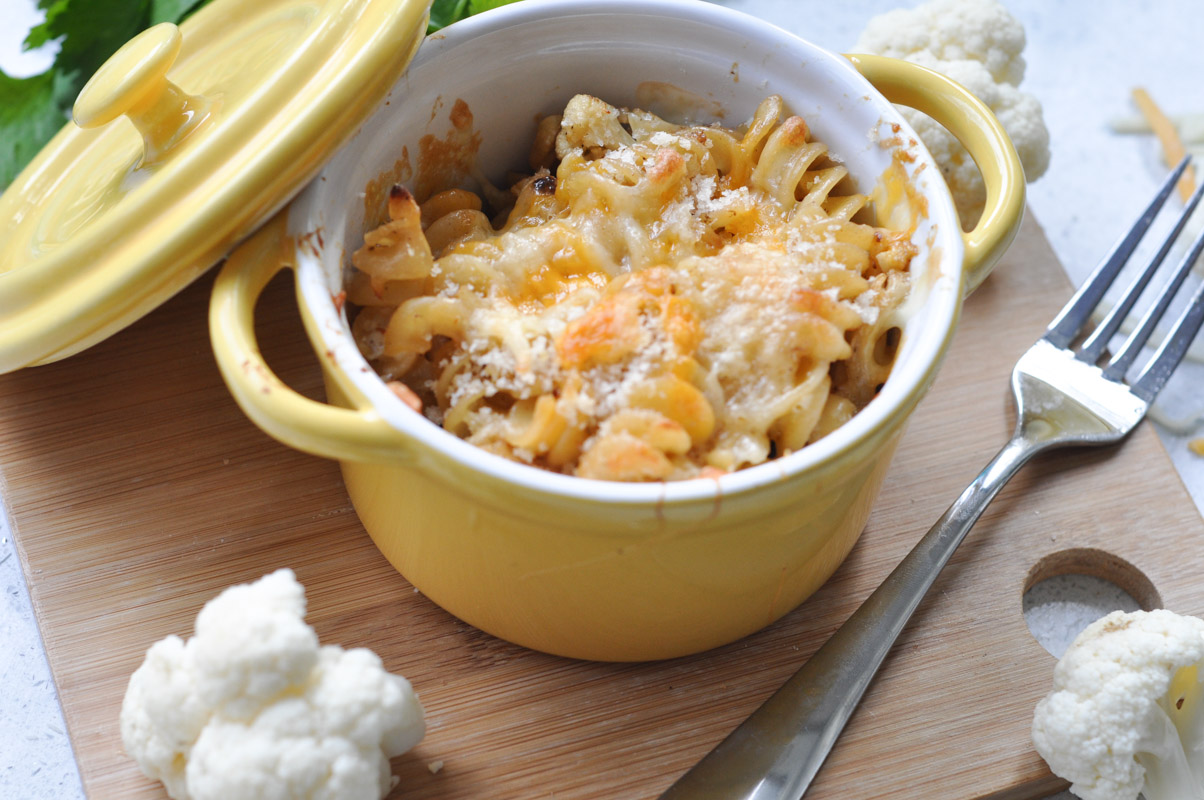 I made these little mini mac and cheeses in these little yellow cocottes for a couple of reasons. Firstly, they're adorable. Secondly, they are easily popped into the fridge and then reheated the next day for lunch. And finally, they bake fairly quickly in the oven, which shaves off time during dinner prep.
I used the Epicure Mac and Cheese sauce in this recipe, because it's a tangy sauce that's easy to put together. It's also preservative, dye, and all-other-bad-stuff free. There isn't any guilt in this shortcut to a faster and tastier dinner.
Baked Mac and Cheese with Cauliflower
Ingredients
1 1/2 cup noodles of your choice (I used Rotini)
1 heaping cup of cauliflower florets, chopped
1 tbsp oil
1 medium onion, chopped
1 pkg Epicure Macaroni and Cheese Sauce
1/3 cup milk
1 cup shredded cheese (with an extra handful for the topping)
1/4 cup breadcrumbs or Panko
Salt and Pepper
Instructions
Preheat oven to 400 degrees
Boil water and cook noodles according to directions
At the same time, heat oil in saute pan
Saute cauliflower and onion over medium heat until onions are translucent and cauliflower is tender-crisp
Mix Mac & Cheese sauce in a separate bowl with milk until smooth
Once veggies and noodles are cooked, combine in saute pan with sauce; toss to coat
While still hot, add cheese and stir until melted
Place mixture into container of choice - cocottes or a casserole dish
Top with breadcrumbs/Panko and sprinkled shredded cheese
Bake in oven until cheese is bubbly and browned on the top
Eat and enjoy!
*This recipe serves two comfortably. I would double for a family of four.
https://www.suburble.com/2015/10/baked-mac-and-cheese-with-cauliflower.html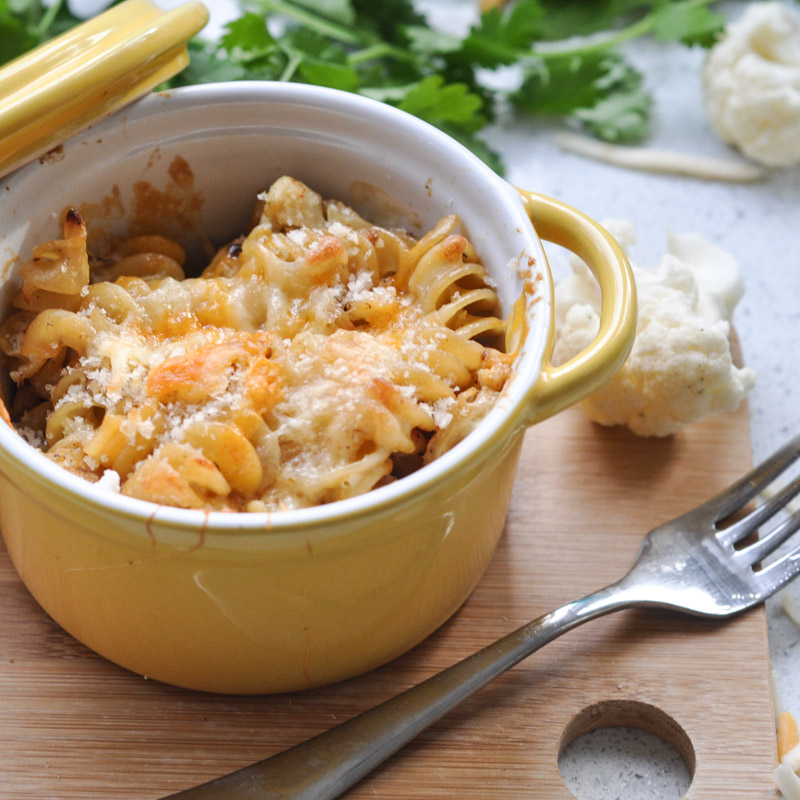 The cauliflower gives a great tang to the dish, but sauteeing with the onion really does cut down on the sharpness that raw cauliflower can bring to the table.
And the possibilities for this basic dish are endless – add salsa for a Mexican mac & cheese. Use leftover spaghetti sauce to make it a "pizza" mac.
Or like Mr. Suburble says, just add broccoli and enjoy.
This recipe made enough for two adult side-dishes. To serve as a main, or for a family of four, I would double the recipe (meaning two packets of the Mac & Cheese mix) – this means double the veggies your family is eating.
I think that deserves another evil cackle, don't you?
I'm thrilled to be working with Epicure, the spice-blend and healthy-eating company. They've sent me a few goodies to review, but this post was otherwise uncompensated and my opinions, pictures, and devious use of veggies are all my own.