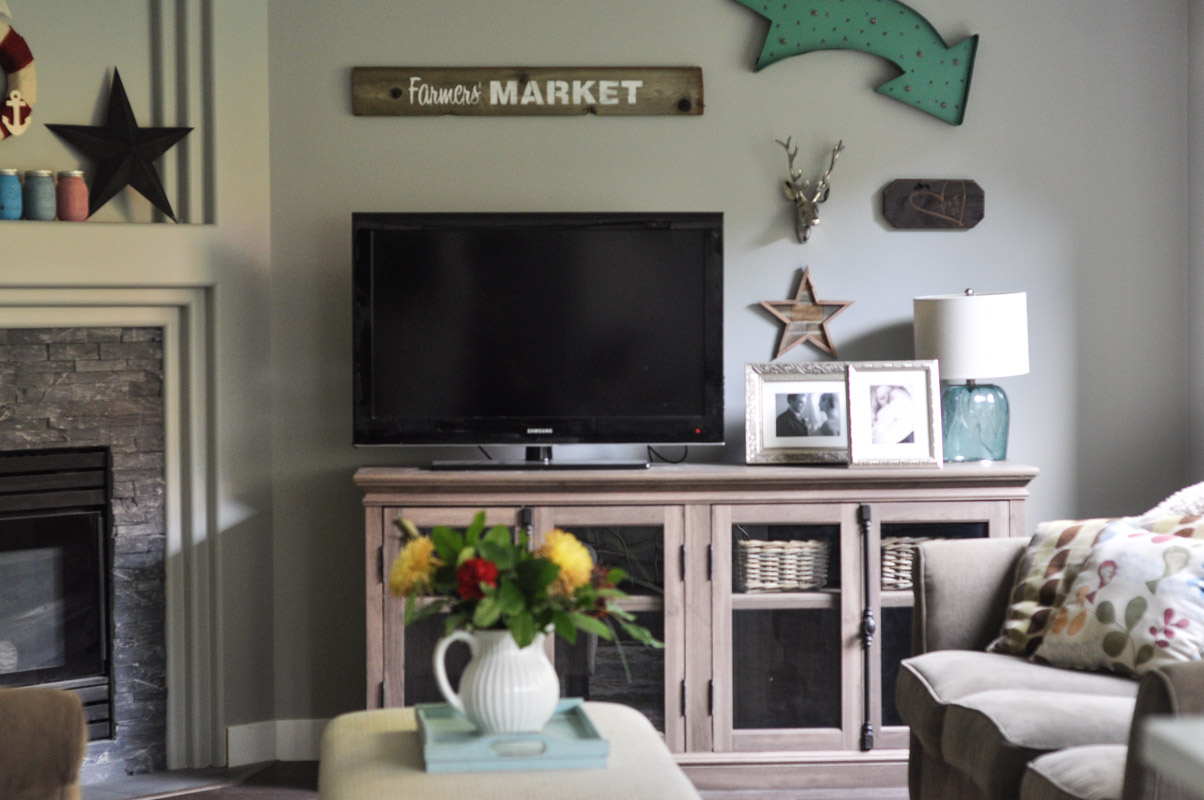 Once upon a year ago, I stood in front of my family room and thought, "Ugh…."
See… I was faced with this: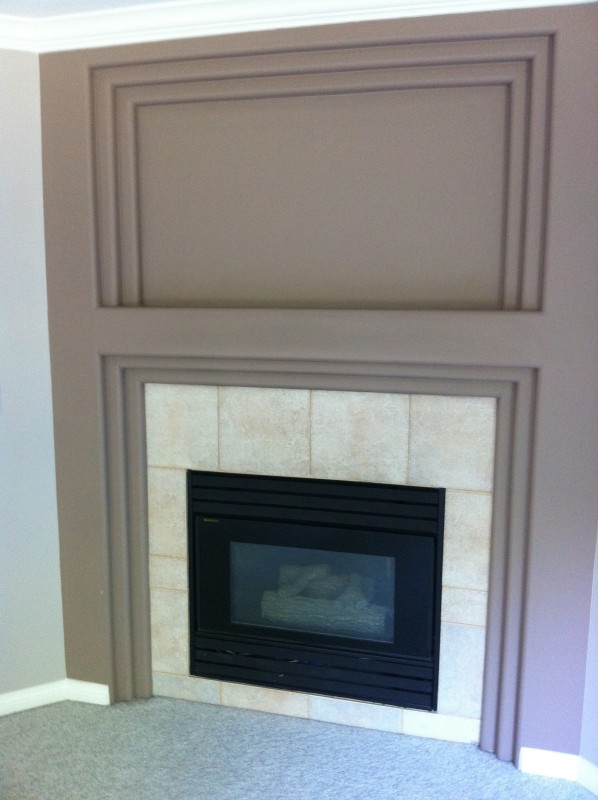 … it was a drywall marvel. With an accent colour, no less.
And it just wasn't my style.
But after coming home to discover that I had ripped down the living room mantel and left a gaping hole in the wall, Mr. Suburble decided that he needed to rein me in. The family room fireplace – and the drywall – had to stay.
So I needed to work around it.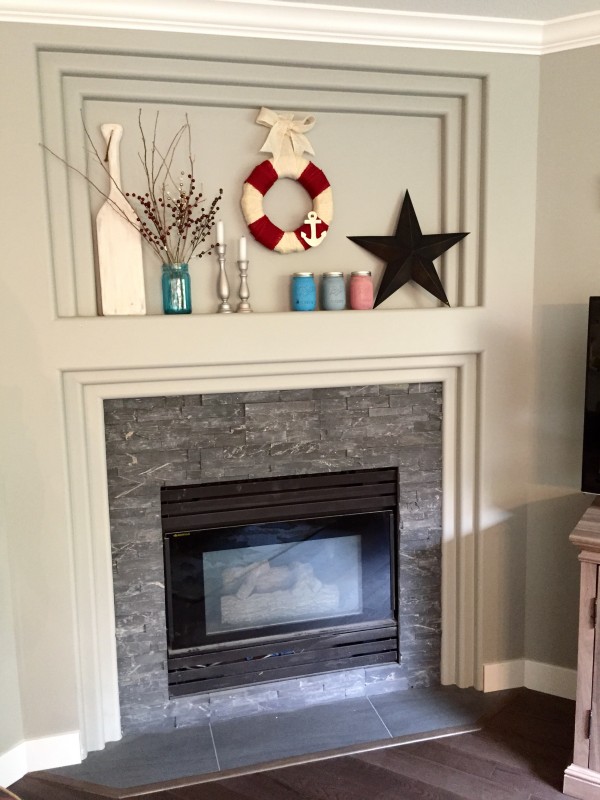 Some leftover ledgestone from the living room surround went around the gas insert… and I did my best with the not-so-big mantle.
But until I could really sink my teeth into this project – watch out, Mr. Suburble! – I had to create a new focal point for this awkward little space.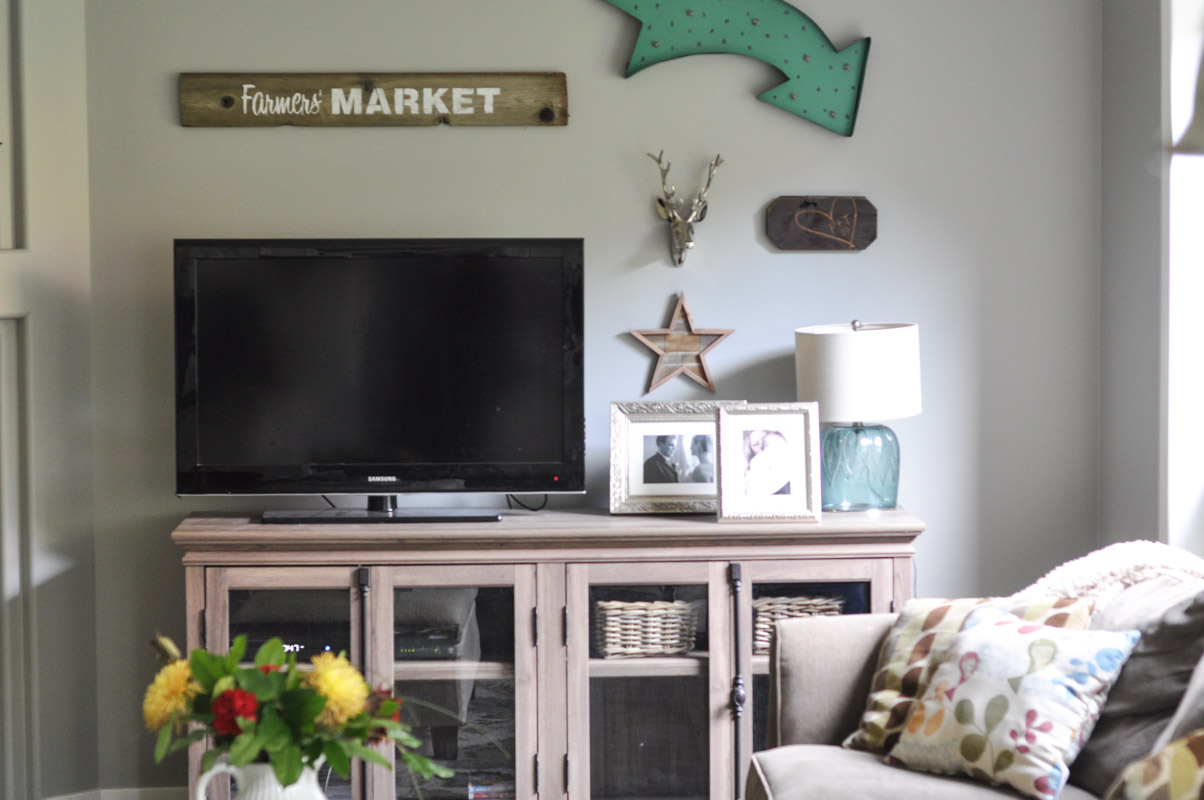 Enter this fabulous unit. It's the Hadley TV stand from Wayfair. And it has completely changed the space!
Mr. Suburble and I spent a Friday night unpacking and assembling this piece, and it only took us two hours and a glass of wine to put it together.
I was immediately taken by both the salted oak finish, and the Pottery Barn-esque feel that this piece had. It instantly grabbed the eye away from my awkward corner fireplace, and instead drew it forward.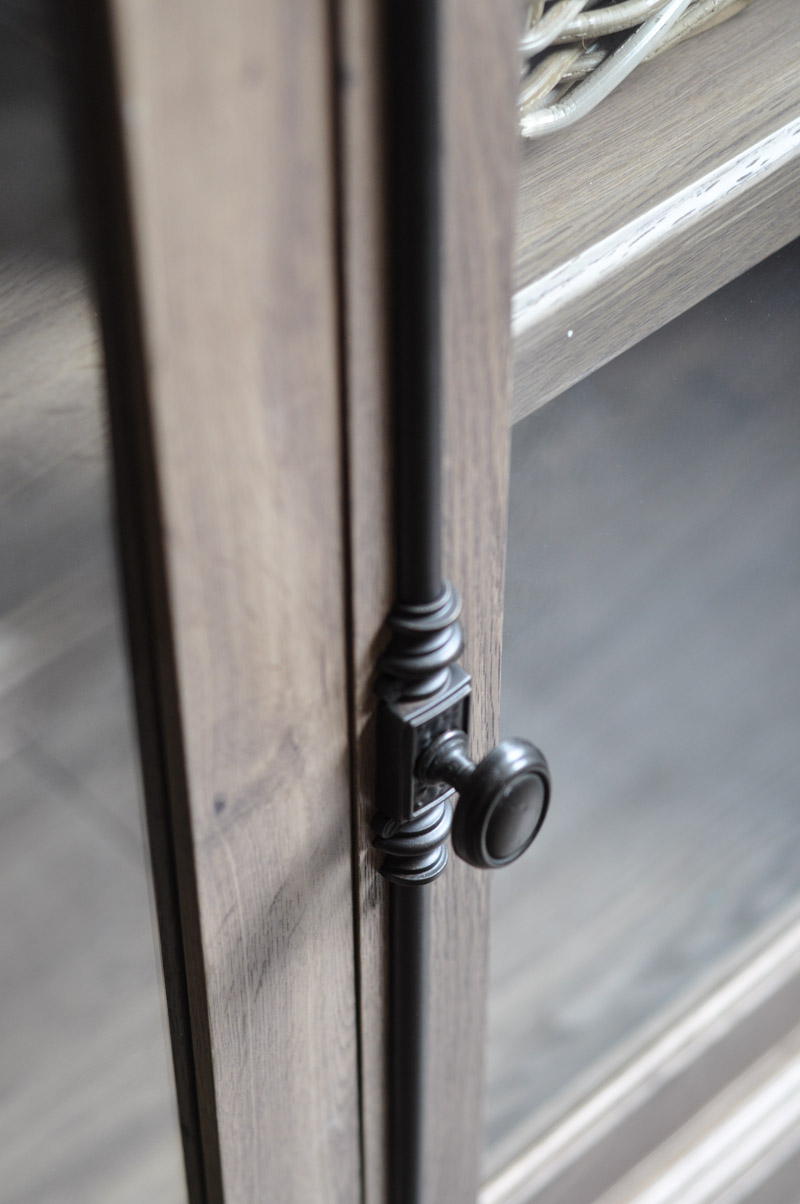 The finishings are classic and with a slightly industrial feel. And the salted oak works perfectly with our silk-oiled floor finish.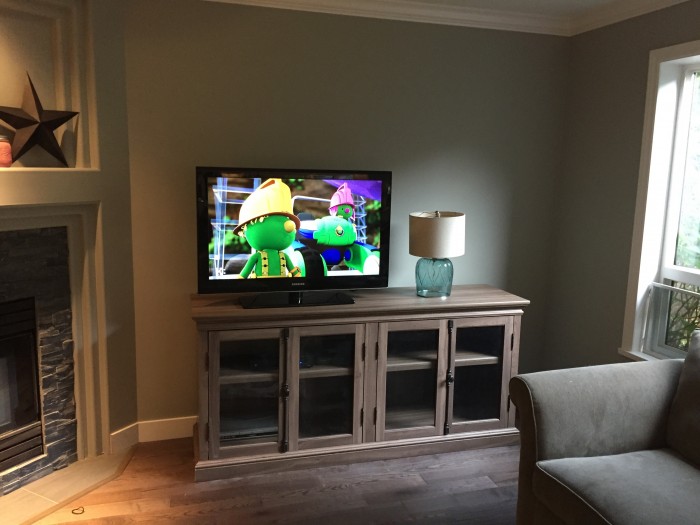 This is what we had once the stand was assembled. It was a great start, but I was feeling like there was a LOT of empty space surrounding the TV. It was also dark.
I have tried my best not to let televisions become the centerpiece of our rooms. I've hidden TVs in armoires and refused to put them on top of our mantels. And so, I wanted to add interest to this wall, rather than let the TV take the stage.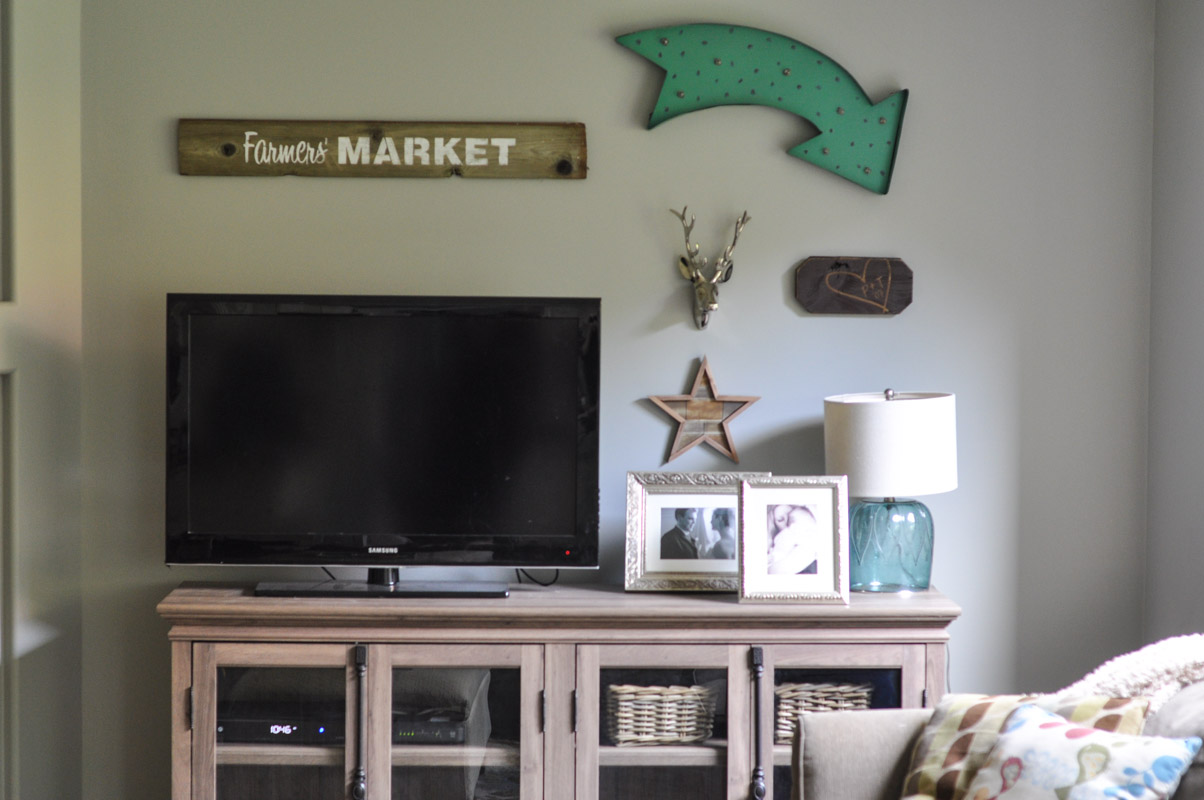 Most of the pieces on this gallery wall were ones we already owned. The arrow marquis is a find from Graham and Brown. And the Farmer's Market sign was something I found in the yard.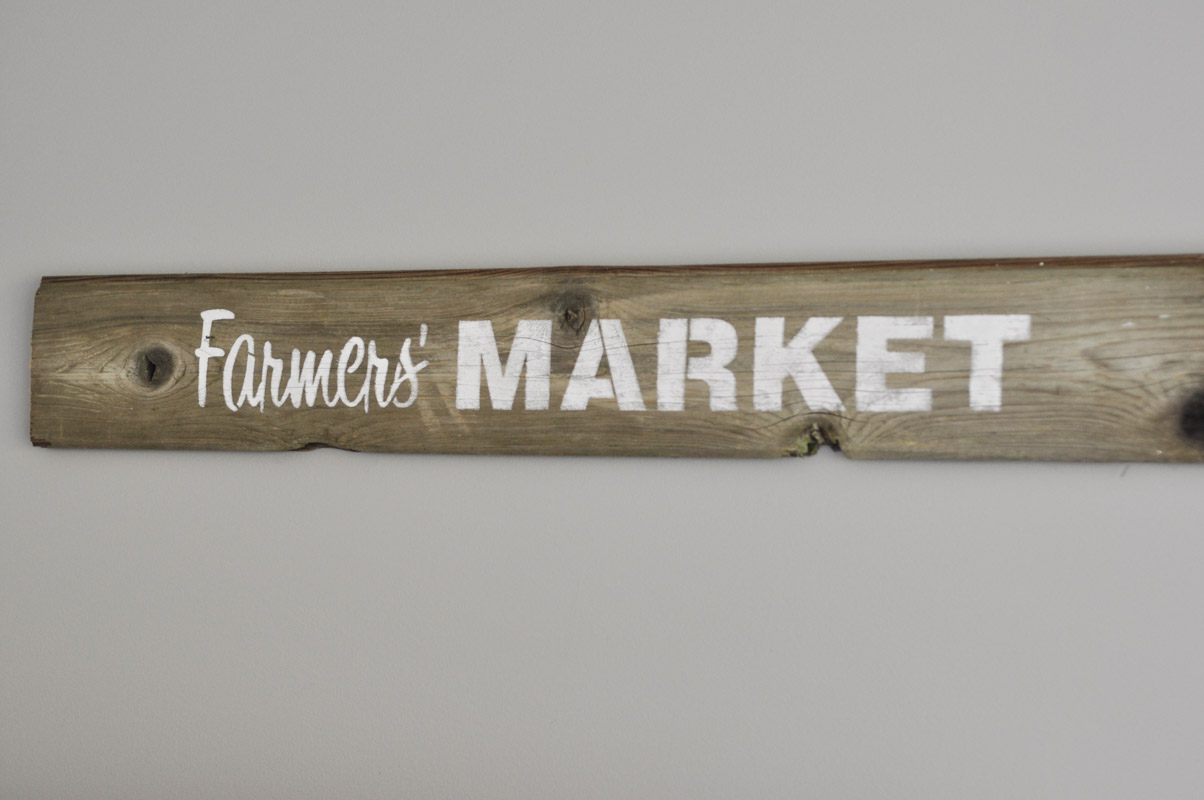 This is a piece of our fence. We lost a fence panel this year due to a storm, and I scurried out into the yard and carried the fence boards back into the garage. Mr. Suburble rolled his eyes at his crazed wife, but let her stack all of the weathered cedar next to the bikes and camp stove.
I used Funky Junk Old Sign Stencils and Fusion paint in Stirling to create this sign. The cedar had twenty years' worth of weather on it, so it was a perfect choice for the project!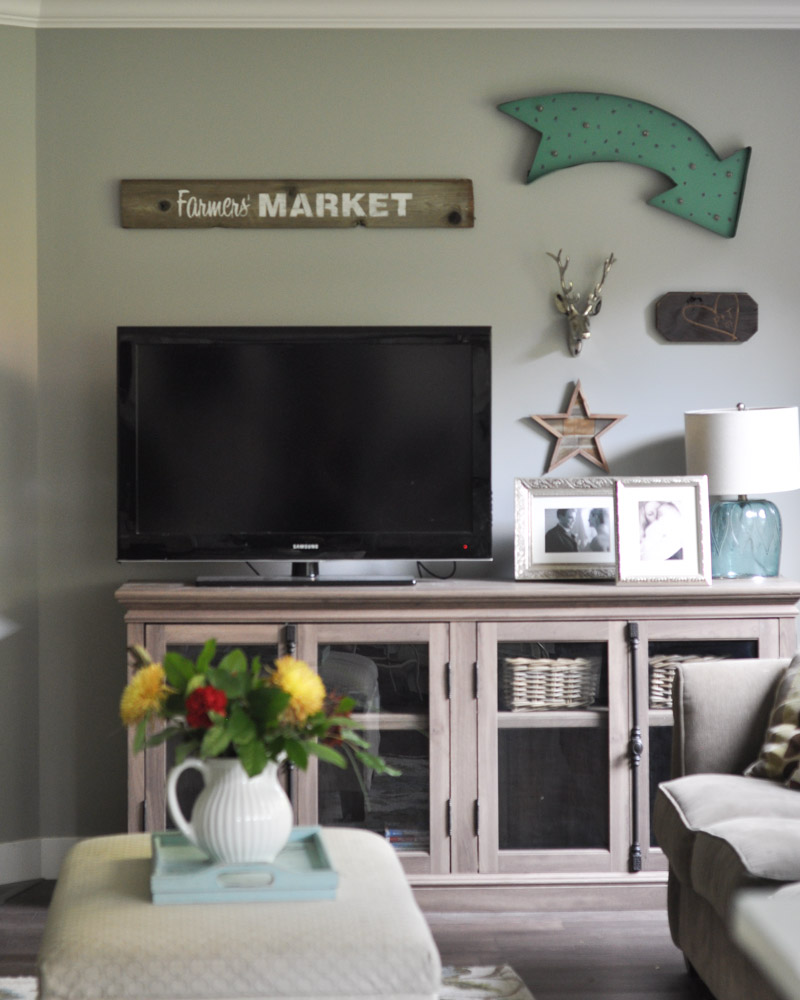 And now it's found a new life as a part of our family room.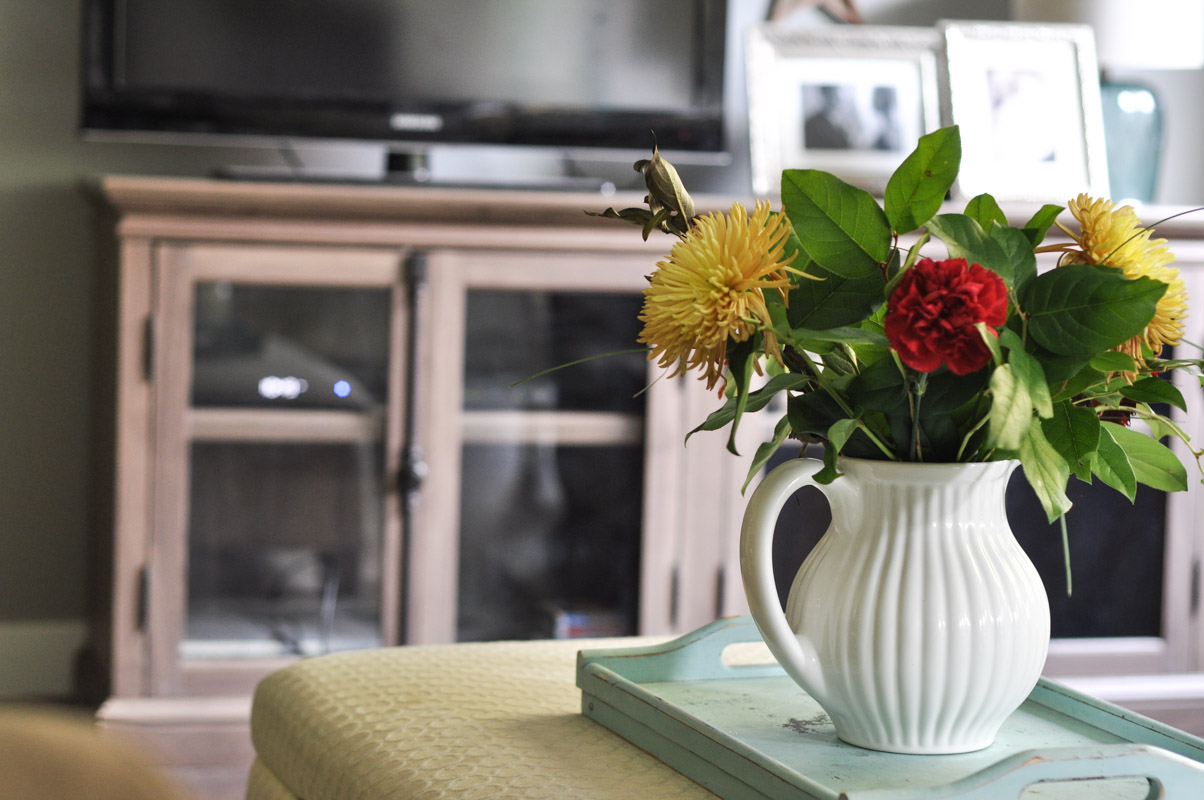 The addition of this new piece of furniture has breathed new life into a room that used to make me sigh with exasperation.
So often, the rooms we spend a great deal of time in – the family room, our bedrooms, the mud room – are the most ignored. It feels good to pay attention to a space where we play board games or watch movies together. This room is on its way to becoming just as lovely as it is used.
Now…. how can I gussy up that fireplace? Ideas?
Wayfair has generously provided us with the gorgeous Hadley TV stand to beautify our room. All awkward fireplaces, opinions and words are my own.