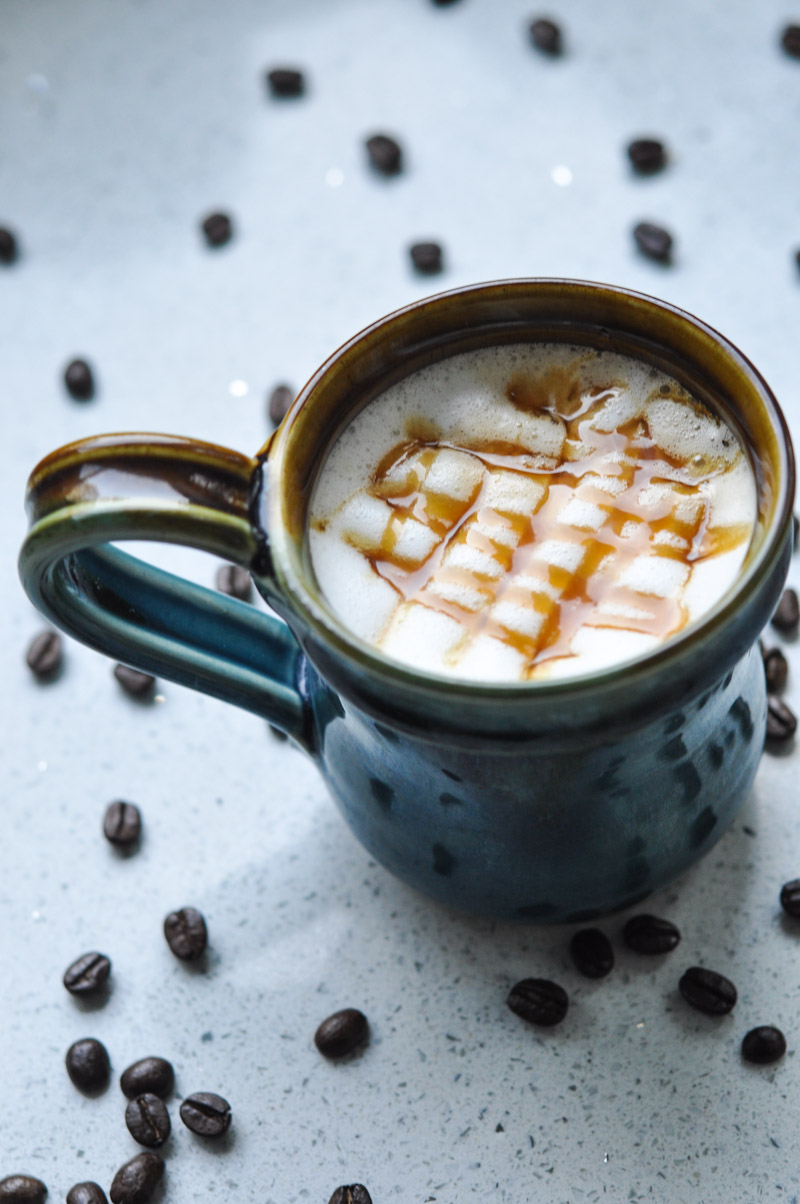 Coffee is actually relatively new to my life.
I've always been a tea drinker. In my university years, I would sit and crochet with my roommate and we would drink pots upon pots of Earl Grey. My other roommate – who knitted and was teaching herself the guitar (sigh, university years are something else, aren't they?) – would drink coffee. And I didn't get it.
Fast forward ten years later, and now I get it.
I started with cups of coffee while getting my hair done. Then, fancy-pants coffees waltzed their way into my life. With their siren song and their foamy deliciousness, I developed an appreciation for nice cup of coffee.
I now happily say, "Sure!" when asked if I want a cup of coffee.
"One sugar, one milk, please!"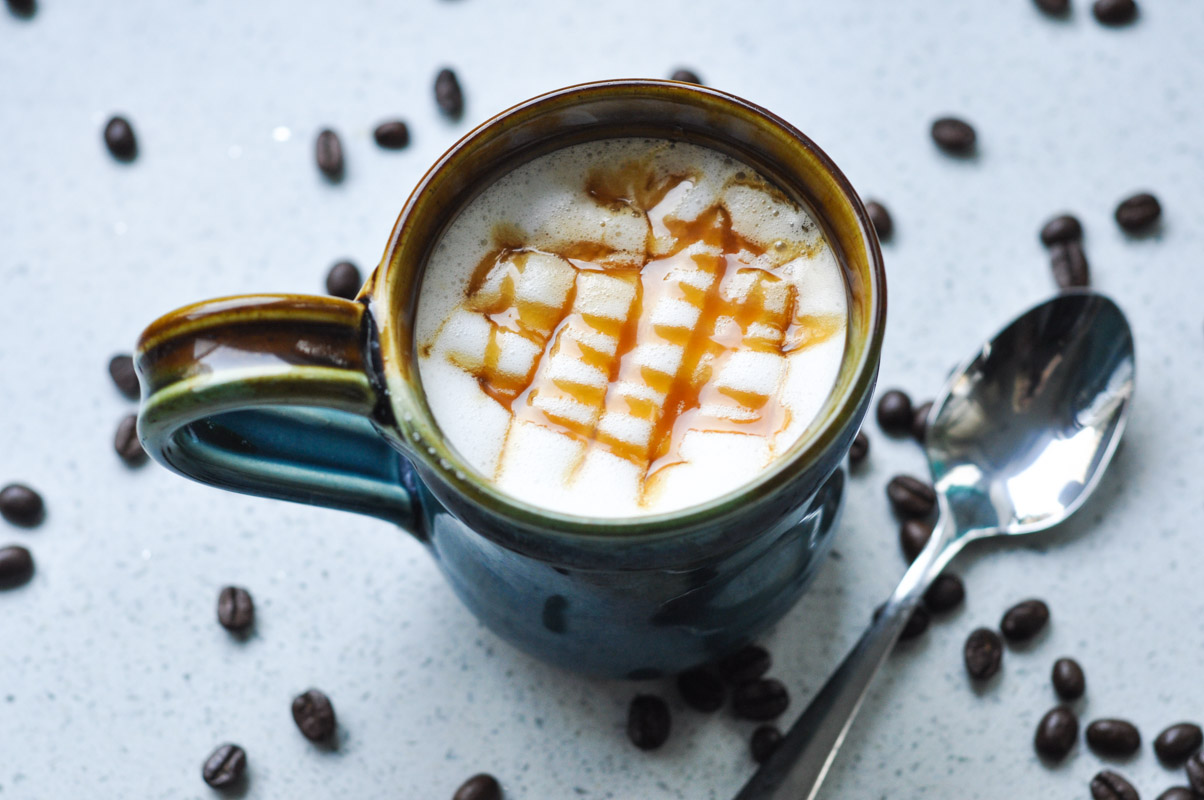 About a year ago, I went for a play date at a girlfriend's house. Instead of asking if we wanted a simple cup of coffee, she asked if we wanted a latte.
"A latte? Okay… how are you going to make that right now… in your kitchen?"
She pointed to her Saeco espresso machine. We sat and gabbed over the table while she quickly whipped up lattes with the push of a button. We were amazed at the machine. We asked her questions while we sipped from heavy mugs. She told us that her parents had had their own Saeco for over 10 years now, and she knew that she needed one in her own home.
I didn't forget that machine – nor did my friends, as we chatted about it more than once after that visit. When the opportunity to try out a Saeco Moltio super automatic espresso machine came along… I jumped at the chance.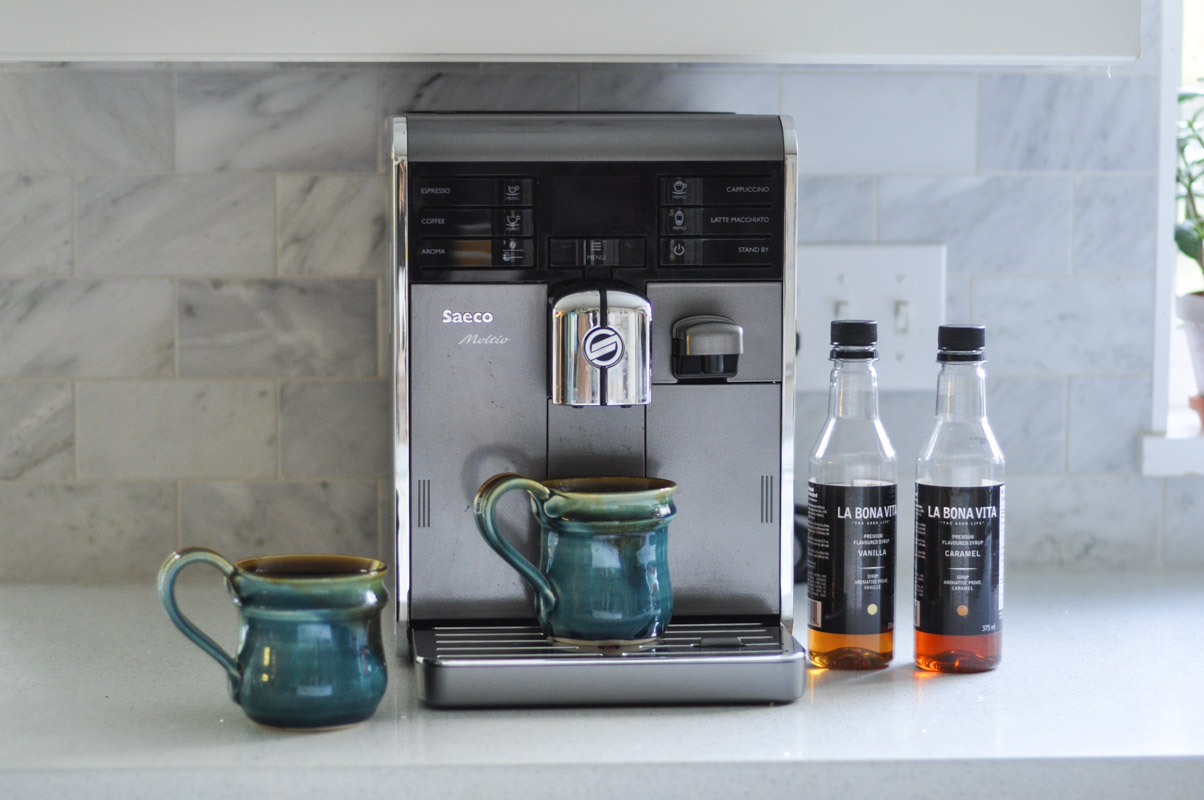 It sits on the counter, quietly, waiting for me to ask it to make a coffee. What's amazing is that I can ask for a cup of coffee, a shot of espresso, or even a custom-made macchiato.
You can pre-program the amount of foam – created almost instantly by the detachable milk carafe – as well as the amount of espresso to suit your tastebuds. I make my macchiato similar to how you would get it at Starbucks – it's pretty much a latte with flavouring, foam, and a shot of espresso.
A traditional macchiato – meaning "marked" in Italian – is a double-shot of espresso mixed with milk and a bit of foam. It's a serious drink.
And well, we know how serious I am. I like a milky coffee.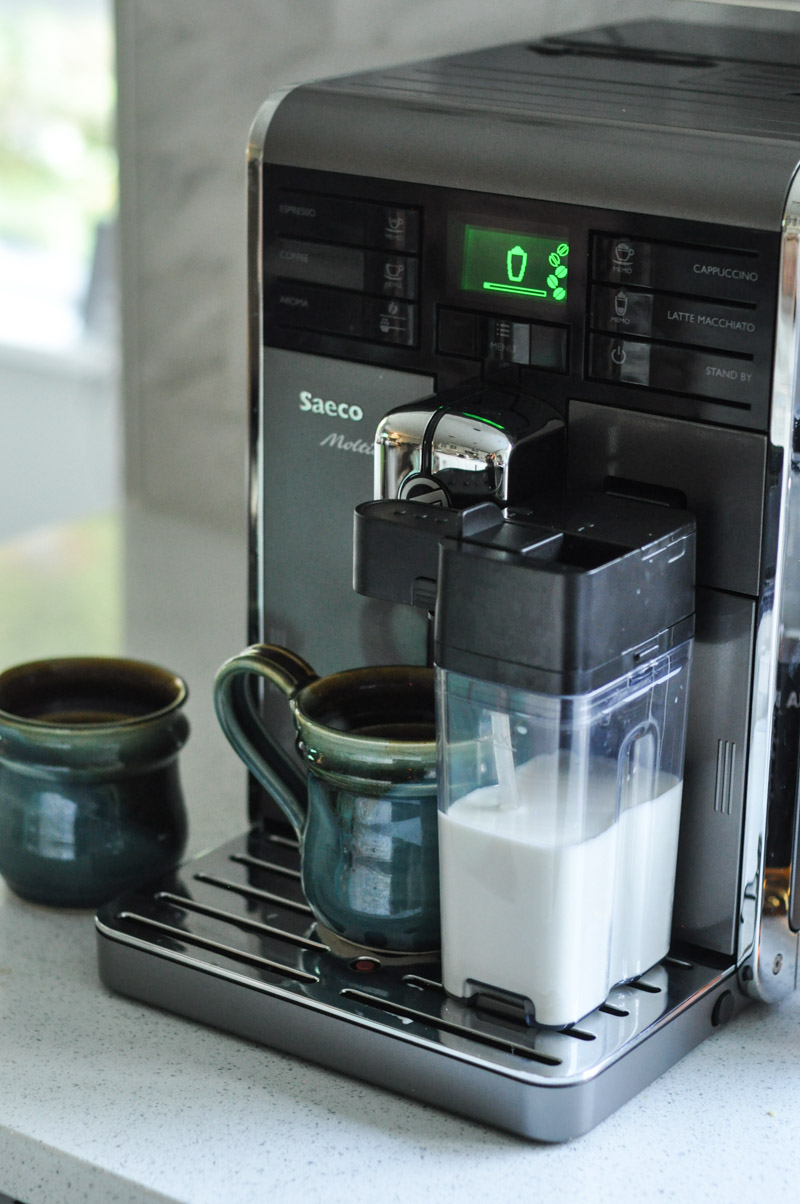 To make a macchiato, you will need:
Vanilla (or Caramel) Syrup
A shot of espresso
Steamed Milk (whether you go for a latte amount is up to you)
Caramel
I start with about a tbsp of vanilla syrup at the bottom of my mug. Then I press "Latte Macchiato" and let the Saeco do its thing.
It starts with a layer of foamy steamed milk, and then pours my personally-chosen length of espresso shot into the glass, thus "marking" the foam.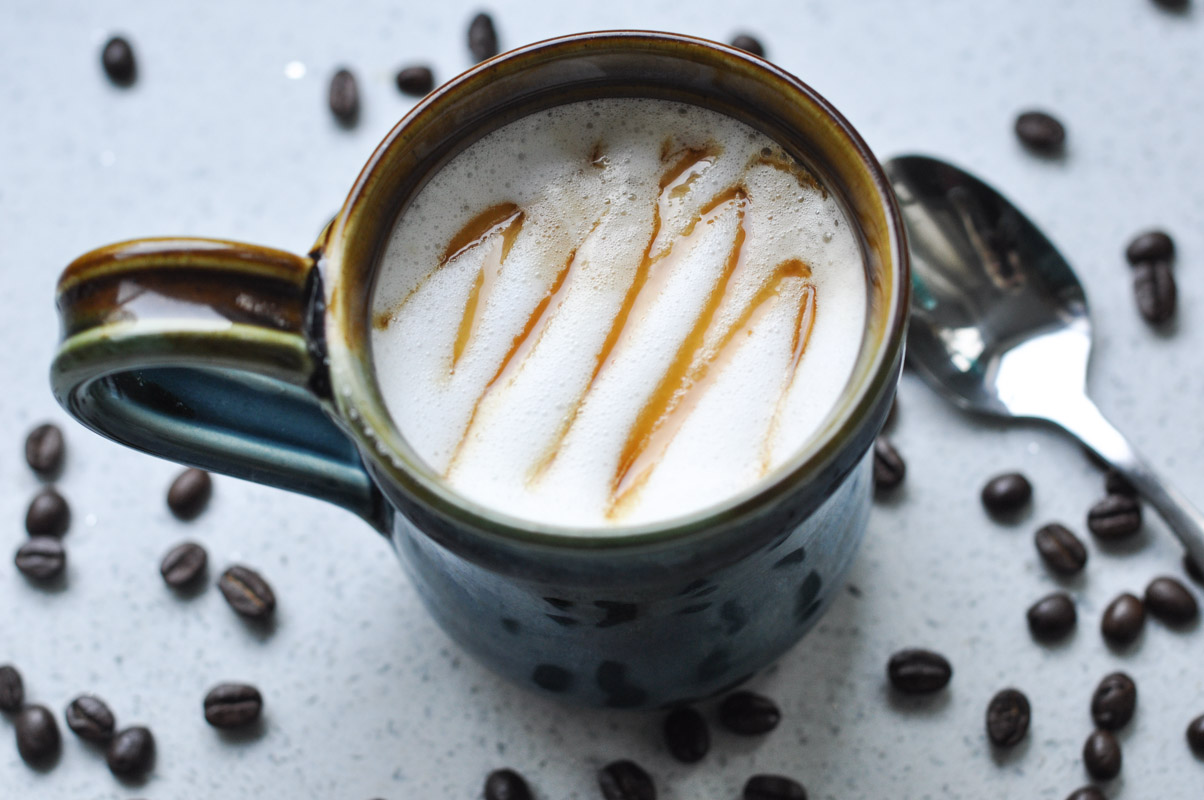 I topped the drink with caramel syrup- but this is only for company and feeling fancy. I typically resist it on a regular day.
And this is how I start many of my mornings now.
It's lovely to sit down at my work station, holding a hot mug, and not having to worry about the clean up of an espresso machine and its various pitchers and cups. The milk carafe has a "quick clean" option after it steams the milk, and then it's popped back into the fridge.
I feel like I've been having a wonderful treat… and I can make it in my own kitchen.
It's started something… the non-stop tea drinker is now holding a cup of coffee in her hands.
Saeco Canada generously provided me with the Moltio espresso machine to play with. However, all words, images, crocheting roommates and milky coffee recipes are my own.