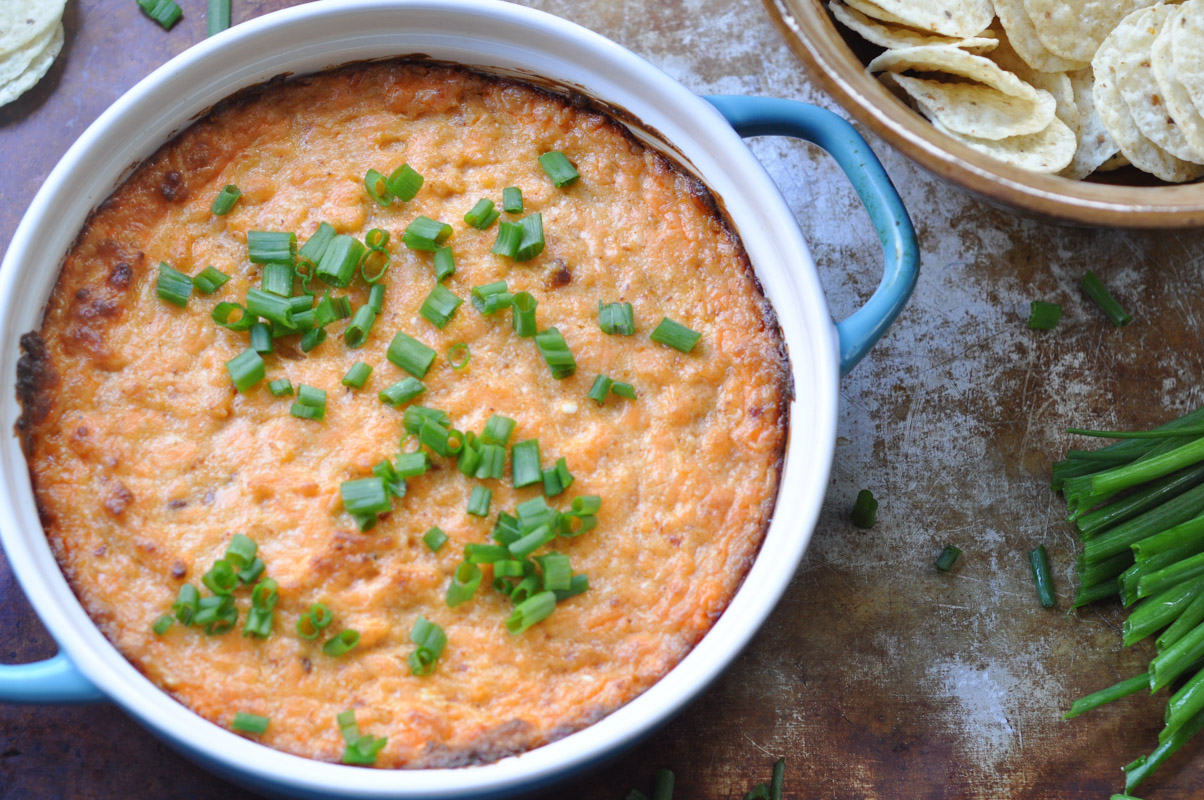 It's hot appetizer season!
While I love me a good chip-and-dip appy, there's something so satisfying about a hot, cheesy dip plunked onto the table.
Heads turn, noses sniff the air, and suddenly, a multitude of chips appear to start scooping up the cheesy goodness.
And when you add a flavour as delicious and rich as Butter Chicken?
Watch out.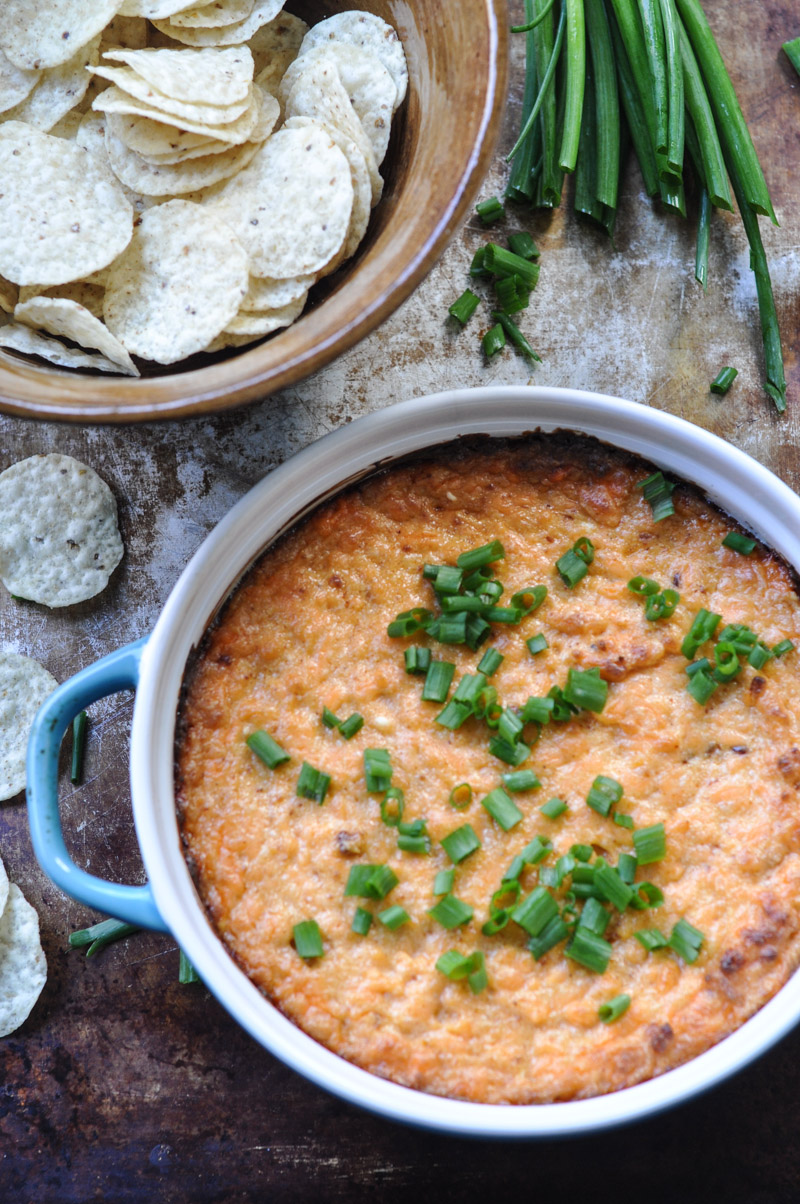 Starting on November 11th, Diwali – the Indian Festival of Lights – will begin. This five day festival celebrates the victory of good over evil. People decorate, clean, and renovate their spaces as well as celebrate with the lighting of diyas – oil lamps – and fireworks.
Part of this decorating for Diwali is rangoli art. Typically created by women, this is a floor decoration made of spices, coloured sand, and rice.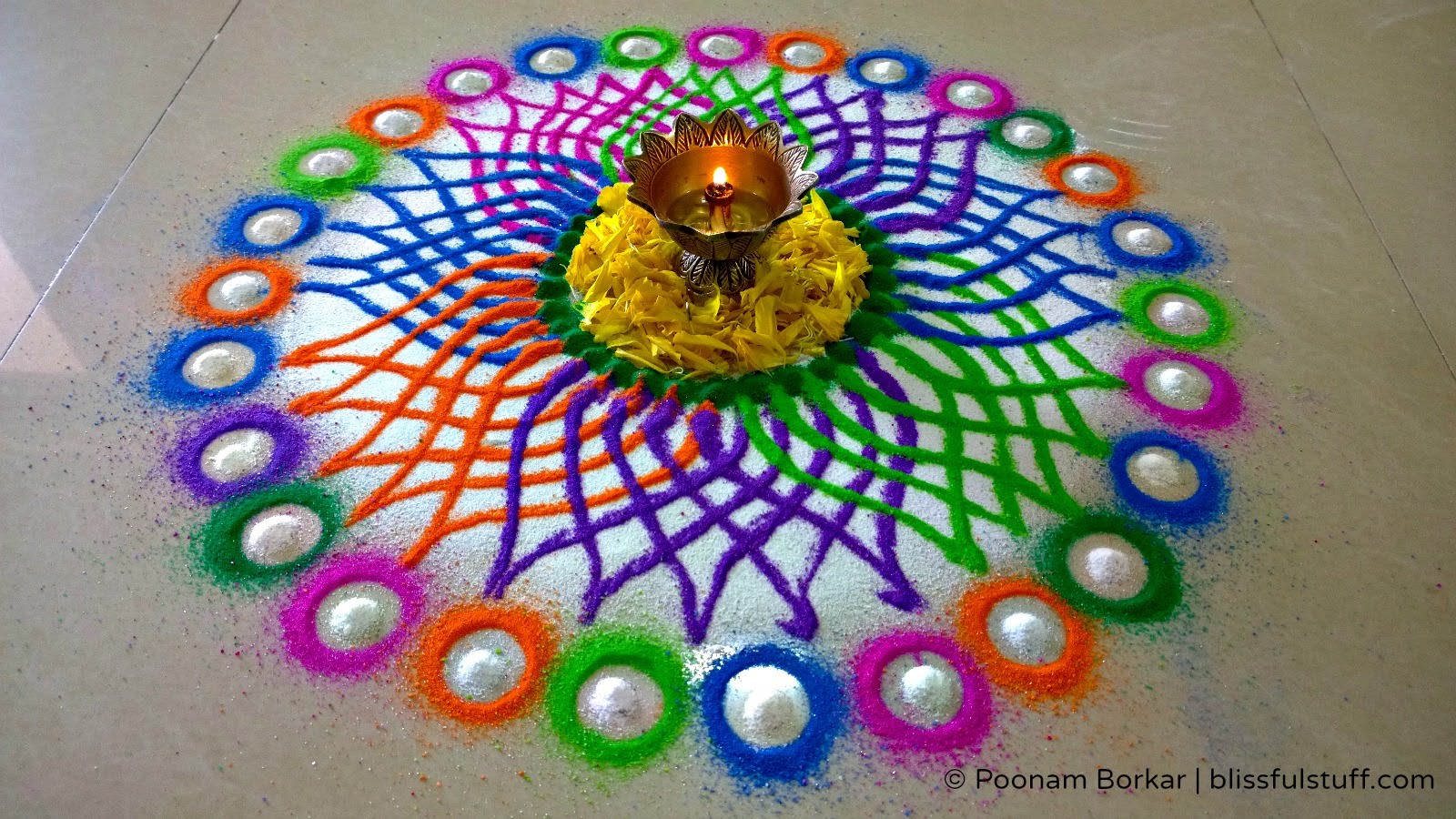 Source: blissfulstuff.com
We Patak's ambassadors were sent a little "cheat-sheet" version of a Rangoli. A cutting board that pre-marked a design to be completed with spices and rice.
I got the girls involved and we created this: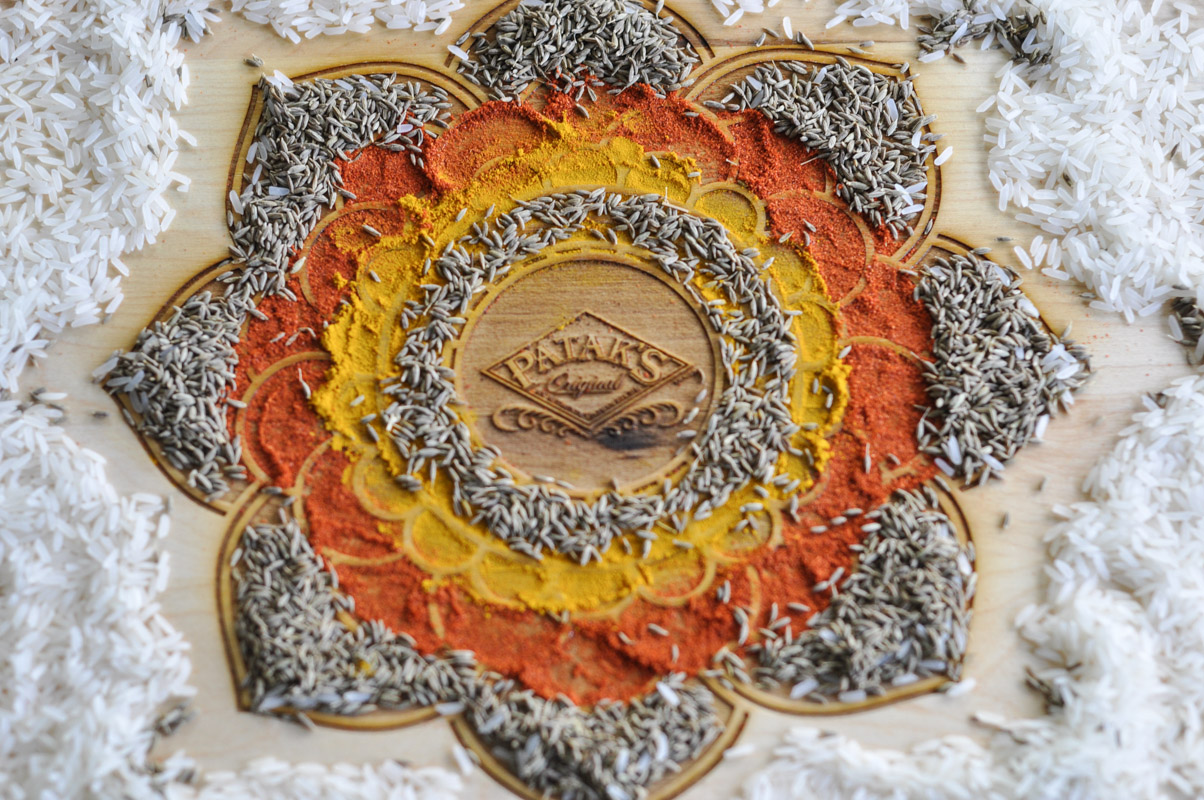 Yes, I know. It's not quite the show-stopper of the piece above. We were a bit heavy handed with some of our grains.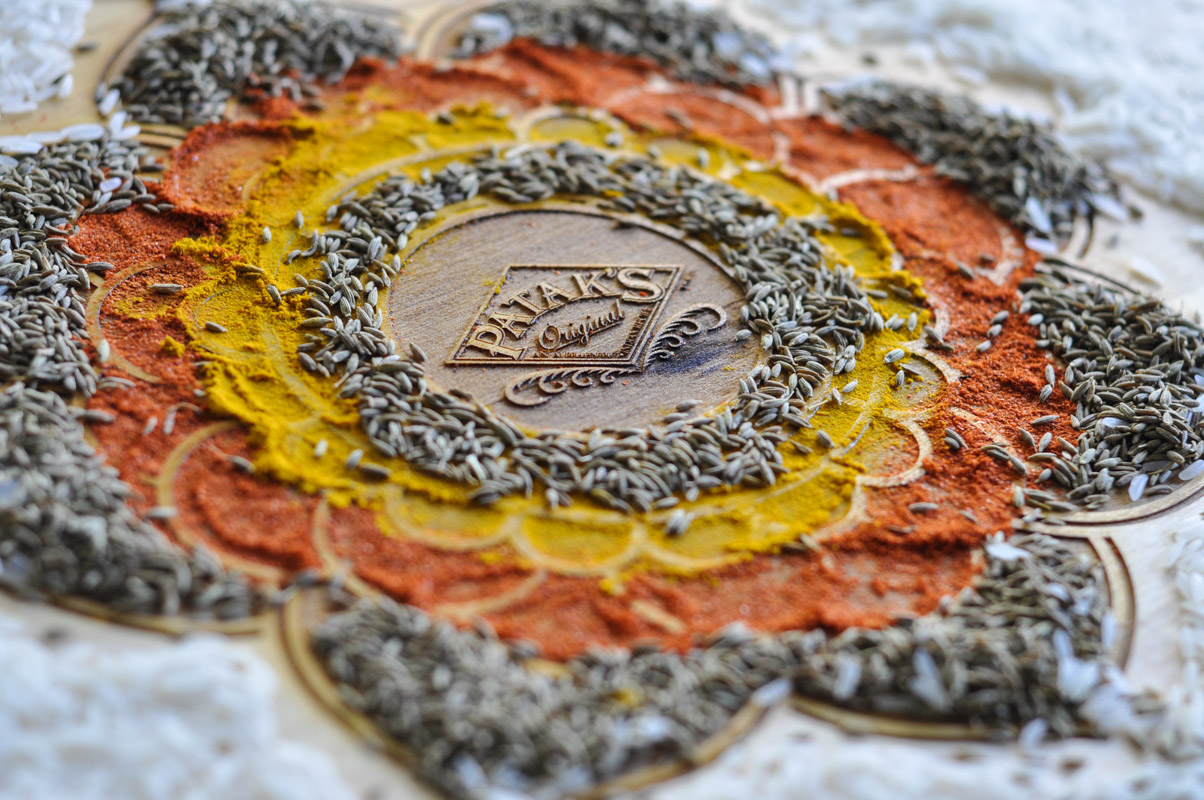 But I love that we got to experience a small part of the Indian culture. The spices are so strong and colourful, and the textures of the rice and cumin seed were incredibly attractive to the girls.
You can guess that this board became a bit more "abstract" after mom shot the pictures.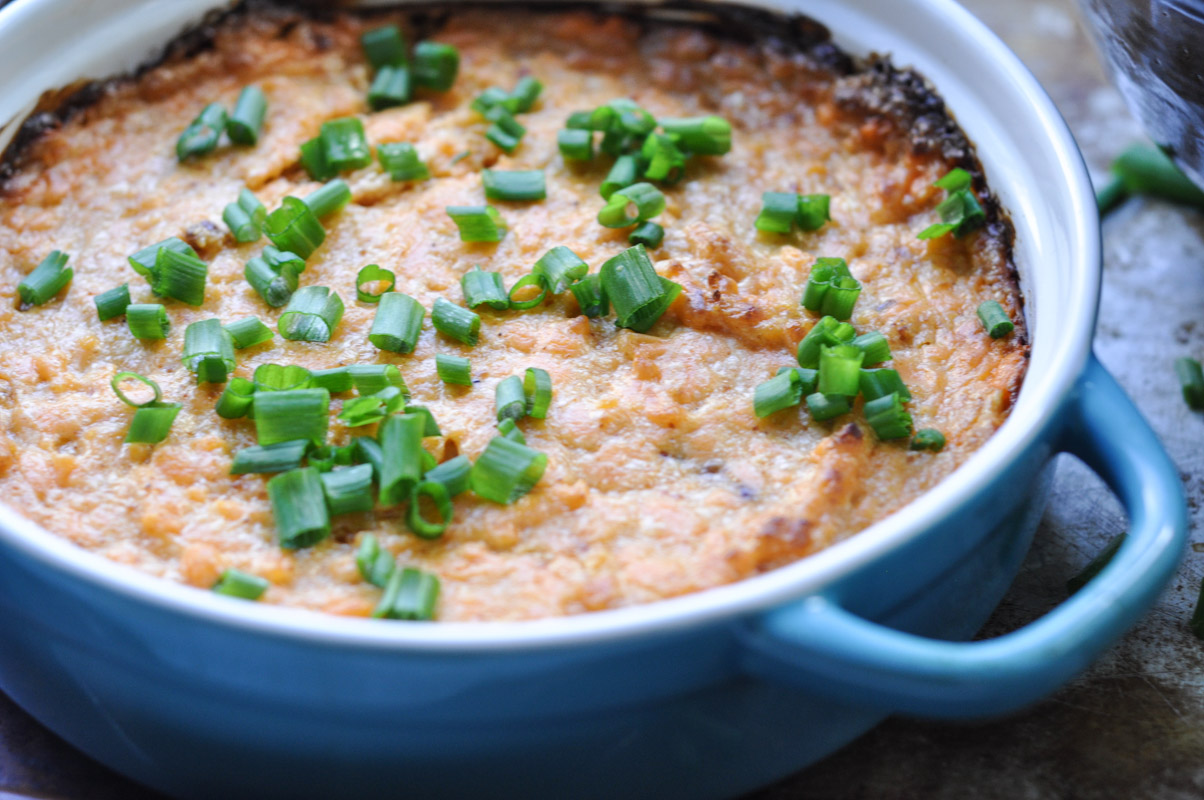 Okay, back to the melted cheese.
This dip is an easy one to make, and will definitely please the palates in your group.
I used Patak's Butter Chicken curry paste as the flavour base for this dish. Because it is a fairly mild paste, you have to consider your love of spice (and your guests' love of spice) when making it. I used two heaping tablespoon fulls, and the dip has a subtle hint of spice.
If you're looking for heat, consider an extra tablespoon full, or perhaps move to a single tablespoon full of traditional curry paste, such as Madras.
Butter Chicken Hot Cheese and Curry Dip
Ingredients
1 tbsp oil
2 tbsp Patak's Butter Chicken Curry Paste
1 brick of plain Cream Cheese
1 cup of mayonnaise
1 cup of shredded cheddar cheese
Diced green onion for garnish
Instructions
Preheat oven to 400 degrees
Heat oil in saucepan over medium heat
Add curry paste and cook until fragrant
Add cream cheese and stir with curry paste until cream cheese is softened
Add curried cream cheese to bowl with mayonnaise and cheddar cheese
Mix together and then put in oven safe baking dish
Bake for 20 minutes until top is browned and cheese is bubbling
Top with green onion and serve with chips, veggies or papadums
https://www.suburble.com/2015/11/butter-chicken-hot-cheese-dip.html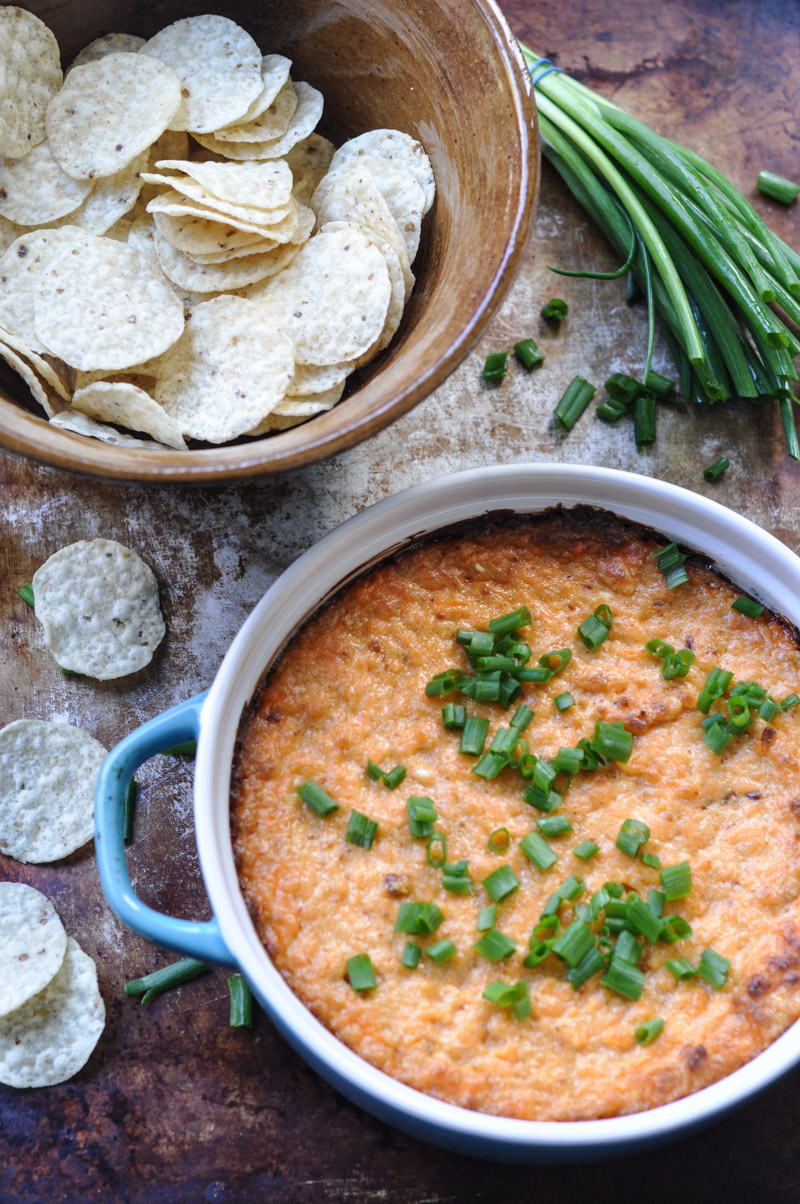 It's a dip that is quick and easy, and can pack as much punch as you want it to. Bring it to your next gathering, or whip it up for an afternoon snack on the weekend.
With all of that rich and cheesy goodness, how can you go wrong?
Looking for more ways to add spice to your meals? Visit Pataks: on the web, on Facebook, on Twitter, and on Tumblr.
I am part of the Patak's Canada ambassador program and I receive special perks as part of my affiliation with this group. The opinions on this blog are my own.