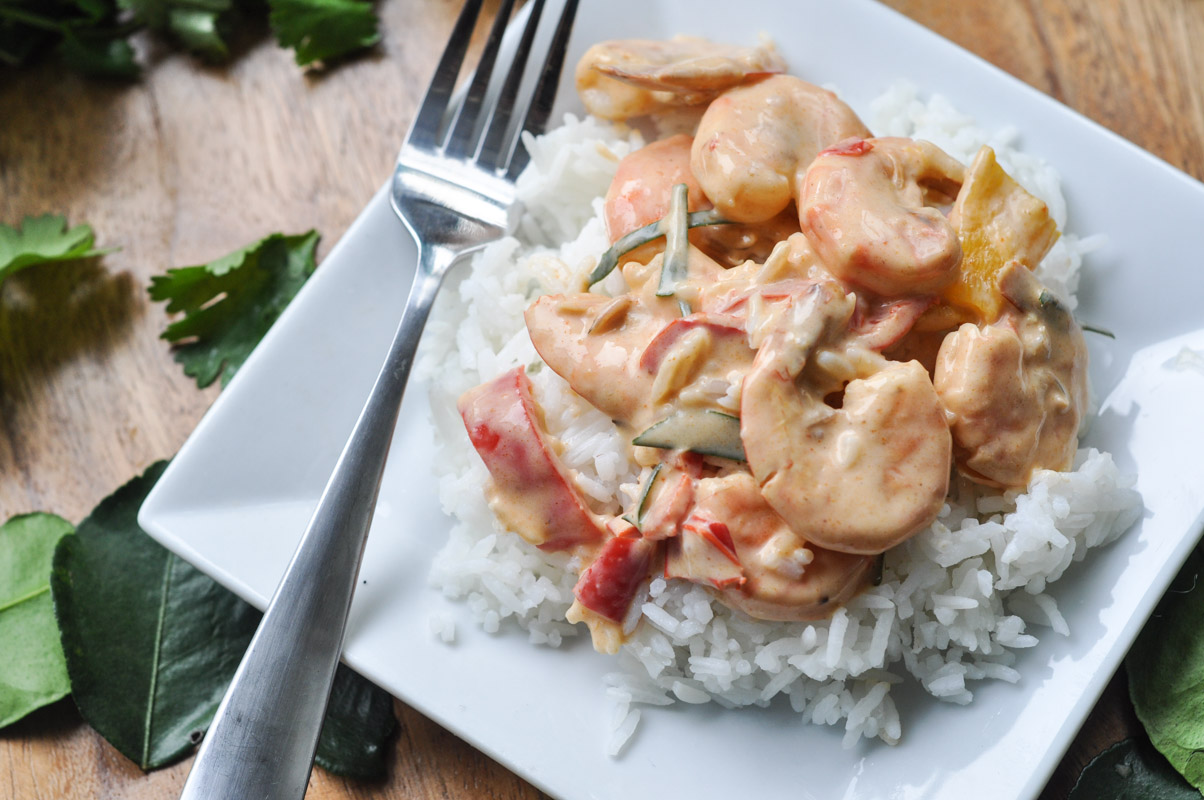 A few months ago, I took a cooking class in a local Thai restaurant with my good friend, Lindsay. We made various sauces and soups over our own personal gas hobs, and the chef walked around the small room, sampling our dishes.
It was empowering to have such unique, hands-on experience. I walked out of that lesson feeling like I was now a skilled Thai chef. I may only know how to cook five dishes, but that was five more than I had made that morning.
And so when I got the opportunity to showcase a seafood recipe, I thought of panang curry. It's an easy, rich sauce that has a bit of heat to it.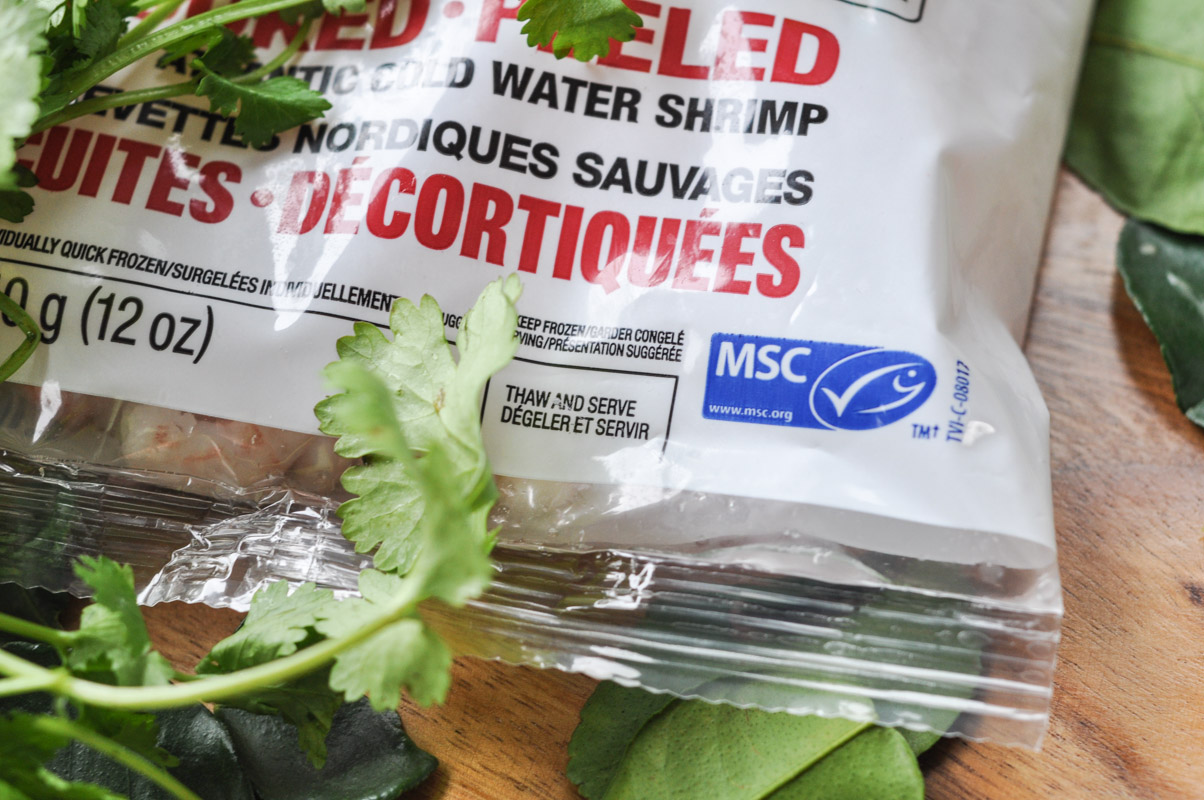 I do my best to try to be aware of the choices that I make in my grocery shopping – Mr. Suburble often tells people not to get me started about food – but one thing I've become more aware of is the overfishing of our world's oceans. Fishing is happening on a larger scale than ever before, and 11 of the world's 15 major fishing areas are in need of urgent management.
The label that you see on the package above is one designated by the Marine Stewardship Council. It means that the product you're buying comes from a sustainable wild-catch fishery that is certified to the MSC standard, and is fully traceable to a sustainable source.
In a nutshell: you're buying seafood that is sustainably harvested and is not contributing to the gross overfishing of the world's waters.
In a world where we're buying free-range and organic, it's now important to put "sustainable" onto the list of must-haves.
The World Wildlife Federation (WWF) is committed to helping the MSC, and is currently working with Loblaw stores in Canada to ensure that nearly all seafood in its department is MSC-certified. As of May of this year, over 93% of their seafood products were harvested from MSC or other certified sources.
I feel like the "The More You Know" rainbow should come shooting across the page right now, don't you? It's just one of those things that you may not have thought of as you stroll down the seafood aisle. But now that you DO know… make a conscious choice to choose sustainable resources as your dinner.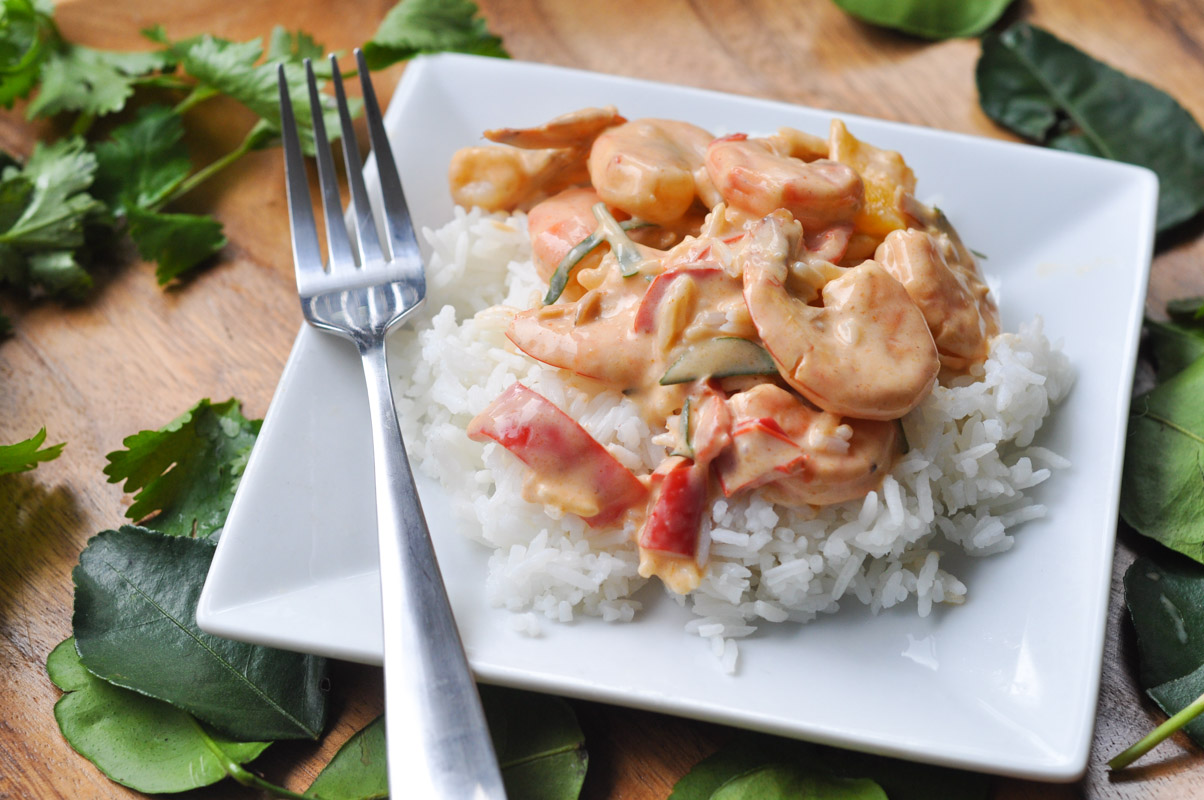 I picked up the prawns at my local Superstore – a Loblaw's store – and I was really impressed by their produce section. I found lime leaves and Thai basil there nestled among many other hard-to-find ingredients.
Ingredients
1 lb Prawns – peeled and de-veined
1 tbsp Panang Curry Paste
½ cup Green and Red Bell peppers, diced
3-4 Lime leaves, thinly sliced
1 can Coconut Milk – full fat, not "light"
1 tbsp Vegetable Oil
½ -1 tbsp sugar (to taste)
1 tbsp Fish sauce
Cilantro for garnish
Instructions
1. Heat oil in sauce pan over medium heat
2. Add curry paste and stir until fragrant
3. Add coconut milk and let it reach a boil
4. Add fish sauce and sugar (taste frequently and adjust accordingly) and let boil for approximately 1 minute
5. Turn down to simmer and add peppers – cook until tender-crisp
6. Add lime leaves and prawns – cook for approximately 3-5 minutes, making sure not to overcook prawns
7. Serve over bed of jasmine rice, garnish with cilantro
https://www.suburble.com/2015/11/prawn-panang-curry.html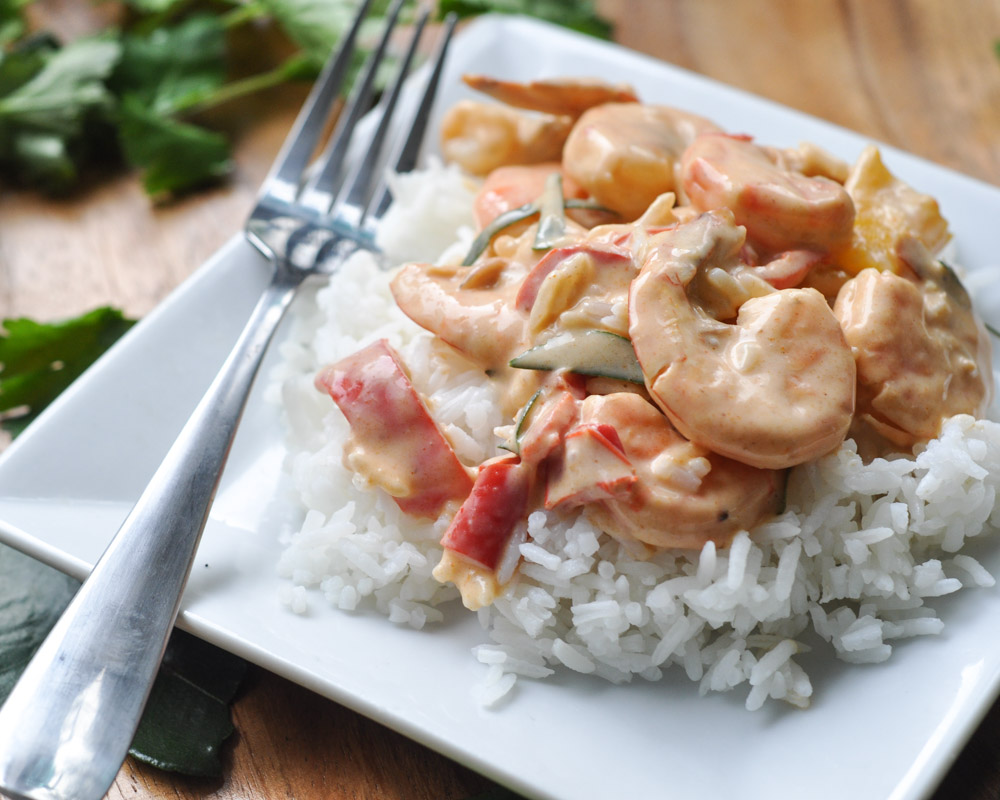 Mr. Suburble mumbled – with his mouth full of rice, "This tastes like restaurant food!"
Pardon me while I dust off my apron. Looks like those lessons paid off!
5-dish chef, coming through!