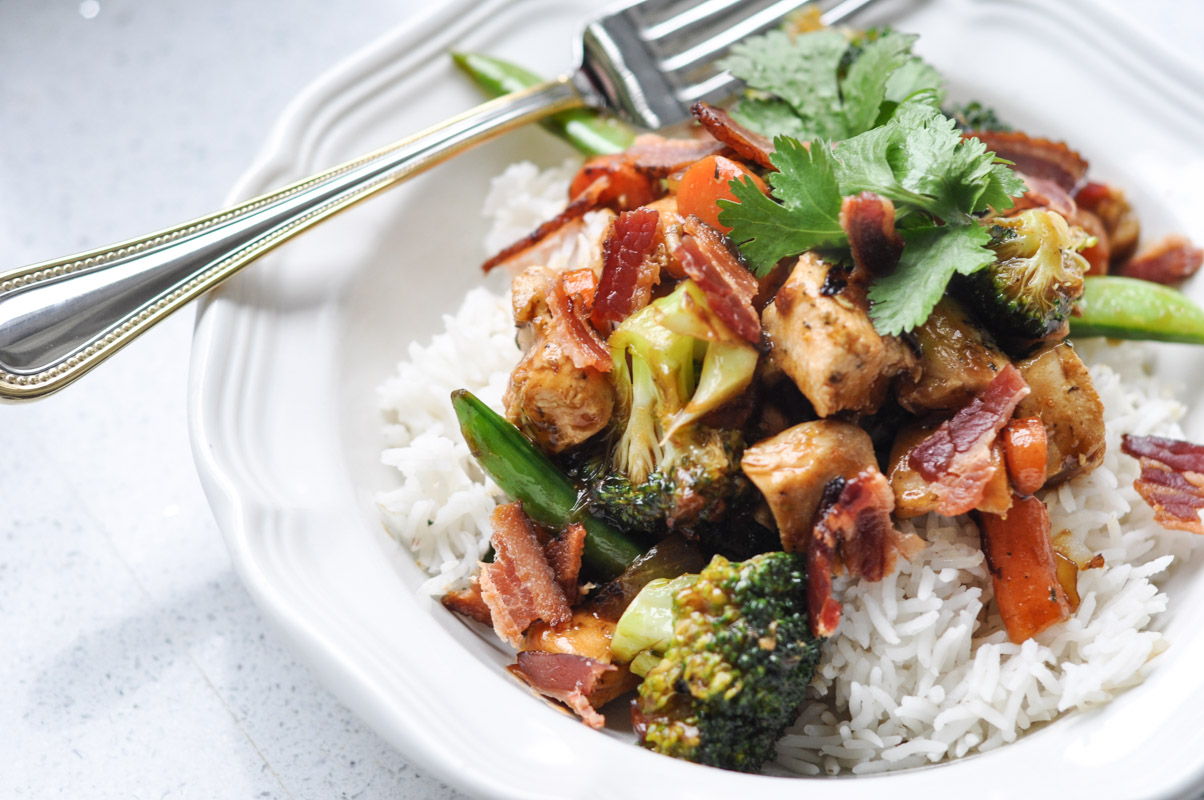 January is usually the time when everyone makes a big declaration to their family. "We will NOT be going out for take-out this month. We will eat at home."
Everyone nods vehemently. Yes, we will eat at home. No more take-out.
And then someone has a hard day and doesn't feel like cooking. Or it's already 5 o'clock – is there time to make a meal?
This is when my friends-in-foodiness, Blue Dragon, help us out. We have a small assortment of their stir fry sauces in the cupboard, and it makes for a quick and easy meal that didn't come in a paper bag.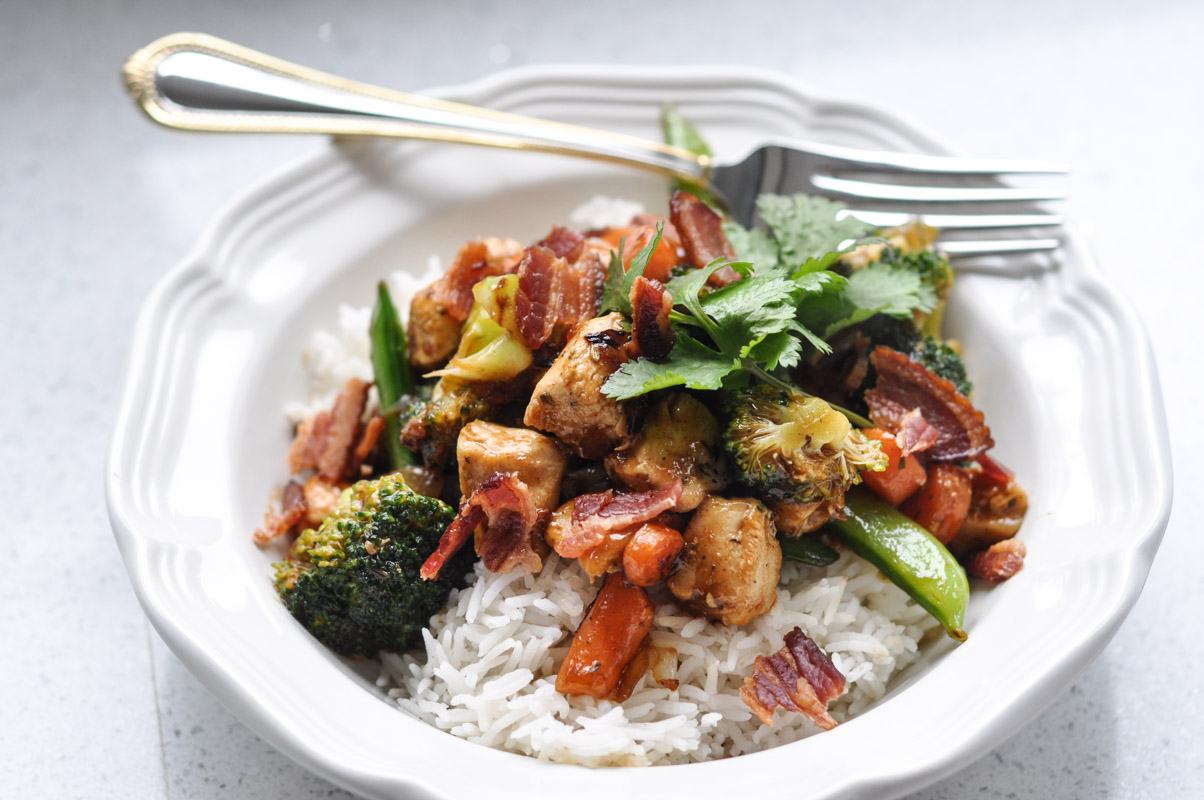 General Tao Quick and Easy Stir Fry
Ingredients
Two packets of Blue Dragon General Tao Stir Fry Sauce
Two boneless, skinless chicken breasts, diced
5 or 6 thin carrots, diced
1 head of broccoli, chopped into large pieces
1 cup of snap peas
1 small onion, diced
2 tbsp olive oil
Optional: cilantro, bacon, slivered almonds, etc
Instructions
In a pan, sautee the chicken in 1 tbsp olive oil over medium heat until cooked, put chicken aside
In frying pan, heat remaining olive oil over medium heat
Add onions and carrots and cook until tender-crisp
Add broccoli and peas and cook for approximately 5 minutes, or under tender-crisp
Add cooked chicken and packages of General Tao sauce and cook for 2-3 minutes - until heated through
Serve on rice and top with your choice of cilantro, bacon, nuts, etc.
https://www.suburble.com/2016/01/bacon-on-a-stir-fry-yes-please.html
Of course, the secret to taking a quick meal and making it something is just that – the little "something special" that you put on the top. As I whipped up this General Tao stir fry for my gang – using vegetables that we had on hand, and chicken that was in the freezer…. a truly, last-minute meal – I noticed that there was a small package of bacon left over from the morning's breakfast.
Should I just go ahead and top this stir-fry with some crumbled bacon? Yes, I think I should.
Other ways to dress up your stir-fry:
– slivered almonds
– a handful of cilantro
– bacon (of course)
– fresh bean sprouts added in the last minute or so of cooking in the pan
These little additions add texture and taste to the dish, and soon you won't even remember what the #3 Combo Special is!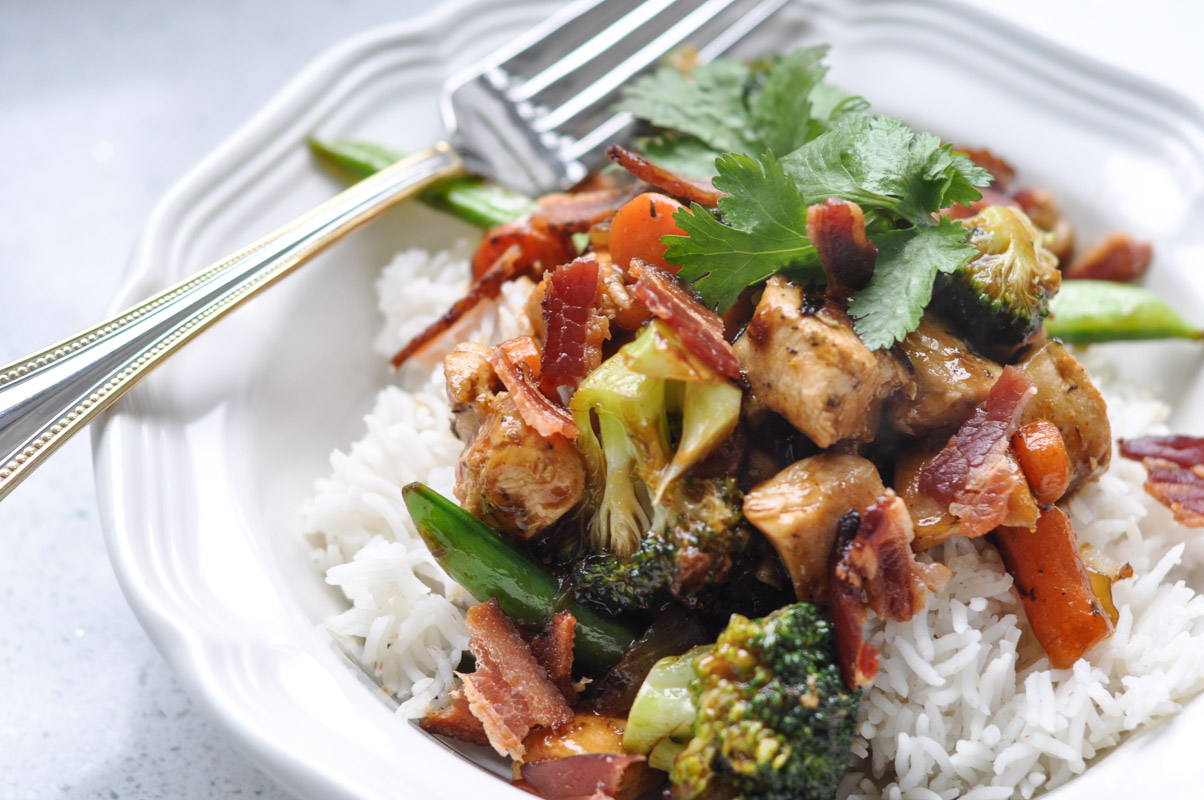 General Tao – pronounced General "Sa-ow" – is a sauce that has a lovely, rich taste with a bit of a kick on the end. When I'm cooking for four, I use two Blue Dragon packets.
I like my dinners like I like my husband – saucy.
Too far?
Sorry.
But I have a fun giveaway for all of you today! I'm giving away two new Blue Dragon products – their squeezies – as well as two stir fry sauces and a cutting board!
Enter in the Rafflecopter below, and good luck!
Giveaway begins on Sunday, January 31st and closes on Saturday, February 6th at 11:59 pm. Void where prohibited. Prize fulfillment is the responsibility of Blue Dragon Canada.
Looking for more spicy recipes? Visit Blue Dragon on their website, their Facebook page, or on Twitter!
I am part of The Cultured Kitchen Ambassador program in partnership with Patak's Canada and Blue Dragon Canada and I receive special perks as part of my affiliation with this group. The opinions on this blog are my own.