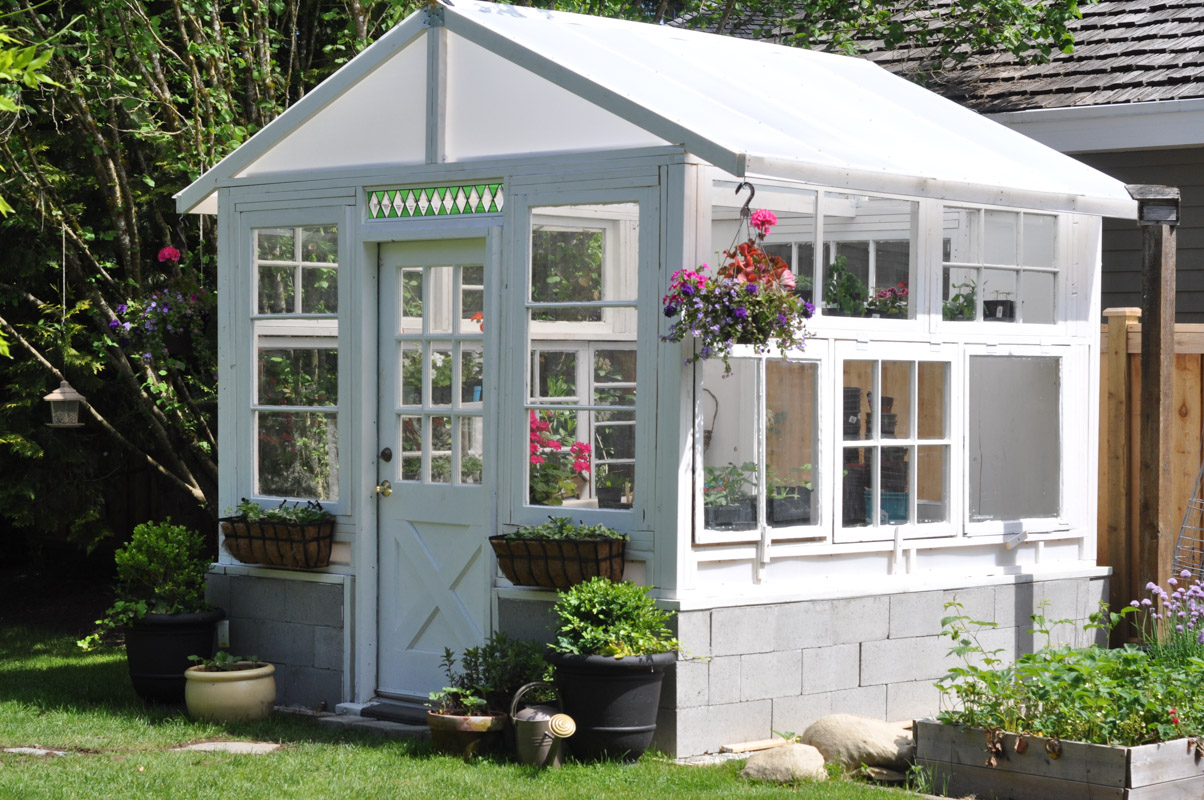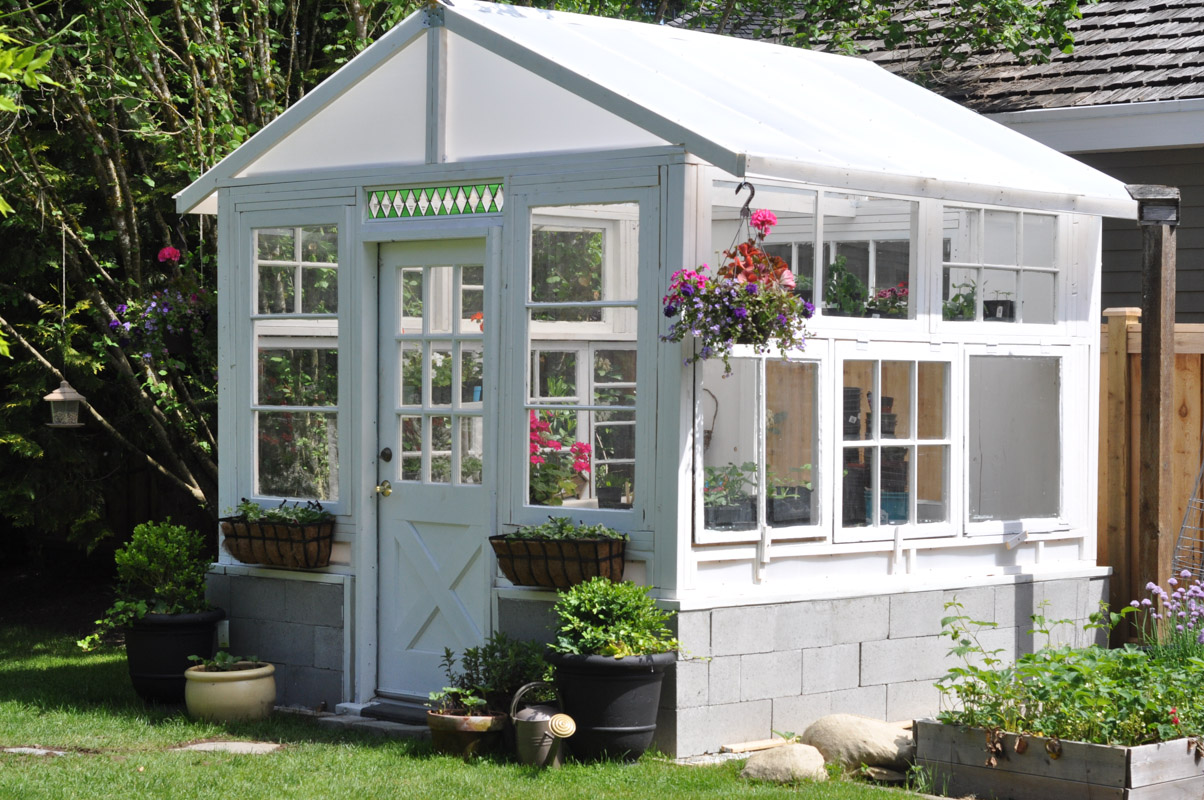 This is the last post in the greenhouse series, and it is by far the most satisfying one. The greenhouse is done!
I know. I can't believe it either. On March 22nd – according to Mr. Suburble's photo gallery on his phone – this was a big dirt pit.
And now it's a little house full of baby plants and overzealous expectations.
When I left off the last post, we had this happening: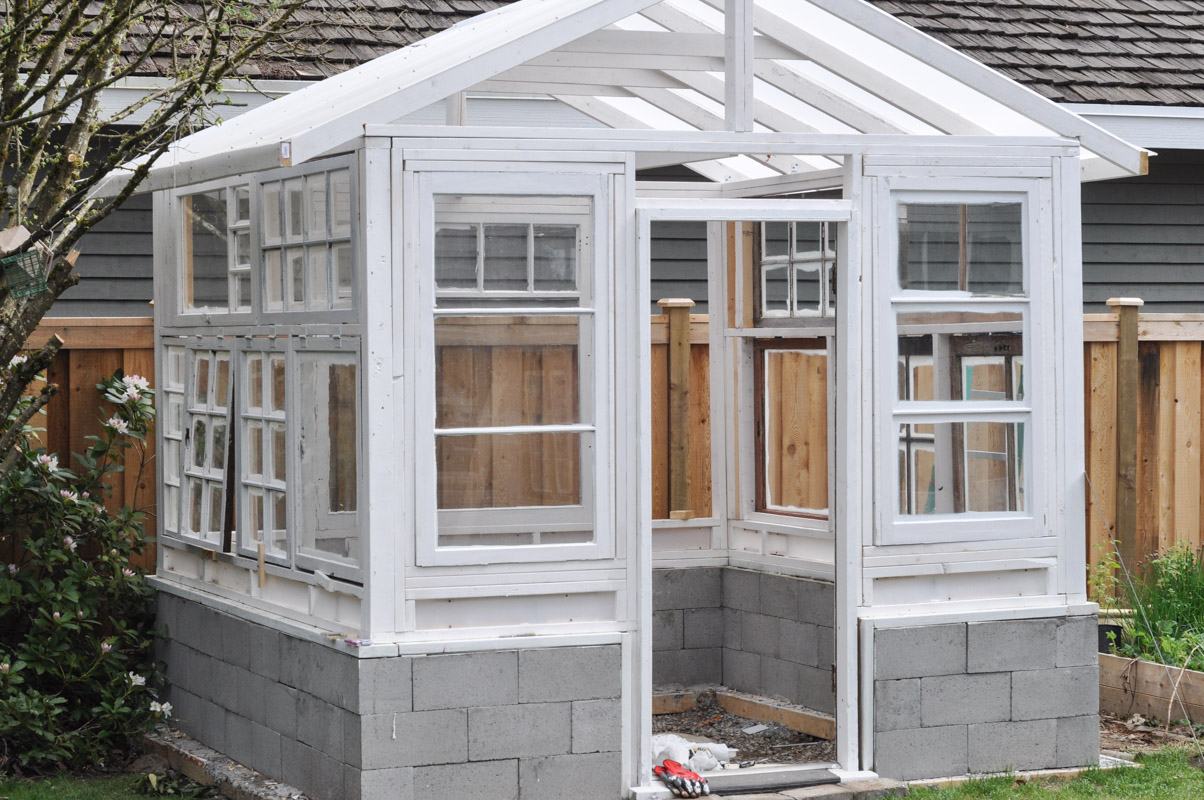 My arm was starting to cramp up from all of the never. ending. staining that I was doing on all of the window frames. Again, my advice is to paint the windows before you install them. You wouldn't think it was a lot of wood to paint, just some window frames and a bit of plywood, but the angles and the fact that it was all done with a brush ended up being a big time-suck.
And I pulled some ab muscles. I forgot I even HAD ab muscles until then.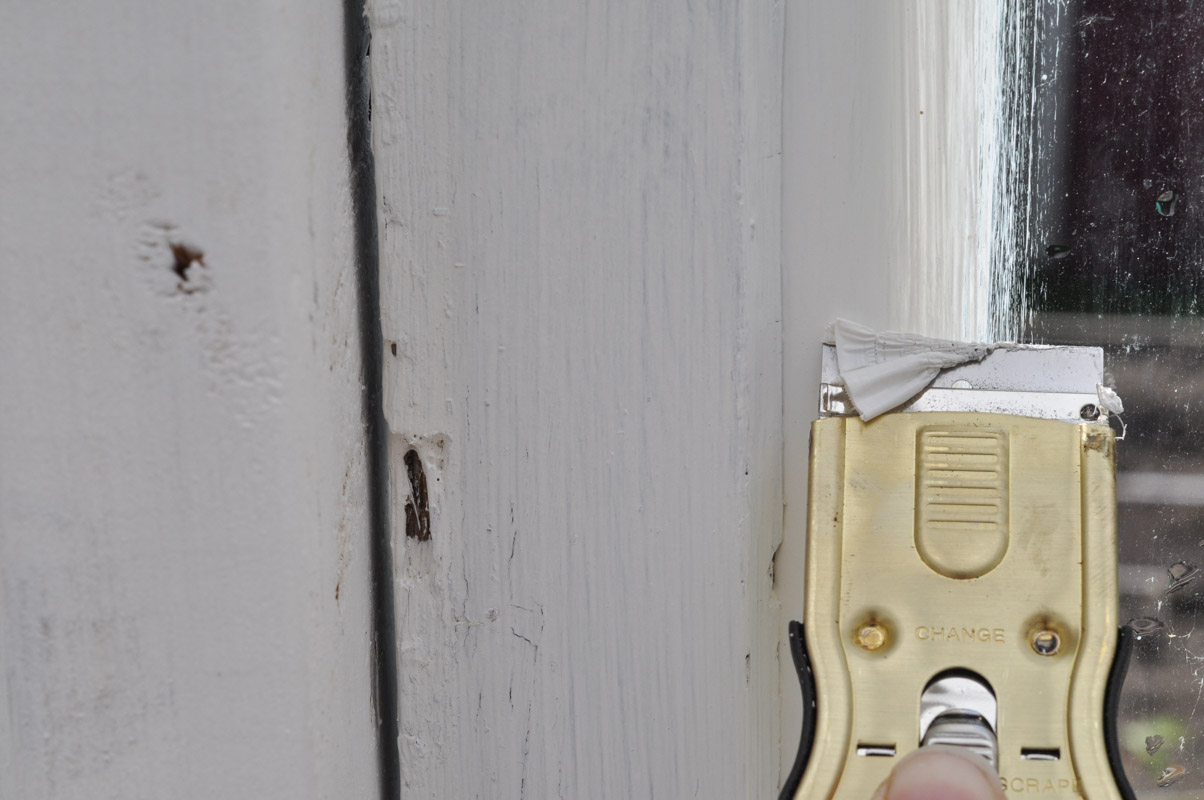 Each window glass needed to be scraped of its stain. This wasn't such a tough job, but because the windows are vintage and old, I had to be careful not to get too close to the wood. Otherwise, I would take off strips of the frame itself.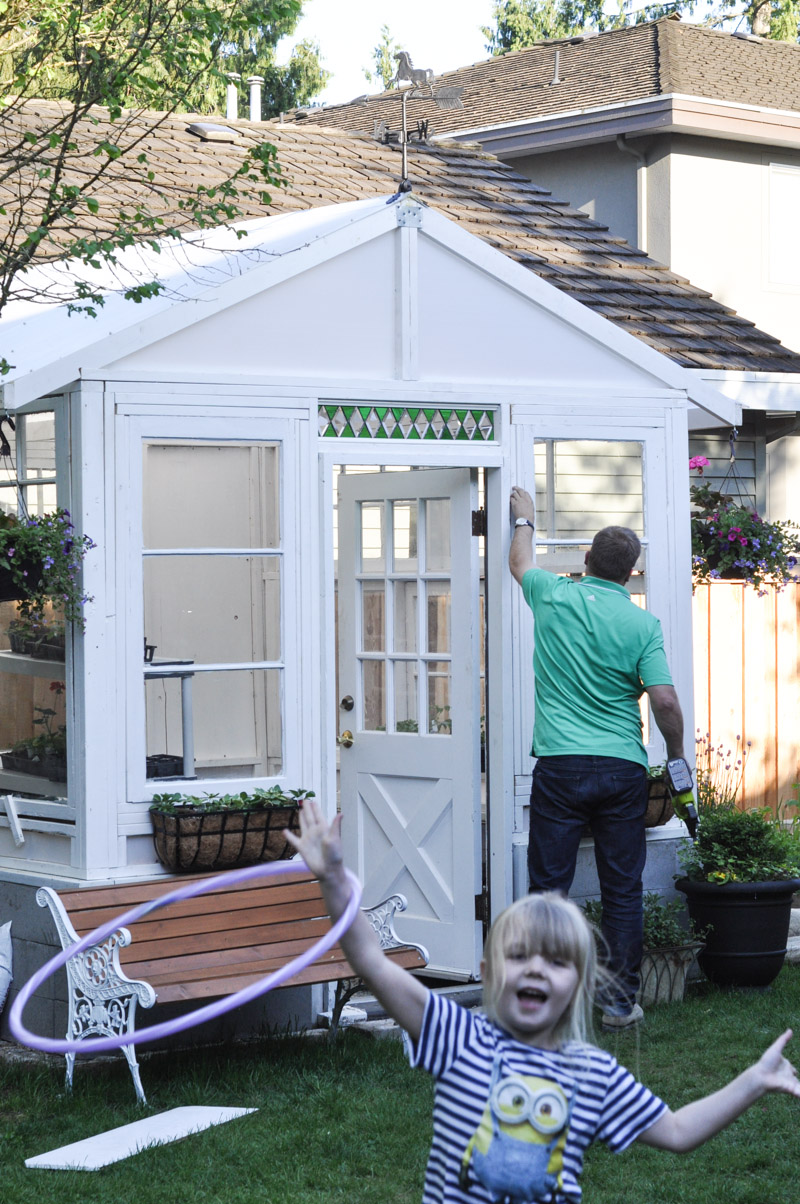 This is how we do things around here – with entertainment.
We filled in the back wall with painted plywood (to bounce the light back in), and Mr. Suburble trimmed out some of the windows were there were gaps.
I had gone to the New and Used in search of a transom-style window for over the door, but came up empty-handed. So, my mom made this one!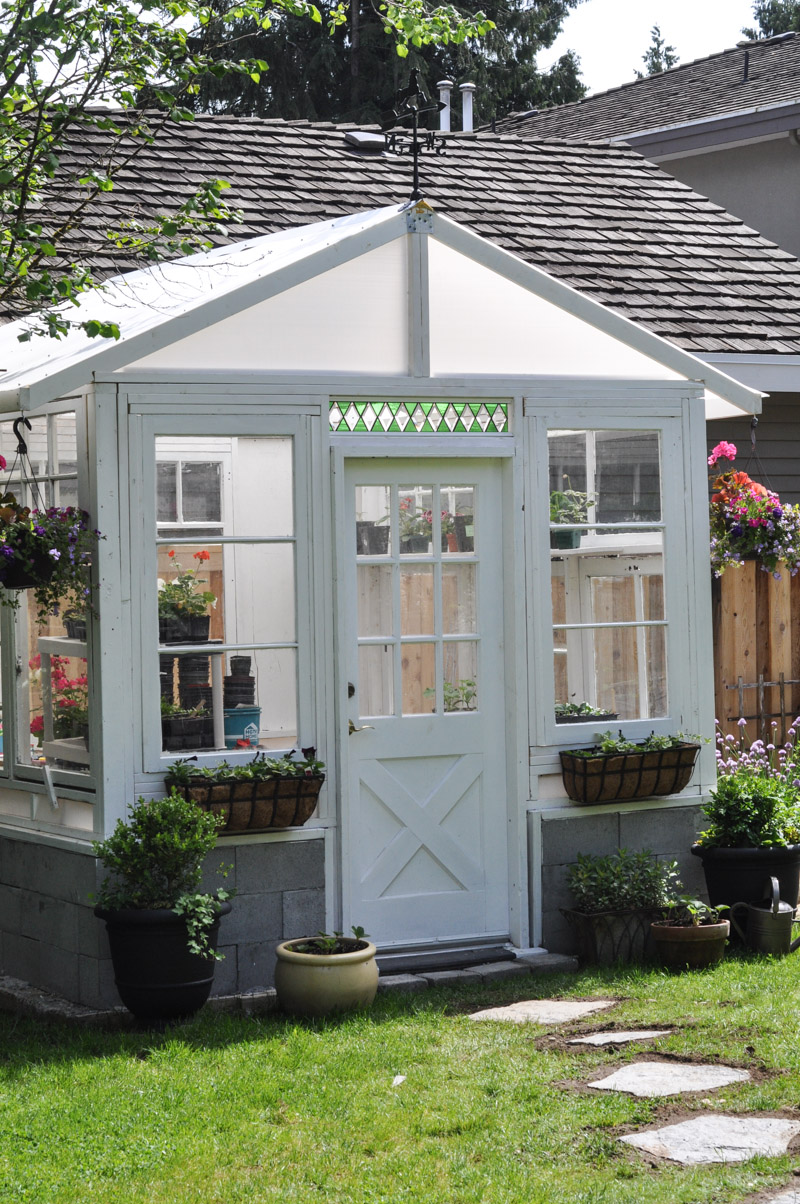 Is it not incredible? I'm a sucker for a diamond shape, and she whipped this up for us in a DAY.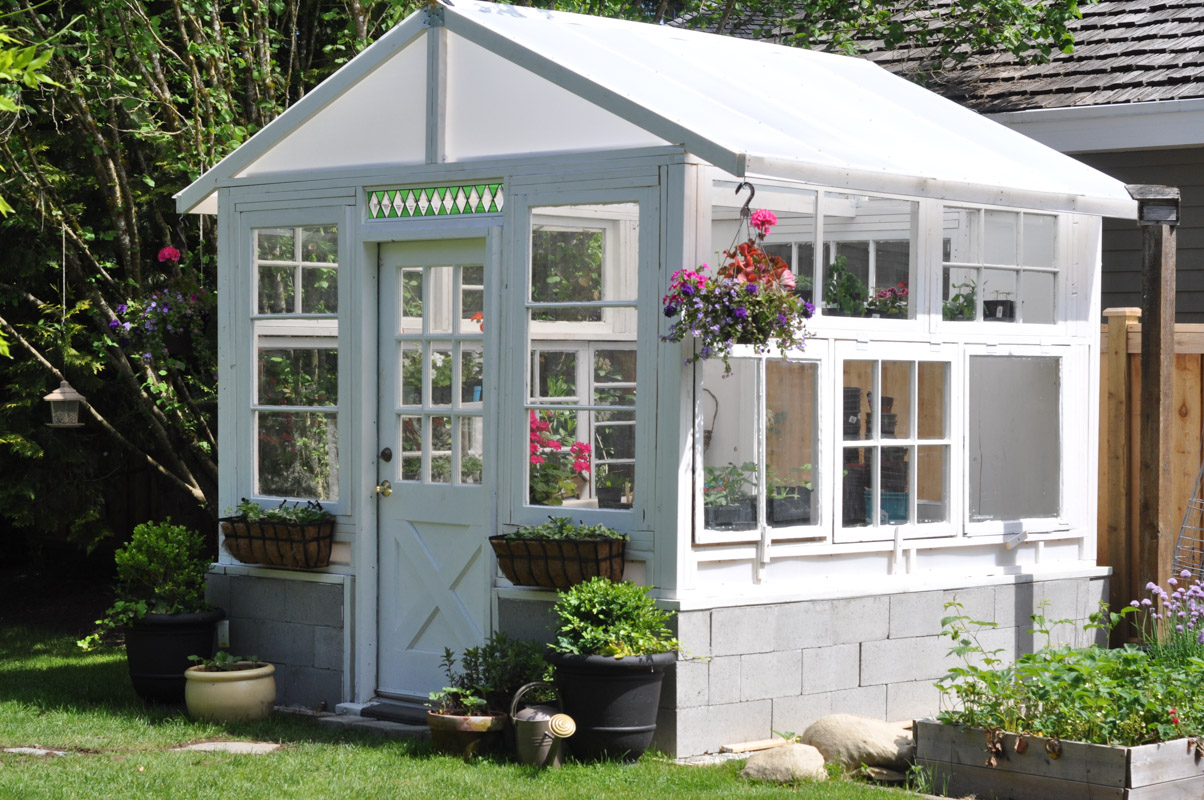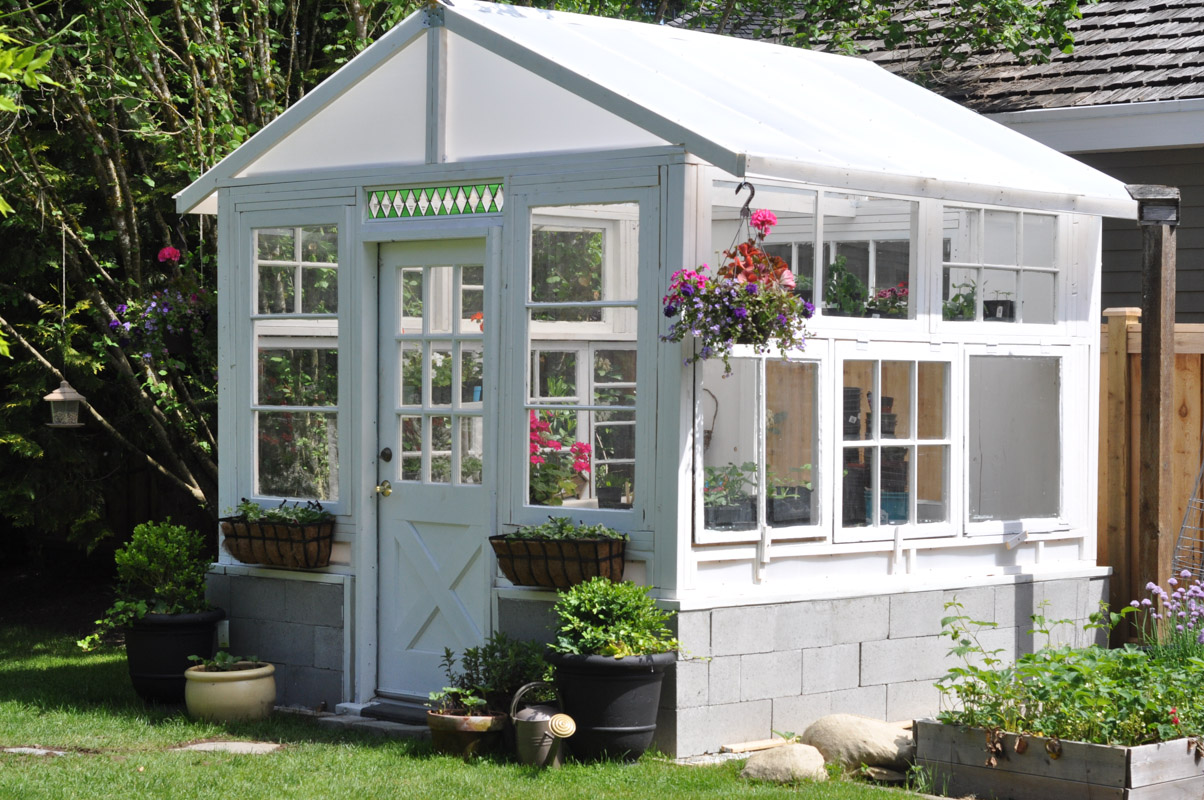 The greenhouse is a thing now. With window boxes and hanging baskets….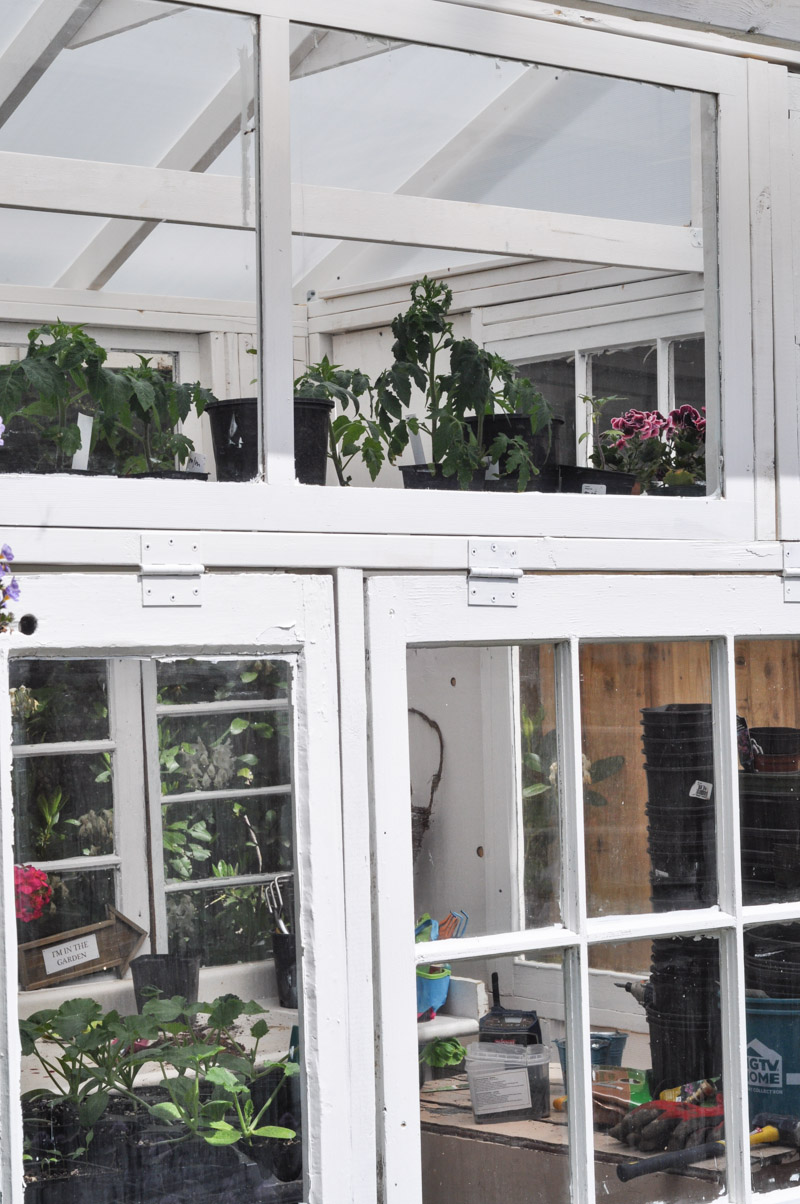 … and little baby plants peeking out the window, basking in the sunlight.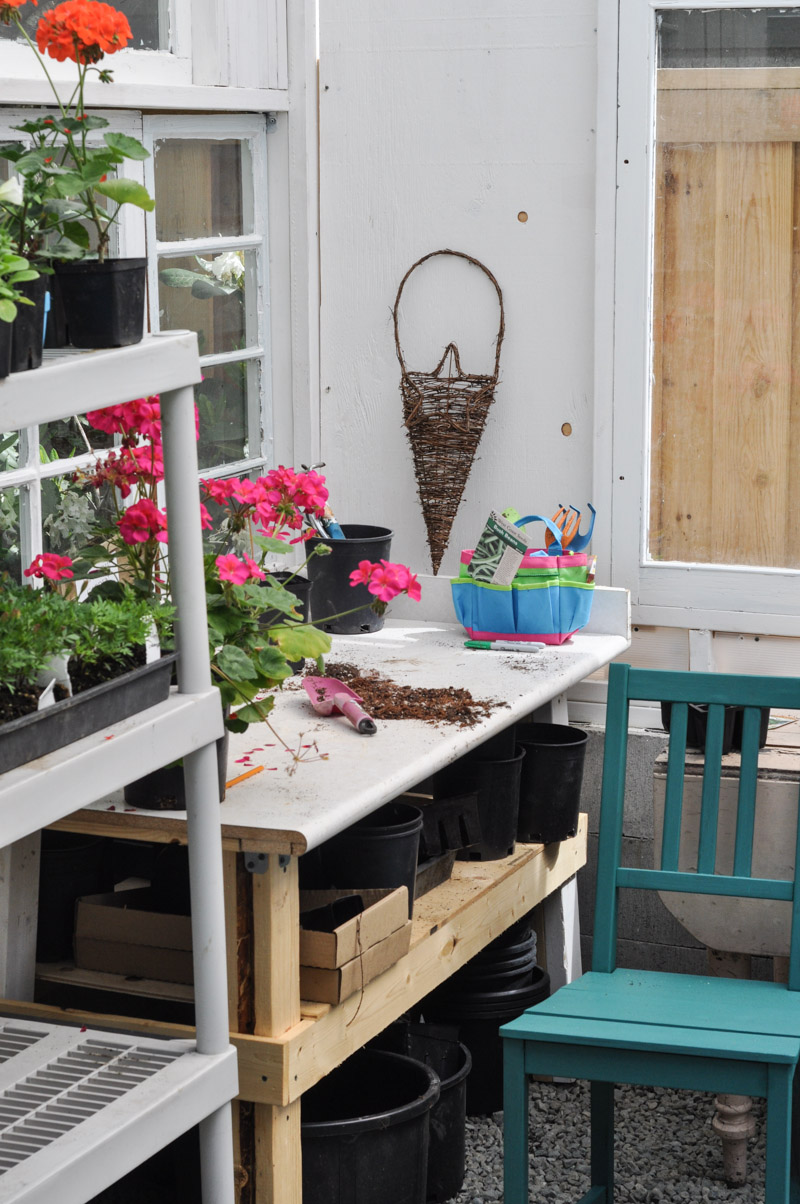 Mr. Suburble whipped up this potting table for me out of a hunk of old countertop.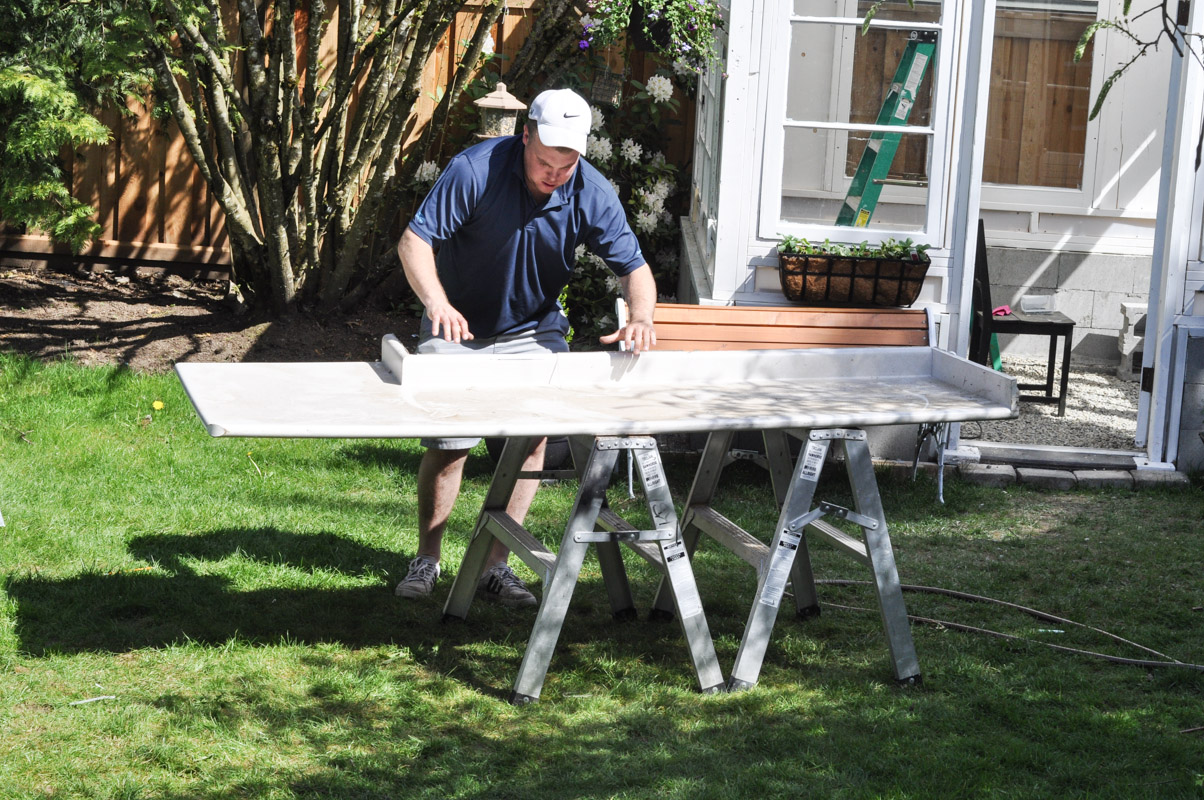 We brought this home from my parents' house. Really, their donations were what got this greenhouse started. The windows, the door, the countertop.
Mr. Suburble had been doubtful when his truck was piled high with what seemed like junk. We had to take it on a ferry trip. Then we had to drive it along a highway, occasionally looking back to make sure windows hadn't toppled out onto the road.
But it was shaping up in a beautiful and unexpected way!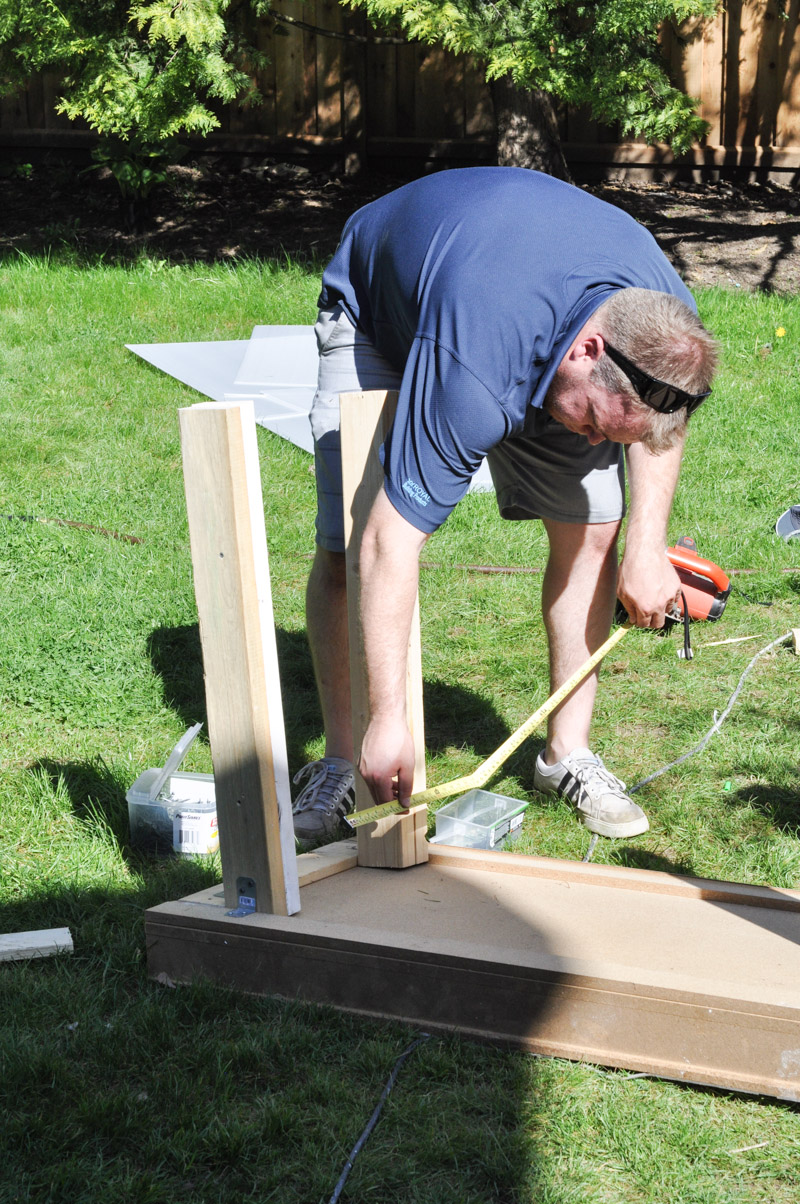 The countertop was cut in half, and we used laminated 2x4s as the legs.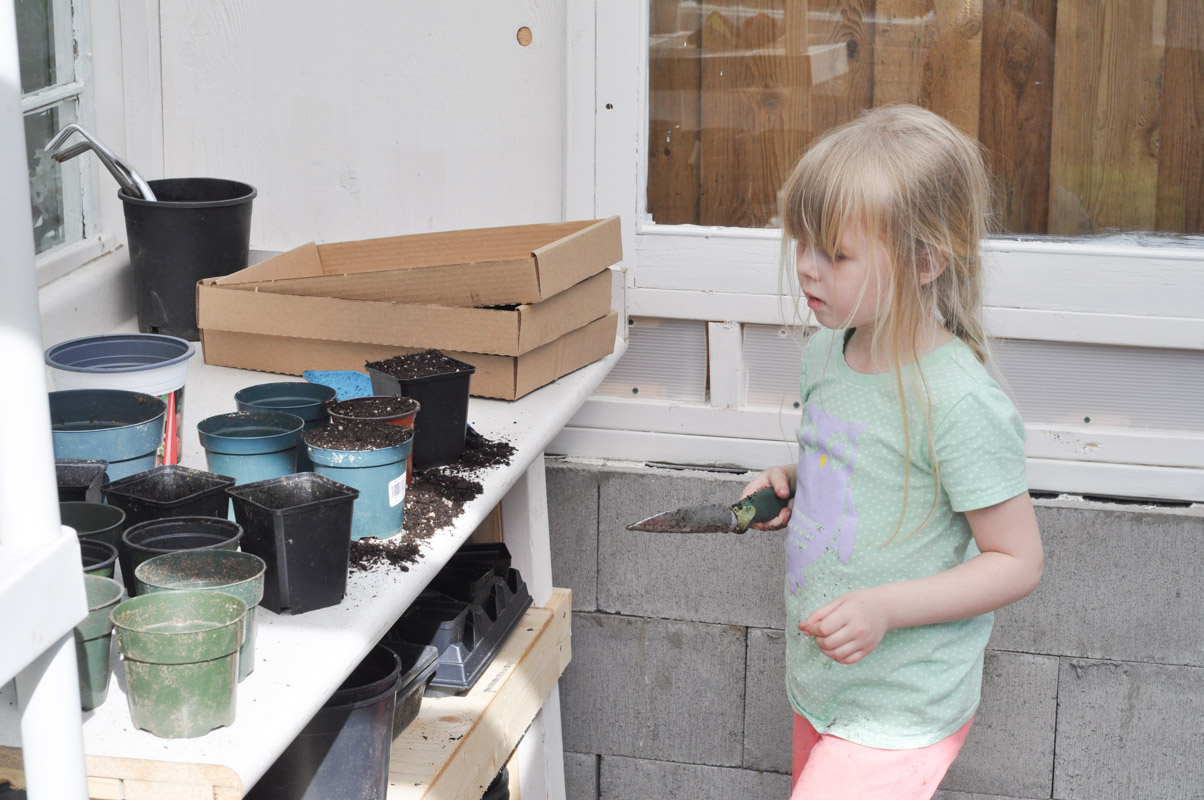 I didn't know that I'd use a potting table all that much. In pre-greenhouse days, I'd just dump everything out into a pile on the grass and I'd work from there.
But having all of my pots on shelves, and my dirt, tools, and gloves right there… it's an invitation. And it makes it much easier to put the girls to work.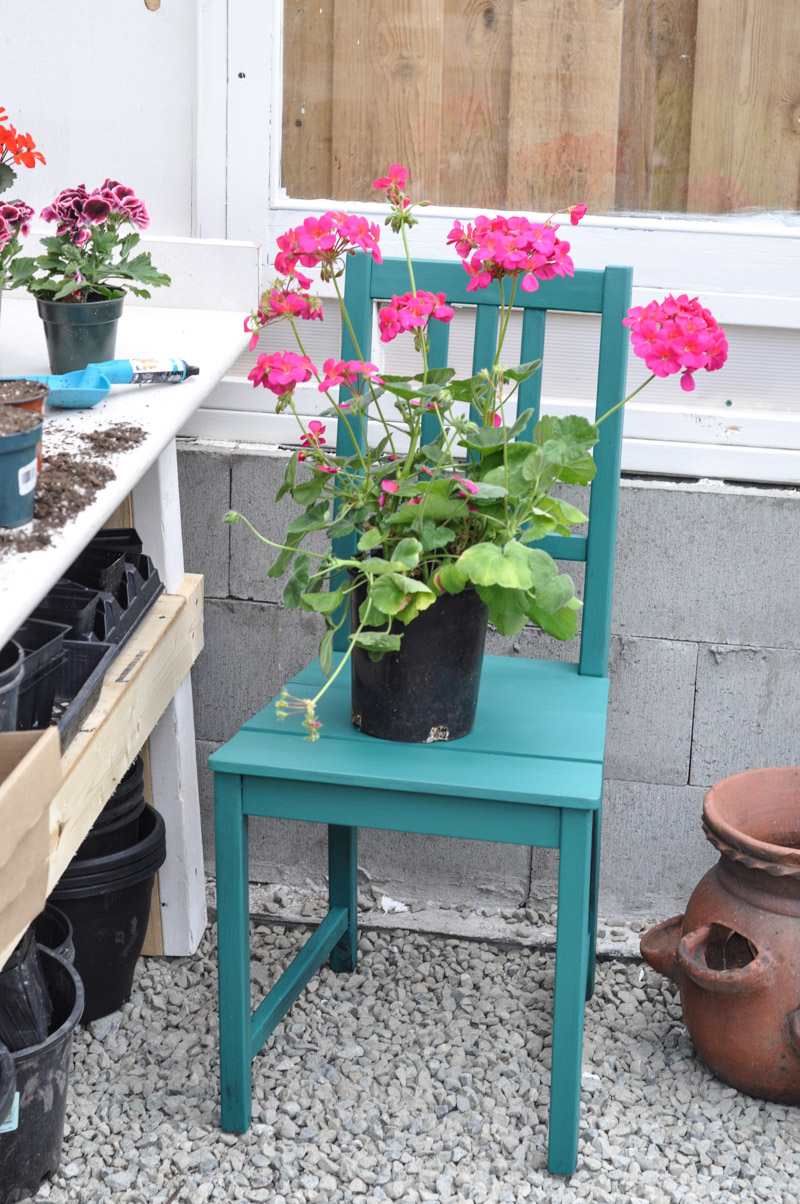 The interior also has a few pretty touches – where I feel inspired to grow and try new things.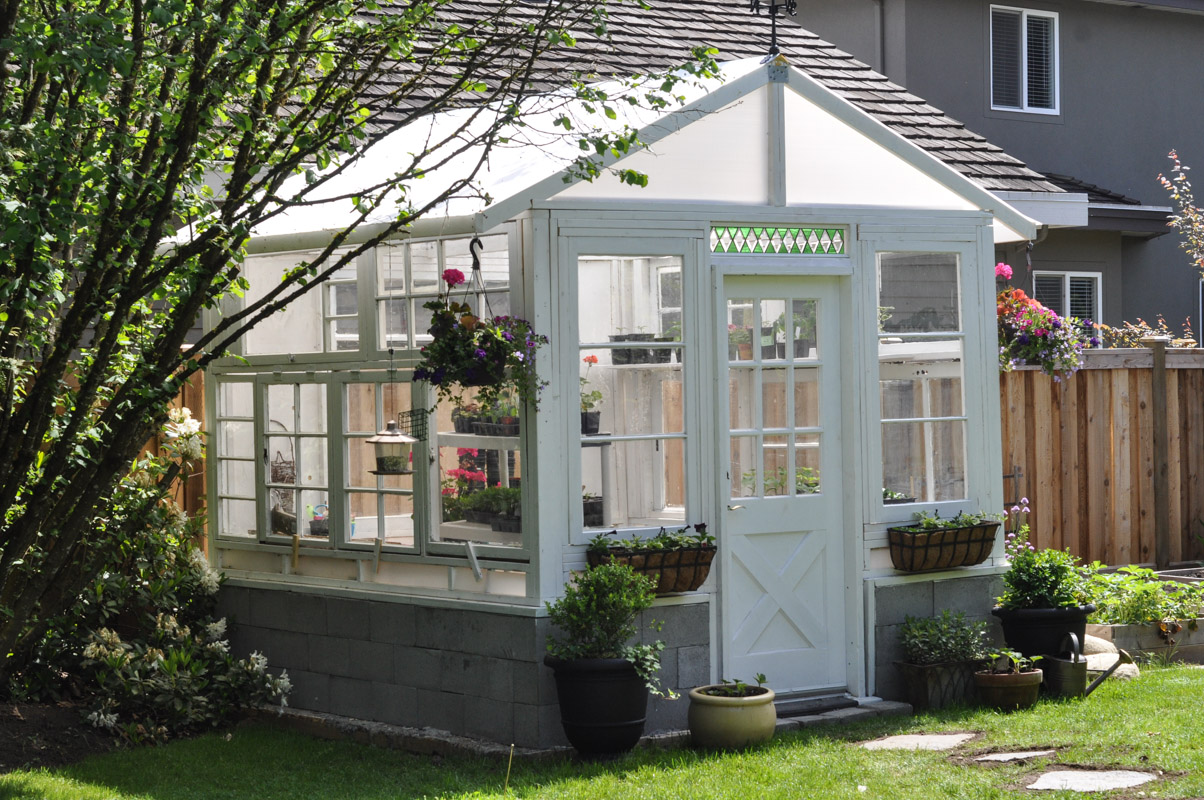 There are still things I need for the greenhouse: a thermometer, some hooks, perhaps a border of established perennial shrubs that will soften the brick foundation…
But for now, Mr. Suburble and I are thrilled with this greenhouse. Like all greenhouses are – this is the beginning of something wonderful.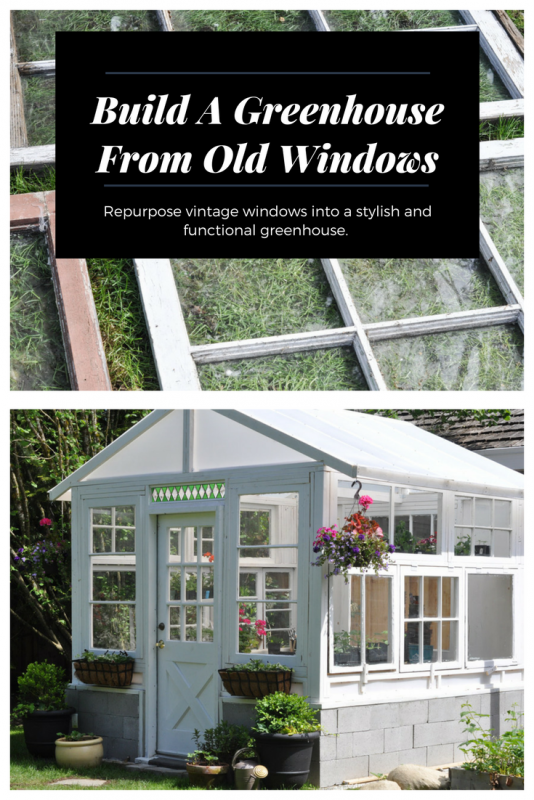 Did you miss any of the Greenhouse Posts?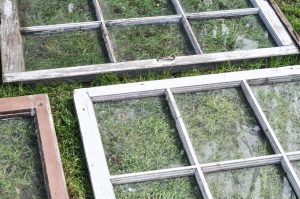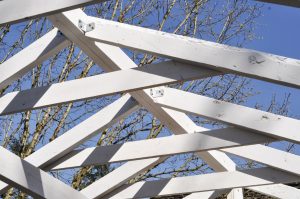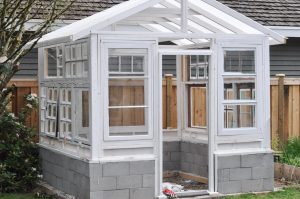 The Windows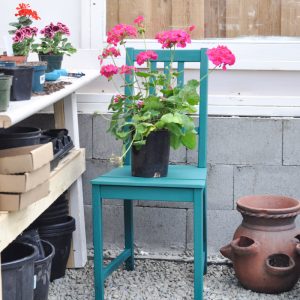 The "Renfrew Blue" Chair