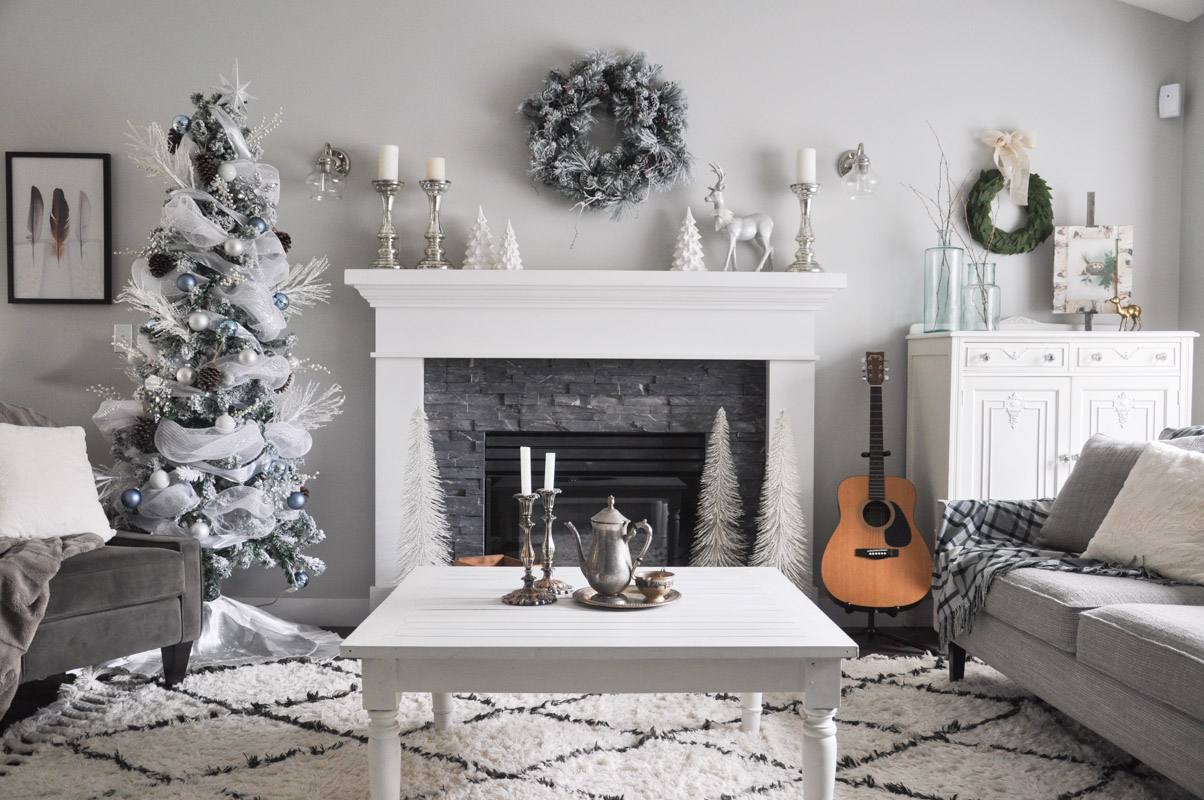 This year, I decorated my living room twice.
Yes, this might seem a bit strange for the typical, regular non-blogging family. But for a nutcase like me, it's something that Mr. Suburble just shakes his head at and watches from the family room.
And of course, each time I decorate, I'm gleefully hauling out boxes and oohing over glass ornaments. I'm dancing to Christmas music and unwrapping ceramic Christmas trees. I'm draping decor mesh over the tree and fluffing branches. I'm sure that it's probably quite the sight to see.
This year, our living room lived two "seasons" of Christmas. The first was a frosty, monochromatic look.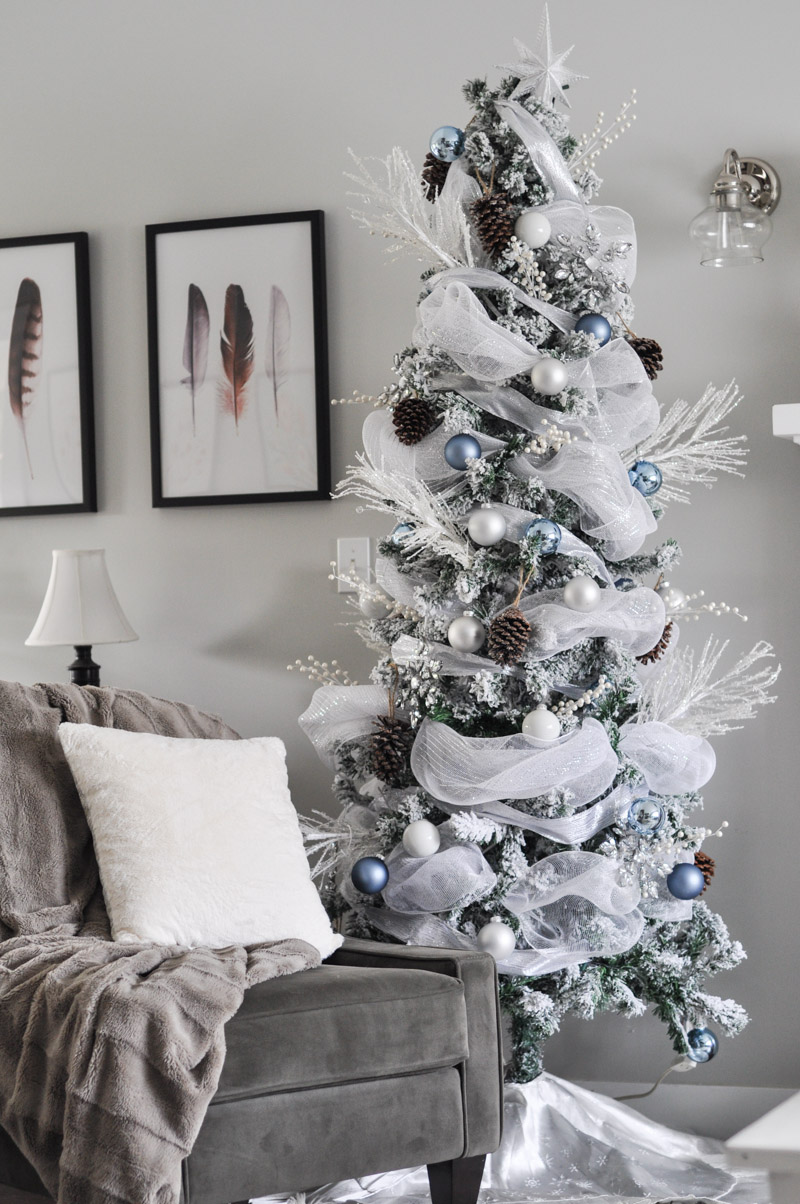 I worked with Lowe's this holiday season, and during that time, I dragged out my fancy-pants little flocked tree (oh, how I love thee) and kept the look fairly white and bright.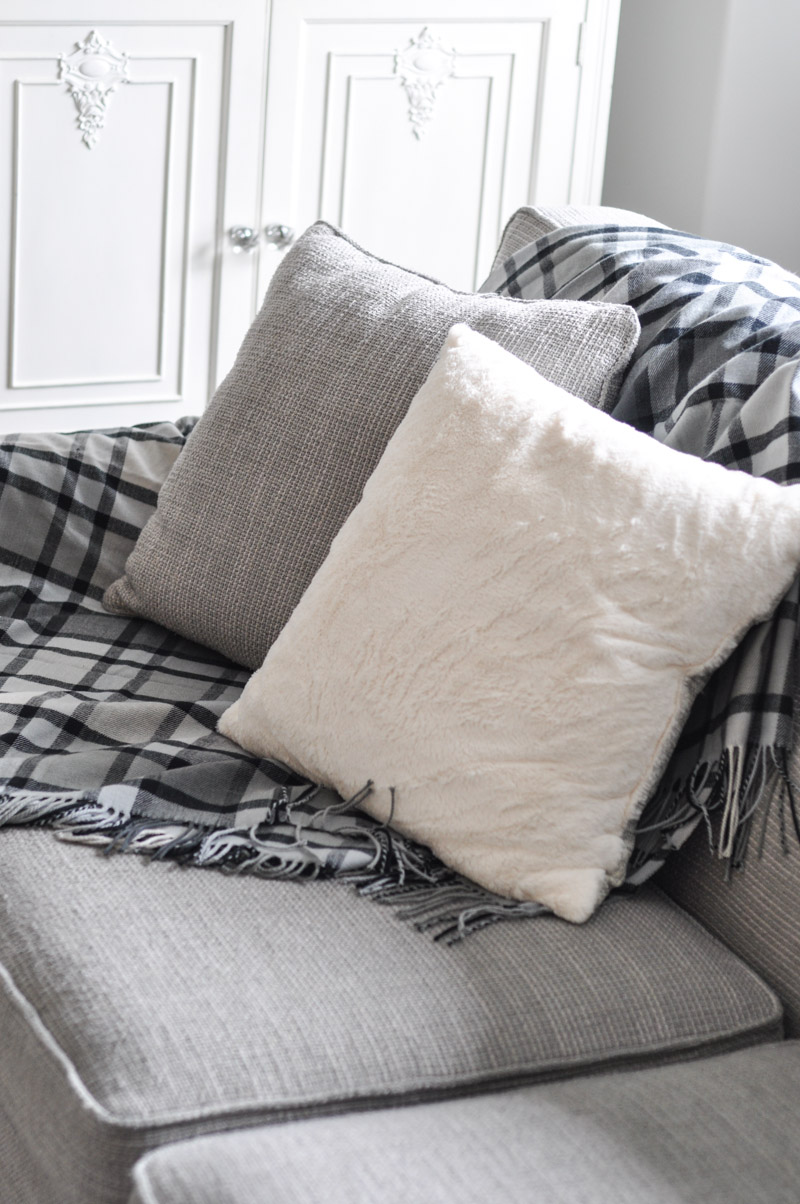 This blanket was on sale at Indigo. I'm pretty sure that's the story with nearly all of the throw blankets in my house.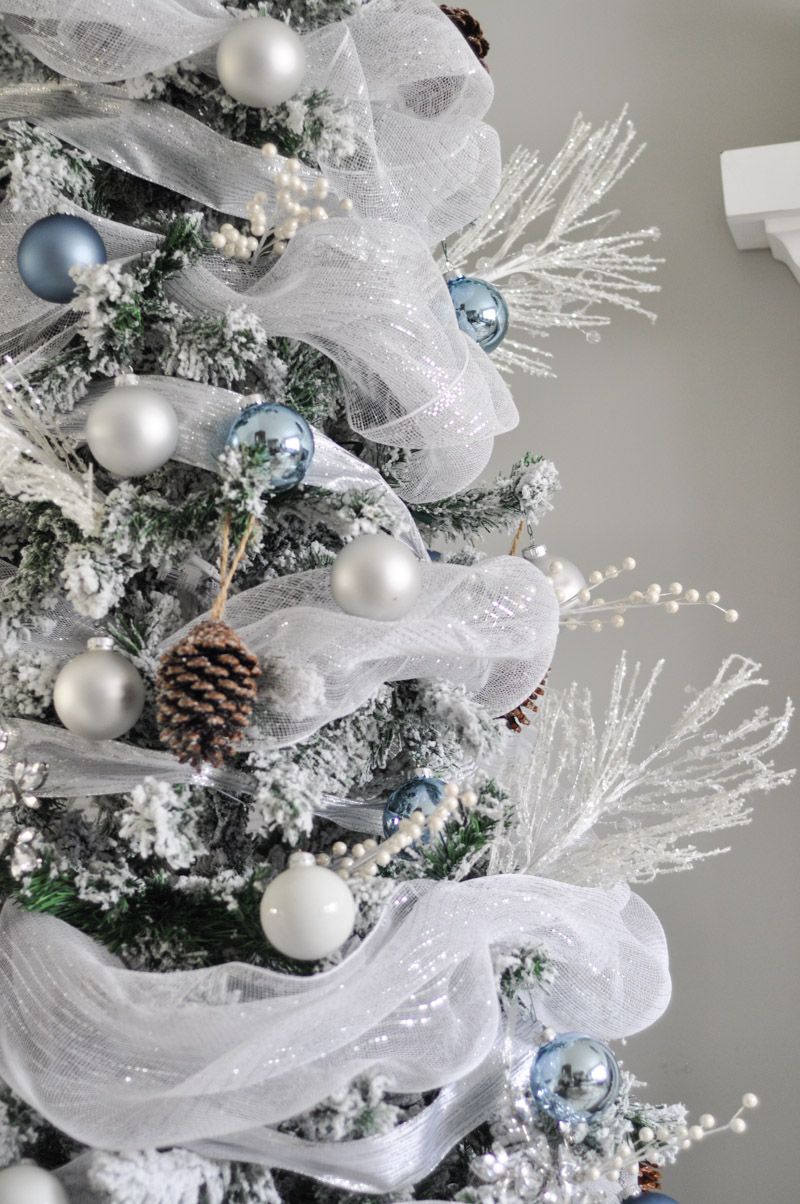 I cannot help myself with floral picks in Christmas trees. Next year, it's going to be feathers or grasses or something even more grandiose than the icy branches that I put into this year's tree. More is more, right?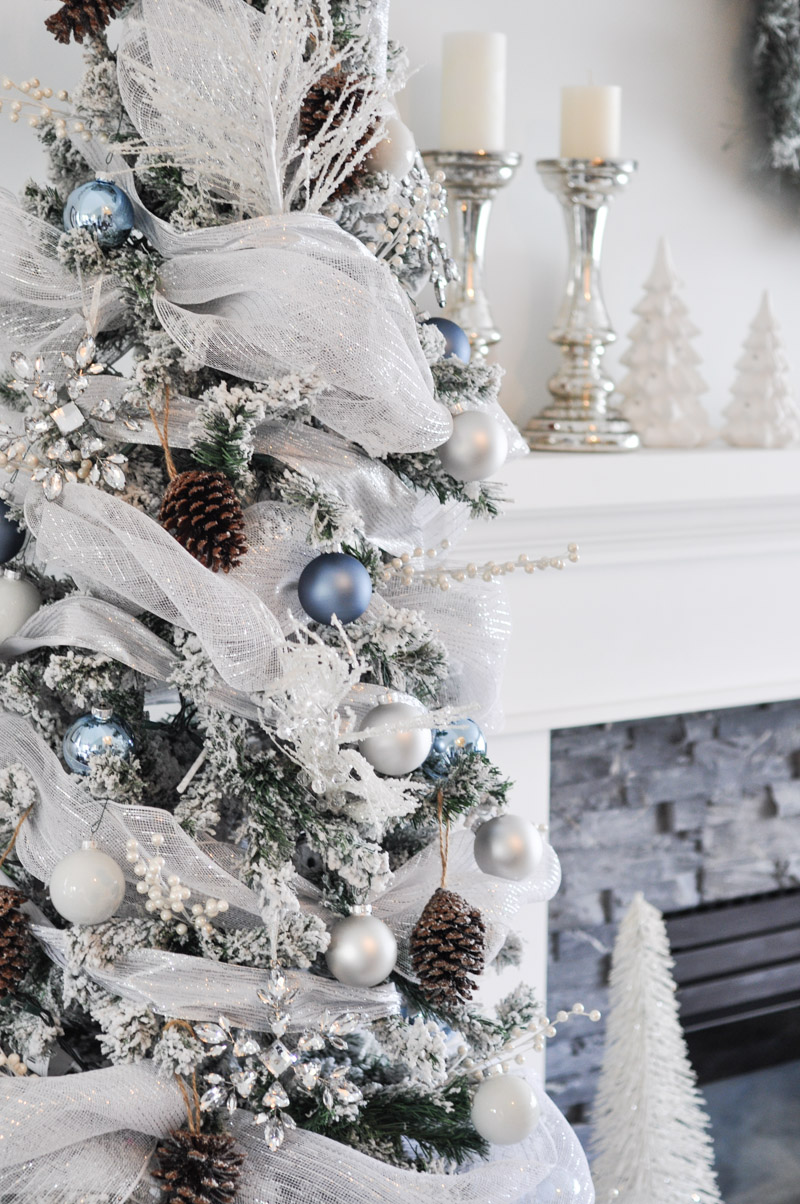 I loved the delicate crystals and white pearls that this tree offered. It was so soft and quiet… kind of like that eerie calm after a snowfall.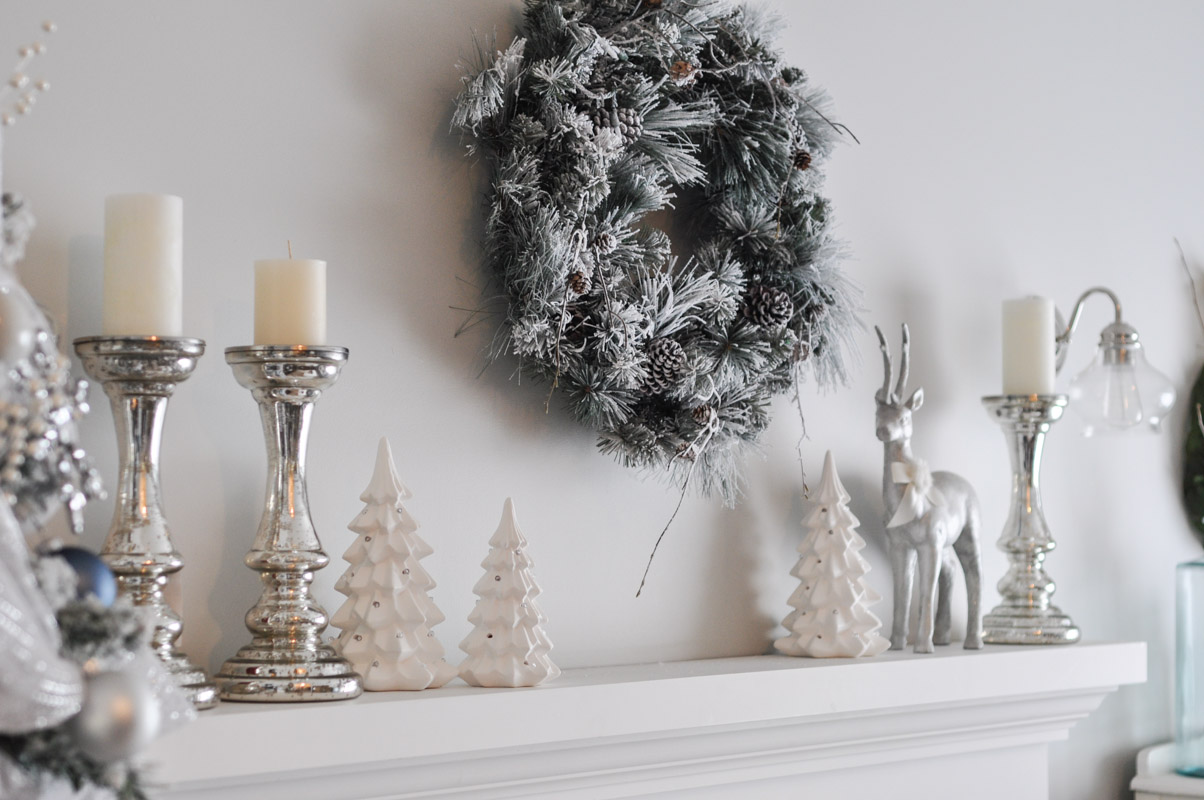 There was so much of it that I loved.
But then… tradition started knocking on my door.
I can't lie: I am a traditional girl at heart. There is something about red and green and fresh cedar boughs that makes my heart all a-flutter. I loved the beauty of the icy-white Christmas, but it wasn't the room that my family would spread Christmas wrap and ribbon all over. It wasn't where I'd sit with a rum and eggnog and start penning my Christmas cards.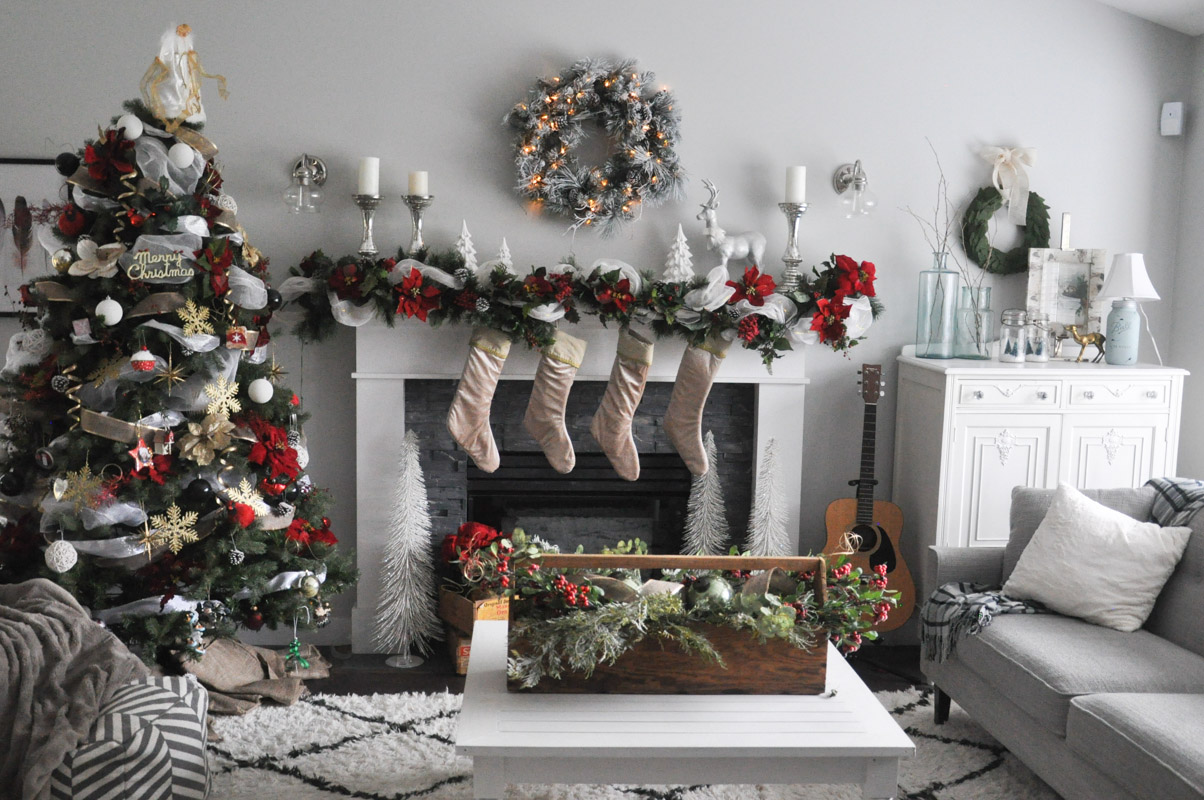 I missed my poinsettias.
For years and years, I've had these faux poinsettias that I bought on a whim during a day of wandering in Michaels. I'm pretty sure that this is before I even had the girls. It was back in those…. Oh, let's just kill an hour – a WHOLE HOUR! – wandering through the floral section days. I don't even know what that kind of time feels like anymore.
As each Christmas has gone by, I've collected more and more of these rich, red flowers – to add to the tree, the mantel, even a wreath or two… and it's become my tradition.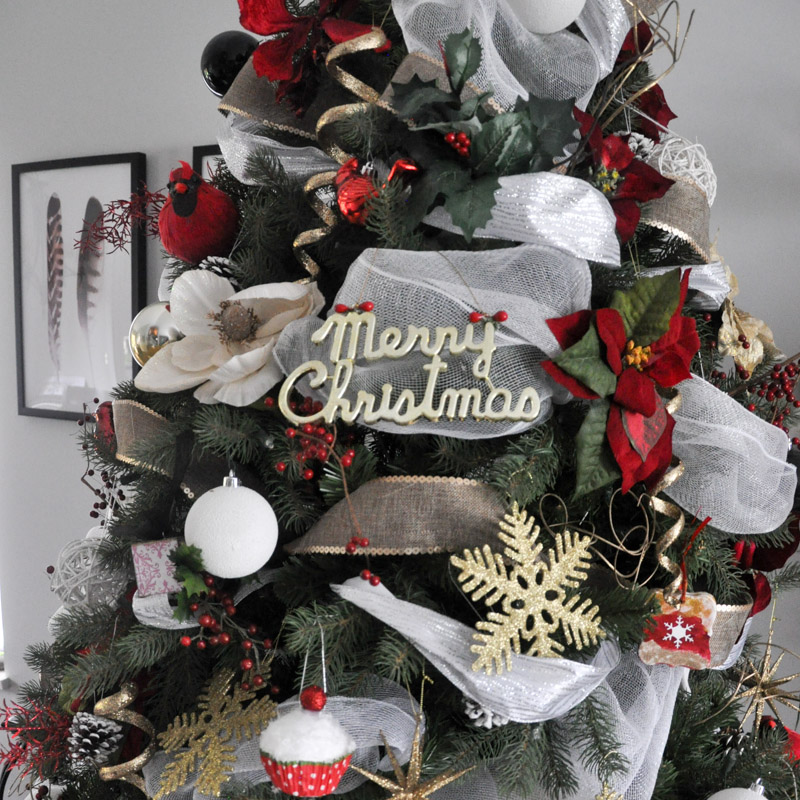 There's something about my red and gold and stuffed-to-the-brim tree that makes me feel like all is right in the world. Where handmade meets glitter meets burlap meets gold… and I think that I have enough themed ornaments with presence to mute some of the "noise" that is tucked among the branches. If you squint your eyes, it looks like every ornament was put there with purpose.
Except for those hangy-downy ones at the bottom. Lucy put those there all willy-nilly.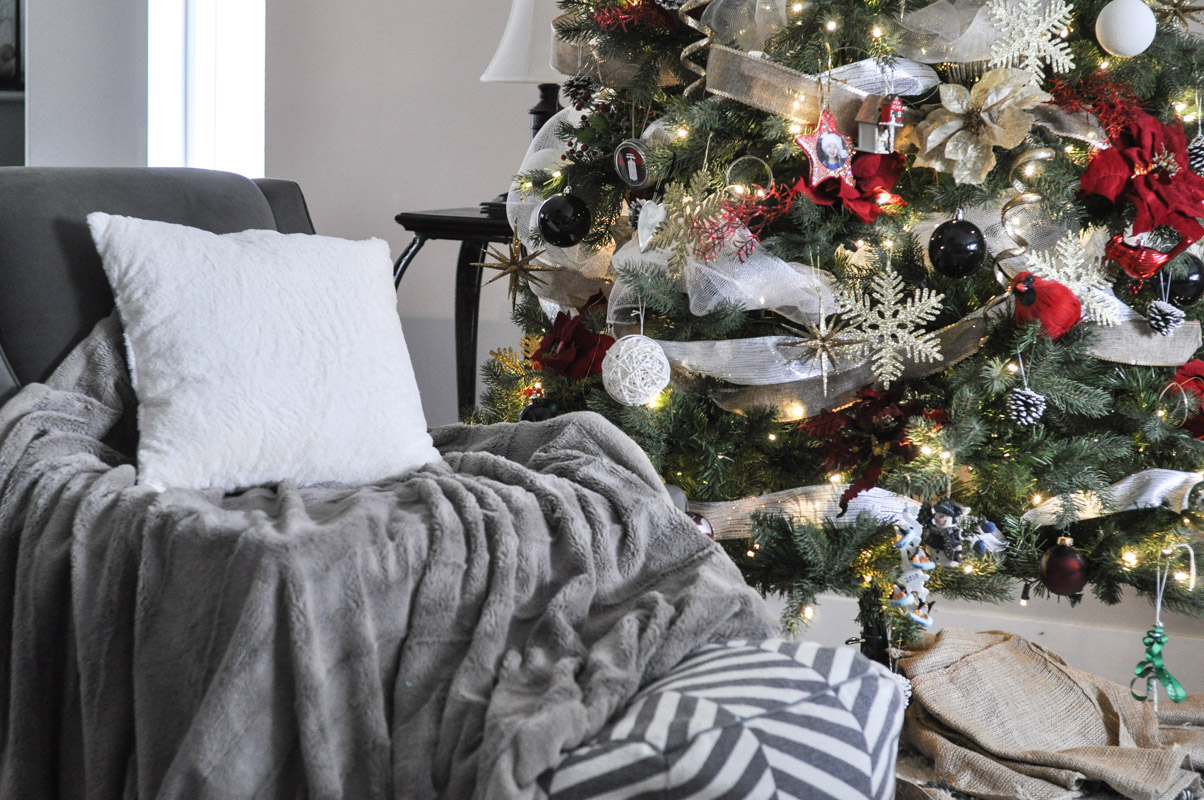 Another Indigo blanket. I have a problem.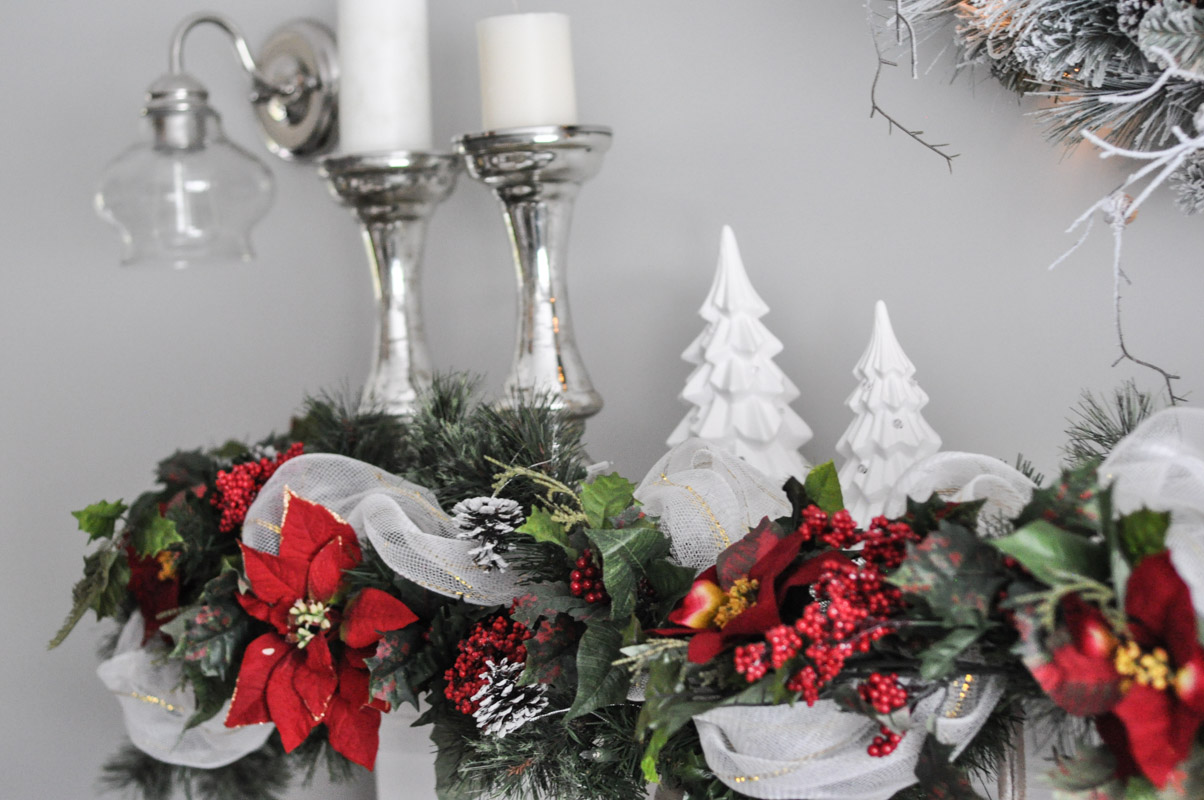 My mantel-scape is very much the same as it was in my "White Christmas" look, but just embellished with some red and berries.
And decor mesh. You can't ever have too much decor mesh, I say!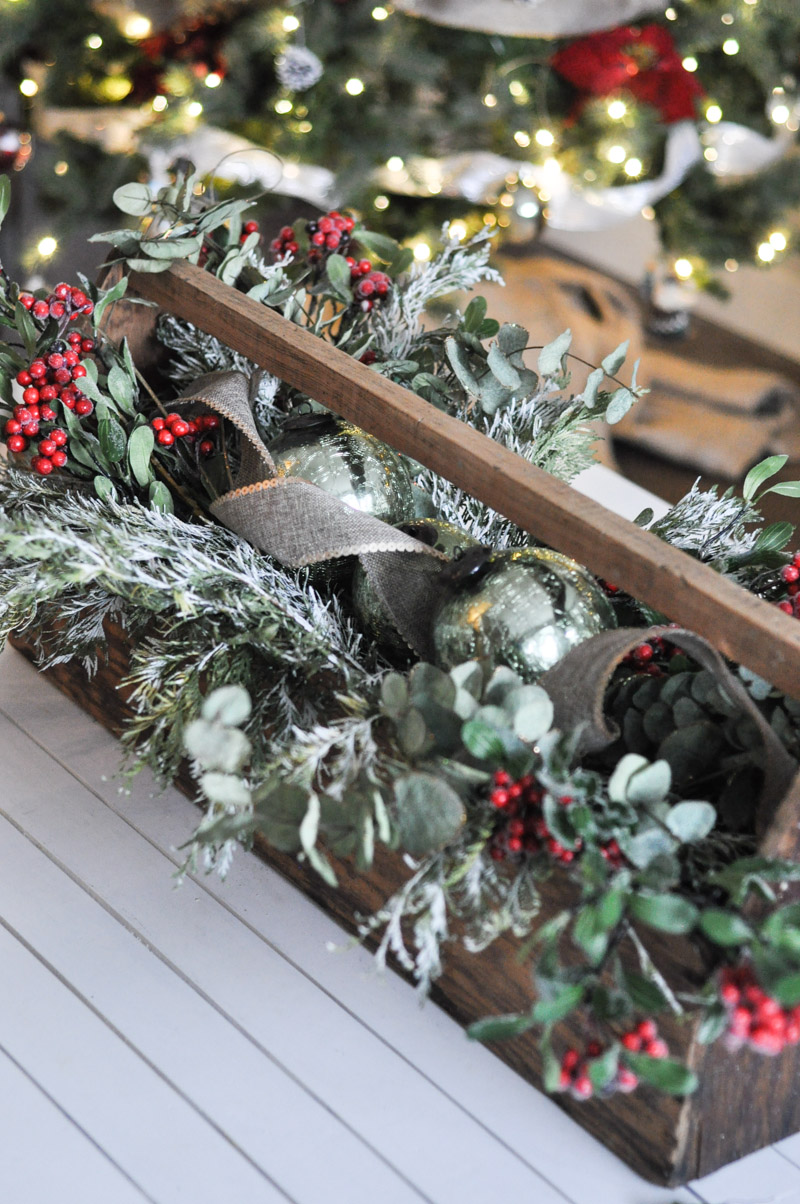 The vintage tool box has found its way to various corners of the house.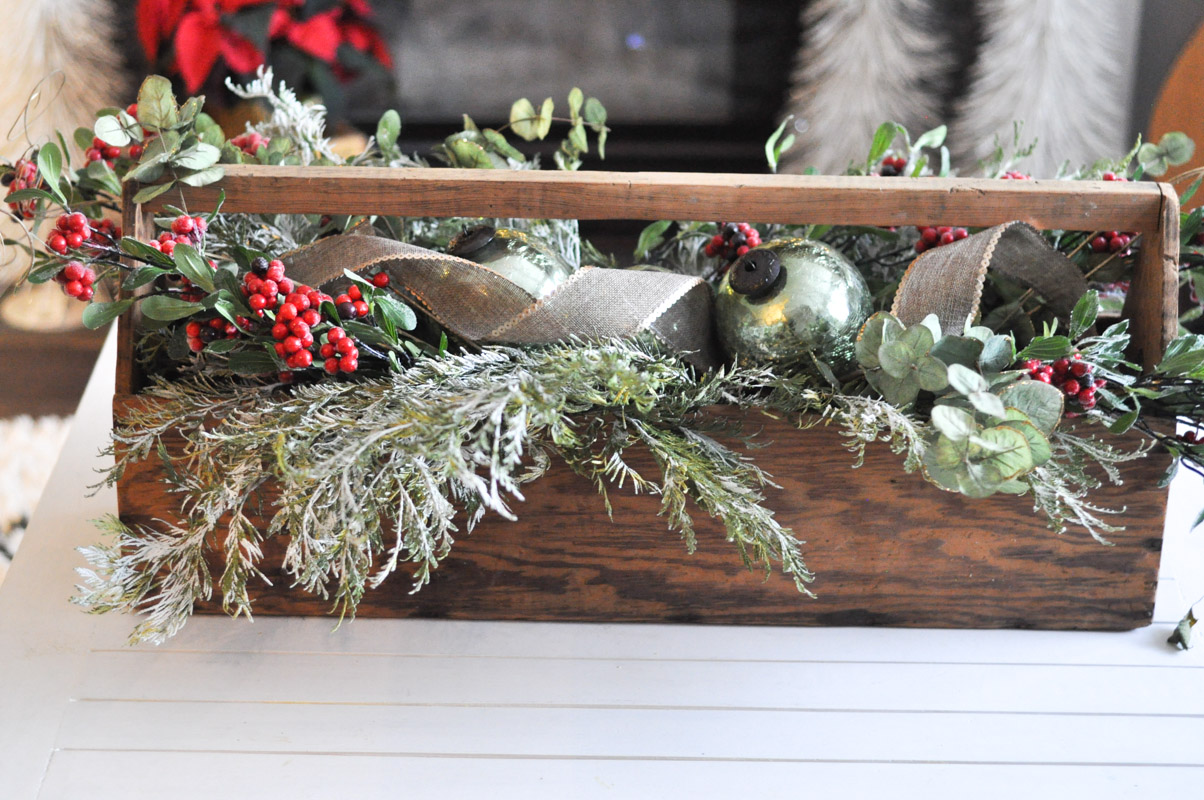 I kind of like it on the coffee table, though it's been known to spend some time on the dining room table as an oversized centerpiece as well.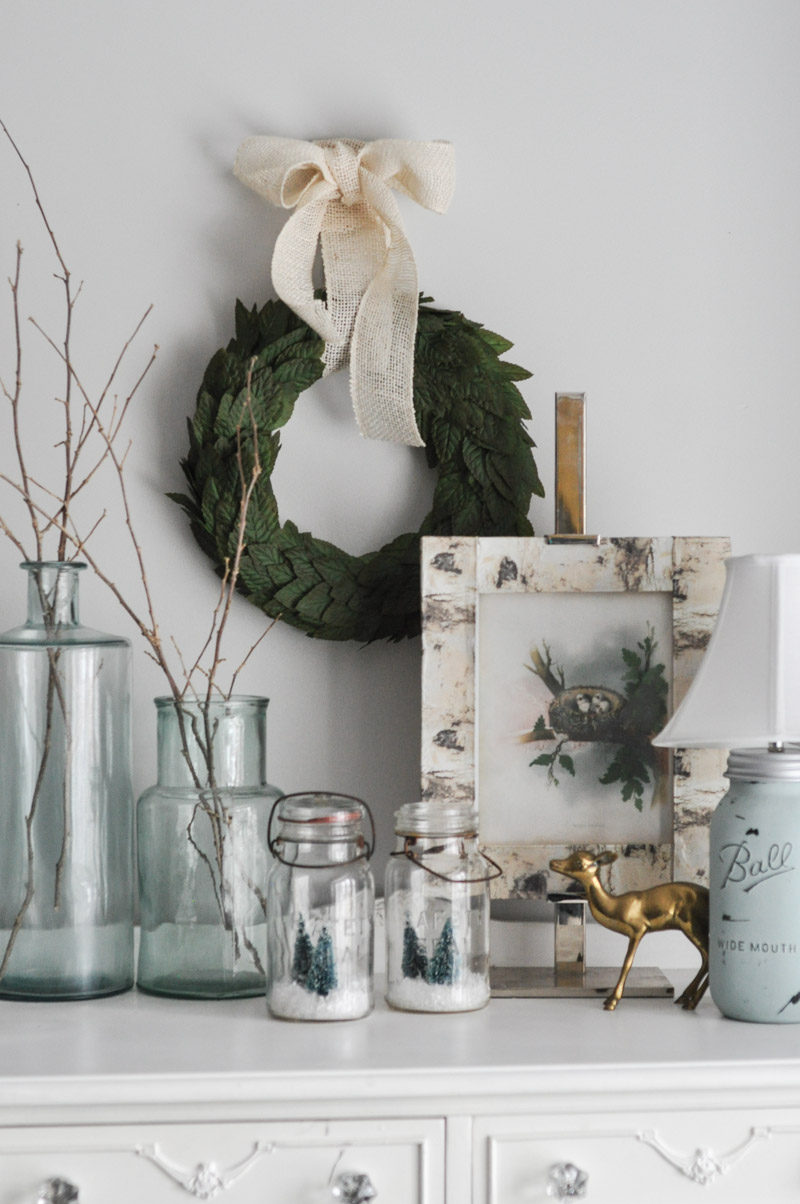 These little vintage mason jars hold bottle brush trees and faux snow. Above them hangs the rose leaf wreath that Lucy and I made one afternoon.
And my little brass deer. She's on the dresser vignette for nearly every season. She was my grandmother's, and something about her makes me smile. At a vintage market, I saw that there was a little fawn that used to come with this set, but I haven't found one on its own…. yet.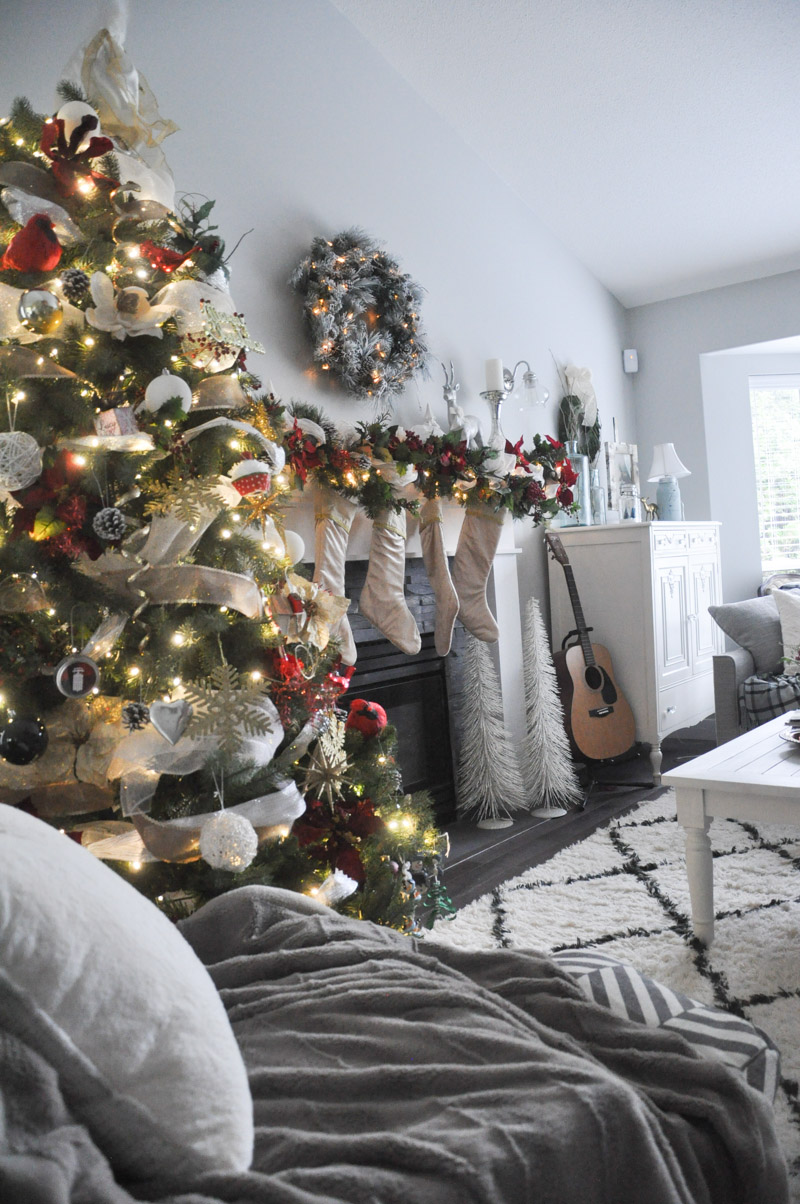 I thank you for stopping by and taking a gander in our living room(s). If you're wondering, I've scooted the white tree into our family room, but I haven't quite figured out how to get the same monochromatic loveliness in that space that was in its previous home. I think I still have some fussing about to do.
I'd love to know which look you prefer. Was it the White Christmas? Or the Traditional Poinsettia?
You can't offend me – I love them both!
After you let me know which look you liked best, I'd love for you to take a walk around some of the homes of my fellow Canadian bloggers. The fabulous Christina of The DIY Mommy orchestrated this event, and I'm so happy that she asked me to participate!
We have an amazing lineup of Christmas tours to take in, and there's ample inspiration to be had. Get lost in these fabulous spaces!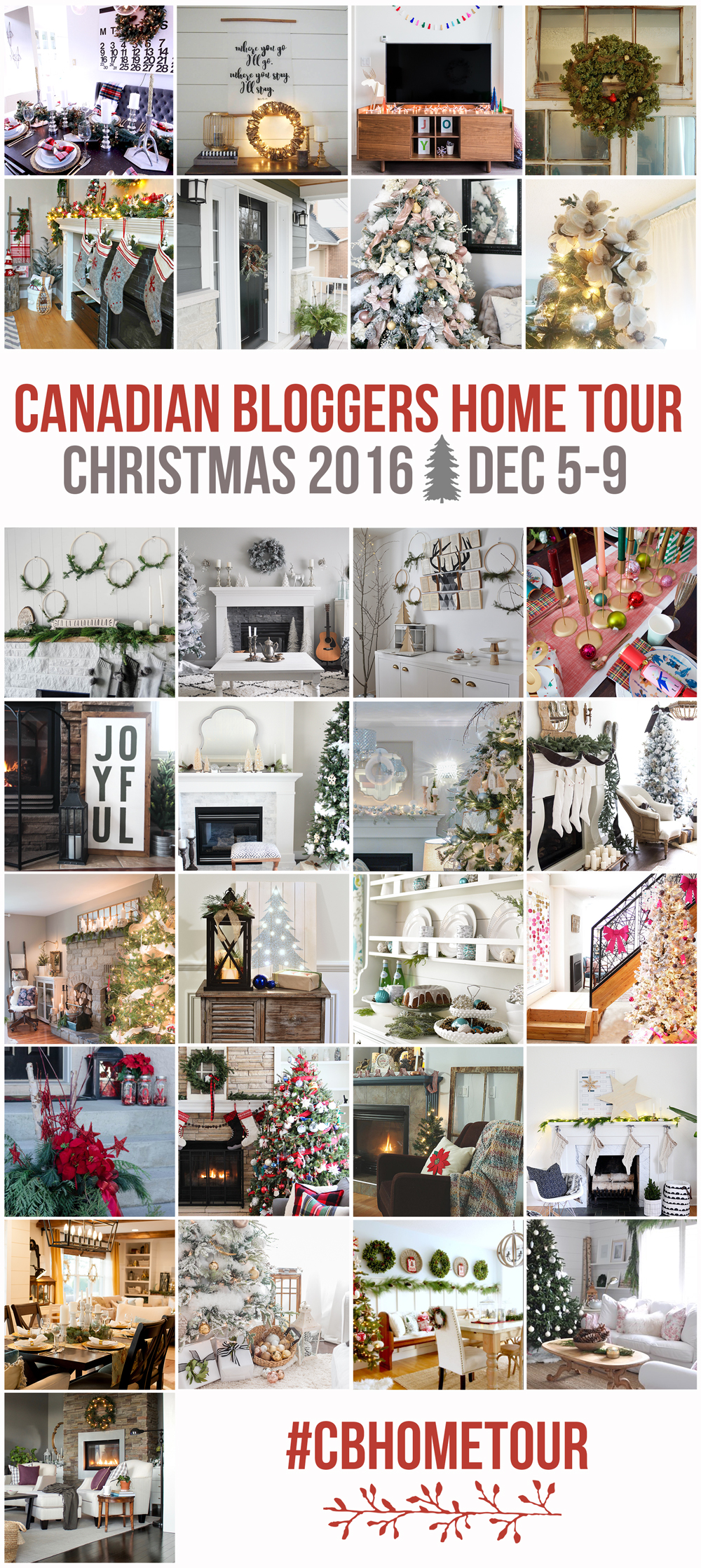 Monday
northern style exposure
The Learner Observer
The Uncommon Law
Heather In Heels
Clean and Scentsible
THE SWEETEST DIGS
Tuesday
Amidst the Chaos
Brooklyn Berry Designs
lemon Thistle
Suburble
Life is a Party
PMQ for two
Wednesday
Love Create Celebrate
Satori Design for Living
A Pop of Pretty
So Much Better With Age
VinYet ETC
Woman in Real Life
Thursday
The DIY Mommy
Fresh Crush
Time With Thea
A Pretty Life
Home To Heather
Nalles House
Friday
This Little Estate
Craftberry Bush
The Happy Housie
Kimpowerstyle
Elliven Studio