Whenever I go to a restaurant, my eyes skim the menu, searching for some sort of "bowl". Whether it's a rice bowl, curry bowl, sprouts-upon-butternut-squash-puree-type of bowl – I'm all over it. Without fail, my predictability makes my girlfriend, Lindsay, roll her eyes. "Have a lettuce wrap, Tara! Or what about this flatbread?"
"Yeah… that DOES sound good… but I think I'll have the *insert any flavour here* bowl."
And really, why fix what ain't broke? Bowls full of colourful, well-seasoned food – usually finished with a dollop of some sort of delicious sauce – are my comfort food. I love a good mash-up of veggies and rice.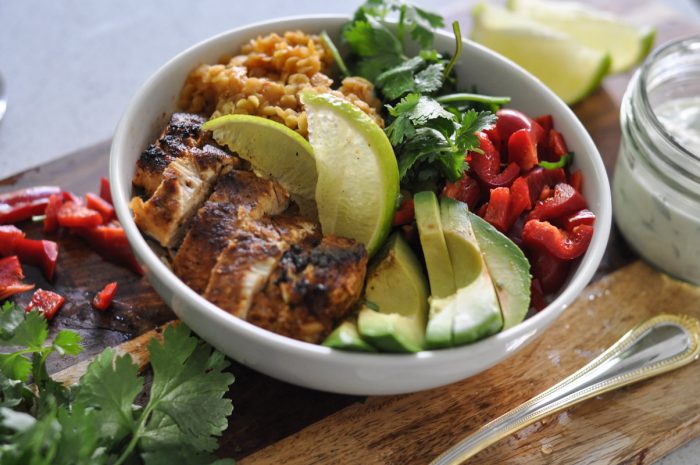 I've started exploring the trendy Buddha Bowl craze: they're essentially the foodie marriage of a stir-fry and a salad. Ingredients are carefully portioned around the perimeter of the bowl – perfect for picky "foods cannot touch!" members of the family – providing symmetrical eye-candy.
You eat with your eyes, they say. And it's true! Things taste better when they look appetizing.
Just ask split pea soup…. *blargh*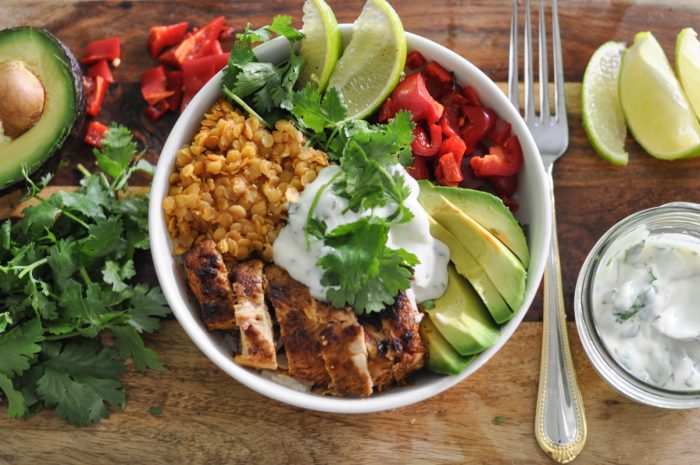 This Buddha bowl was born from a question: can you make a healthy weeknight meal that is fast and appeals to all members of the family? The protein in this bowl comes from both turkey breast and lentils – lean, mean sources of protein. Turkey breast has about 30g of fibre for every 100g serving, as well as vitamin B12, selenium and zinc. Lentils bring the protein AND the fibre, not to mention potassium, iron and folate.
(You can learn more about the superpowers of lentils and turkey at Lentils.org and Canadian Turkey.)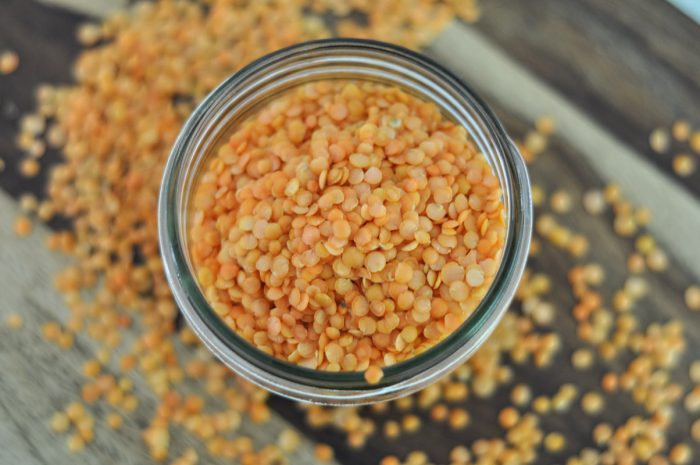 Dried lentils can seem daunting, but they're actually ridiculously easy to prepare. For this recipe, I simply rinsed my split red lentils in cold water and then placed them in a saucepan with 2 cups of water. I brought them to a boil, covered them and then left them to simmer for approximately 10-15 minutes. Once they were cooked, I tossed them into a saute pan with my reserved marinade. I quickly tossed them in the marinade and sauteed them for approximately 3-4 minutes. They were warm, tasty and ready to be added to my waiting buddha bowl.
Unlike other dried beans, lentils do not need to soak overnight. You just have to rinse them and then start cooking!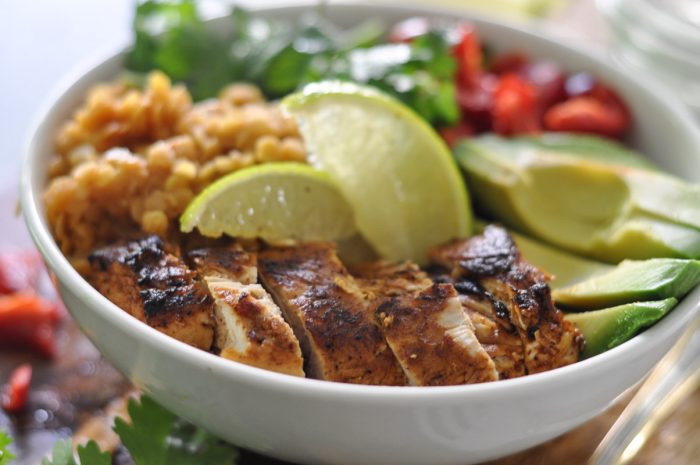 Turkey breast is a versatile meat – it works with most flavours. Because it is so lean, it's important not to overcook it. A meat thermometer is your friend with turkey – once your breast reaches 165 degrees, take it off of the heat! You want to keep that meat juicy.
Accompanying the chili lime flavours of the Buddha bowl is a cool lime and cilantro dressing. I'll admit, once I took the photos of my dinner, I heaped another huge sloppy dollop of dressing onto the middle of the bowl and mixed everything up together.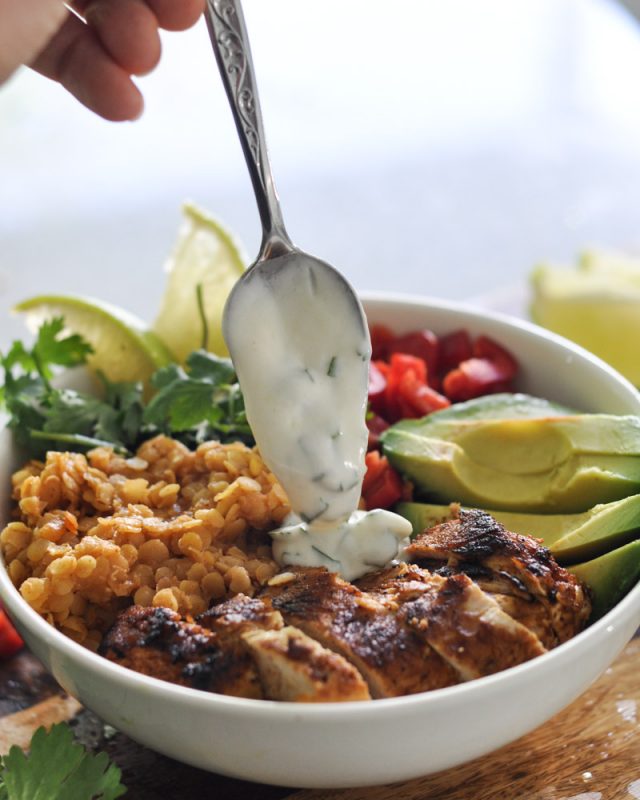 Since school is only a few weeks away – a fact which I am very much in denial about – I'm thinking ahead to some quick and easy meals to throw together. The Buddha bowl is definitely going to join my meal planning list. It can be built from the produce I have in the fridge or garden, can be served according to each family member's tastes, and makes lovely leftovers for the next day, especially if you double the dressing recipe!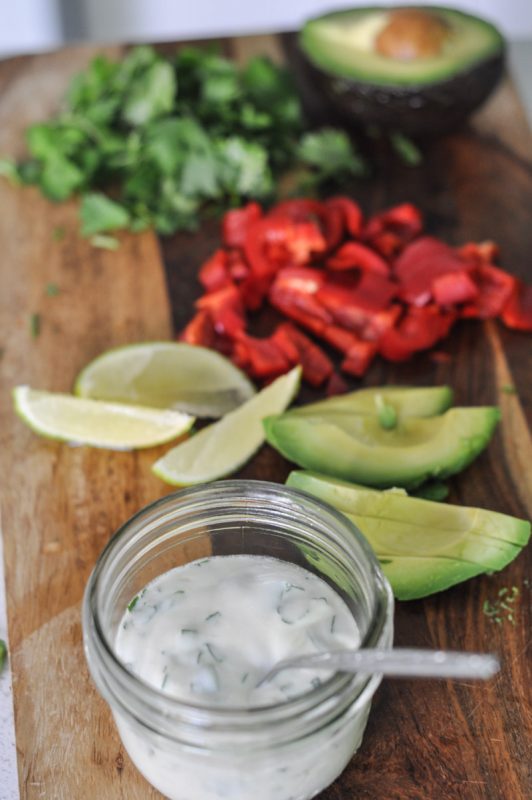 Chili Lime Buddha Bowl with Turkey and Lentils
Ingredients
2 boneless skinless Canadian turkey breasts
1 diced bell pepper
1 avocado, sliced
2 cups split red lentils
1 bunch cilantro
2 cups prepared white rice
Lime wedges for garnish
CHILI LIME MARINADE
1/4 cup (60ml) extra virgin olive oil
3 tbsp (15ml) red wine vinegar
Juice of one lime
2 tsp chili powder
1 tsp paprika
2 cloves minced garlic
LIME CILANTRO DRESSING
1/2 cup (120 ml) sour cream
2 tsp (10 ml) fresh lime juice
1 tbsp (15 ml) red wine vinegar
1 tsp (5 ml) honey
1 clove minced garlic
1/4 cup (60 ml) olive oil
Instructions
Whisk marinade ingredients together in bowl. Pour half over turkey breast in freezer bag or container and let sit for at least an hour in the fridge; put other half of the marinade aside in refrigerator for lentils
Whisk all ingredients for dressing in bowl except for olive oil. Once fully combined, slowly add olive oil while whisking the dressing until completely combined. Refrigerate until dinner.
Rinse lentils thoroughly in strainer under cold water
Put lentils in saucepan with two cups of water - bring to a boil, then cover and simmer for approximately 10-15 min, until lentils have doubled in size. Drain.
Move lentils back the saucepan and add reserved marinade. Cook over medium heat for approximately 3-4 minutes, then remove from heat.
Heat a grill or frying pan at medium heat. Cook turkey breast, flipping onto each side, until internal temperature reaches 165 degrees. Let stand for 3-5 minutes and then slice.
Place one cup of cooked rice into bowl and arrange vegetables, lentils and turkey around the bowl's perimeter. Finish with a healthy dollop of dressing in the bowl's center. Garnish with lime wedges and cilantro
https://www.suburble.com/2017/08/chili-lime-buddha-bowl-turkey-lentils.html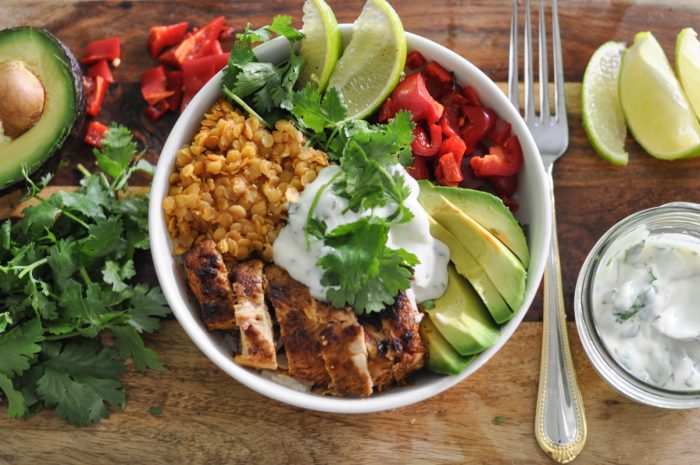 I ate this bowl SO fast. The dressing has a nice cool lime-y kick to it, and that can be adjusted according to taste. There are so many ways to make this bowl your own – from changing up the sides to mixing up the marinades – and you're still getting a meal that is full of lean protein and fibre. Both turkey and lentils are flexible foods – they'll work with their surroundings.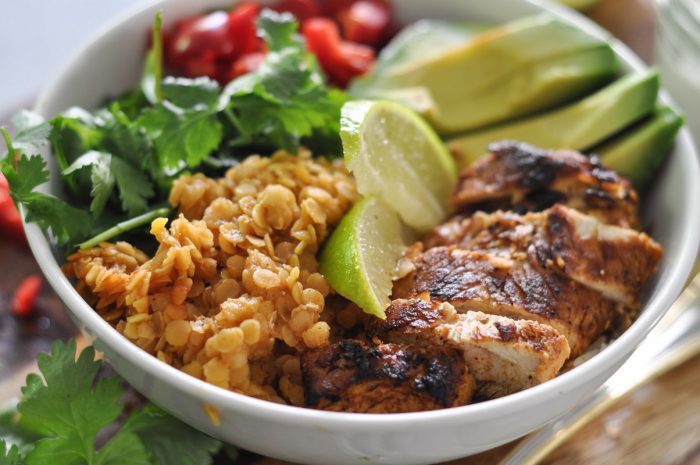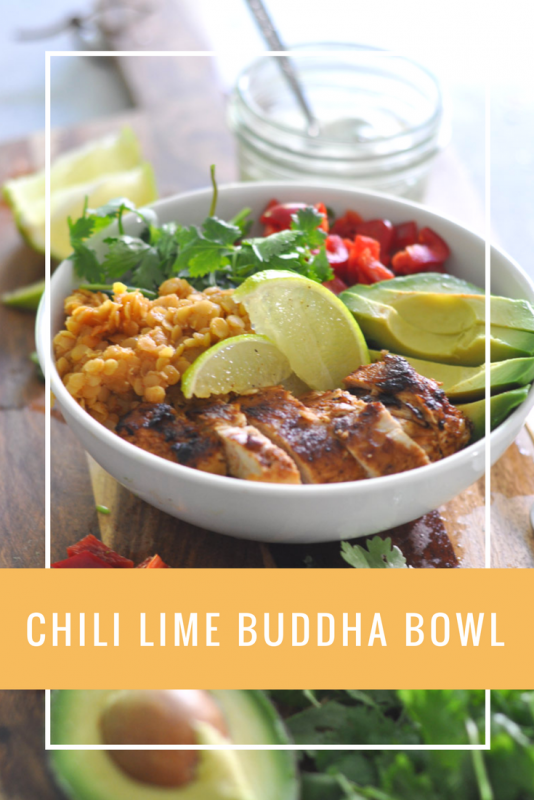 It's Giveaway Time!
Canadian Turkey and Lentils.org want to help you get your meal plans ready to go for September. They're providing a $75 prepaid Visa gift card to one lucky Suburble reader. That's a lot of cilantro lime dressing!
Giveaway runs from August 21st to 11:59 pm on September 3rd, 2017. Giveaway is open to Canadian residents. Void where prohibited.

a Rafflecopter giveaway


A big thank you to Canadian Turkey and Lentils.org for the inspiration to make one of my comfort-food bowls at home. While this post is sponsored, all words, images, and love of things-in-bowls are my own.