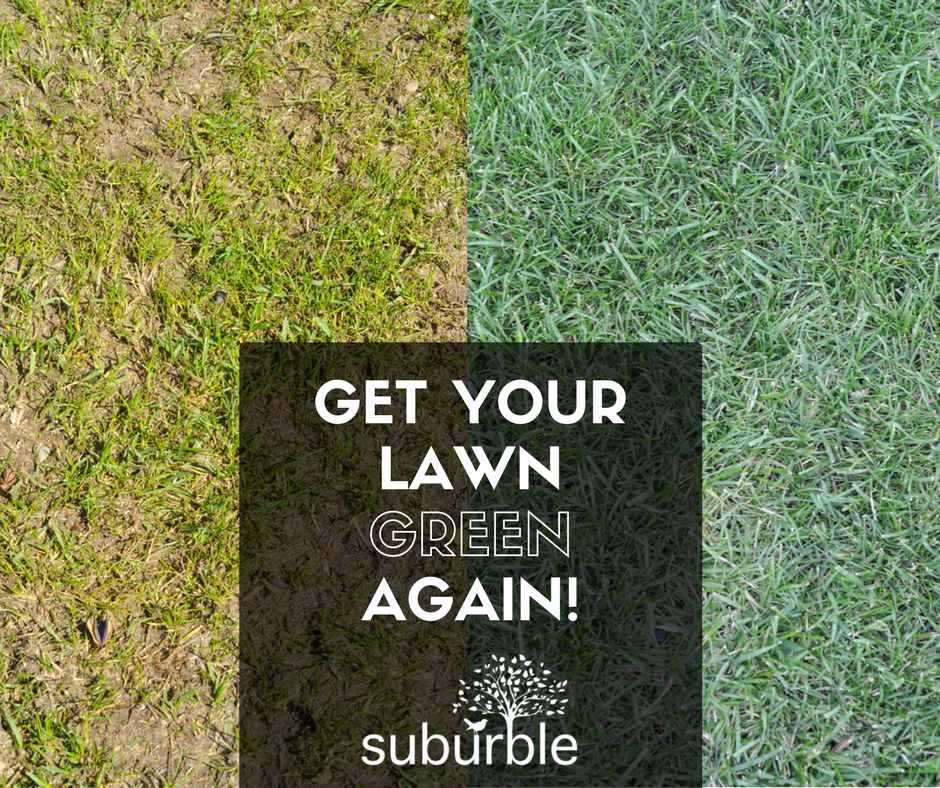 While I have spent the last few years learning as much as I can about all things related to growing flowers and vegetables, for some reason, achieving a lush green lawn has been elusive to me.
Maybe it's because we (meaning society/media as a whole) have lumped "lawn care" into the blue zone. Men are responsible for the lawn, while the ladies are kneeling in freshly pressed khaki slacks at their borders of impatiens, picking weeds in impossibly white gloves. But Mr. Suburble assured me that there wasn't a secret boys-only lawn care class in high school that I missed out on. Somehow, we had been the proud owners of a lawn for over a dozen years, and neither of us had learned how to properly take care of it.
This winter was unkind to most green things in our yard – everything was battered and bruised by the unusual amounts of snowfall and then drowned by the never. ending. rain. that came in the Spring. Our front yard was a bit of a mess.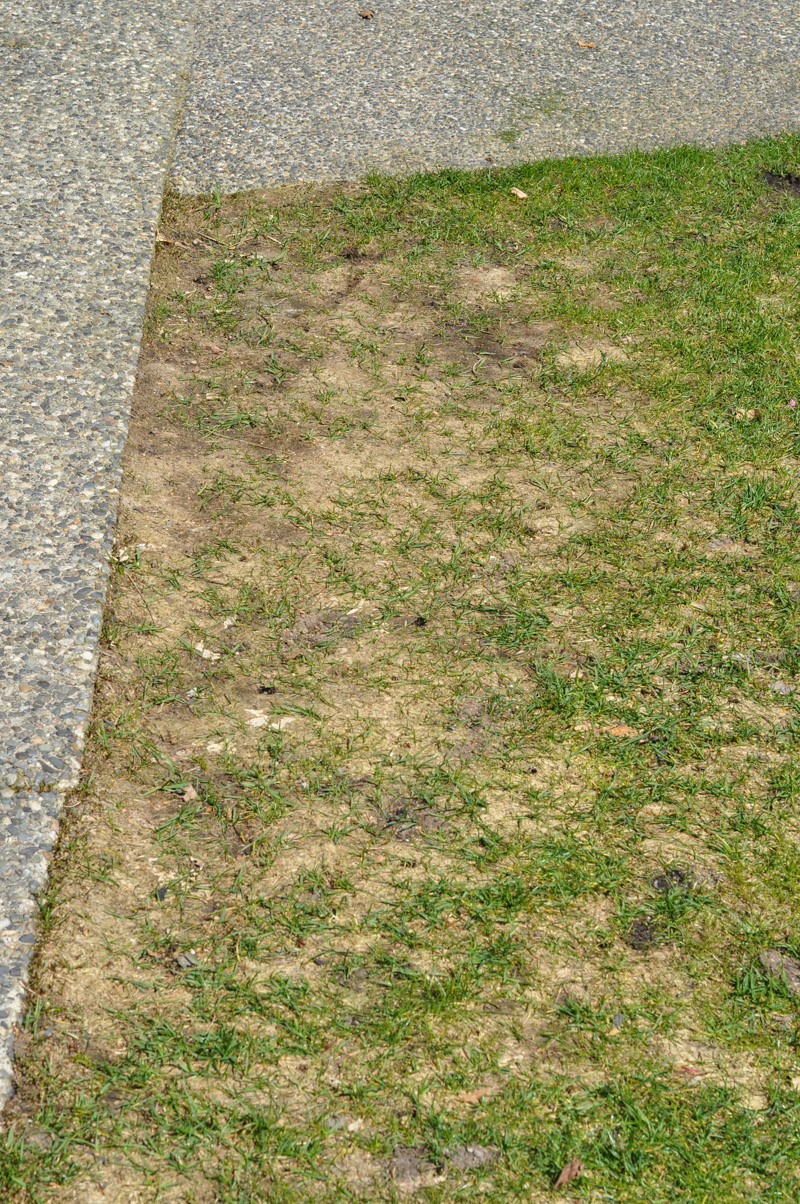 Would we even call this grass at this stage? This was the sorry patch of lawn that bordered our driveway. You can see that it had been flattened by piles of snow, boots, and children that really don't care how much rolls of sod cost.
Oh yeah, that's another thing I forgot to mention – we re-sodded our yard just the year prior. Beautiful rolls of thick green grass had been spread over the earth and then carefully nurtured into rooting. It had been a beautiful carpet of green.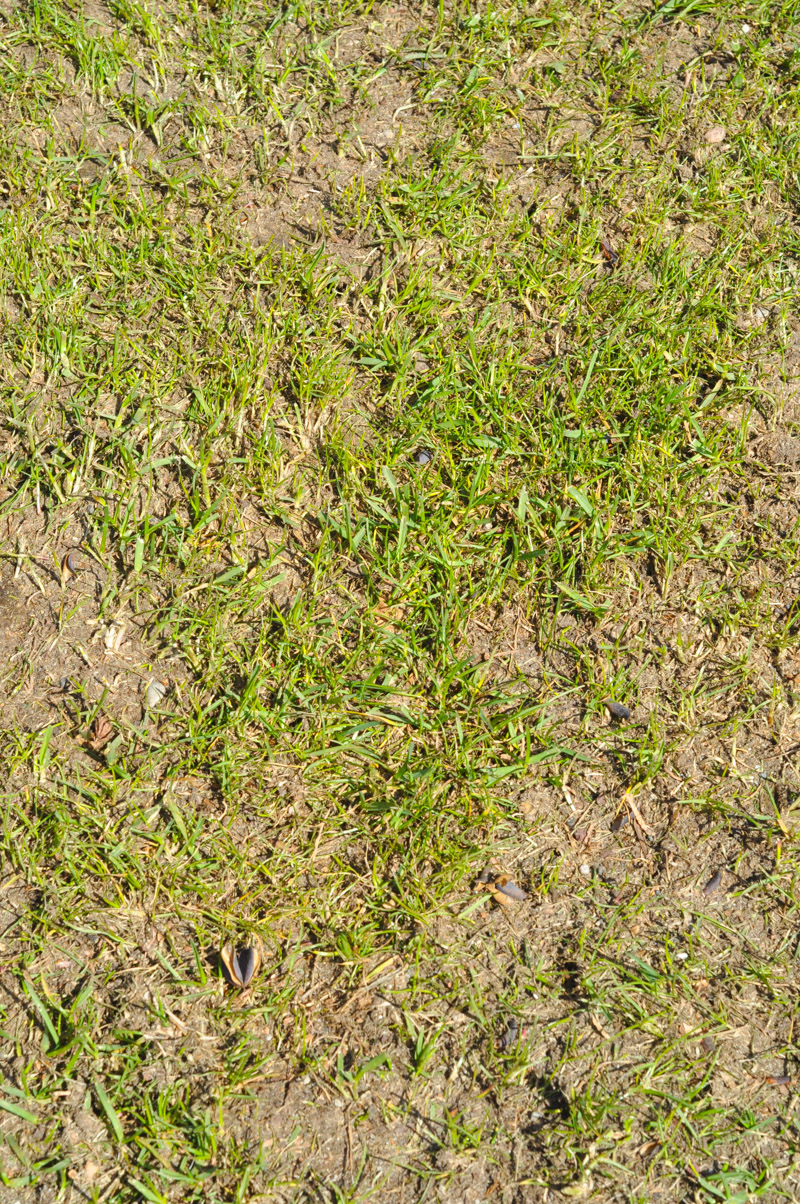 Winter doesn't care about sod or how many times you hollered at the children to "GET OFF THE LAWN ALREADY FOR THE LOVE OF PETE!" It certainly didn't give our grass much of a fighting chance.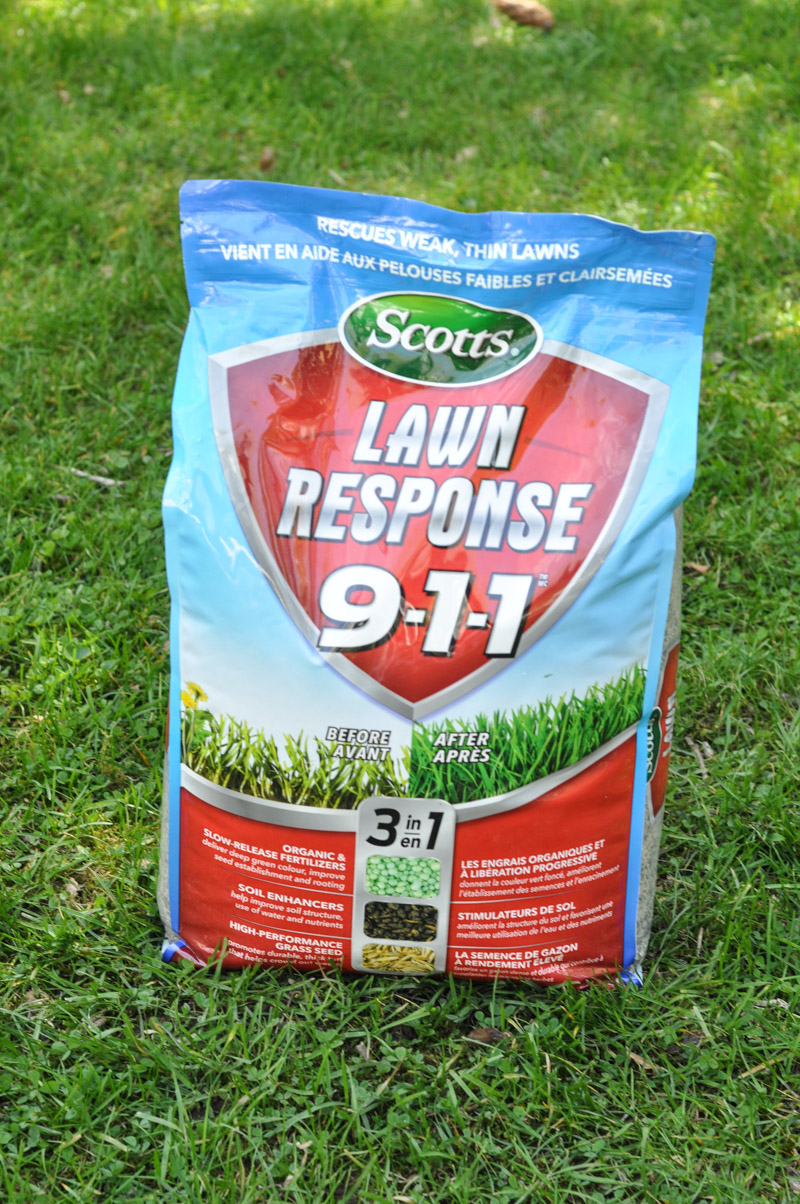 As a member of the Scotts Gro Crew, I was given the opportunity to try out the Scotts Lawn Response 9-1-1 lawn repair system. It's almost as if it's a personal trainer for lawns: "Rescues weak, thin lawns."
Well, if anybody needed a boot camp and a protein shake, it was my grass.
Scotts Lawn Response 9-1-1 is a 3-in-1 lawn repair product. It contains organic and slow-release fertilizers, soil enhancers, and a high-performance grass seed. Basically, you just follow the directions on the back of the bag and keep the grass watered. For grass dummies like us, this was perfect!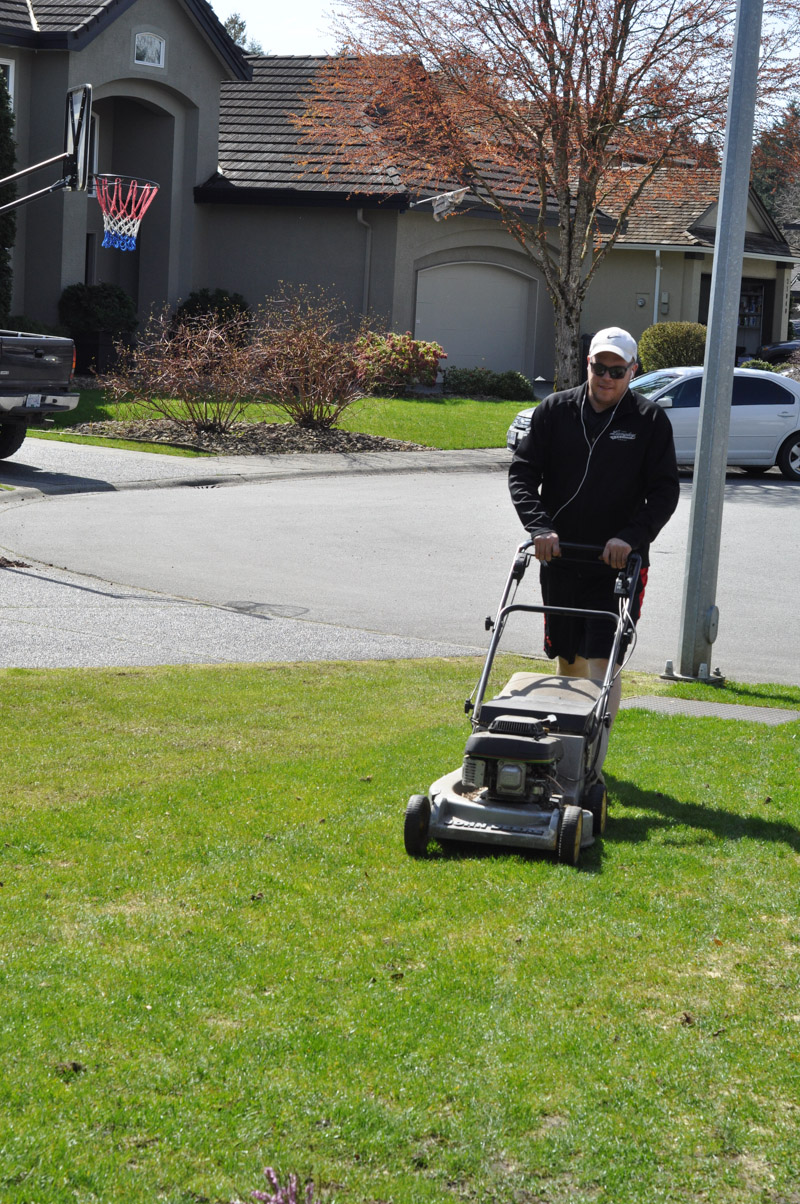 First, we had to mow the lawn to 5 cm (2 in) high. See how Mr. Suburble has his music on? He secretly loves mowing the lawn because he gets to turn the music up and drown out the world. His new favourite grass-cutting tunes are by The Best of Notorious B.I.G.
Seriously. Whatever gets the grass cut works for me.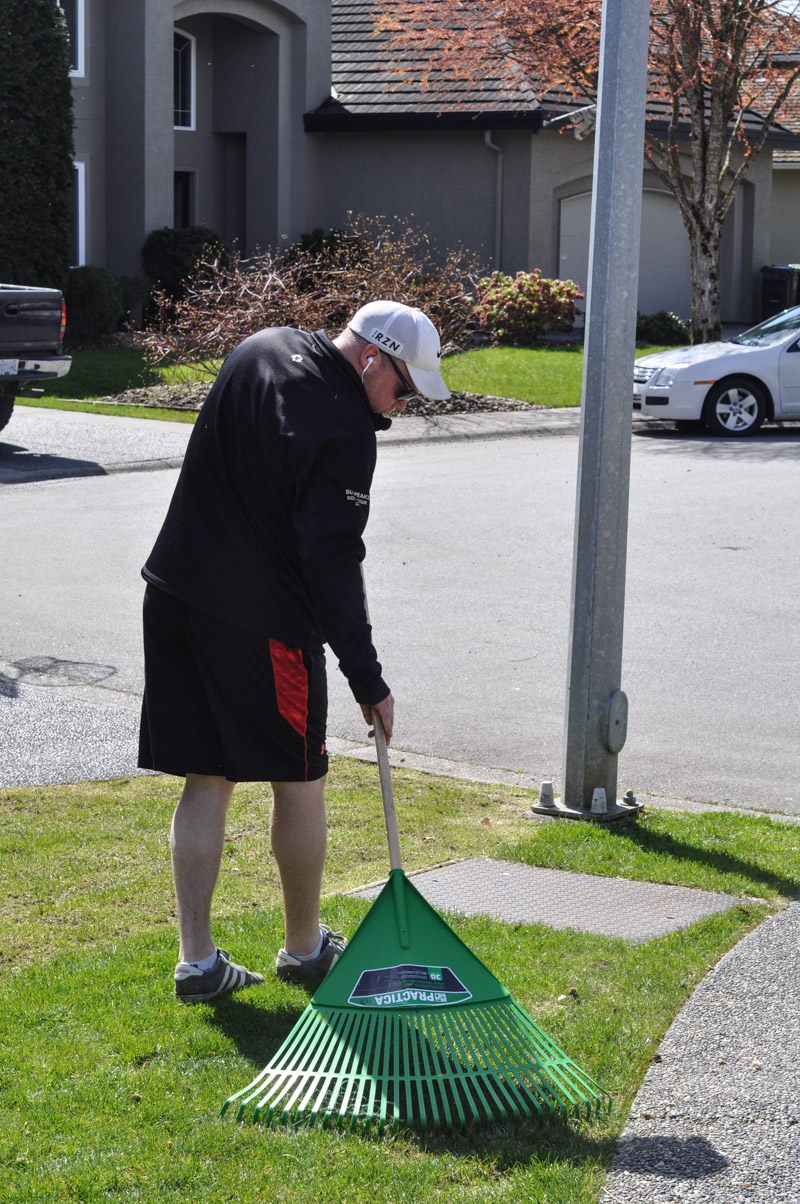 After mowing, the grass needs to be raked in order to break up thatch and scarify the soil. This rake really didn't do as good of a job as it should have. It should be a metal rake (so do as we say, and not as we do).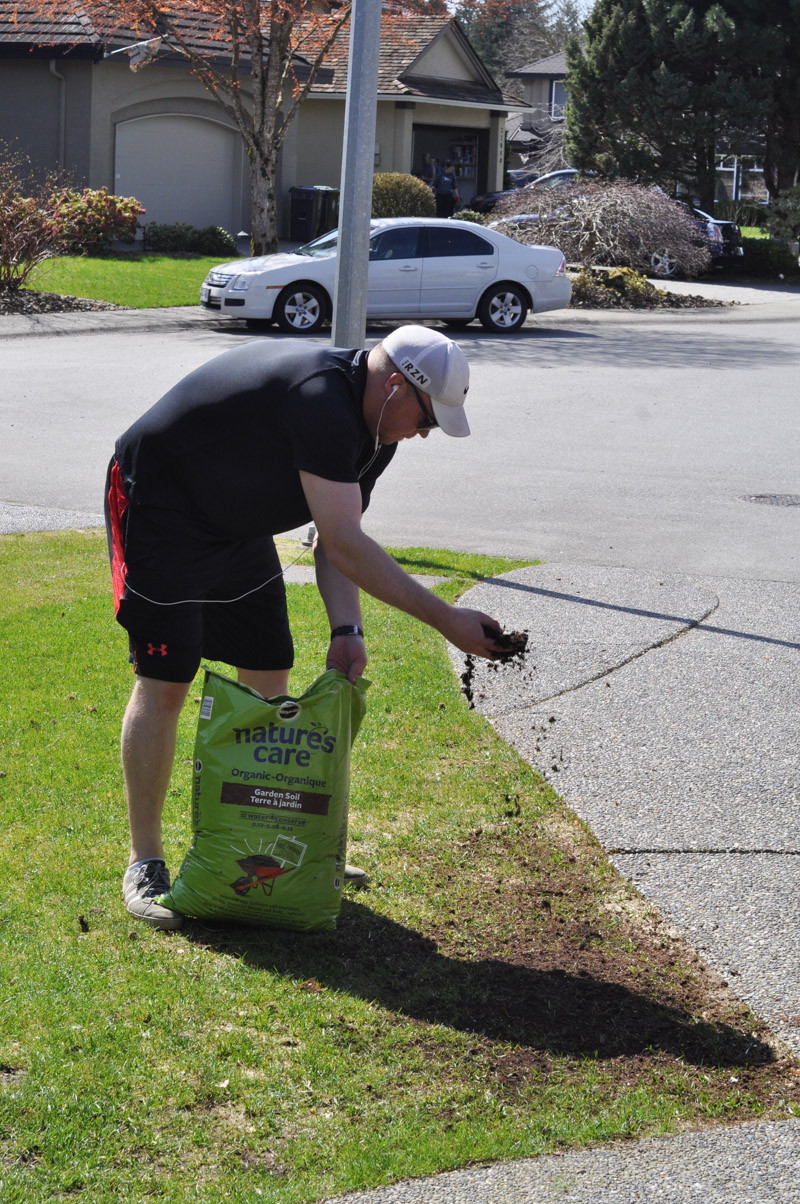 The area that was downtrodden and feeling super sorry for itself needed a bit of help before we overseeded with the Lawn Response 9-1-1. We top-dressed this area with some Nature's Care Organic Garden Soil that we had in the greenhouse.
We've been using Nature's Care products in our veggie and container gardening this growing season, and have had great success with it. The Garden Soil is fortified with alfalfa, bone and kelp meal, as well as earthworm castings. It's a great medium to encourage little seedlings – especially tender lawn shoots – to grow up and become strong stalks of grass.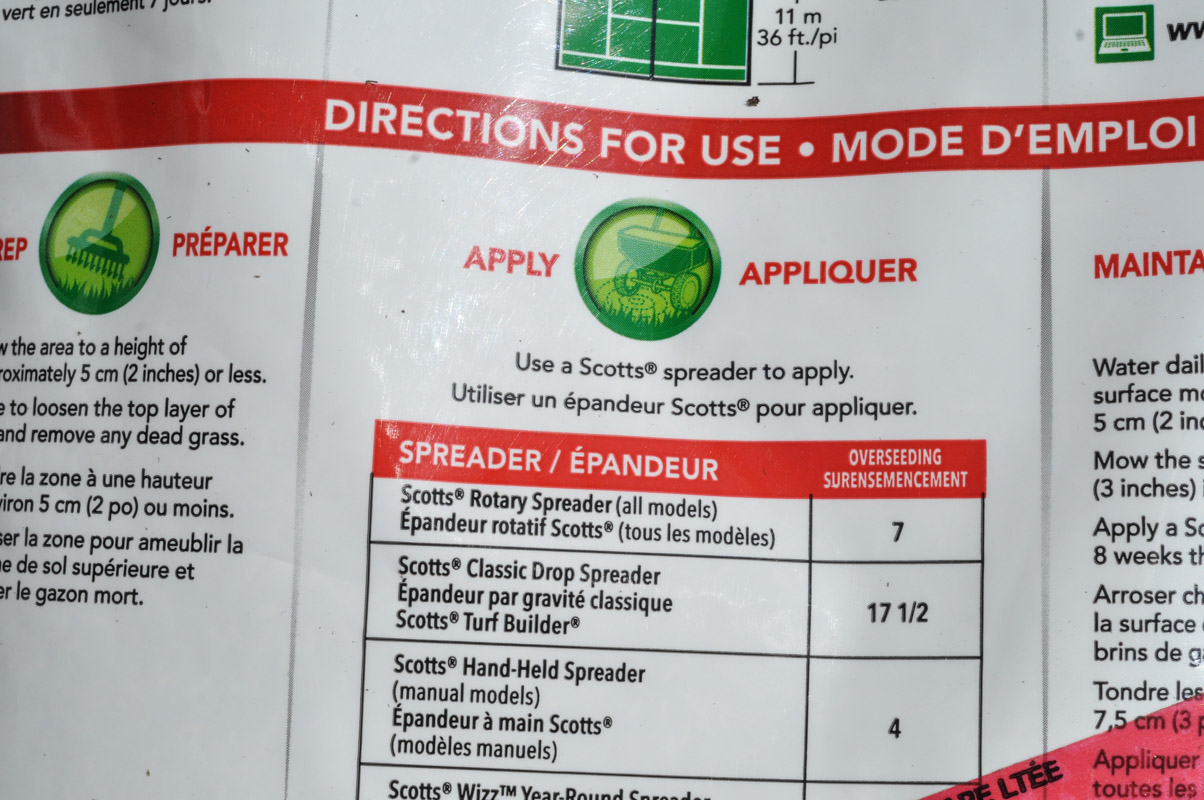 The back of the Lawn Response 9-1-1 bag outlines the spreader settings required for optimum coverage.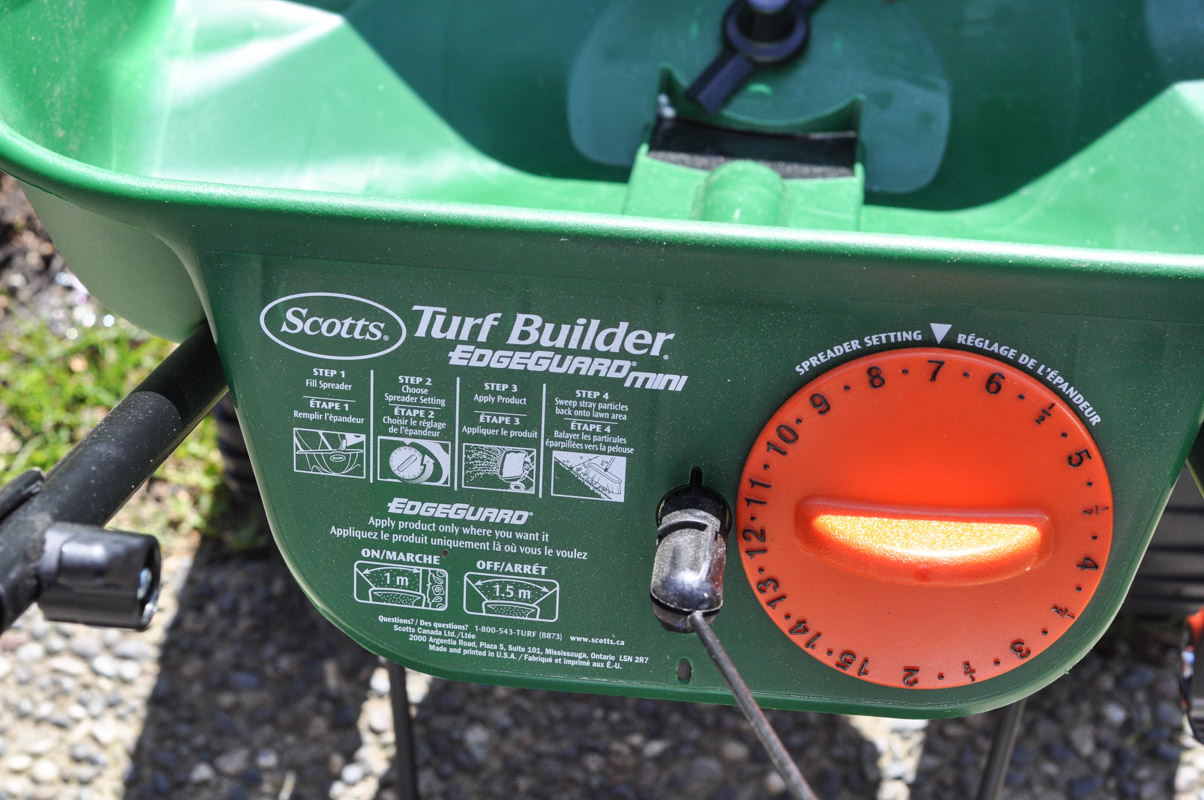 We were using a rotary spreader, so we set it for 7.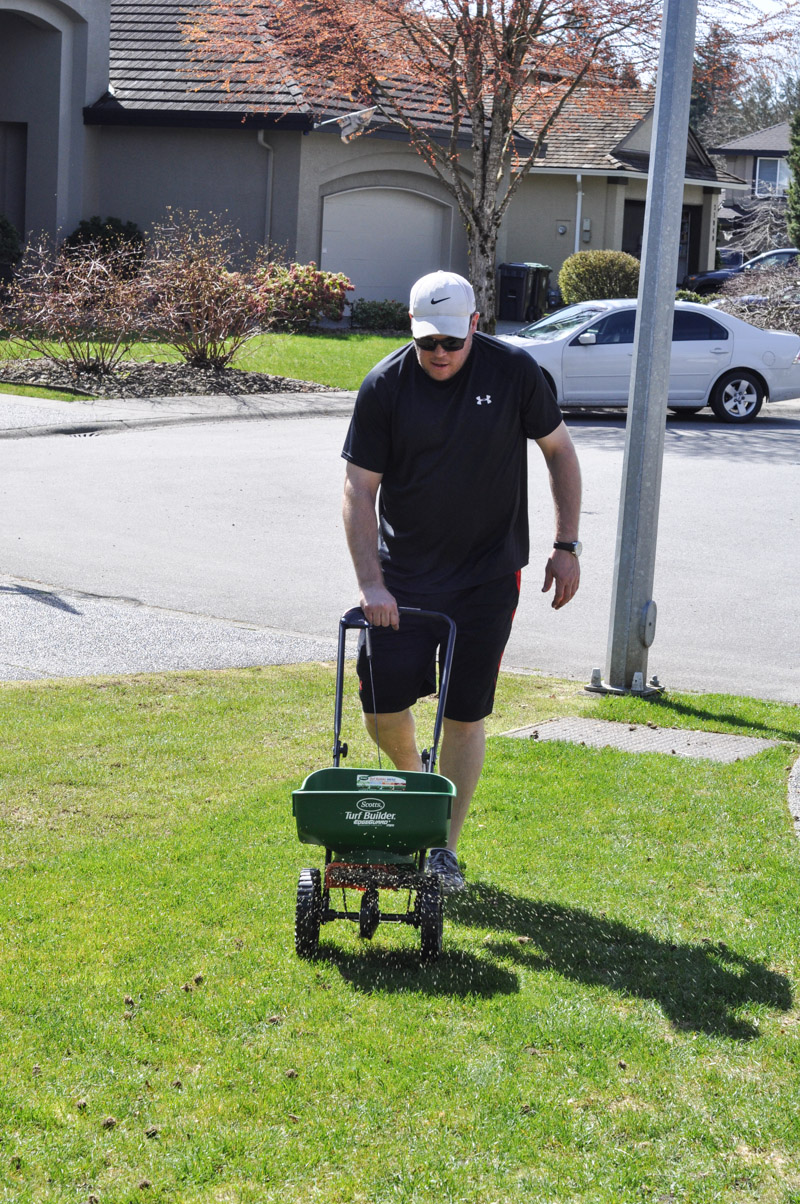 Then Mr. Suburble got to work spreading while listening to his 90s rap songs. Sometimes he'll start singing along while he works in the yard. The neighbours love it.
After we had ensured that all of the lawn was carefully covered with the overseed, we just had to watch, wait – and water. Grass seed doesn't like it to be hot or dry, so we applied this product in late April. Thankfully, it was still rainy season, and we didn't have to remember to water very frequently.
When we do, we like to use this telescopic rain sprinkler.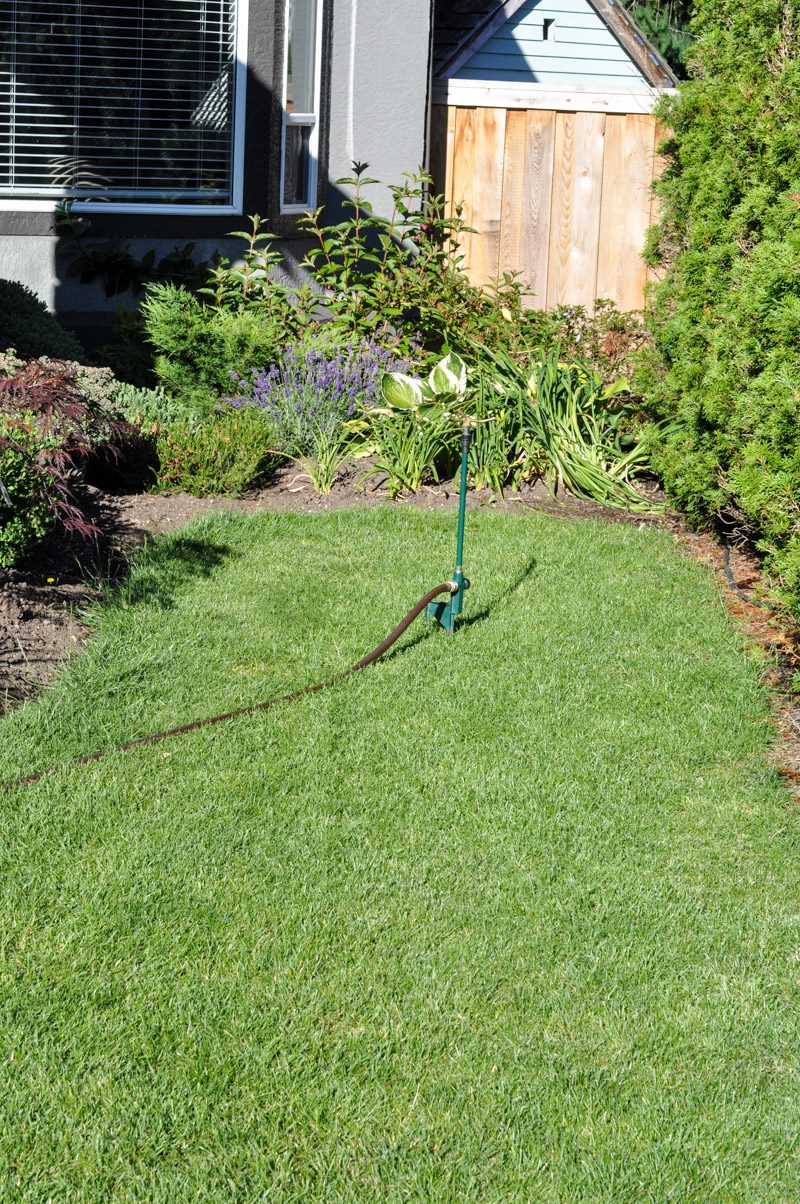 Soon, after only about a month or so, we could see that our grass was much thicker, greener, and happier than it was before.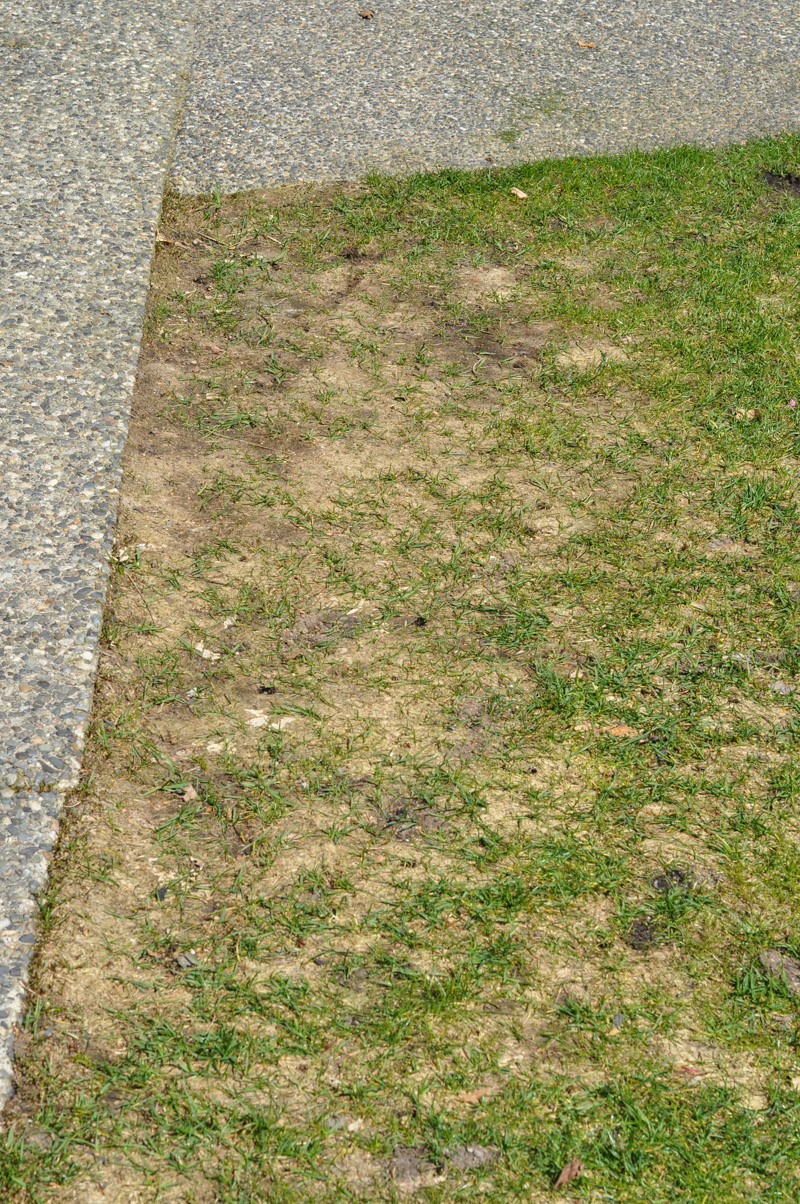 Remember my sad little patch of grass next to the driveway?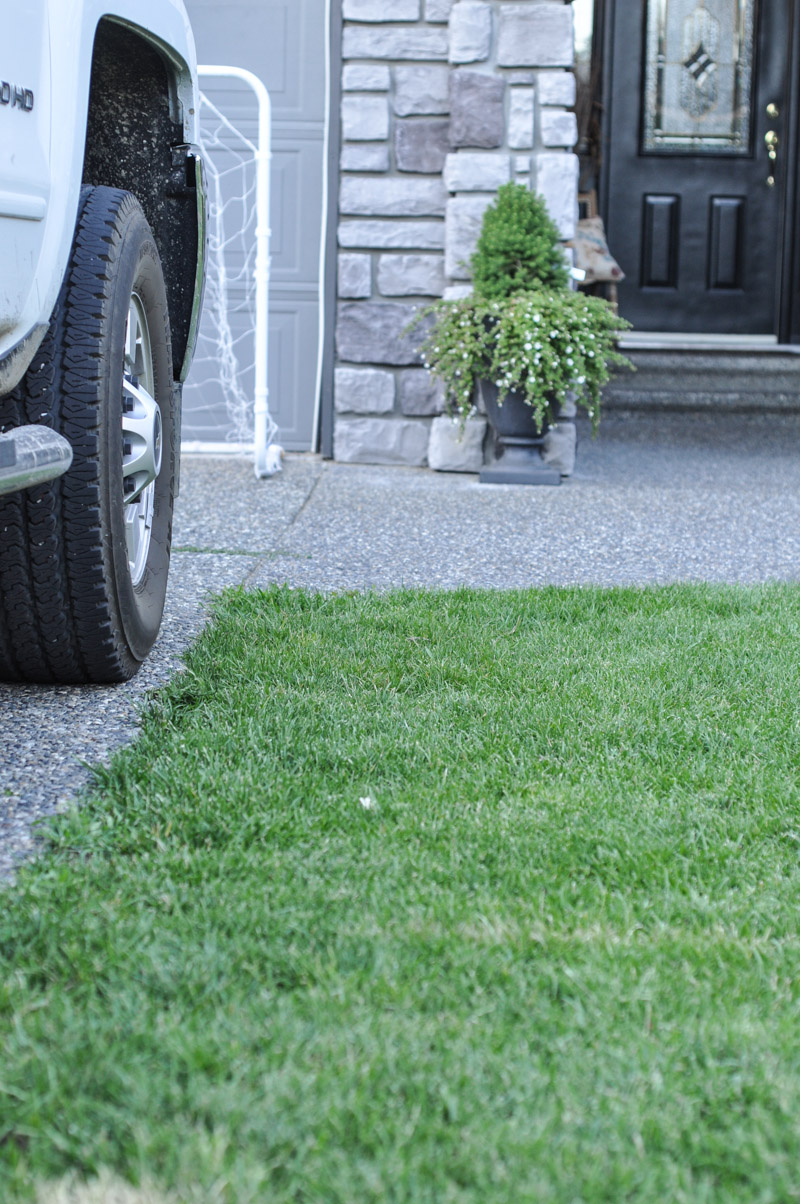 It was happier than ever! (And this is with little feet running up and down the lawn despite our constant reminders to use the pavement)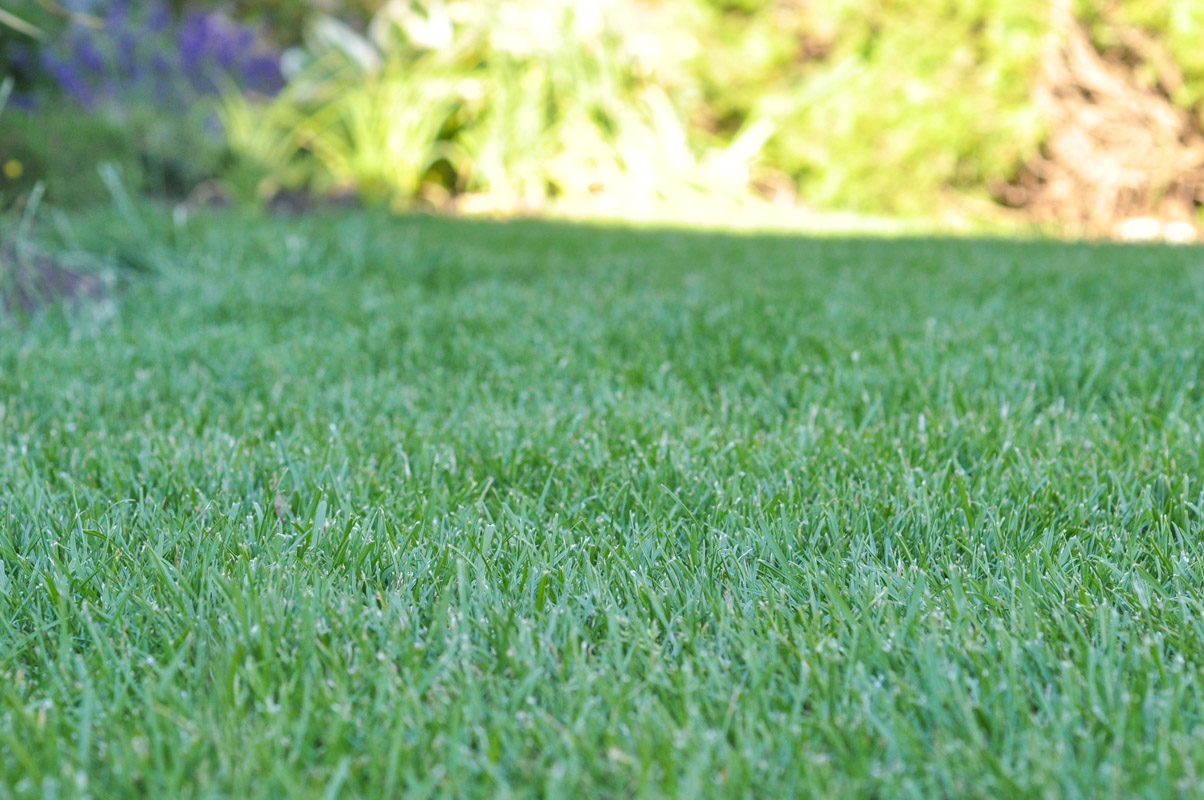 The grass is now lush and has been responding well to being watered only 2-3 times a week. We battle with moss in our area and while Lawn Response 9-1-1 is not a moss killing product, strong, healthy grass will "crowd out" any moss or weeds that try to join the party. We haven't seen any moss in our front yard all year!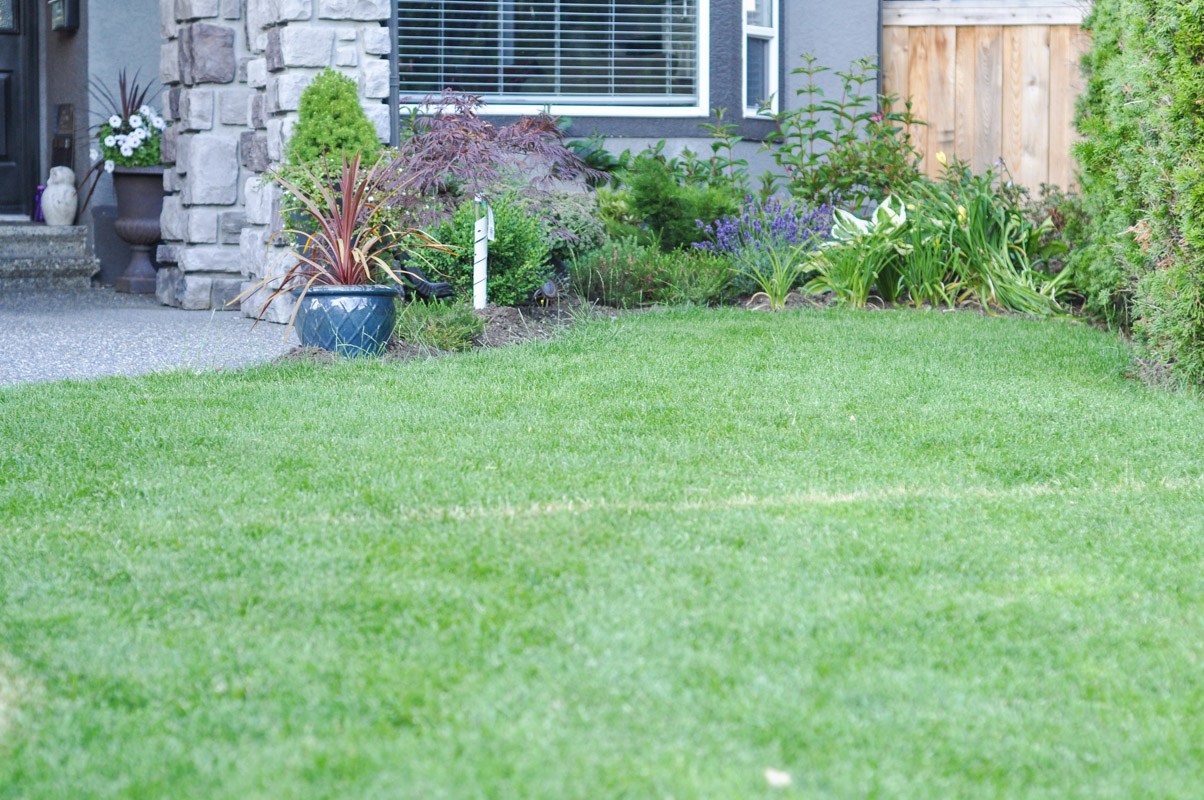 The slow-release fertilizers in the Lawn Response 9-1-1 are a great help for us, as we've had some fertilizer snafus in the past. Slow release fertilizers minimize the risk of salt burn (when *ahem* a big dump of fertilizer leaves a brown patch in the grass) as well as reduces maintenance throughout the season.
Lawn Response 9-1-1 is recommended as an annual overseeding product. We'll definitely be using it again next spring, as we've been thrilled with our results!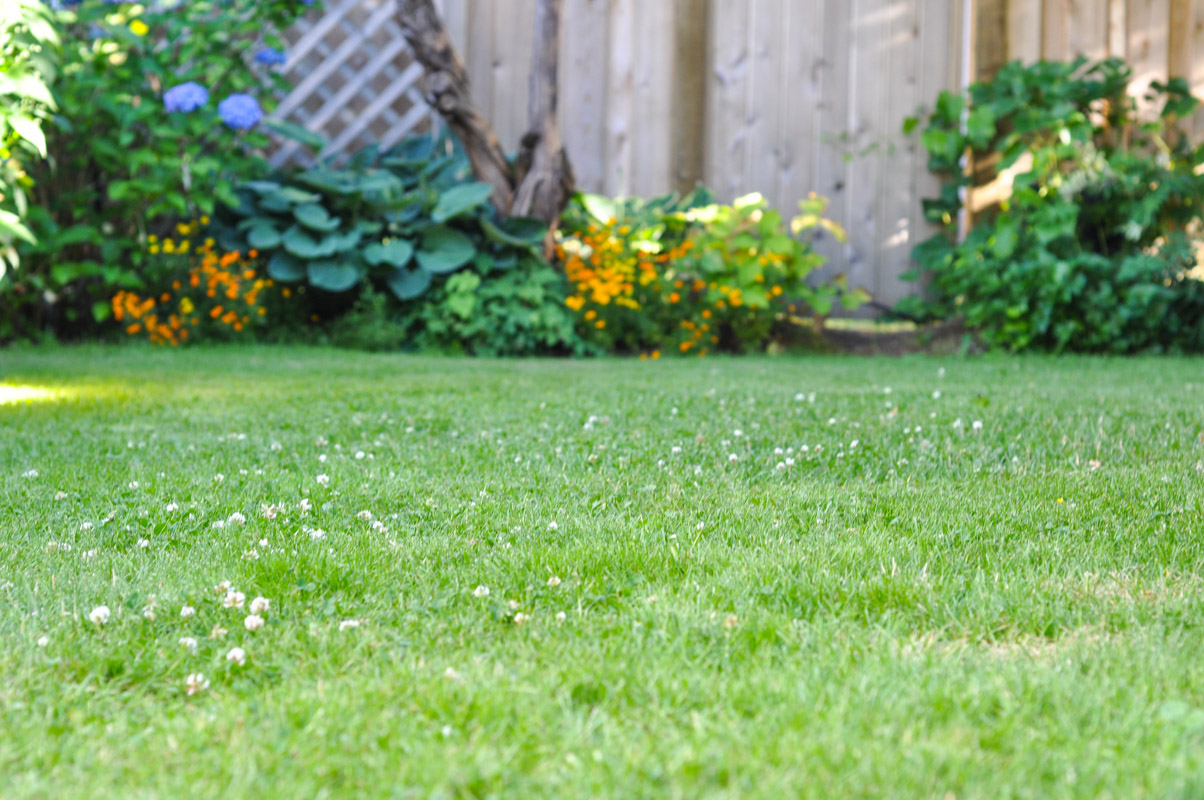 Now to the next lawn conundrum: how do I get rid of this clover field in the backyard?
Huge thanks to the Scotts Gro Crew team for providing us with the support needed to breathe some life back into our lawn! While this post was sponsored, as always, all words, images, experiences and rap-song-singing hubbies are my own.