I have a neighbour who is extremely passionate about gardening. She and her husband devote hours and hours to time working in the dirt. There is a small man-made stream that winds its way through their yard, ending at a large koi pond. There is a bridge. A path. A multitude of little gnomes and bunnies and other whimsical creatures peeking out behind green leaves and large blossoms.
The girls and I often walk past her house, just to admire the flowers and the beauty that she's created. I am envious of her yard, though I know the amount of work behind it. And during these little walk-by visits, we've struck up a neighbourly friendship. I admired her flowers; she laughed and acted like it was nothing. And then she mentioned how she was overflowing with plants. She was throwing them into the compost heap.
What!?!? There are many little bare patches in my garden that would be happy to host these plants!
And some of these plants arrived today. She unloaded pots and buckets from her car and plopped them in front of me, while I stood there, amazed.
What was even more incredible is that she had taken the time to write out little notes to correspond with each plant.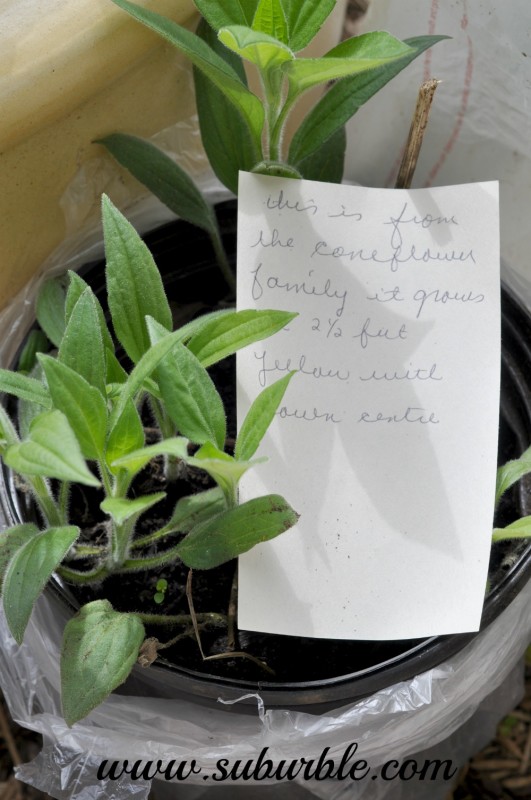 "This is from the cornflower family. It grows to 2 1/2 feet. Yellow with a brown center."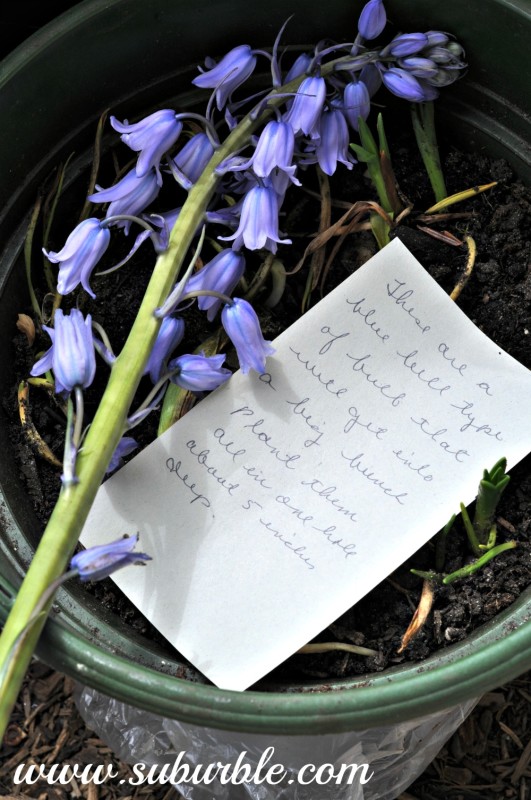 "These are a bluebell type of bulb that will get into a big bunch. Plant them all in one hole about five inches deep."
(You'll notice that she clipped one of her blooming bluebells so that I could see what the plant would look like.)
But what probably touched me the most was the note that she had scribbled out as she was organizing these plants for me. She knew that I'm not very confident when it comes to gardening. Many times,  I had laughed over my black thumb with her while the girls danced in her driveway and tried to pet her uninterested cat, Sophie. And so maybe that's why she thought to write this: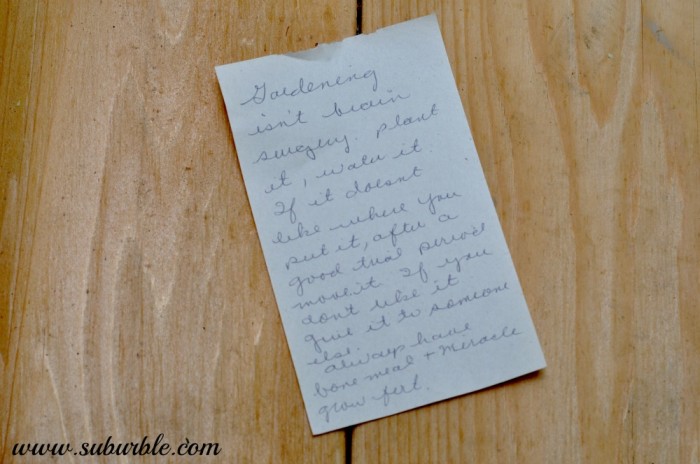 "Gardening isn't brain surgery.
Plant it, water it.
If it doesn't like where you put it, after a good trial period, move it.
If you don't like it, give it to someone else.
Always have bone meal and Miracle Grow fertilizer."
Thank you, Edie. I appreciate it all.