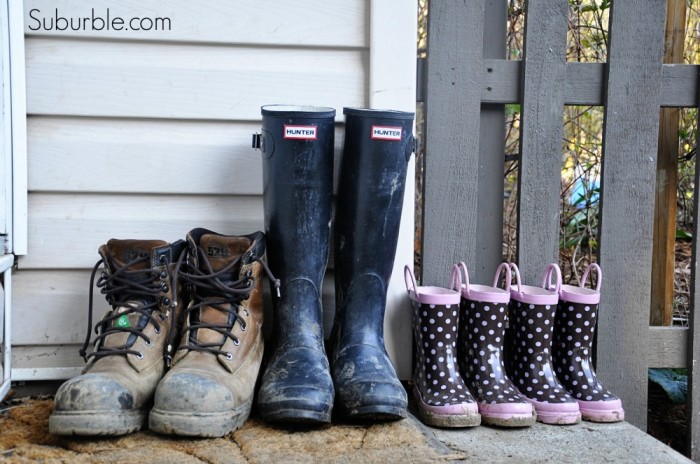 The evolution of our backyard has been dirty and seemingly endless work. We moved into our house in the Fall of 2006. We have a backyard that we are finally satisfied with just this year: almost 7 years since we first held the keys to this house. Of course, prior to the thuds and thwacks of children's feet (because let's be honest, the "pitter patter" stage lasts about 1 month, tops), we didn't give the backyard much thought. It was pretty. It was green.
It was also very sloped and covered in a giant invasive ivy patch. The grass also didn't like to grow much, due to the fact that there was very little sun in the back yard. Two giant twin trees hung over the yard, offering shade and well… more shade.
From the house, we had a very large deck. This is where we spent our time. I stained it (poorly in some spots, but I didn't care. I was a new home owner and thought that I had done an awesome job) and we set up little vingettes of adirondack chairs and potted herbs. So lovely. Such a great deck to host gatherings.
Well, it was a good place to host gatherings until the untreated supports beneath the deck gave way during a family dinner. Nothing says, "Welcome to my home" like the feeling of the deck floor dropping from underneath you.
Thankfully, the deck was only 2 and a half feet off of the ground, and only one support had let go. It shifted about half a foot, and these three happy workers (well, Mr. Suburble looks pretty miserable, but I think he had to do most of the muddy business) shimmied under the joists in order to jack up and reinforce the deck.
We kept the deck this way for another two years. And then we had Lila.
A backyard that was a giant slope just didn't seem ideal for playing tag, chasing a ball, or really, anything that a kid would do besides tobogganing. And because we live on a ravine, suggesting that your child toboggan towards a forty foot drop into a creek is really not something that Child Protective Services smiles upon.
We decided to even out the backyard.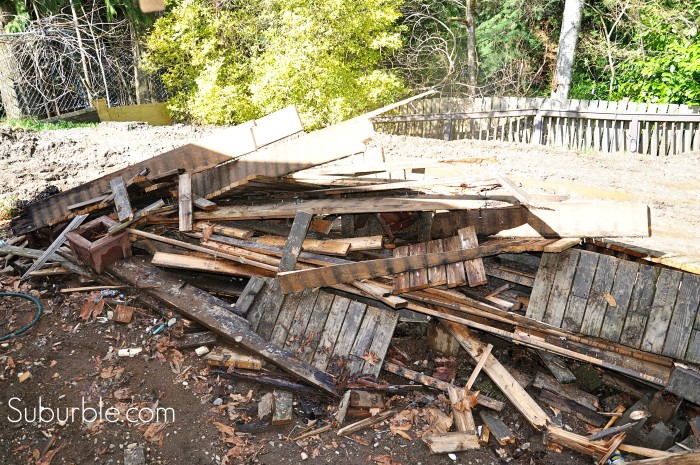 Which meant that we lost the large party deck. Instead, we got a pile of lumber (lots of it rotting, so it was probably a good thing to bid adieu to Mr. Unreliable).
After the earth was levelled out, Hubby put his re-bar and forming skills to work. We brought back the party deck! But, well, it became a party patio. And it was also a bit of a drop from our sliding glass door. But we had a plan!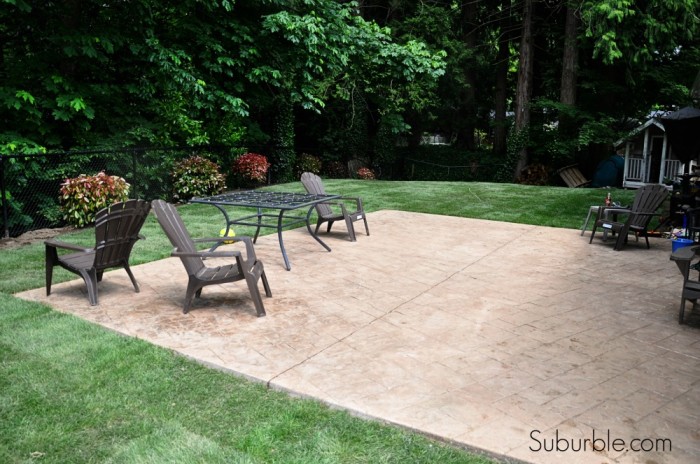 After a visit from a cement truck, cement finishers, and a hiab truck full of sod, this is where we were as of last June.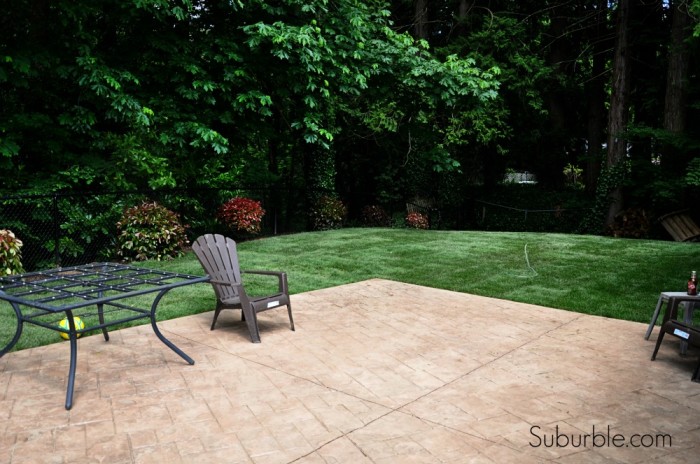 It was exciting! Our backyard was really happening!
And then it rained nearly every day in June. The sod wept with the rainclouds. We watched everything stay damp for a month. And then July came – and we got to work.
Be sure to follow along and see what our backyard looks like now, one year after these photos were taken! Also, learn about how sod doesn't love to be slowly drowned over the course of a month. The Evolution of the Backyard, Part 2 is my next post!
Follow along here: