I apologize. I got a bit distracted. Here is the final installment (well, nothing is final in home renovations – we all know that) in my Evolution of a Backyard series.
This is where I left off in my last post: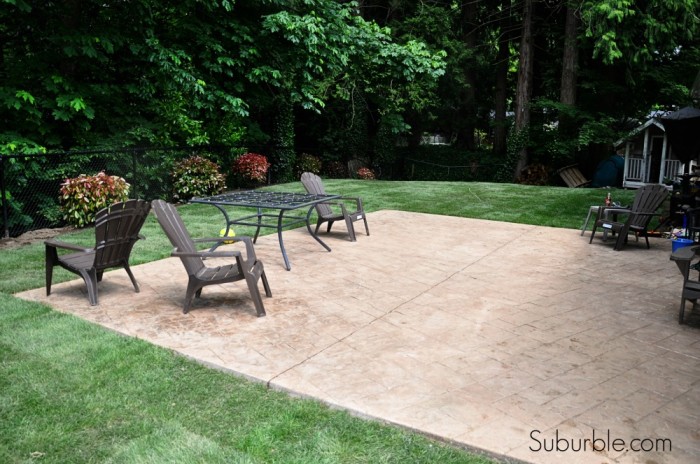 Sod laid, patio empty, and lots of plans were waiting to be put into action.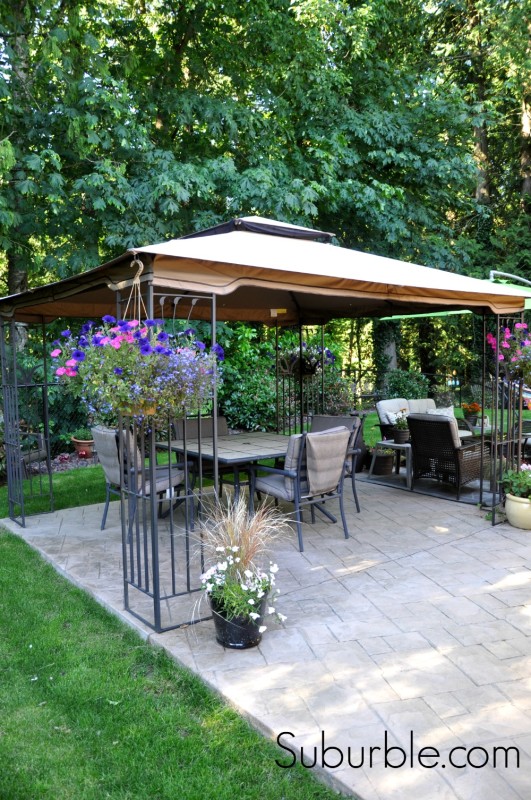 And this is where we are right now.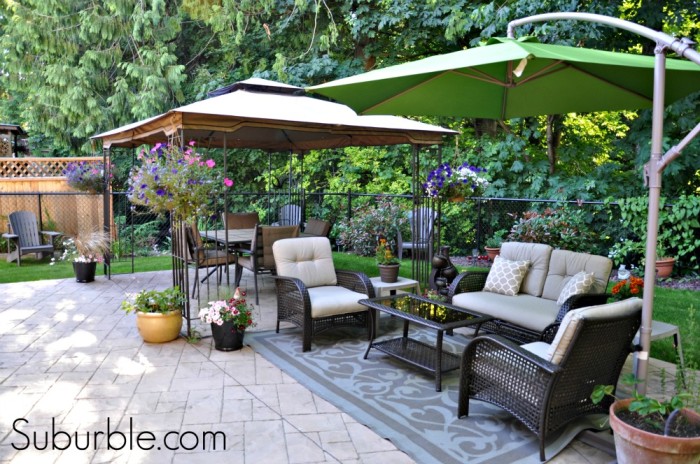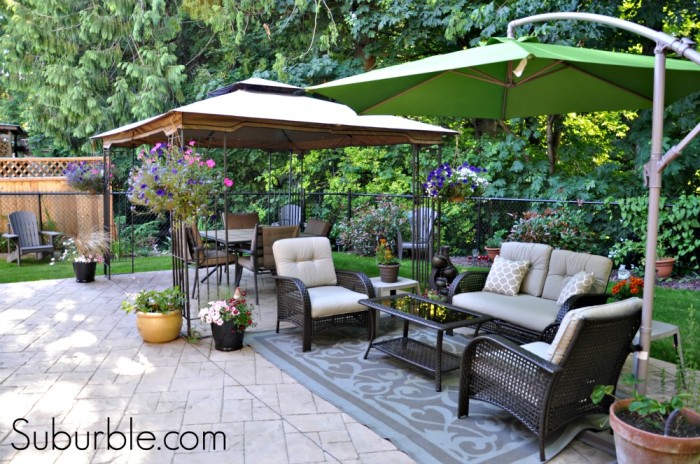 We've created two little seating areas. One is for dining, and the other is for sitting, lounging, eating, dropping crumbs everywhere, and frequent gatherings of moms, babies and chaos.
It's such a cozy little set, and with the shade (because I'm half-vampire and cannot stand midday sun), it's a great place to have tea and chat.
\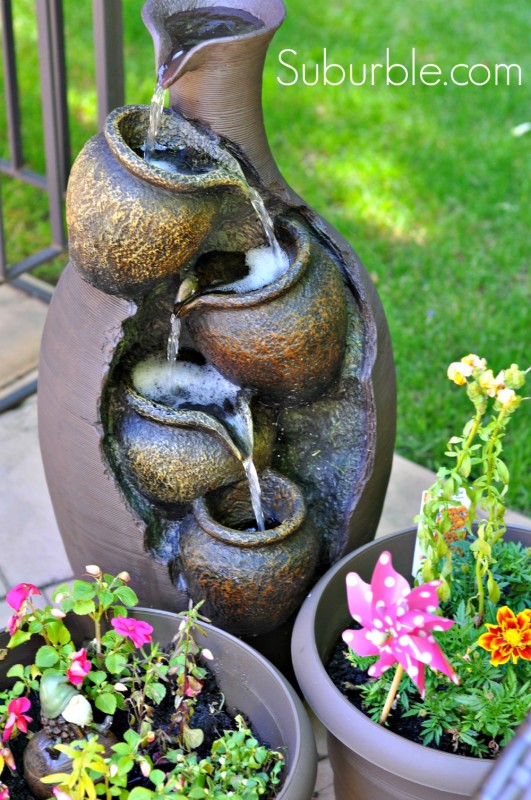 This little fountain was my Mother's Day present from the girls. It makes such a nice gurgling sound. It's also helpful for potty training (make the kids have to pee!).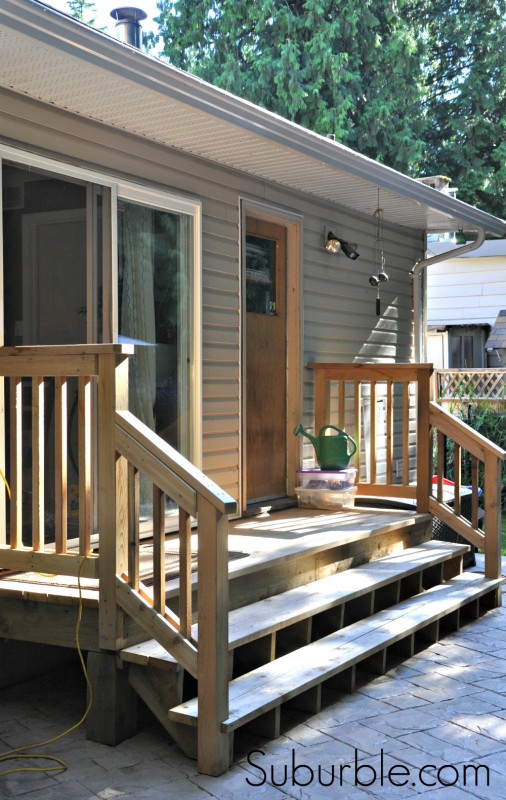 To sort out the now two-and-a-half foot drop down to the patio, we built a deck.
Actually, WE didn't build a deck. We hired a very nice man who had a giant lifted pick-up truck that was loaded to the brim with tools and lumber. Mr. Suburble and I had talked about building the deck ourselves for about fifteen minutes. Then we remembered how much lumber costs. And how little we knew about building a deck.
I figure, it's okay to go to the pros every once in a while. And it's very awesome to watch a whole structure pop up from start to finish in one day.
I will be staining the deck this season. I'm going to ask you, my colour-savvy readers: should I go for a natural or coloured stain?
And I know that the World's Ugliest Door lives here too. It's on my To-Paint list. Don't worry!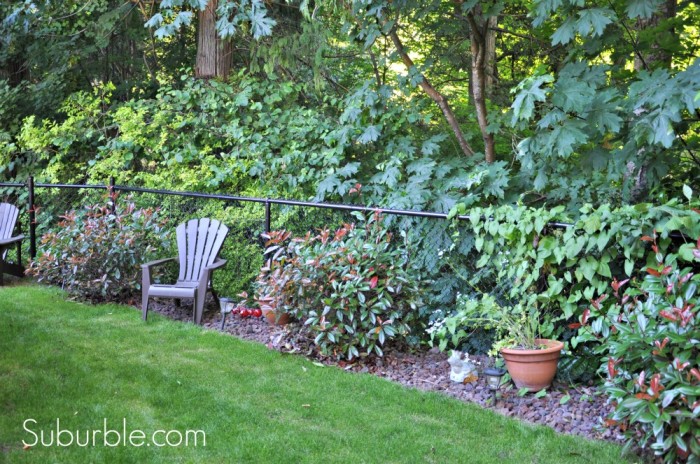 While we were finishing the "infrastructure" of the backyard, we debated over fencing. The original fence was a hodge-podge of cedar fencing (and some hastily done patch-work by myself and some scraps of wood). We were all set to put up another cedar fence when the idea of chain-link came up.
I admit, I was nervous to put up chain link. It's not typically associated with stylish backyard fencing.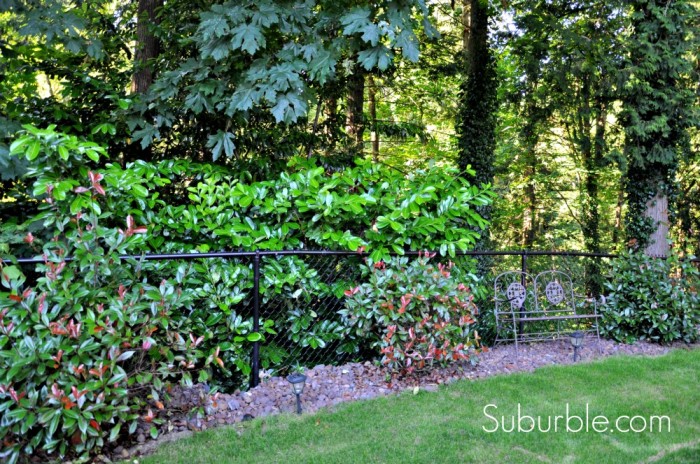 But I love it. Because we back onto green space, the chain link allows the colours (and the sounds of the creek below) to become a part of the backyard. It also makes the yard seem much bigger. We planted photinia along the border of the yard and created a "less-work" garden by putting down lava rock.
'Scuse the marks in the grass. Brightly-coloured plastic playing apparati live here. Plus, sod is a bit fussy… even in year two. We still have patchy little marks in the grass that didn't ever recover from the Great Rains of 2012. I'm sure that with a little coaxing and some fertilizer, we can achieve that golf course look.
Or maybe "the rough" of the course. That's a more achievable goal.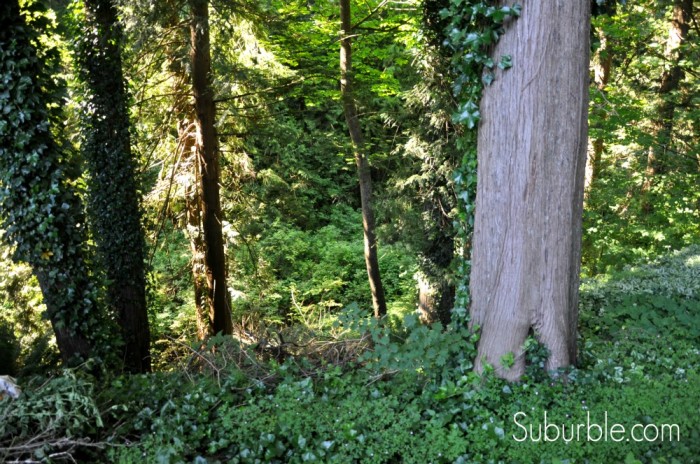 Our yard is much bigger than it was before, but on paper, it's MUCH bigger. The trouble is, most of it is not exactly what you'd call "useable".
You may call it infested with invasive ivy. But I call it home.
Thank you for touring our backyard!
If you haven't already, please check out the two other installments of The Evolution of a Backyard: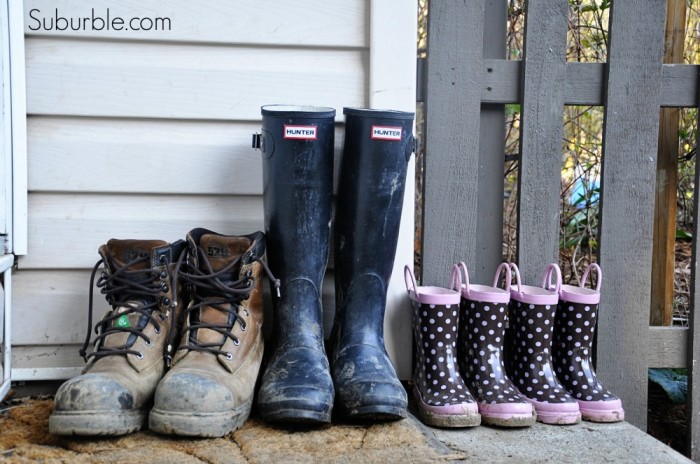 The Evolution of a Backyard: The Grunt Work