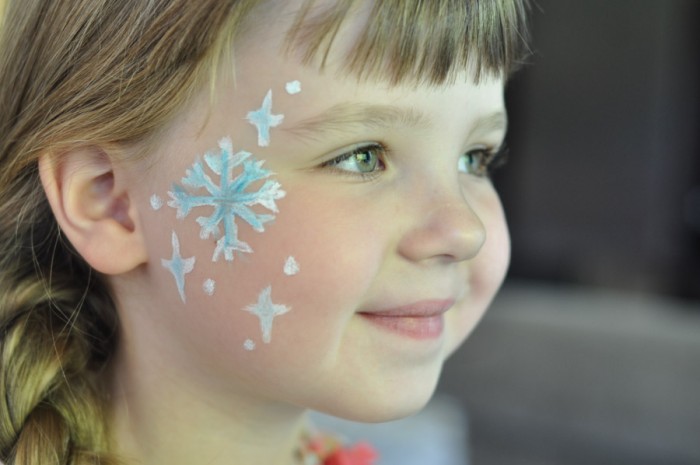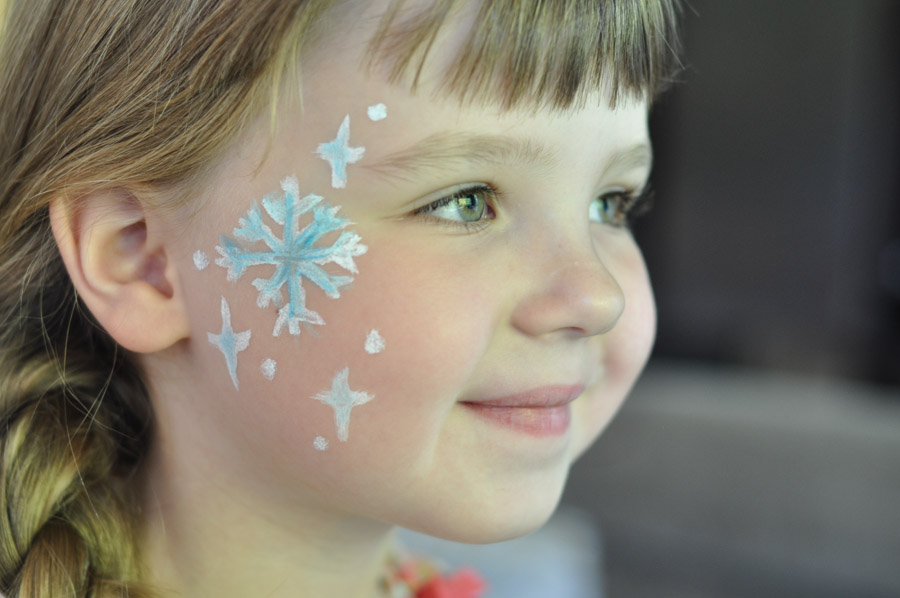 By now, you'll have already heard about Lila being Elsa for Hallowe'en, oh, only about eleventy million times.
But I will gladly jump on this bandwagon, because it means that we get to do it full force.
Lucy is going to be a hot dog, so that makes for a slightly more limiting Hallowe'en experience.
When we got a box from I Love To Create, we found some Tulip face paints and glitter tattoos to play with. I immediately knew what we should do for Lila – a little bit of snowflake art!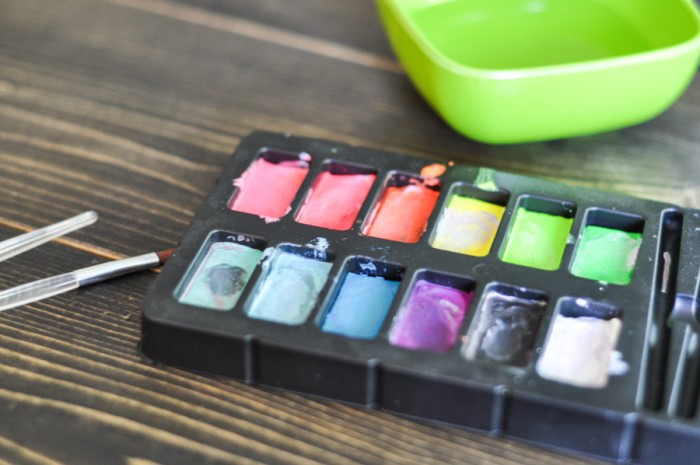 The paint is water based, so I just had to have a little pot of water and some paper towel nearby. This also makes for extremely easy clean-up. Just a bit of water will take it off your face/hand/arm/neck/wherever.
After a bit of practicing on the back of my hand(which is VERY helpful, by the way, if you're new to the art of face painting), we got to work.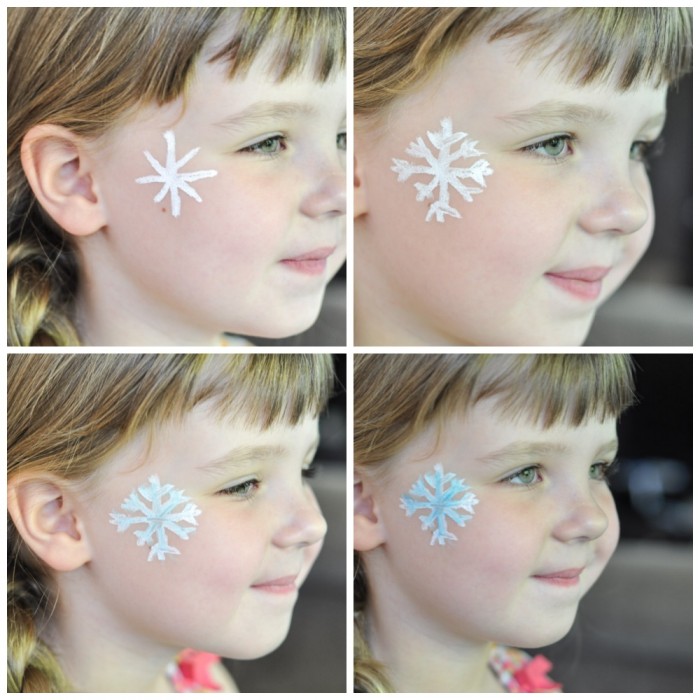 To easily create a snowflake, start with a simple star shape (four straight lines intersecting each other) in white. At the end of each "spoke" of the star, draw two short lines coming off at 45 degree angles. Now you have your snowflake! We decided to make it an "icy" snowflake by adding a layer of light blue, and then dark blue on top of the white snowflake.
Then we added a few smaller flakes to her look: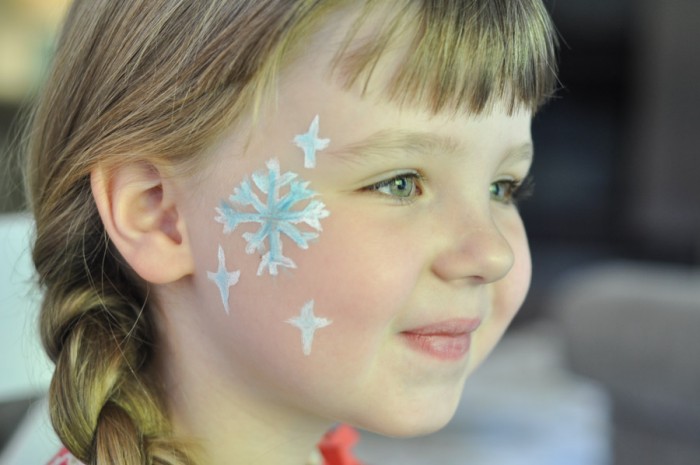 I painted these the way you would paint a star. We started with white and then added a bit of light blue to the center.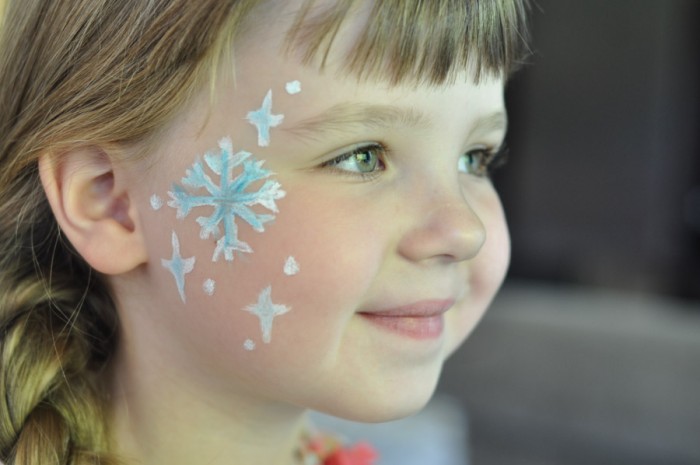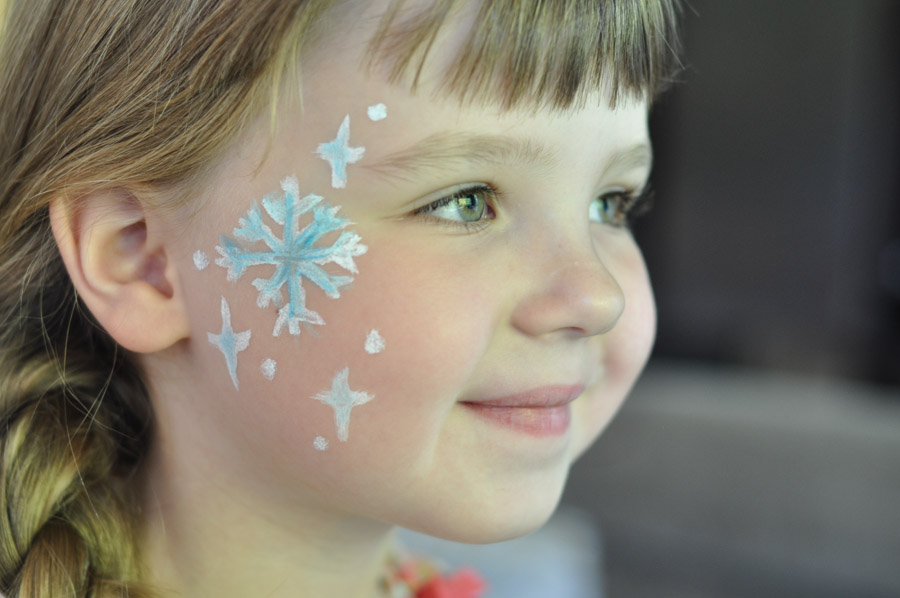 And finally, we added a few snowflakes in the distance to complete her face.
She was thrilled!
… but like any other five year old would be… she was intrigued by the glitter tattoo kit sitting on the table.
So we got to work.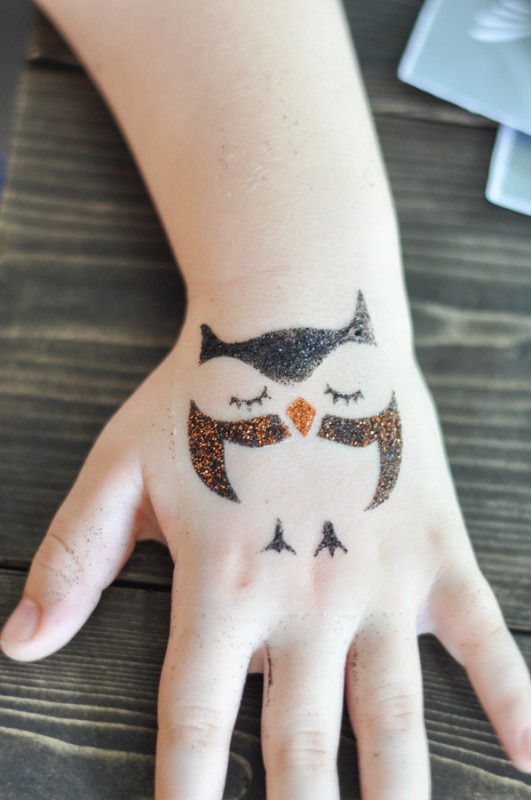 I don't have to tell you that it was a hit. (And obviously there was a stencil involved…)
She couldn't wait to go to school the next day to show her friends. The glitter tattoos will stay on (unless you use rubbing alcohol to expedite the process) for 3-5 days.
The face painting extravaganza in this house didn't end (or being) with these two projects. The girls and I (and Mr. Suburble) have been dabbling in face-art off and on throughout the month.
And Mr. Suburble is such a patient client (and daddy).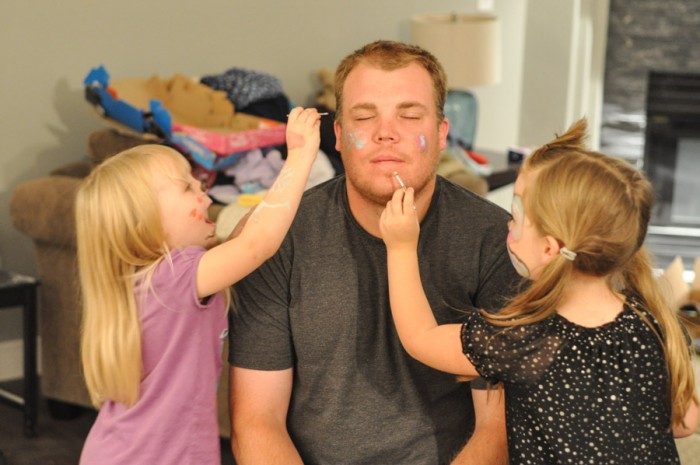 He let the girls do their magic.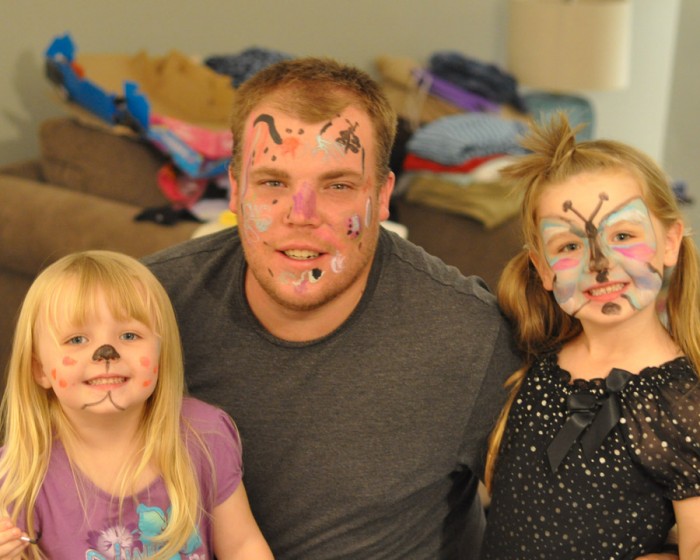 And this is the result.
So cute, no?
Ignore the piles of laundry behind them. I snapped pictures in between folding jeans and doing a terrible job of sorting socks.
Even though Hallowe'en is over a week away, we are still going to be practicing – and playing – with these face paints in the house. The girls are beyond thrilled with them, and I love how easy it is to use.
A three and five year old can paint a face (as seen above).
To get more ideas using Tulip Face Paints, check out the tutorials from some of my fellow bloggers:
See what Tulip and I Love To Create are up to:
Facebook – Twitter – Blog – Pinterest
Disclosure: I received product and compensation for this campaign with Blueprint Social, but all opinions, snowflakes, and eclectically painted Mr. Suburbles are my own. This stuff is rad, guys.