This week, the Suburble family is on its last camping trip of the season.
But how are you getting this post, if we're galavanting in the woods?
The internet is a magical thing, my friends.
Before I chucked the last tote of clothing and boots (because it's going to rain – boo! ) into the trailer, I decided to do a bit of "glamping up" to the space.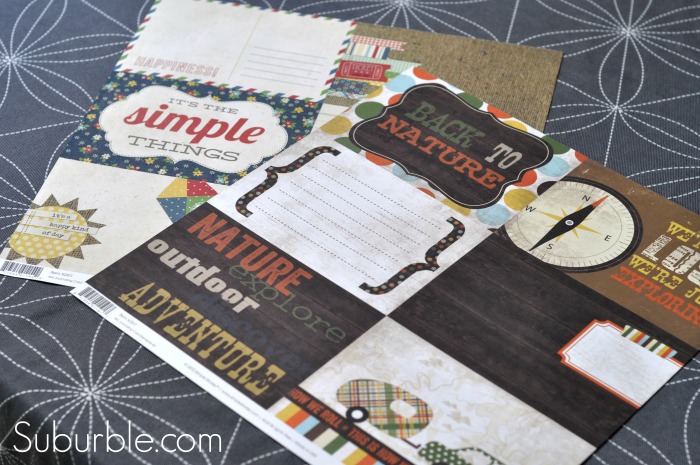 I stumbled on these scrapbooking papers when I was working on a different project. The paper line is called Simple Stories – if you're thinking of creating a similar project – and it has some fantastic illustrations for many occasions.
I loved that the papers were divided into 4X6 graphics, each depicting a different image or saying. Remembering an earlier project, I realized, "I can frame these!"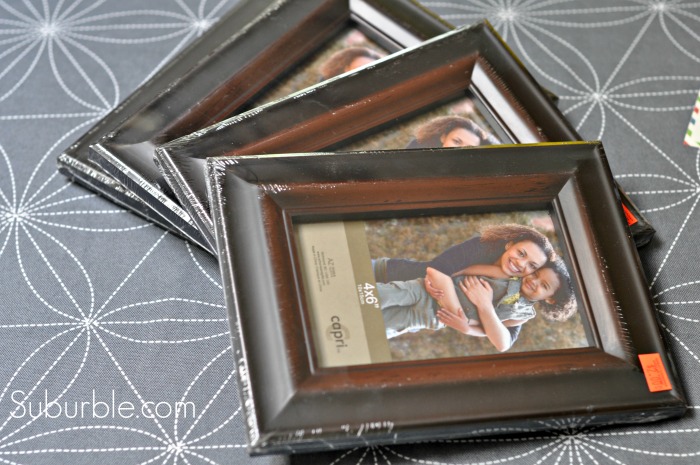 This is camping art – not every-day-in-my-house-art. So I went to the dollar store and picked up these frames. They're cheap, plastic and lightweight. It was everything I was looking for in a Glamping Art frame.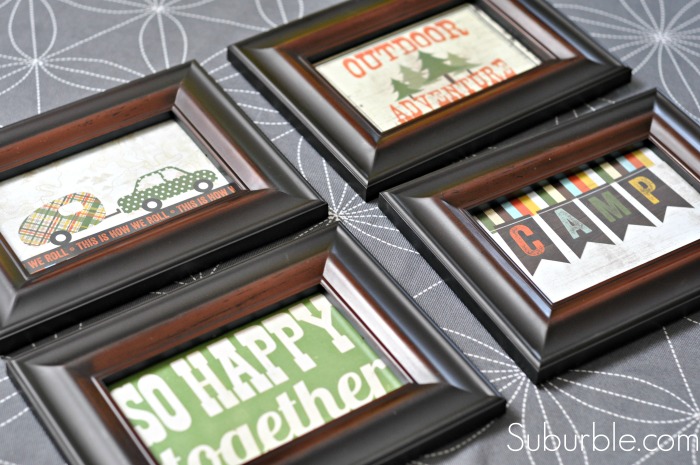 With my children "helping", I cut up the papers and slid them into their cheapy frames. Are they not the cutest in their finished glory?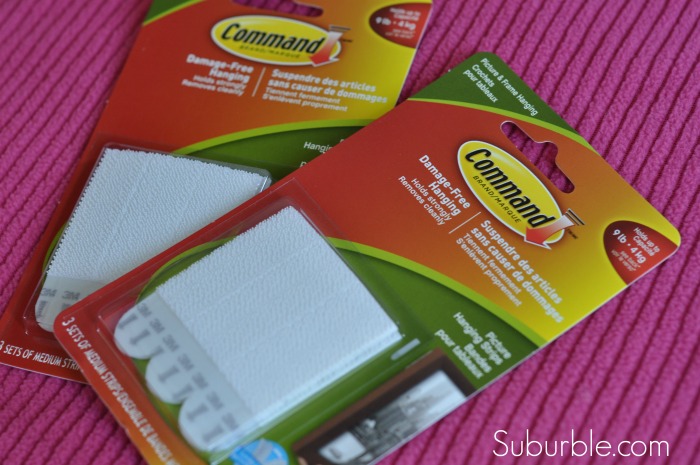 I grabbed my art, my kids, my patience, and headed out to the trailer. I hung the pictures on the wall using Command strips. This is not a sponsored post – I promise! – but I have to say that I LOVE Command strips for the trailer. I get a bit nervous when it comes to hammering nails through thin walls.
Especially when those thin walls have rain running down their sides for 75% of the year. I'm not going to be that girl who explains, "My trailer wall is rotten because I wanted to hang my $2 glamping art."
That'd go over well at the RV shop.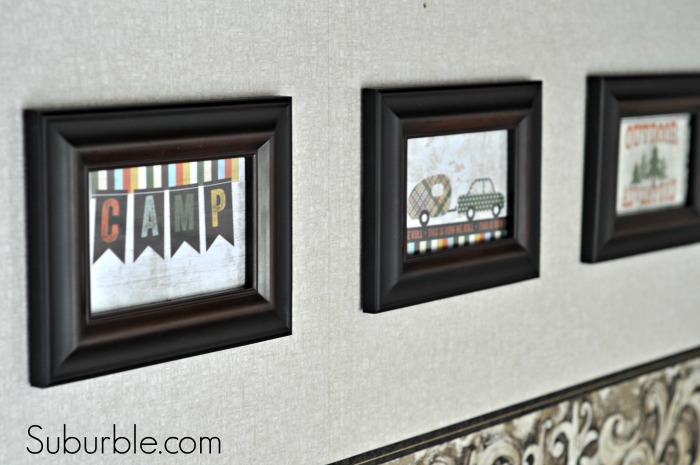 With just a few strips slapped on the back of these babies (and I used the velcro strips, so that I can switch out the pictures when I feel like it), my art was hung!
Isn't it fabulous?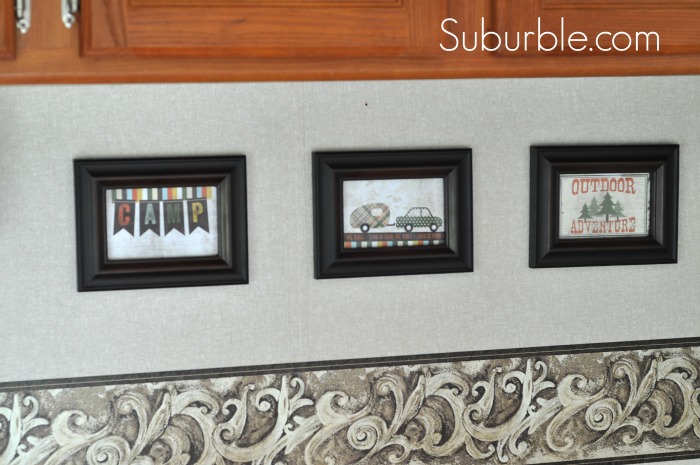 It makes the trailer seem so much more homey. And it adds some colour. In case you can't tell, things are VERY brown in our trailer.
Nature isn't even that brown.
Trees, even. They at least have green leaves to balance it out. Sigh.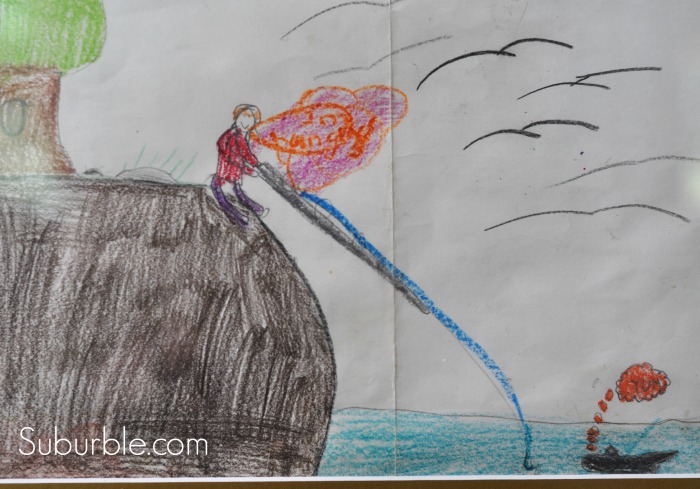 Because I cannot help myself, I have to brag about this piece of art as well. This picture is the work of someone who lives in our house.
You might have guessed it was Lila.
Nope! It's Mr. Suburble from years and years ago.
Grandma and Grandpa Golfer saved this picture from Mr. Suburble's childhood days and recently gifted it to him in a frame.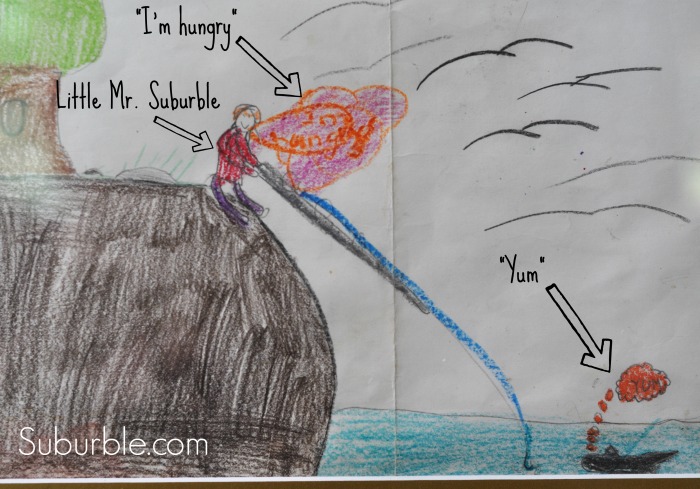 Here is my interpretation, for those of you who didn't take Art History in university.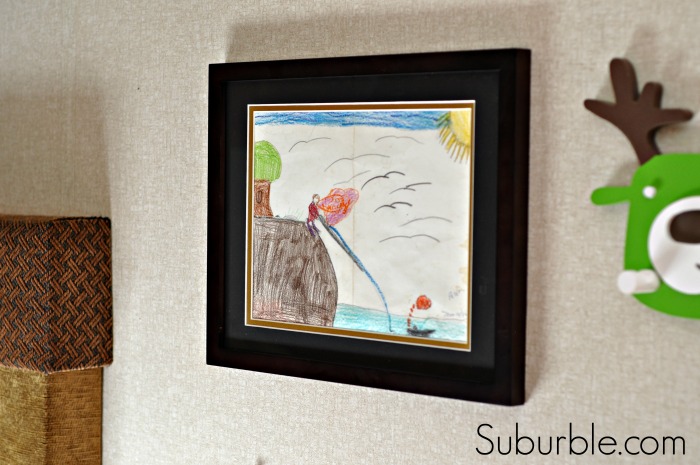 Using the more serious Command strips (so, not the velcro ones), I hung Mr. Suburble's artwork in the trailer as well. As this camping trip is our annual fishing trip, it's doubly significant to have this art hanging on our trailer walls. Perhaps the fish will sense Mr. Suburble's ability to communicate with the animals (as depicted in his art) and find his hook.
I don't really like fish, but it's nice when Mr. Suburble catches one. He gets all Tarzan about it. "Mr. Suburble catch fish. Mr. Suburble strong."
I can't say that the Jane in me doesn't love it!
Add a little glamp to your camp! And do it on the cheap! (It's camping, after all!)
Don't miss another cheap and cheerful Suburble craft! Follow Along!