I love wooden bangles. They're such chunky statement pieces, and are perfect for pairing with the jackets and sweaters of Fall. So when I got the chance to work with DecoArt's glitter line, I immediately thought, "I want bangles! Blue bangles!"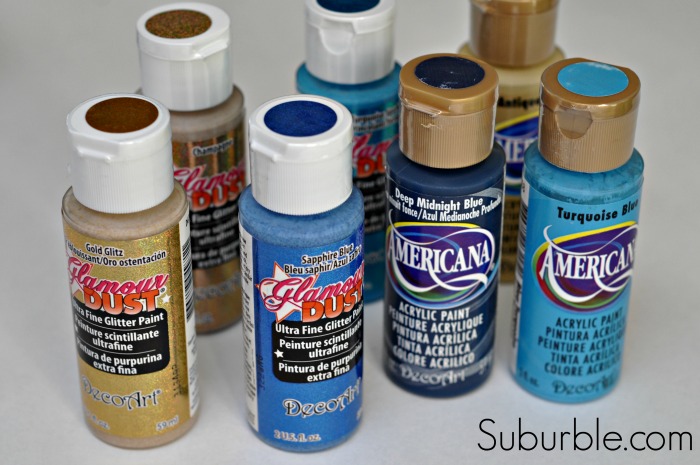 This is the haul that awaited me at the mailbox. Beautiful hues of golds and blues. DecoArt carries a line called Glamour Dust – it's paint with very fine glitter. It works best when a base coat of a corresponding colour is first applied, and then the glittery goodness is applied as a second coat.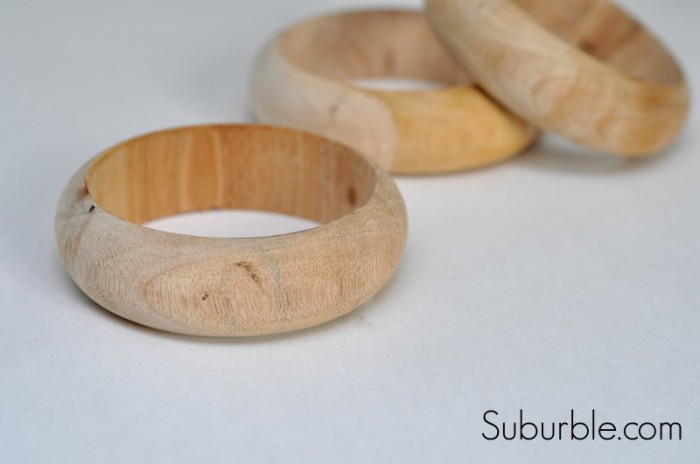 I ordered some plain wooden bangles from Tiff at Banglewood Crafts. She was a sweetheart to work with; I highly recommend her to you fellow bangle-lovers.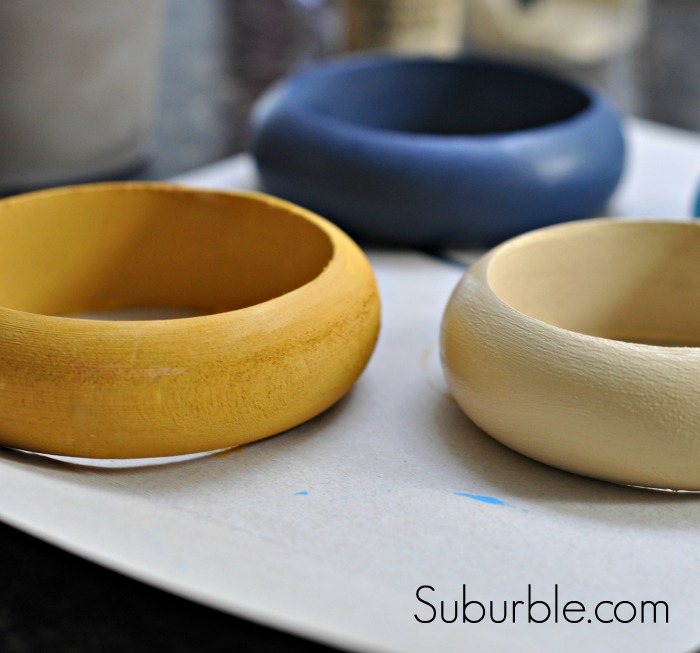 I immediately got to work by painting a base coat of colour on each bracelet. I loved how they looked, even in solid colours!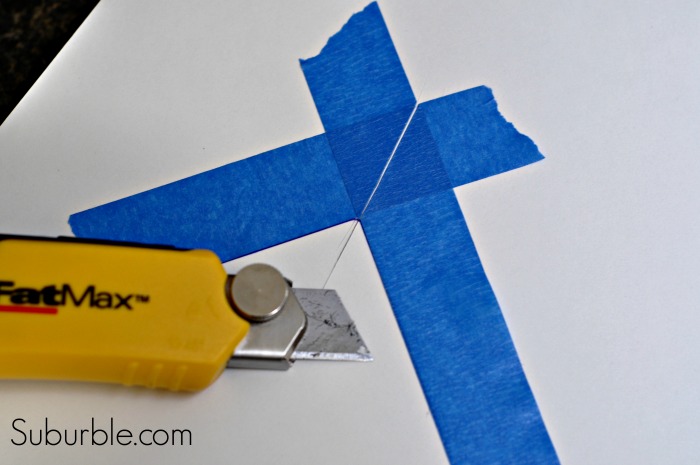 I knew that I wanted to do a chevron pattern on one of the bracelets, so I brainstormed how to get perfect corners. First, I traced the corner of something that I knew was a perfect right angle: in my case, I used a book.
Then, I lined up two pieces of painter's tape along my traced edge. Where both pieces of tape intersected, I cut them using a utility knife. I now had my perfect angle for the bracelet.
Be sure to have something underneath the paper or cardboard that you're cutting. You don't want to permanently damage your counter/table/floor for the sake of chevron! Trust me – it was a near-miss for my kitchen countertop!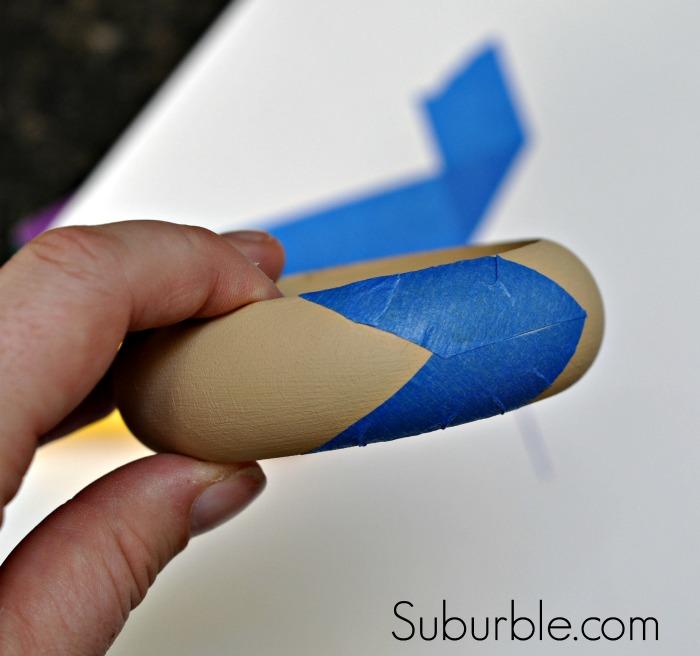 Because the bracelet is curved, you'll get some wrinkles. Don't stress TOO much about it, but ensure that the edges are pressed down firmly. You don't want the paint to seep underneath the tape.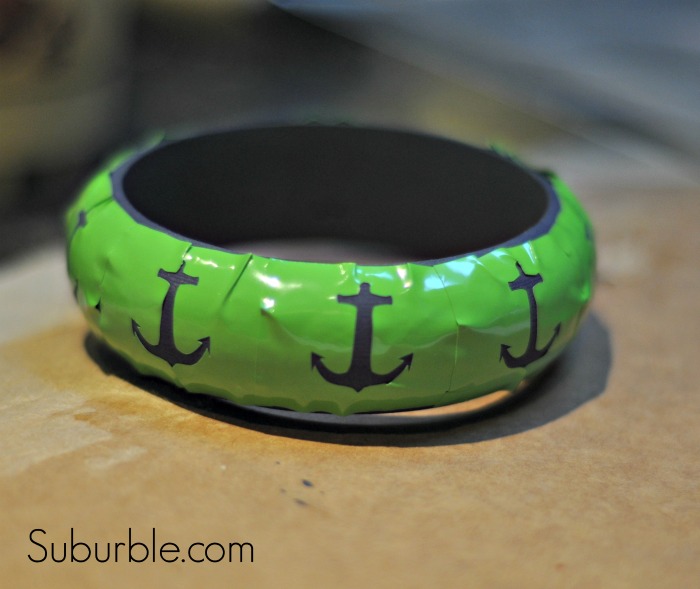 Can you tell I was crafting post-kids'-bedtime? Sorry for the nighttime shots.
I cut little anchor-shapes out with my Silhouette Cameo and then placed them on the bracelet. Again, curved-bracelet-issues here – be sure to smooth out where your paint will meet tape. This shot was taken before I did my final "press-down" of every stencil.
Tiny little gaps are NOT your friends.
They're giant pains in your butt, actually.
On the Antique Gold bracelet, I opted for simplicity. I cut strips of painter's tape and placed them on the bracelet. Easy peasy.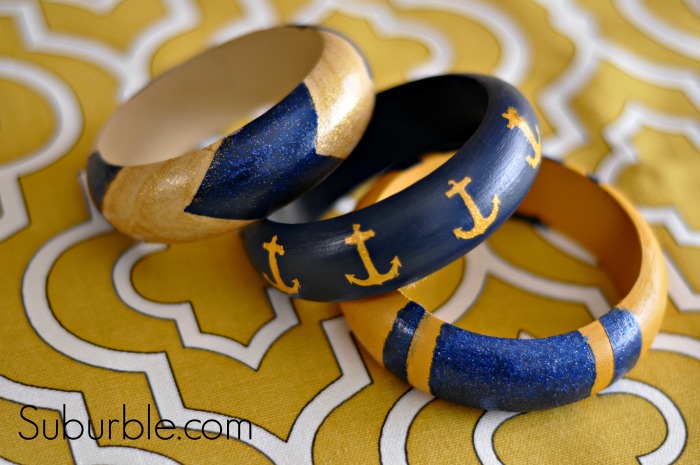 I painted the bracelets first using the base colours, then did a second and third coat using the Glamour Dust glitter paint. I loved how they turned out!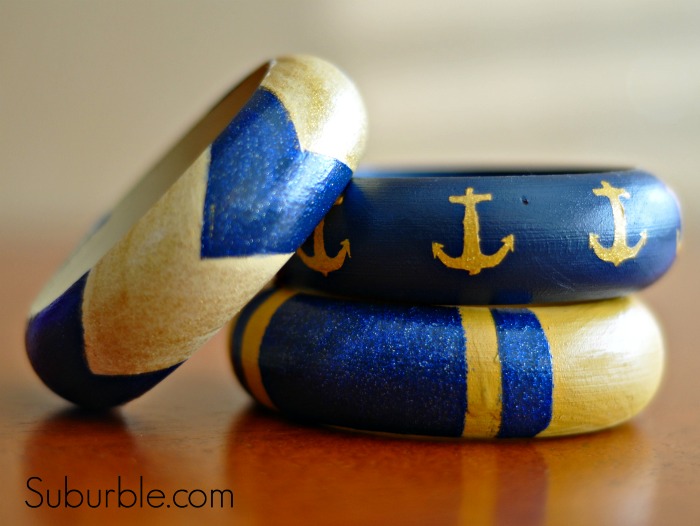 Because I used complimentary colours on the bracelets, they can be worn together or on their own.
What's more, this dark blue is on trend right now (remember what Arren Williams told us?), as well as the nautical vibe of the anchors. These rich tones are perfect for Fall.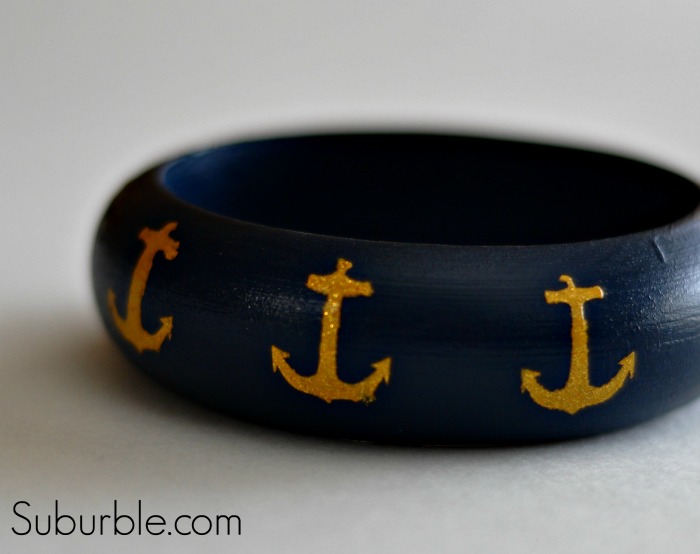 I will admit, my favourite bracelet is the little nautical bracelet. He's the one I'm going to wear out first. I love the glittery sparkle of the anchors -they're just so… cute!
What's great about wooden bangles is that they're inexpensive and easily personalized. You can glam them up with glitter, or leave them a solid matte colour. They're so versatile (and would be great little gift). I have to say… I think I might be ordering more!
Thank you, DecoArt, for being super rad and letting me try out your paint! It was a lot of fun!

Follow Along with Suburble! We paint stuff 'round here!