The IDSWest show (Interior Design Show West) happened this past weekend, and oh, what food for inspiration was there!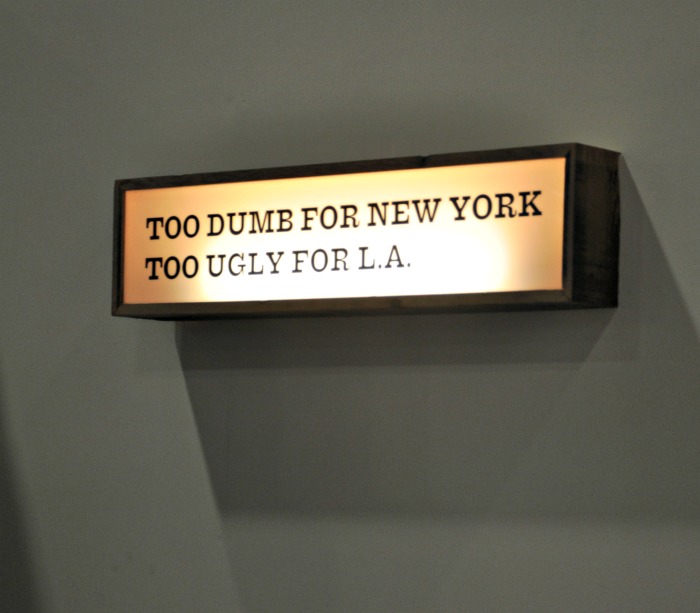 How fantastic is this lightbox featuring Waylon Jennings' lyrics? This piece is by Union Wood & Supply.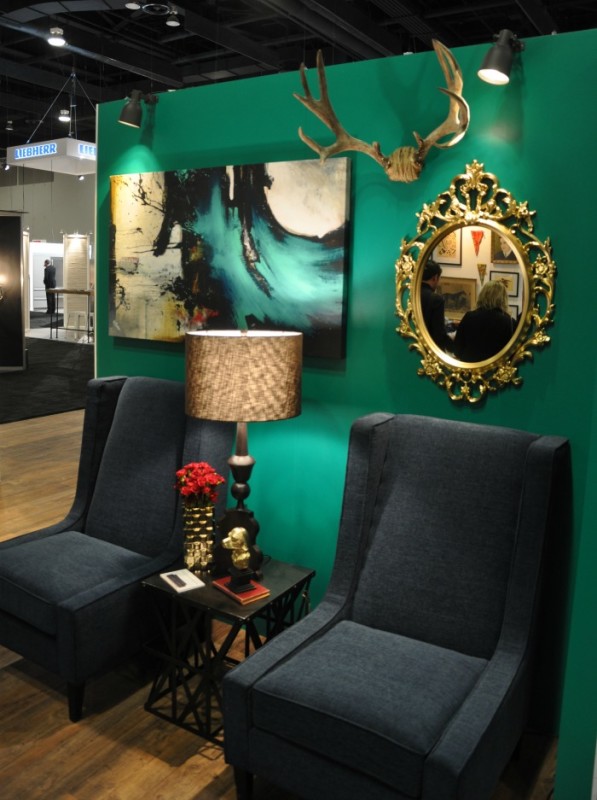 I adored this vingette from Van Gogh Designs. You know I love gold accents!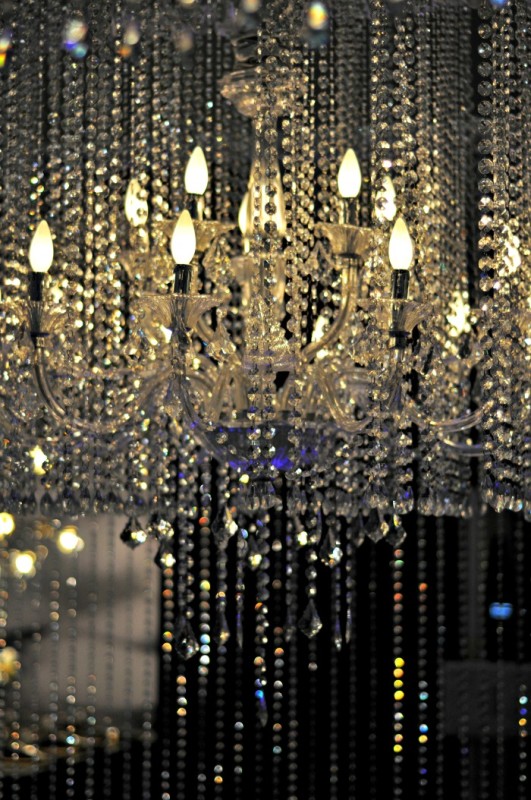 There was a section of the show that definitely distracted me (must have been the shiny things), and that was the Dinner By Design showcase put on GE Monogram. The chandelier was the centerpiece of an incredible setting by Debut Event Design titled "Crystal Clear".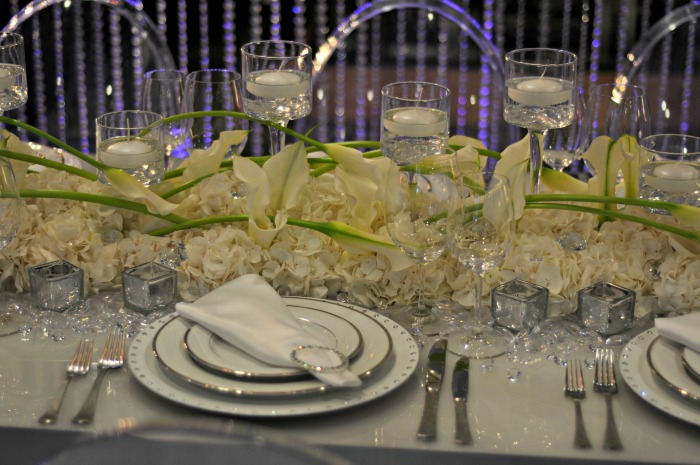 How gorgeous is this setting of crystals and creams?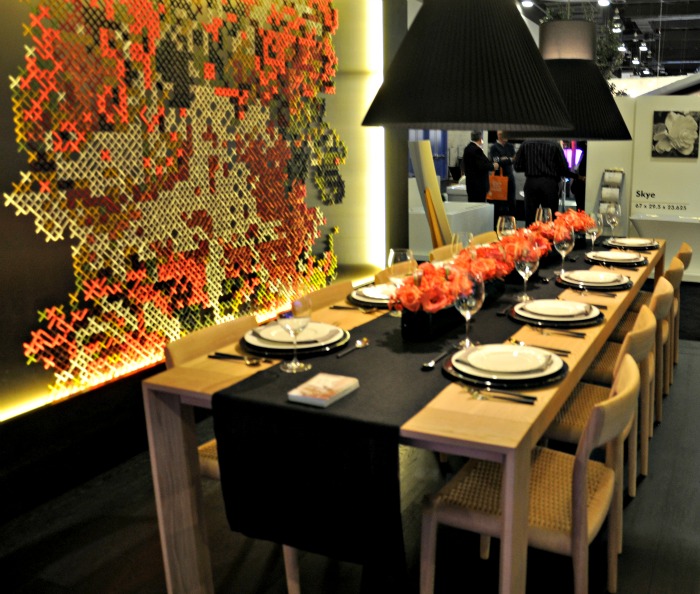 Kelly Deck design was responsible for this setting titled, "Dinner Anastasia".
I could not get over the cross-stitch. It carried all the way up to the ceiling.
It makes me want to mimic this chunky stitch in smaller projects.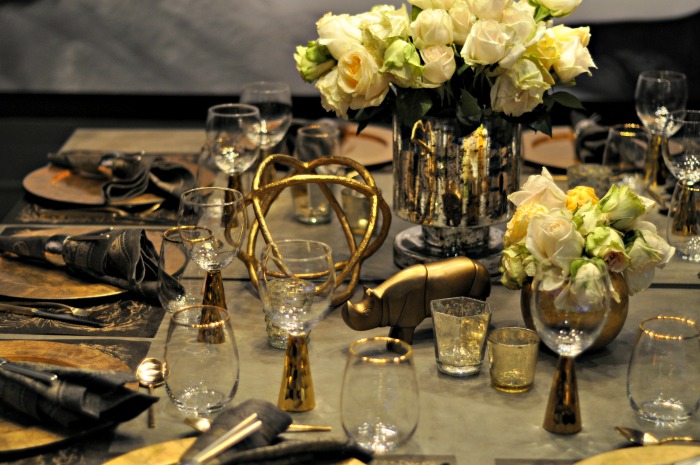 This is only a small glimpse of the opulent setting entitled "Black and White Boudoir" by Moeski Design Agency. Yes to the gold! I want that rhino!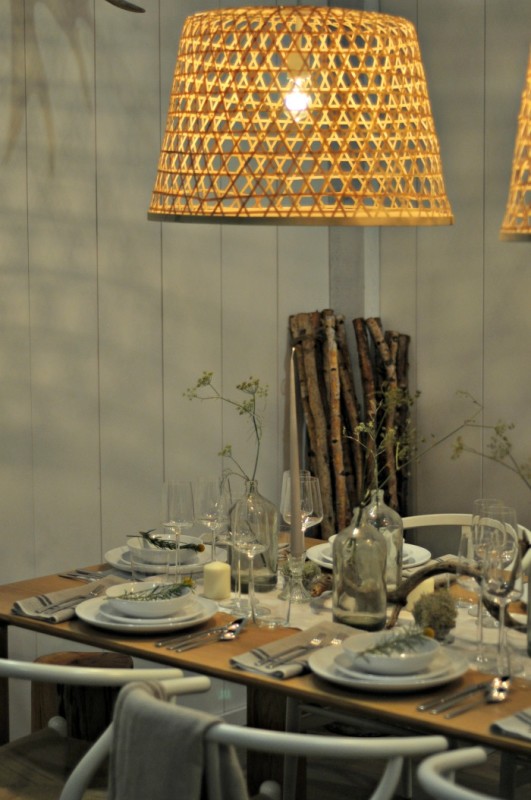 The "Scandinavian Rustic" setting by Sophie Burke Design uses lovely country elements.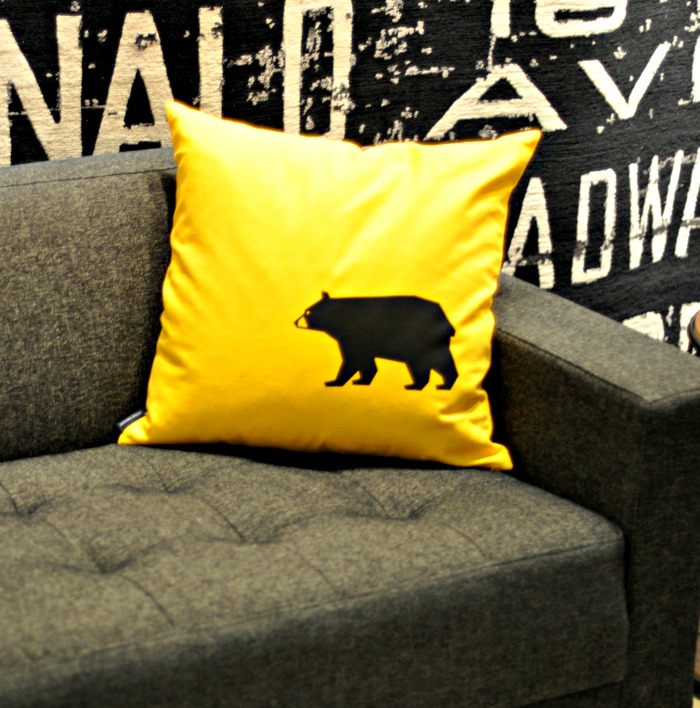 When I saw this pillow, I immediately thought, "I want that!" and then I secretly thought, "I think I can make that!"
What do you think? Should I mimic it? It just screams "CANADA"! But things in Autumn often do, I find.
In the Market – and you know that's a dangerous place to walk through, I came across Billy Would Designs. I met Adea, who explained that she uses reclaimed wood and a scroll saw to create her pieces.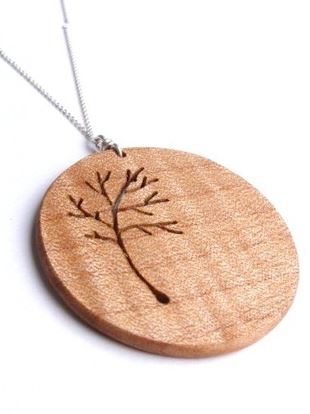 Source
Is it not so awesome!?! I oogled so many of her creations. So simple, but so lovely.
I managed to sneak in a couple of the talks being given on the Para Paints Stage. The first presentation I attended was "What's Inspiring Now?" by Arren Williams, the Creative Director for Home at The Hudson's Bay Company.
This man has a fabulous accent. I even FELT more posh just listening to him talk design.
I scribbled down two pages of notes while listening to Arren talk, but for the sake of brevity (and you poor souls), I'll sum it up in two big words:
1) Scandinavian
and 2) Indigo
That's what's hip, friends. Don't paint your walls deep blue just because I told you too (and because that's pretty daring for most folks), but consider bringing out some of Grandma's old Delft Blue dishes. "Blue is the new neutral", says Arren. And I'm thinking, "Hey – that sounds pretty awesome!"
Scandinavian design is something that we're all *sort of* familiar with, mainly because lots of us like Ikea. It's about clean lines, less clutter, and making the most of a space. And "editing" – this was a term I heard a LOT this past weekend.
After I was done scribbling crazy notes while Arren chatted, I geared up for another round, because Tommy Smythe galloped onto the stage to deliver his presentation: "Managing the Mix".
Tommy has a great presence and was very relaxed while he chatted about mixing new and old pieces in order to create a personal style. He warned against "look-book dressing", which is a fashion term referring to buying/wearing only one designer. In decor, this would be walking into a shop and completely furnishing a room from couch-to-accessories. It's not original. And he warns, it's not going to look right.
Instead, he says that it takes patience and really ensuring that you're choosing pieces that you love.
Here is where the "edit" term came back to visit me. Tommy encouraged us to choose pieces carefully and to consider how they'll look in your space. His words, "Love is contagious – if you love it, other people will love it. "
He also advised that having a bar (even a well-stocked bar cart), is "a great way to look like a good hostess, even if you're not".
I will consider that, Tommy. Though… can you stock a bar solely with bottles of Pinot Grigio?
After I rushed home from the Design Show to grab the kids and head to a birthday party – because that's what this blog, Suburble, is all about. I'm more "Subur-b", and less "Chic Single City Babe Who Has Fabulous Glass Bar Carts That Can Be Tipped Over And Broken By Preschoolers" – my mind was swirling with inspiration. So many ideas! So many projects! So many things I can make myself for a fraction of the retail price….
I will definitely consider the "editing" process of design, and maybe slip a bit of blue into my projects.
And I have to say, it was so lovely to be in a space that chock full of creative genius!
Don't Miss Another Suburble Post! We Have Pinot Grigio Bar Carts!
(or maybe it's a plastic cup – same diff)