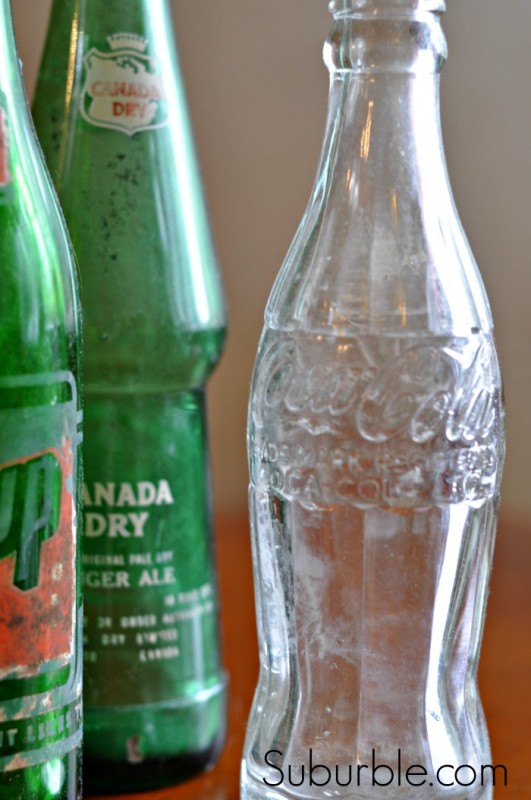 Back in "the day', my dad used to work for Coca-Cola. It's where he met some of his closest friends, and while it didn't end up becoming his career, it's obvious that he has a fondness for those days.
It's shown in his eye for collectibles.
Not surprisingly, I have inherited this keen eye. Really, we're both got a titch of "the hoard".
I stroll through an antique store, and I see a flash of the familiar red and white of a Coke antique. Immediately, I head over. "Dad would LOVE that!"
It doesn't matter that the walls of his shop – his man cave – are already plastered with vintage ads. It doesn't matter that he already has that awesome Fanta radio (shaped like a pop can! I tried to 'borrow' it when I was 13, but he found it in my room and claimed it back). It doesn't matter that he already has crates of old-school pop bottles.
In fact ,when the pop bottles shown above were unearthed at Mr. Suburble's job site, he brought them home for me. Because if I didn't want them, my dad would.
I don't know why he and I are both collectors – *ahem!* or junk-addicts – at heart. Maybe it's the thrill of the chase. Maybe it's the feeling of getting something that is of value to us, but for a "steal".
But it's obviously genetic.
And when I walk down the aisles of the local thrift store with my two mini-thrifters in tow, I know that I'm perpetuating this legacy.
We're upcyclers. We're collectors. We're junkers.
We're family.
Happy Birthday, Dad! Thanks for giving me the gift of the 'hoard'. It's been a pretty useful trait. When I take stock of my inventory right now, I have collected two twin beds waiting for a lick of paint, three boxes full of things waiting for a stroke of Upcycling Genius, and a fairly extensive gallery of cans of spray paint.
But I still want that radio.
Do you collect something? Or do you hoard something? Be honest.
Tell me (and my dad) that we're not alone!