Spring is here!
Well, the calendar and the Equinox have decided that Spring is here, while Mother Nature is having a giant temper tantrum in the corner, stomping her foot and muttering, "I don't wanna make it Springtime."
And come ON, Mother Nature. Get to stepping and get that sunshine out. We poor West Coasters are feeling the Vitamin D depletion quite sorely these days.
Spring also means blog tours featuring beautiful rooms full of flowers, little ceramic bunnies, and pastel-coloured wreaths hung above mantels. I, of course, gleefully hopped onto this bandwagon. The Canadian Blogger's Spring Home tour features some pretty incredible hostesses. I consider myself honoured to be a part of such a great collaboration. Once you've taken a look at our space, mosey on over to some of the other gals' homes. You won't be disappointed.
$15 Tulips And Other Springtime Things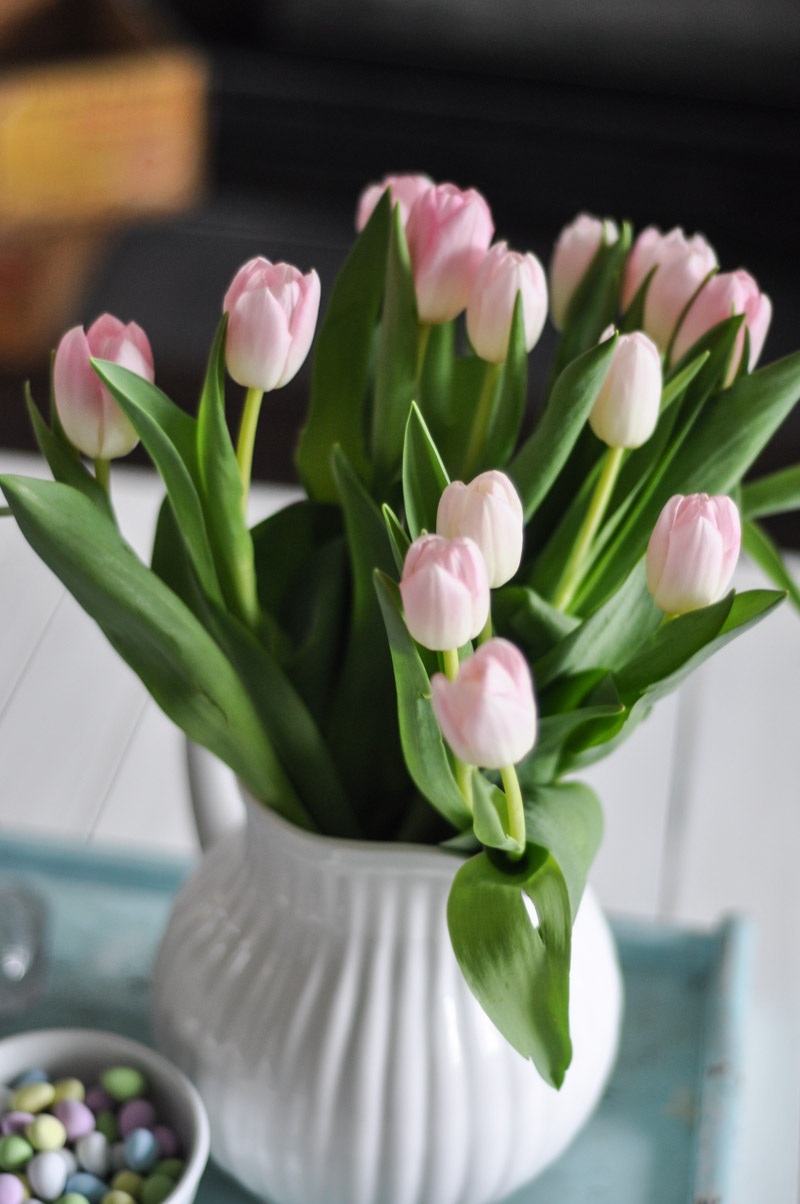 Tulips are the quintessential spring flower. When I'm lined up at a grocery store, I can't ignore the little buckets of flowers sitting next to the magazines, just begging to be brought home. I gather up a few plastic-wrapped bunches and bring them home.
Then, as if I haven't ever gone through this experience before, I am shocked – SHOCKED – at how quickly they fall apart into a fantastic mess of sadness.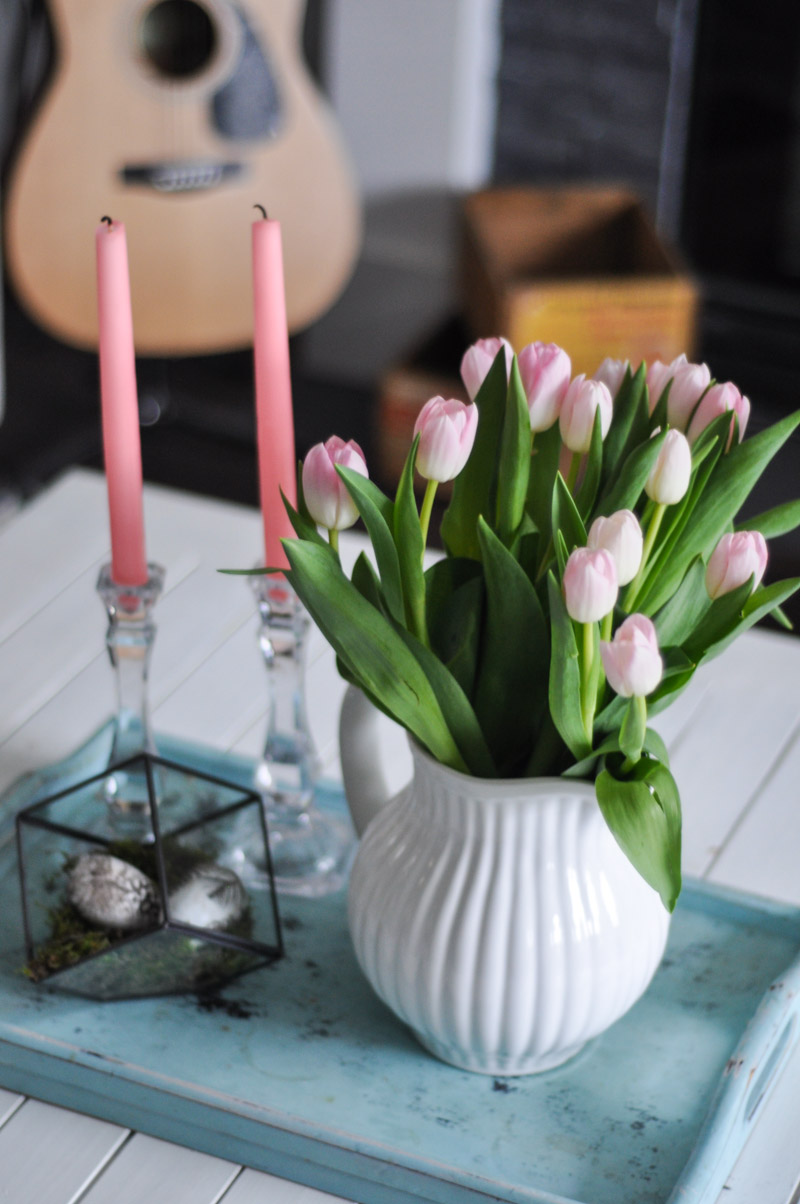 What the heck, tulips? Why can't you be more like daisies or chrysanthemums? Why do you have to come all unglued, all at the same time?
When I bought my last bunch of tulips, the cashier ran them through the till and remarked, "Two years ago, I planted three hundred bulbs in my yard. Now, only three of them are popping up this Spring. I think a bird or maybe the squirrels ate them. What a waste."
And that made me feel better about my $15 tulips. At least they were a sure thing.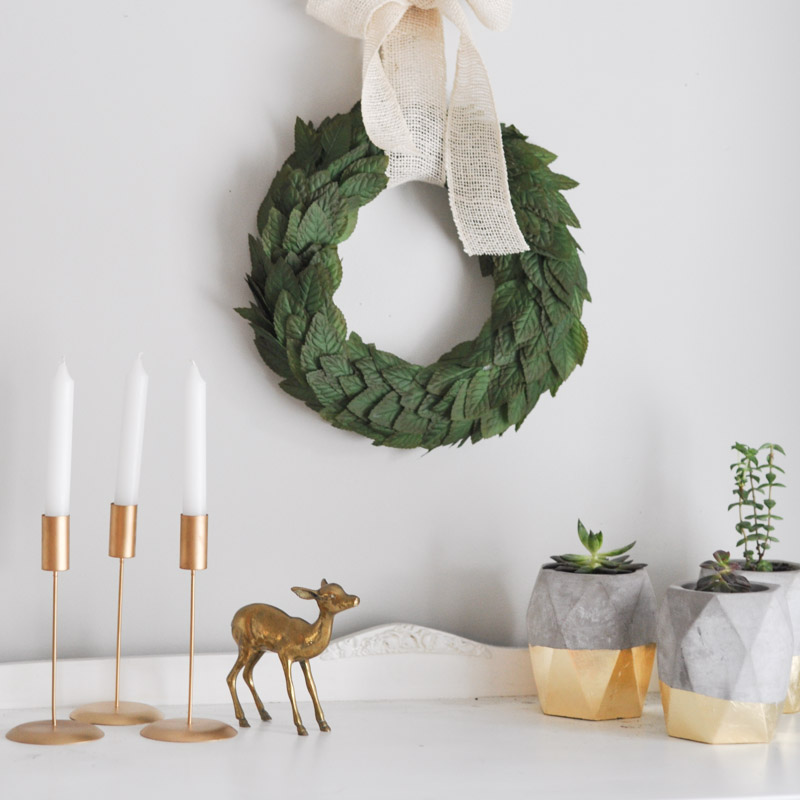 As sure as my addiction to things that are gold. These gold leafed concrete planters (tutorial coming soon on the blog!) started a full-on gold-leaf addiction! I can't believe how many times I've found myself picking little bits of gold from my fingers as I sat at the kitchen table.
And of course, my brass deer. She will always have a place in our decor – regardless of the season. She's almost become a talisman of sorts.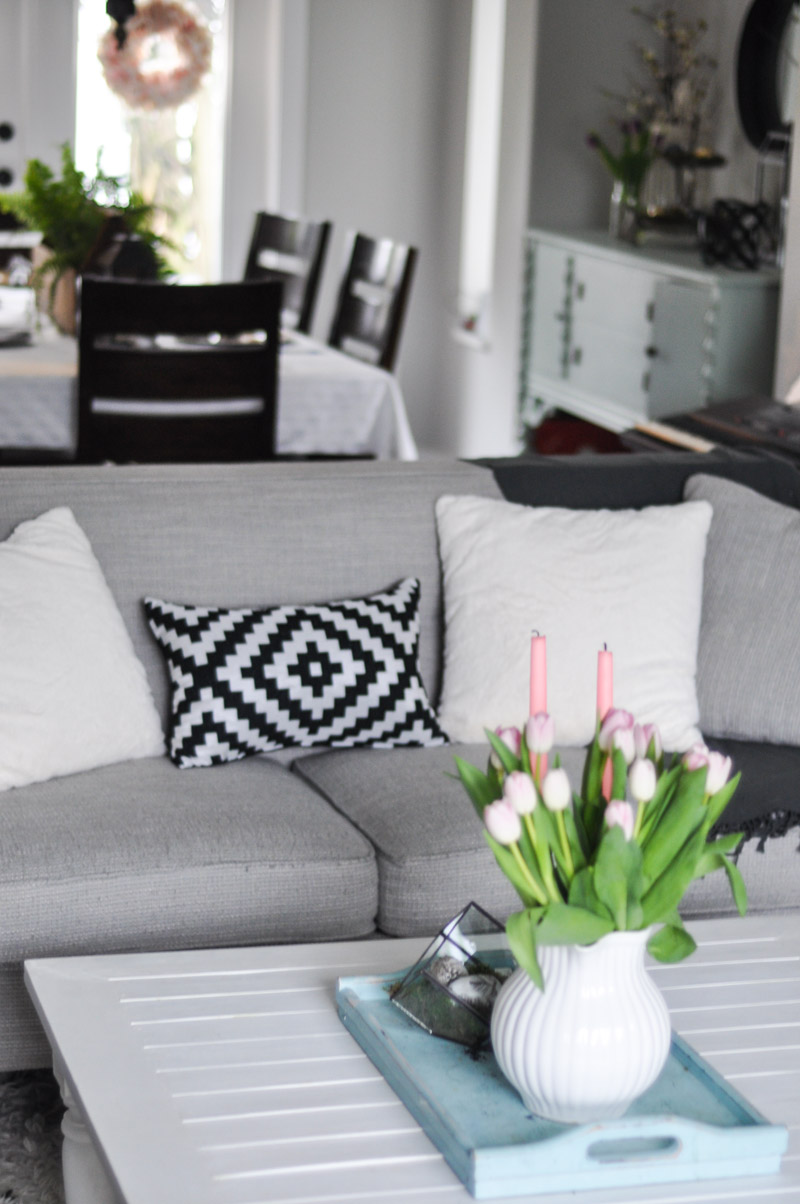 During the same trip that I bought my tulips, I found this adorable little black and white pillow. I usually keep things pretty neutral in the throw-pillow department, but this little guy was too flashy to stay on the shelf.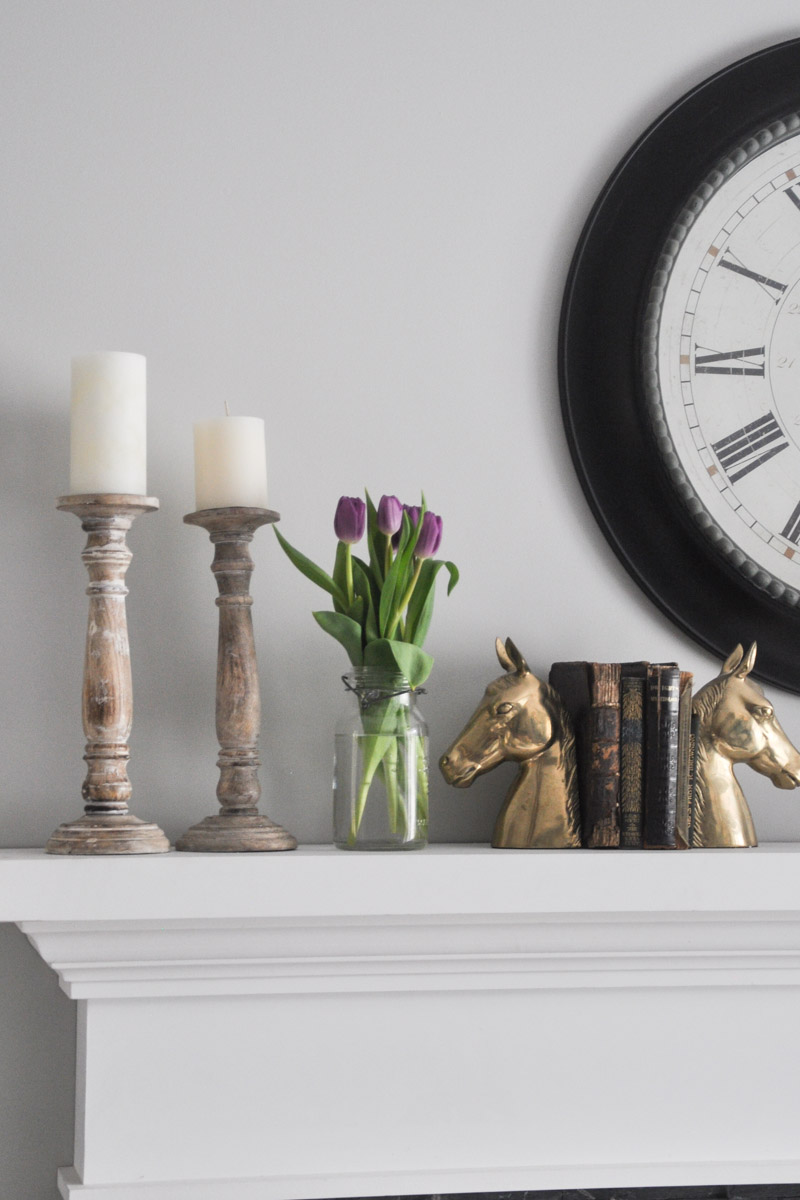 The Wooden Candlestick Adventure
You'll notice when you look at the pictures of our living room that we're not short on candles. If you're familiar with the number of power outages we get in our neighbourhood – big trees mean lots of blackouts – then I can state that these candles have two uses: they're decorative, and they're also a part of our emergency kit!
Okay, I jest. I have a candle problem.
These wooden fellas were a recent acquisition from Wal-Mart of all places. A couple of friends had alerted me to this find: wooden distressed candle holders from the decor aisles in the big blue box store? Say wha….?!?!
I had been looking at wooden candle holders that were $50-60 each. Start the car!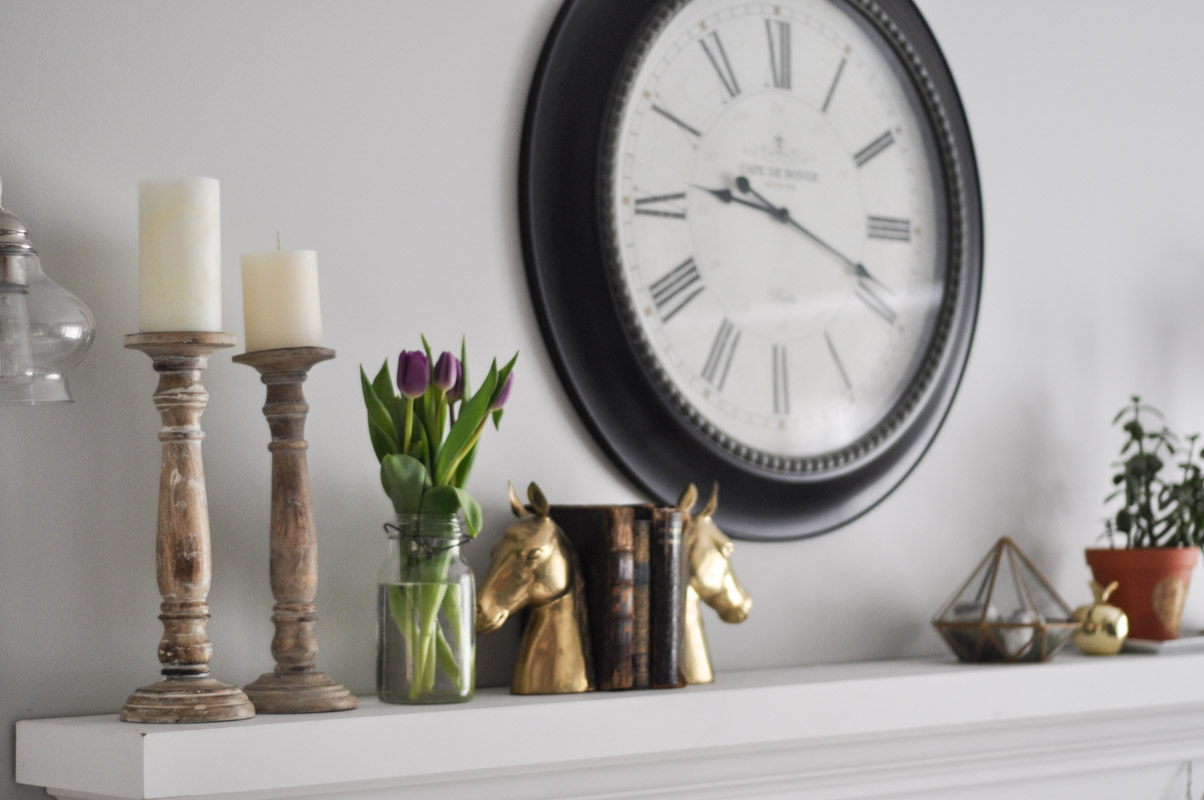 I searched the aisles of the store only to find one candlestick, sitting dejectedly on a shelf. It didn't have a barcode nor a price tag, and it didn't seem to belong where I found it.
I found two sales associates who looked at me sideways when I asked if I could get a price check on this one unmarked candlestick. They shooed me to customer service. And then… the service clerk shrugged her shoulders and said, "I don't have a barcode, hon. I don't know if I can sell this to you."
I clutched my candlestick tightly to my chest, and asked her to call for a price check. In my head I thought, Ummmm….. no. We will find that price. My internet friends told me about this mythical candlestick and I have found it. It's MINE.
She buzzed another woman in a blue vest, who clucked when she saw my wooden treasure. "Oh! Okay. I think I know where to find that."
The vested woman disappeared, only to return with ANOTHER CANDLESTICK and held it out. "This is our last one. It's a bit warped, but it has the price on it."
I took that candlestick from her hands quickly. Almost TOO quickly. "That's okay. I'll take it, too."
The customer service clerk furrowed her brow. "Seriously, honey? You want it? Look – it's all bowed on the side, and – "
"Yep. I'll take it. It's great!"
I was gleeful inside. I had a pair! This was amazing.
Her eyes softened, and she seemed to take pity on me. I'm sure she was thinking, Look at this poor, sad lady, getting so excited over this warped, abandoned candlestick that was chucked on a shelf in the crafts section. Maybe I should do something nice for her.
And she reduced my wonky candlestick! To $7!
Guys, I did a Dick Van Dyke heel-click as I left the store. The customer service associate must have shaken her head as she saw me leave.
One woman's trash….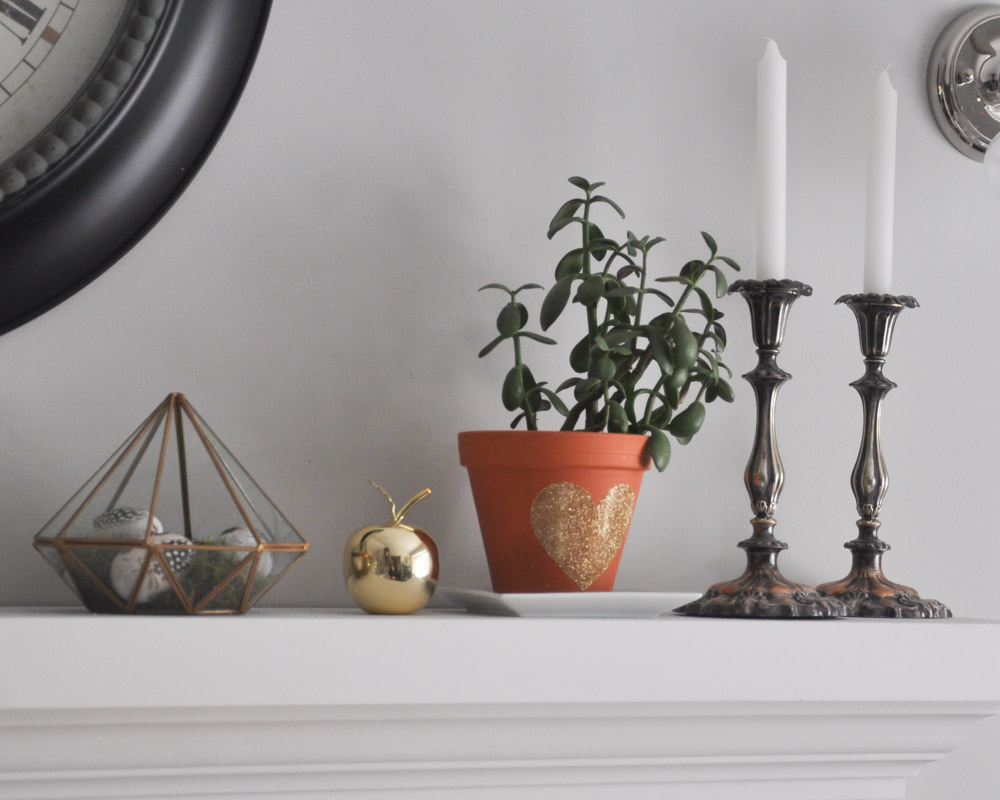 These pewter candlesticks came from a garage sale for $4. I'm sensing a theme in my house now.
But sitting next to this collection of golden things is a recent acquisition: the gem-shaped terrarium.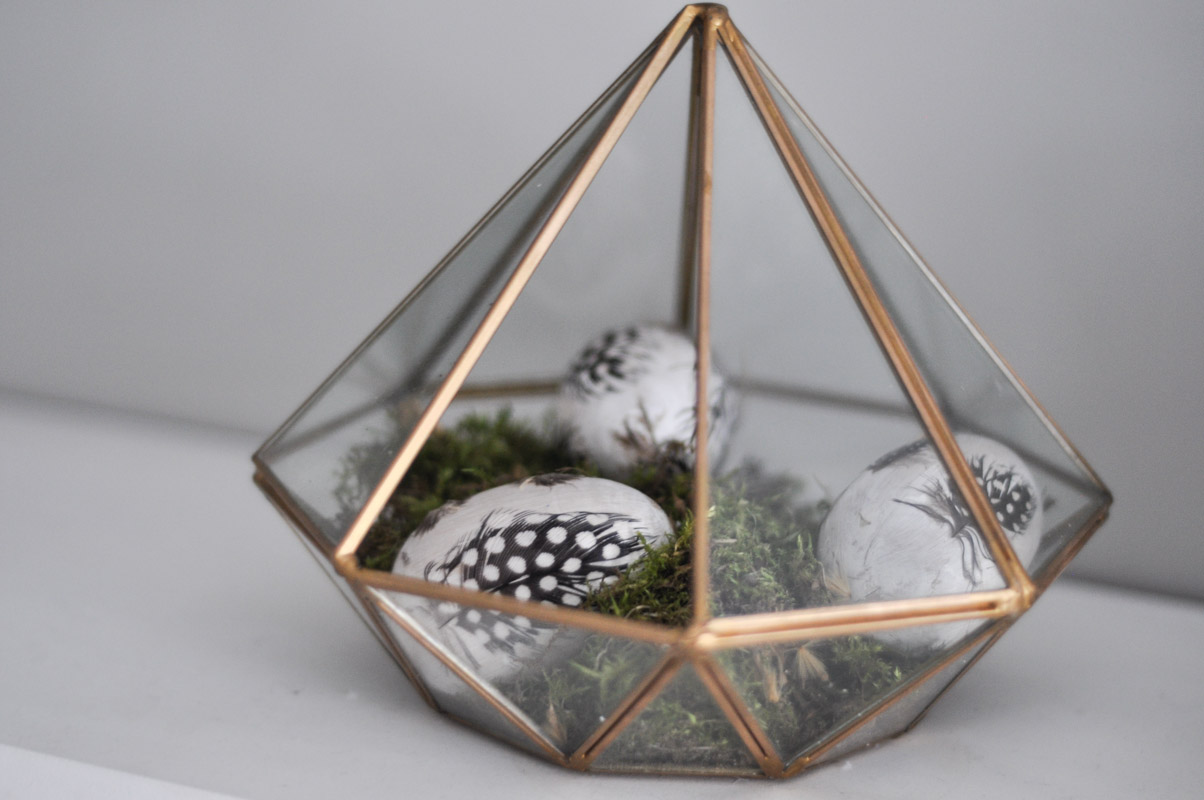 It's beautiful and fussy and fits just the right amount of things to be a little nest. I can't wait to actually try living things in it once the eggs are out of season!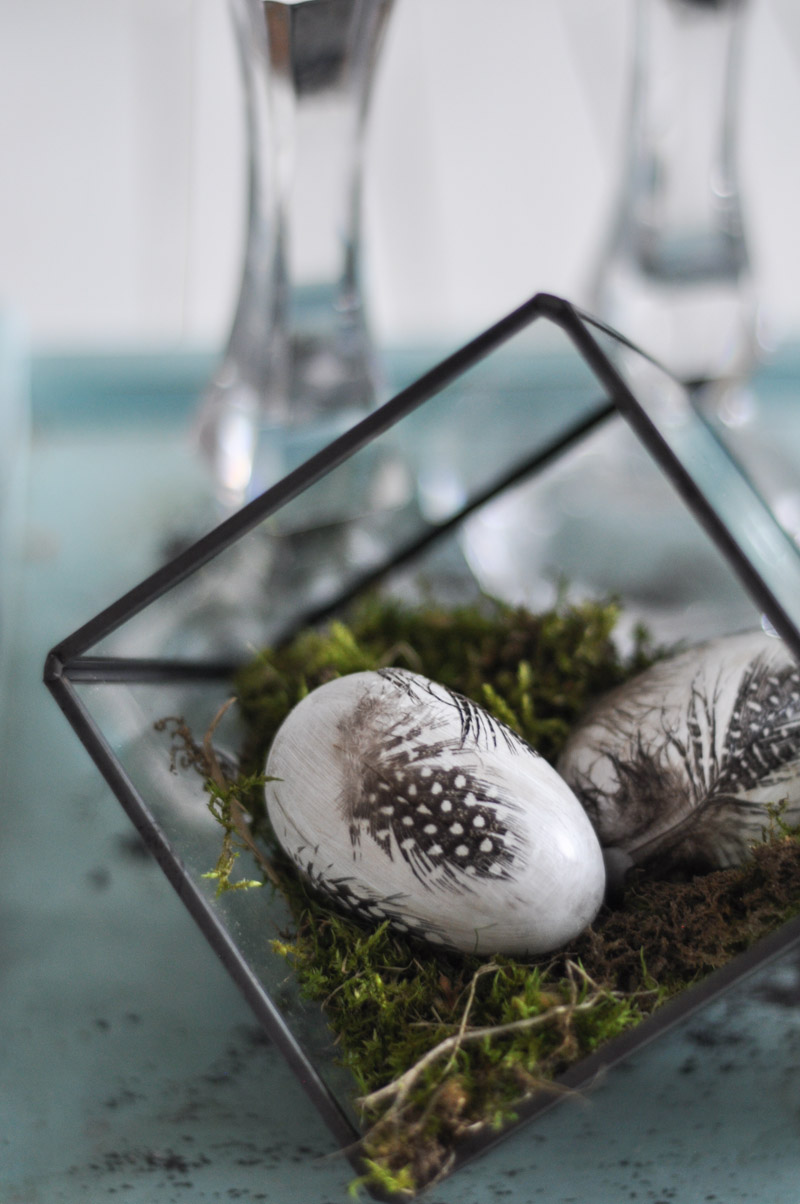 Okay, and maybe I have another little terrarium sitting on the coffee table. The feathered egg tutorial is one I'll be sharing on my blog soon.
The moss is from my backyard. Thank you, overly-wet-and-depressing-Winter, for making my moss supply abundant!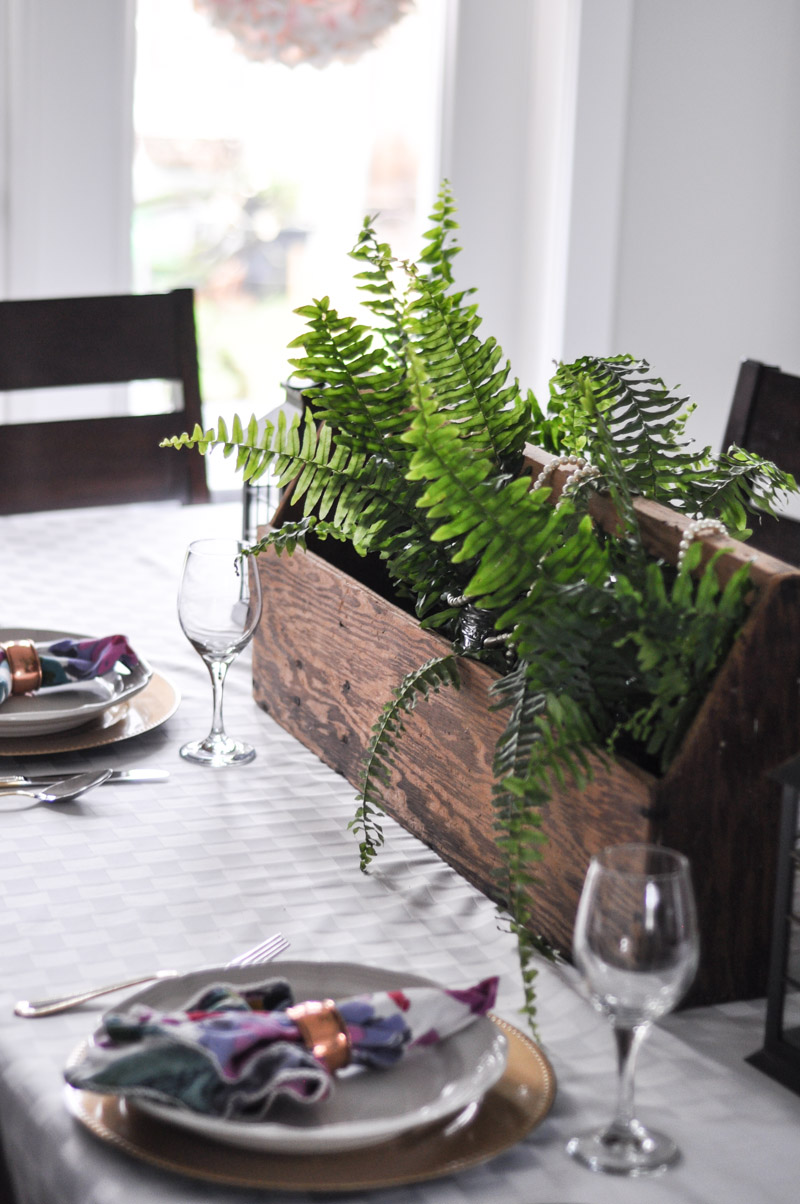 In the dining room, I thought I'd try something different with my centerpiece. This old toolbox was a big score at a local vintage fair that I attended in the fall. It's been full of cedar boughs and tulips (dolla–dolla-bills, y'all), but then I spotted a Boston fern whilst shopping at Home Depot.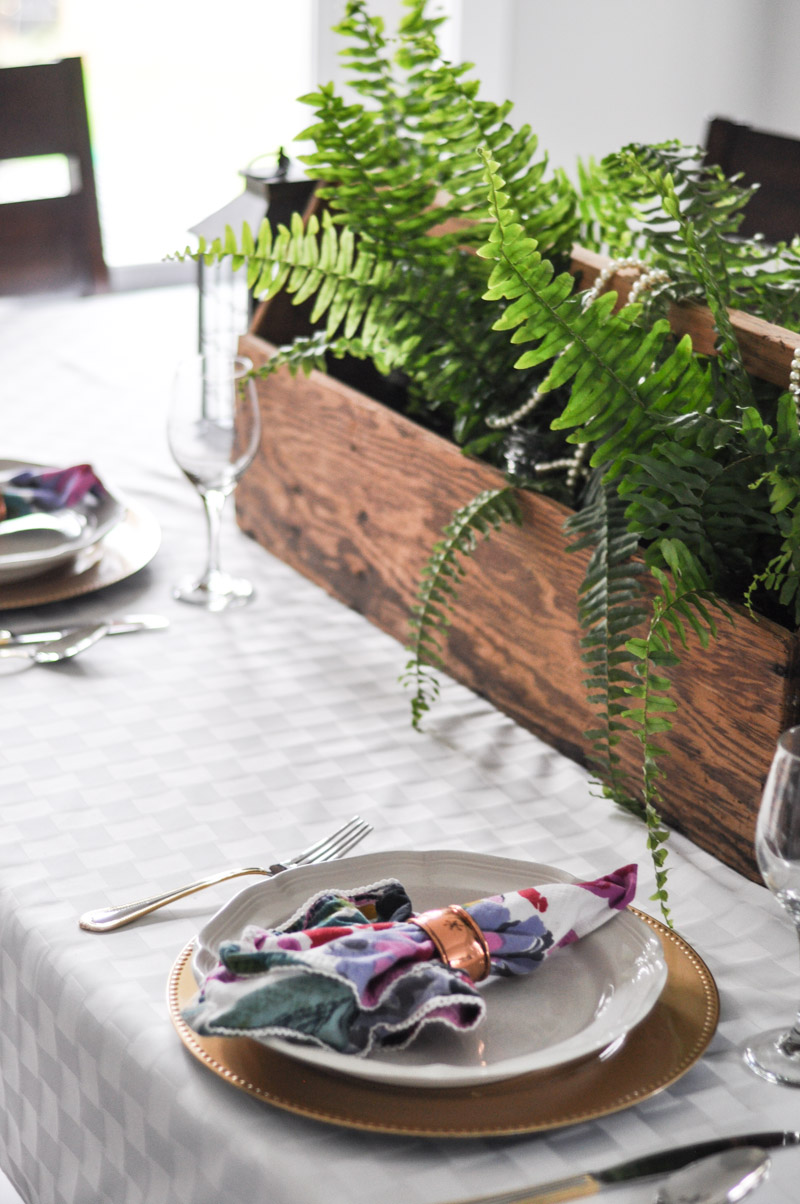 I gave the fern a good trimming, and put all of the clippings into mason jars that are tucked into the tool box. I actually love the slightly wild look that was the result!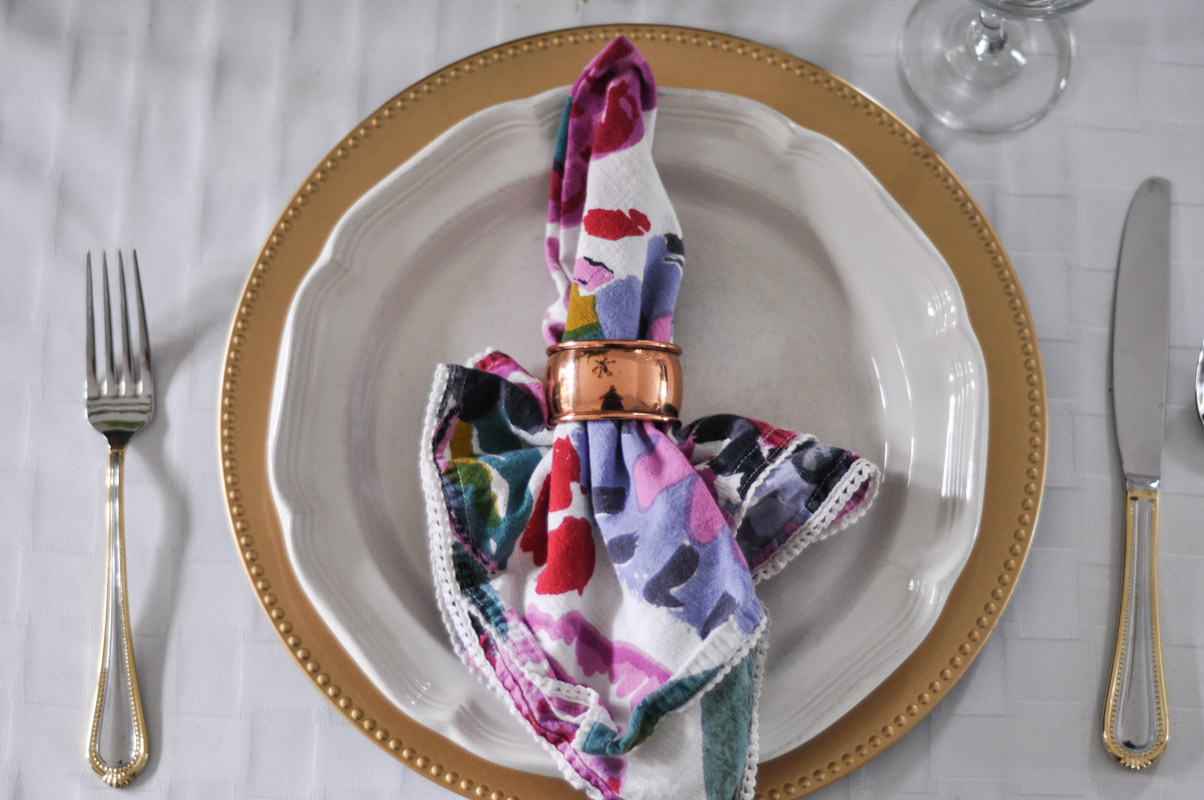 The table is set simply. Anthropologie napkins are tucked into copper napkin rings, flanked by gold trimmed silverware. Can you use gold chargers for every season? I'm still debating this….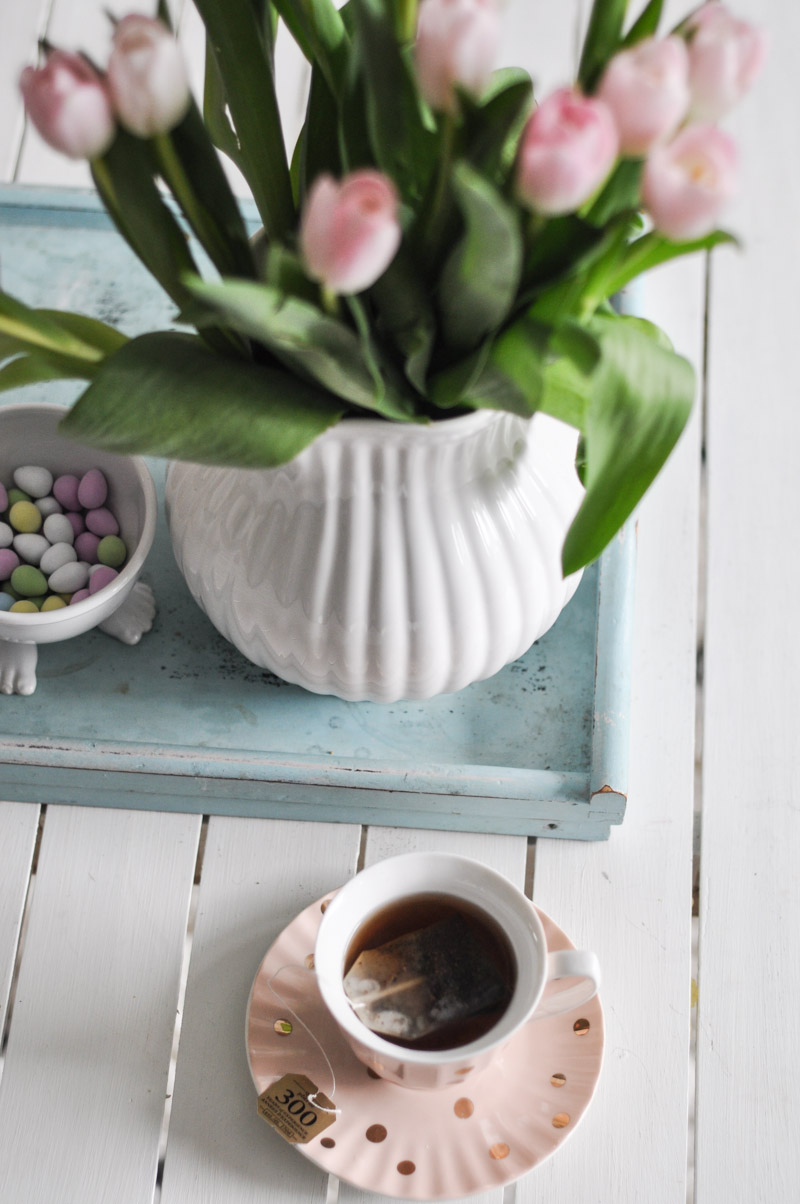 Really and truly, my favourite part of Spring is that it is seemingly the opening credits to, what I think, is the best part of the year. The weather warms, the buds open, the birds sing, and the dusk seem to last a bit longer every day.
I feel like Spring is a social season. Friends come over for tea in the garden. Children run helter-skelter through the house and yard, their dirty feet leaving little tracks across the floor. The sun streams through the windows and you don't care that you can see every fleck of dust.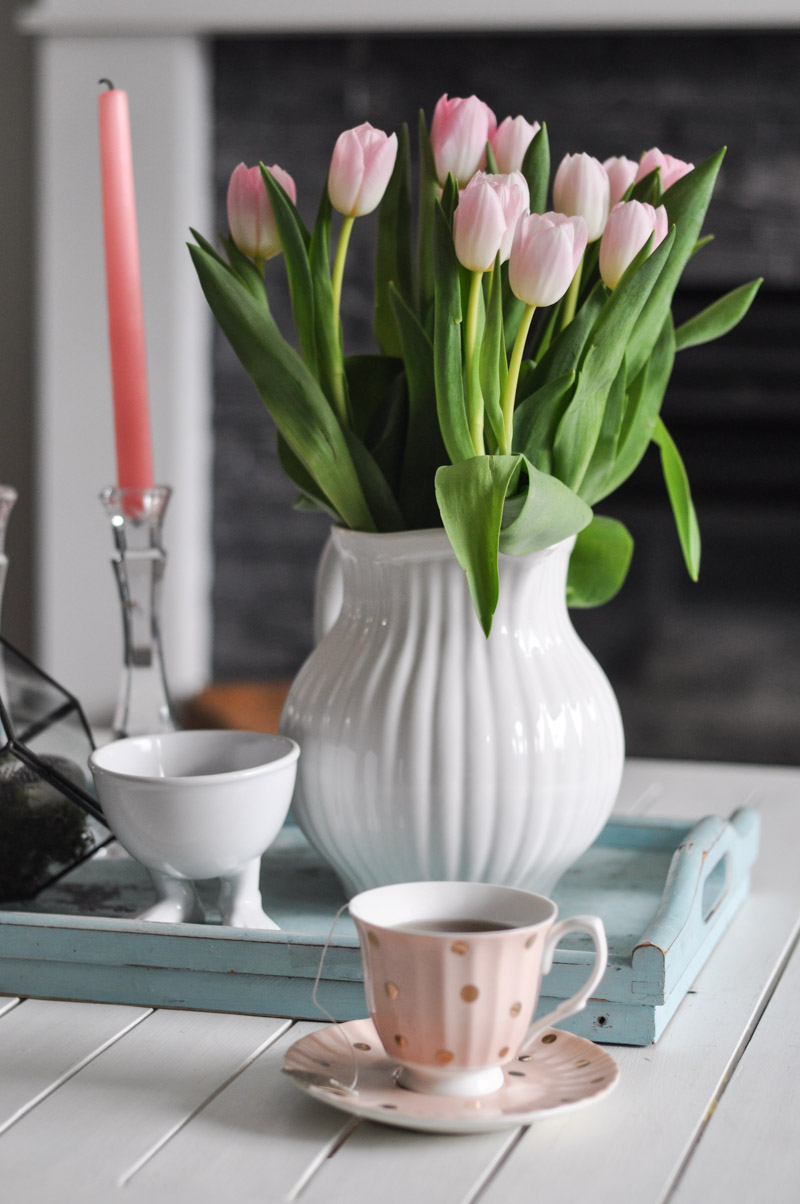 Instead, you'll beckon at the door, "Won't you come in? I've just put the kettle on. We can chat while we watch the tulips wilt before our eyes!"
That's the beauty that is the beginning of Spring.
Don't stop here! Visit the other fabulous homes that are featured during this Spring tour! You'll be inspired, I promise!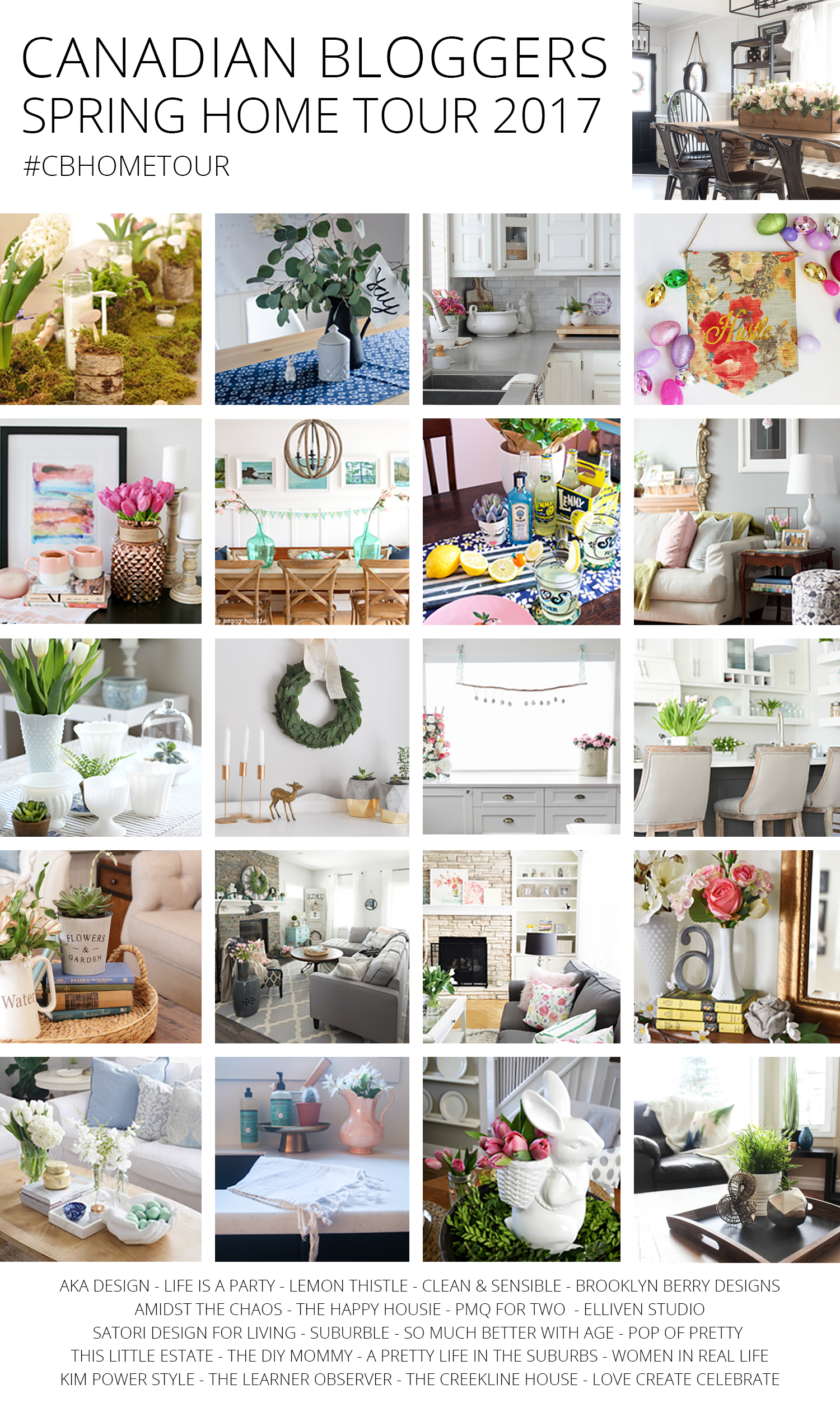 MONDAY
AKA DESIGN – LIFE IS A PARTY – LEMON THISTLE – CLEAN AND SCENTSIBLE
TUESDAY
BROOKLYN BERRY DESIGNS – AMIDST THE CHAOS – THE HAPPY HOUSIE – PMQ FOR TWO – ELLIVEN STUDIO
WEDNESDAY
SATORI DESIGN FOR LIVING – SUBURBLE – SO MUCH BETTER WITH AGE – POP OF PRETTY – THIS LITTLE ESTATE
THURSDAY
THE DIY MOMMY – A PRETTY LIFE IN THE SUBURBS – WOMAN IN REAL LIFE – KIM POWER STYLE – THE LEARNER OBSERVER
FRIDAY
THE CREEKLINE HOUSE – LOVE CREATE CELEBRATE
—