Source
I love to make resolutions. I make them all of the time.
"I'm going to eat better!" or "I'm going to start jogging!"
Pffft… yeah. Want to see me jog? I can do it all the way to the freezer. Where I keep my ice cream.
And I've been debating making a New Year's Resolution. They're typically just these huge sweeping statements that we all make, with a twinkling light in our eyes, that are promptly forgotten in about three weeks.
Or less.
But it doesn't have to be that way. Resolutions don't have to be empty promises that we make to ourselves as we carry around a champagne flute and a bacon-wrapped sausage.
I was thinking about this – as I debated the worthiness of New Year's Resolutions – and realized, "If we turn a resolution into a goal, then suddenly, they can actually happen!"
And a goal is only a goal when it meets three criteria: it has to be specific, achievable, and have a timeline.
1. A resolution can't be something that is completely undefined.
These are my specialties. "I'm going to be more spontaneous" or "I'm going to lose weight" or "I'm going to be more organized".
These are all great ideas. And they have about a zero percent chance of happening.
I usually say these things when I'm feeling bored, or maybe I don't love the way last year's dress is looking today. I sometimes make a salad on that day. Or I'll take the kids to the beach. The motivation typically crashes and burns immediately after that.
Instead, the resolution has to be specific. "I'm going to complete a 5K run" or "I'm going to clean out the linen closet" or "I'm going to make a point of taking the kids on a cool outing once a month".
It can't be a big vague space that is likely to remain empty.
2. Your goal has to be achievable.
Or else, what's the frigging point?
You're going to run a marathon this year? That's a nice idea. Butttt…. unless you're already running half-marathons or are extremely fit… then perhaps you should start with a smaller distance.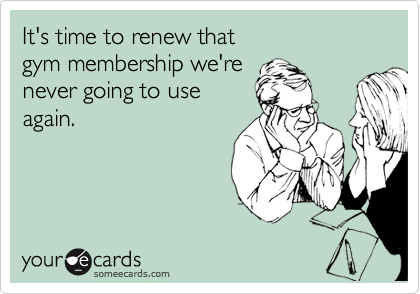 Source
Or, "I'm going to stop wearing yoga pants during the day."
Now I'm just lying. I don't even want to do that. Why set a goal that you REALLY don't want to do?
Start with "I'm going to organize my closet and purge last year's clothes." That's a reasonable, attainable goal. It isn't going to hurt, or be endless, or cause panic.
Unless you start purging your hubby's closet. The man STILL has the sweat pants that he wore in high school.
And they look goo-ooood…..
3. Set a timeline.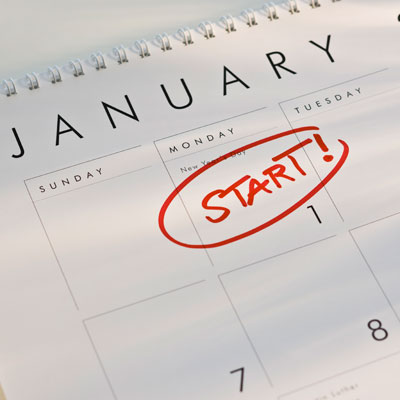 Source
I know, I know. This kind of defeats the purpose of a "Year's" resolution. But, if you want this resolution to stick, you've got to put some pressure on yourself to achieve it.
I also find that telling someone what you're going to do can be a big help. Having Mr. Suburble remind me, "Hey, weren't you going to stop wearing yoga pants for the month of January?" can keep me on track.
But that's not my resolution. That's crazy-talk.
And so, to practice what I preach, I'm going to set a couple of resolutions that follow the rules:
Resolution 1: To cook at least one new recipe per week for my family. We need to try new things, and I'm the only one who can make sure that happens.
Resolution 2: To involve my children in at least two crafty/culinary projects per month on the blog. They love it, and lately, I haven't been bringing out my A game when we've been creative together. It's time to change that.
Resolution 3: I want to take guitar lessons. I am resolving that I will have started guitar lessons by the end of February. If you haven't seen a picture of me awkwardly clutching a guitar by Feb 28th, I'm asking you to call me on it!
I'm bound and determined to be able to have a guitar around the campfire this summer.
And that's it! That is what I hope to achieve in 2014.
What about you? Are you resolving to do something?
And have a happy and safe New Year's Eve – Auld Lang Syne and all that jazz to you and yours!