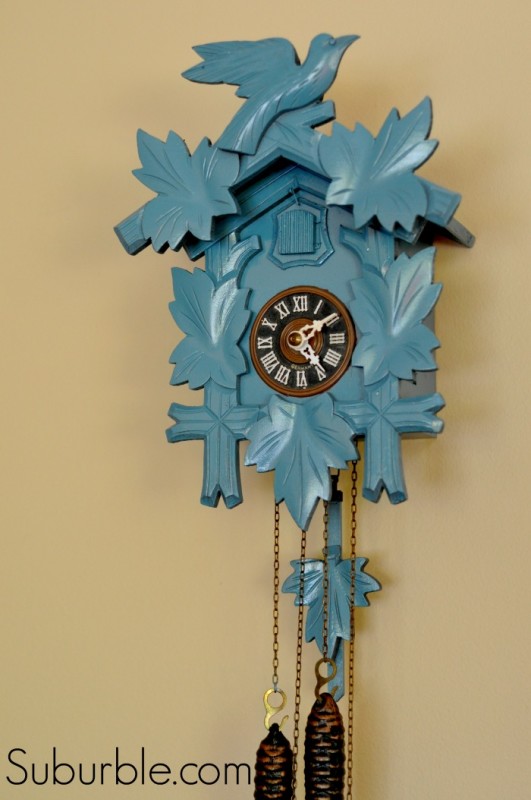 Who doesn't like a good garage sale?
Well, my mother LOVES them, and I'm sure that she has implanted some sort of garage sale-ing gene into my DNA. The woman is serious about her deals. She make maps. She highlights addresses. She does a preliminary scout of "the goods" upon arrival, and then as we peruse the tables, she makes subtle eye contact with me.
Her eyes say, "Should we stay or cut loose? Is this treasure or crap? Tell me now. There are other garage sales waiting…."
And where she lives, the sales are good. People live in their homes for 30+ years in her neighbourhood. They've got beautiful hoards just ready for deal-seekin', upcyclin' junk-a-holics like me.
So when I saw the cuckoo clock, I grabbed it. I had just been robbed – ROBBED – by a sneaky-as-a-fox man who had taken a box of antique insulators right from underneath me. I wasn't going to let another treasure slip away.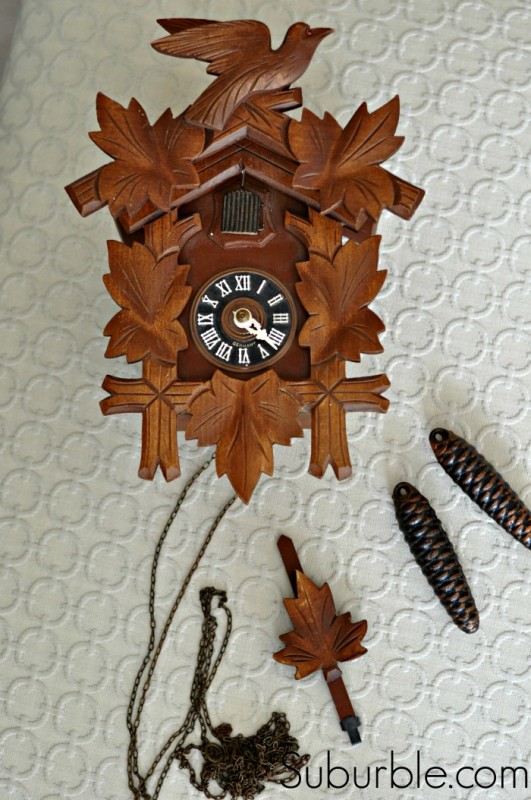 It had a tag on it that read $10. I tried to haggle, but the husband was a bit put out that his wife had put the clock in the sale. "I think it's worth $10", he said. "I didn't even really want to sell it."
So I caved. Ten bucks it was.
This picture doesn't really convey how beat up the clock was. There were paint spatters on its front, and it had scratches all over it. My spray paint called out, "I can fix this!"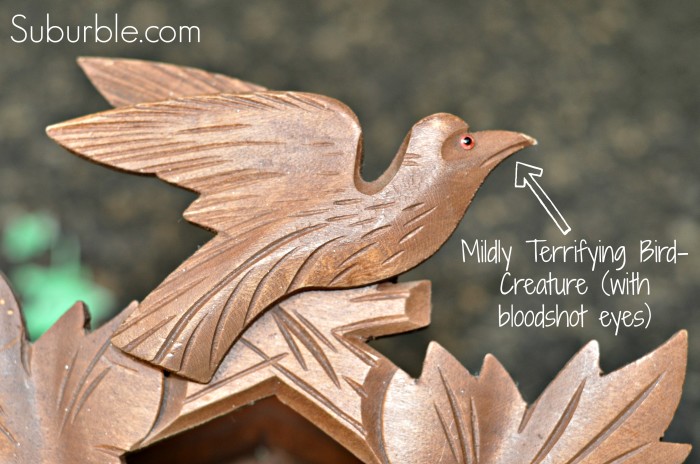 Plus, there was this fella hanging out on the top of the clock. He looked… daunting. And a little bit scary. I was counting on the paint to cover up those evil eyes.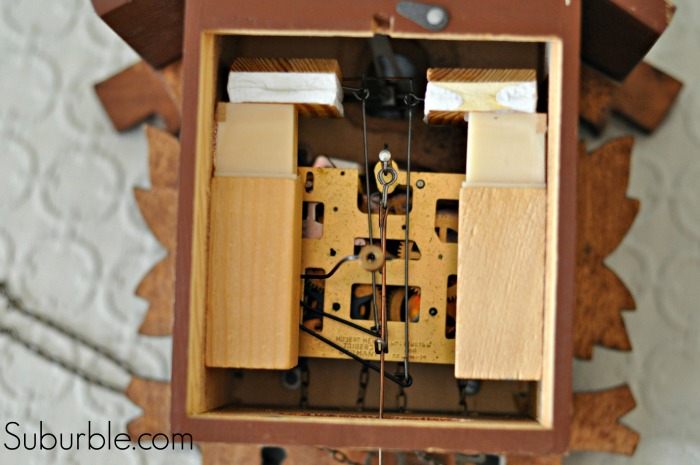 I intended to take the guts of the clock out before I painted it. But when I opened its back, I found this.
Errrm…. I don't know what to do with that.
I fetched my painter's tape instead.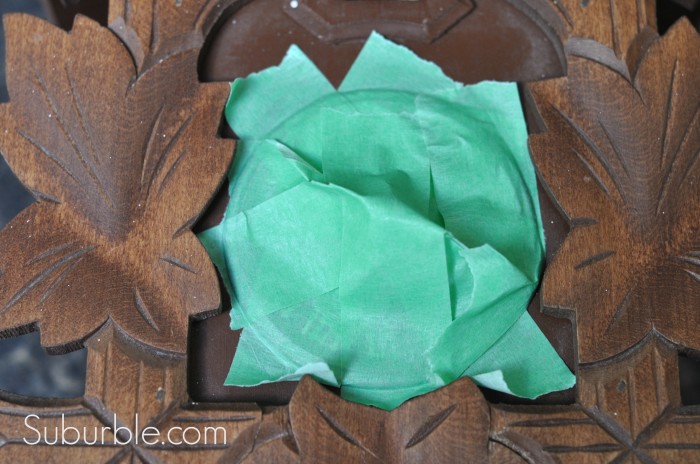 This may appear sloppy at first, but there's a method to this madness.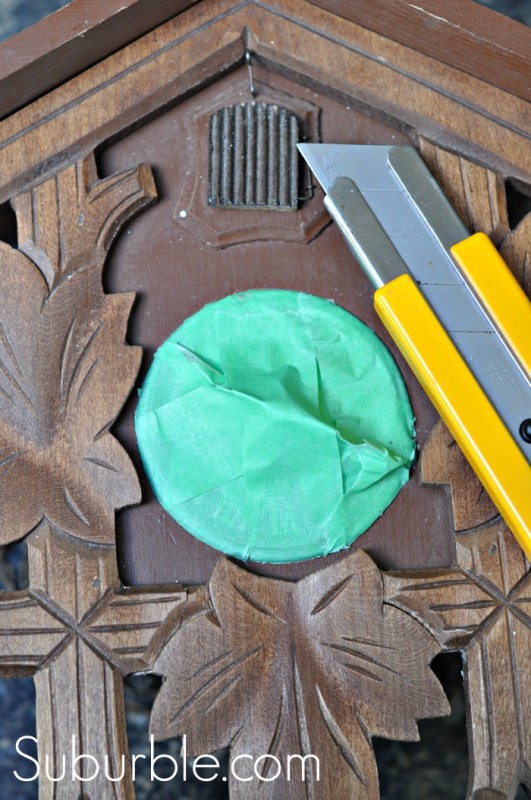 Using my incredibly sharp box-cutter (it's an Olfa, if you're looking for a knife that kicks serious crafting butt), I cut away the extra painter's tape: I had my perfect circle!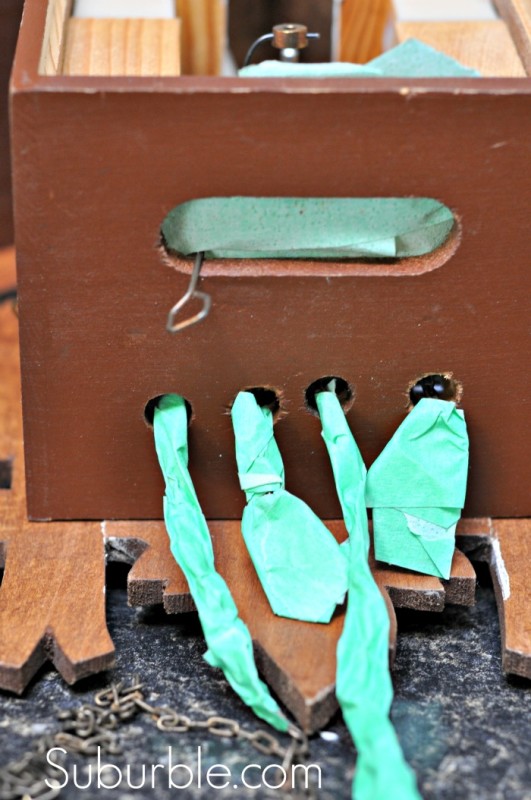 With a less-precise hand, I taped off all of the extraneous bits that didn't need to be painted. I gathered the clock chain and popped it into a bag. I was ready to paint.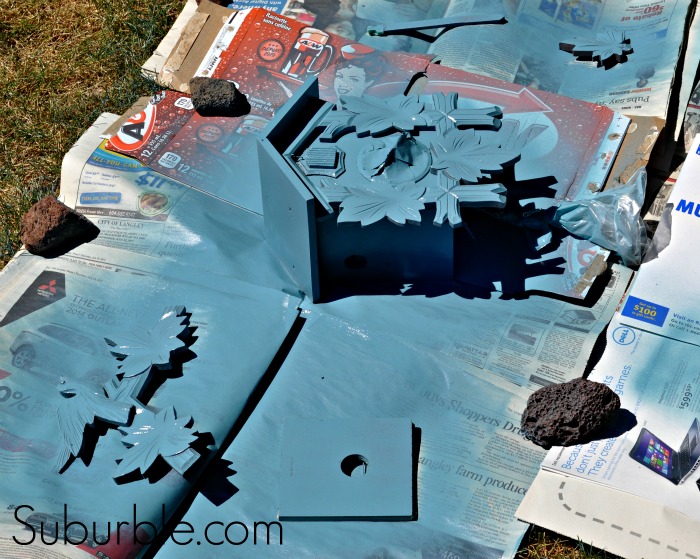 I prefer to spray paint on newspaper rather than plastic. The reason for this is that newspaper will grab onto the paint, and so you can do multiple coats on the same surface. I've found that plastic (like garbage bags) are too slippery, and old paint can grab onto new wet paint and create a flaky, disastrous mess.
And as with all spray-painting projects: use light even coats. Do not expect complete coverage the first go 'round. It's best to be patient and re-visit your project for another spray or two. Or you risk the dread Drip of Despair. You don't want that!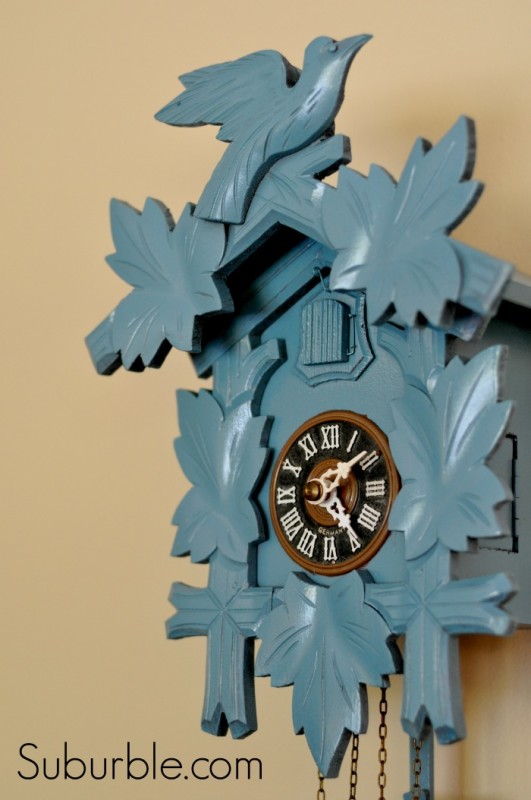 Once the clock had dried and was reassembled, I was left with this gorgeous time-piece. Ain't she pretty?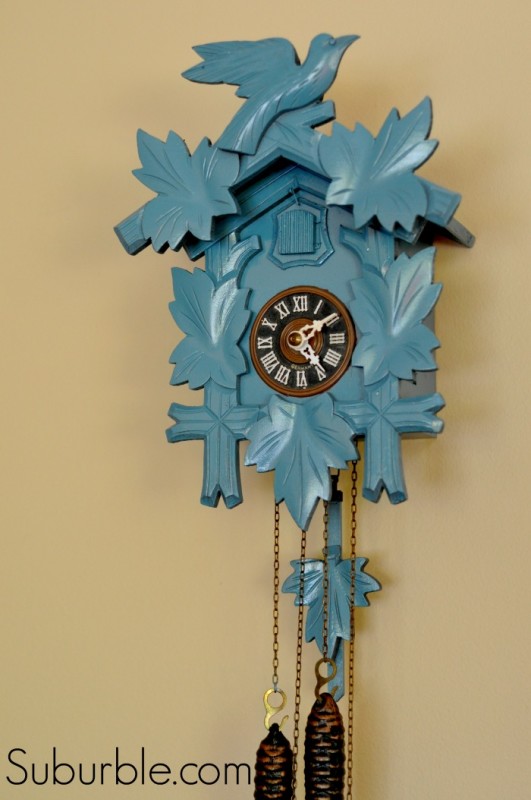 Even the bird seems softer, now that the scary-eye-situation has been resolved. The clock face matches the pine-cone weights; I love the way the blue and the brown compliment each other.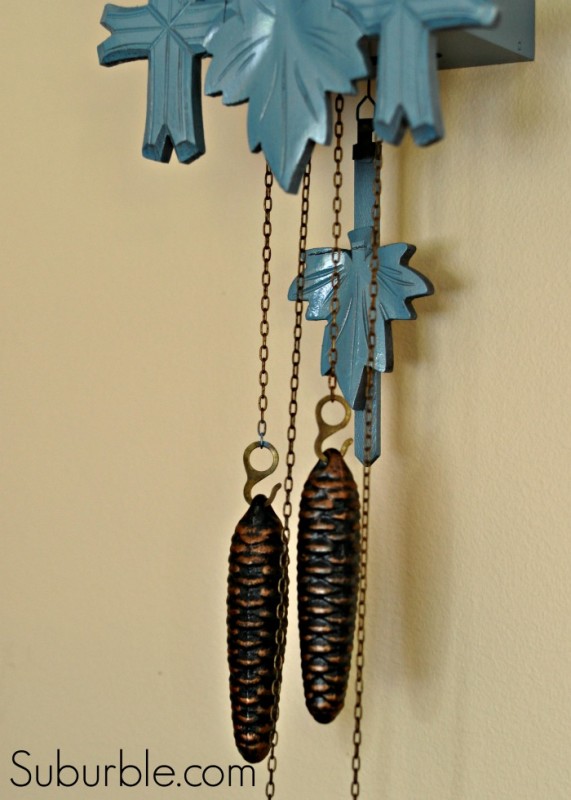 And aren't these weights fantastic? This piece does not rely on batteries to run – instead, these weights control the pendulum of the clock and the little cuckoo bird who pops out every fifteen minutes. I was enthralled to learn that this is how you "wind" the clock. It makes this project even more exciting (and the finished piece that much more charming)!
I'm so very proud of my garage-sale score, now hanging proudly on the wall. It gives me a teensy bit of that garage-sale "fever". What else is waiting for me and my trusty cans of spray paint? Surely there are deals just patiently waiting for a crazy lady like me!
Don't miss another Suburble Spray-Painted Post! Follow Along!
This post was first shared on One Artsy Mama.