I'm sure like most of you, you feel a pinch when December rolls around. There are presents to buy (or supplies to pick up to make your gifts), there's food to put in the fridge, dinners to host, etc, etc.
And wouldn't an extra $200 be a nice addition to that budget? Especially if you could do whatever you wanted (within the limitations of PayPal, of course) with that cash?
I've joined forces with a group of awesome bloggers to offer up a chance to win $200 in PayPal cash. What's even better is that this giveaway is open world-wide!
Imagine what you could do with $200 dollars! Would you spend it on the holidays? Or maybe you might spend it on a special something for YOU under the tree?
(and pssst… here's a secret: a SECOND giveaway is going live later today. Come on back here for a second chance to win some fabulous loot!)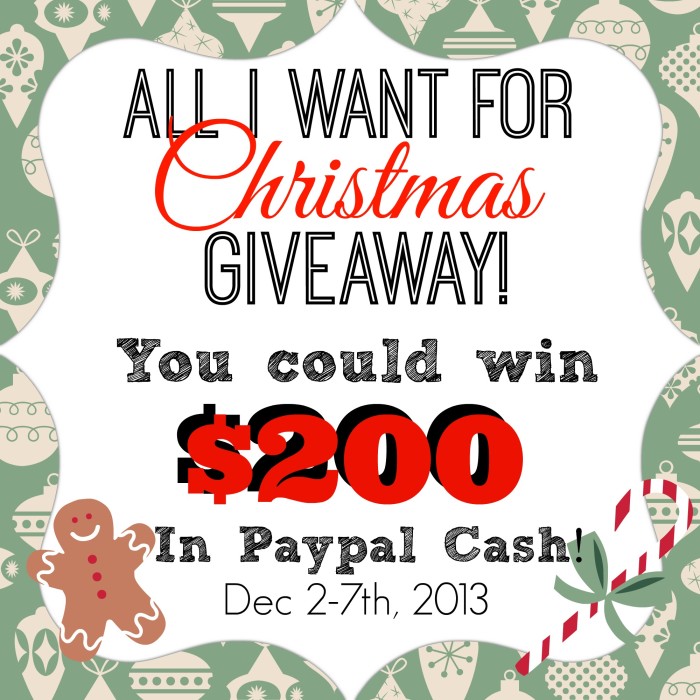 $200 PayPal Giveaway
Hosted by
Suburble / Fynes Designs / Satori Design For Living / The Learner Observer / The DIY Dreamer / Garden Therapy / Vin'yet Etc / Northstory / Lifeovereasy / I, MayB / 2 Little Superheroes / Now At Home Mom / Just A Trace / Pink Little Notebook/ Tales of a Ranting Ginger / Frugal Mom Eh / Inspire Me Heather / 365 Days of Crafts
Giveaway runs from 12:01 am on Monday, December 2nd, to 11:59 pm on December 7th.
Giveaway is open world-wide!
Void where prohibited.
Enter using the Rafflecopter below! Good luck!