Thank you, Blueprint Social and Plaid, for giving me a chance to play with these great stencils!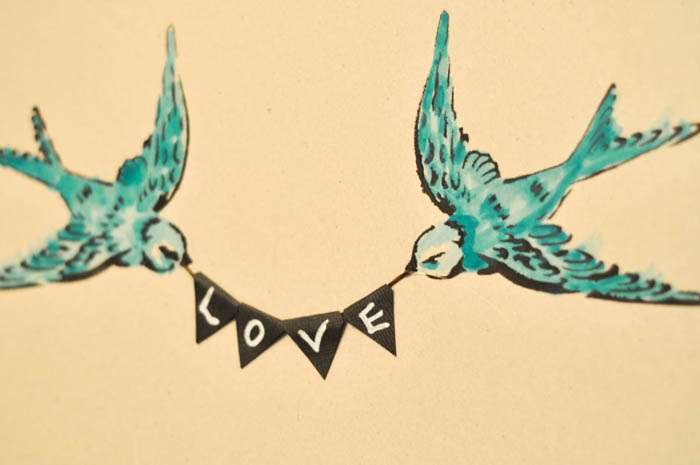 When it comes to crafting and decor, I'm always looking for an excuse to whip up some new art. I love to have a bit of something handmade on the walls.
And when I heard about Ed Roth's new line of stencils, Stencil 1, I was thrilling with ideas of what I could create. His stencil line is on trend, and features some really fabulous designs. What more can you ask for?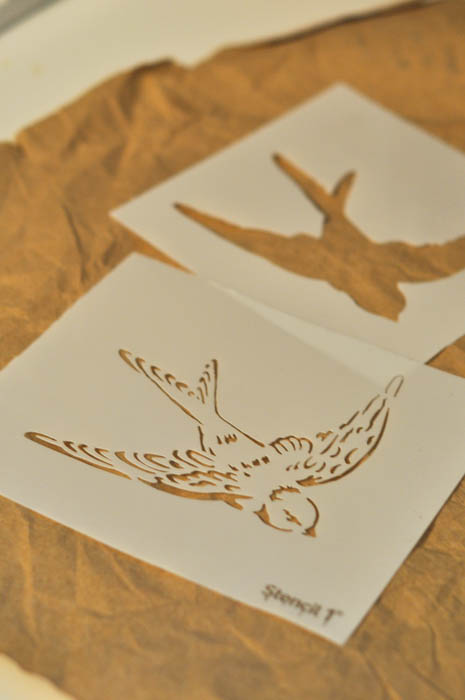 I was sent the swallow stencil. You'll notice that it has a background as well, should you want to create a layered stencil.
But I had a different idea.
To make the "Swallows in Love" wall art, you will need:
1 Ed Roth Stencil 1 Swallow Stencil (available at JoAnn)
FolkArt Multi-Surface Paint in Black
FolkArt Multi-Surface Paint in Tea
Paintbrushes (one should have a fine tip)
Water
Canvas/Cardstock
Black Cardstock
Twine/String
Hot Glue Gun/Glue Dots
Scissors
White Pen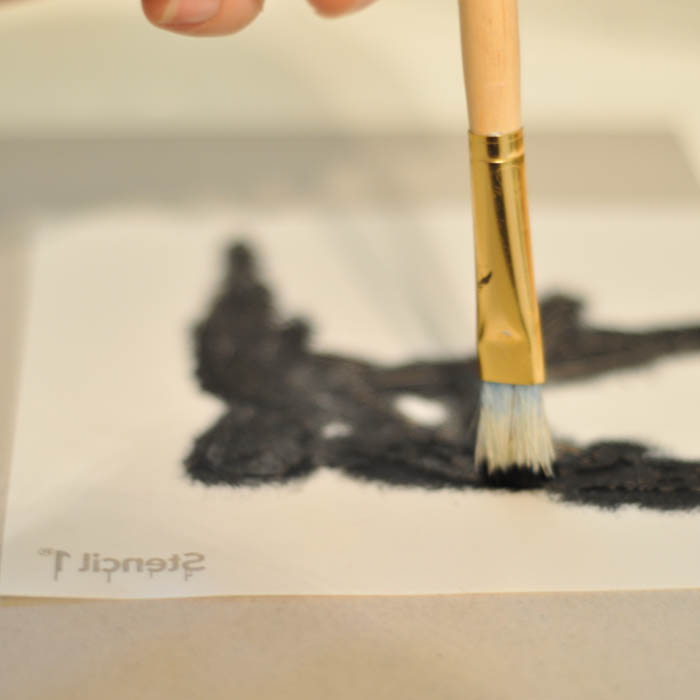 On a piece of cardstock, I placed the stencil onto one side. Using a paint that was not too heavily laden with paint (blot it on some paper towel to control the amount of paint on the bristles), I "pounced" the paint onto the stencils.
When stencils are detailed like this, it's important to take a bit of time with your work. Be sure that you've filled in your lines, but don't get too excited with the paint. Excess paint will bleed under the stencil and ruin the crisp lines that you're looking for. It's called a "dry brush" technique – less is ALWAYS more.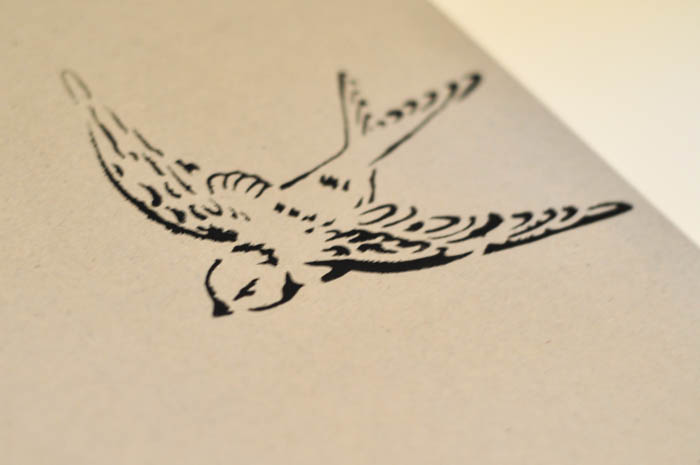 Once the painting was done, I was left with this beautiful little fella.
These stencils are made of mylar, so they're easy to wash up for immediate re-use. I quickly washed off the black paint from this side of the stencil and then flipped it over. I wanted another bird – facing in the opposite direction – to be on the other side of the piece.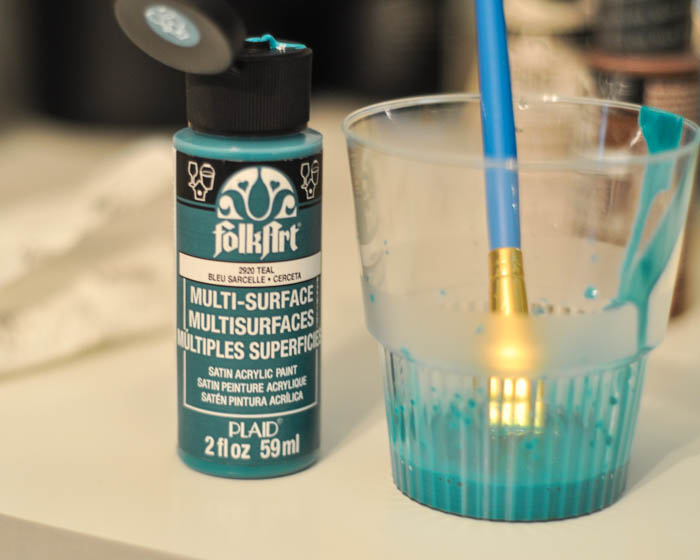 Once the two stencils had been completed and had dried, I got to work with painting the birds.
Multi-surface paint is extremely versatile – you can use it on fabric, paper, walls, dish ware and furniture – and you can even play with its vibrancy.
Using FolkArt Multi-Surface in Teal, I set out to achieve a watercolour look, but with the oomph of acrylic. I watered down the paint with approximately a tablespoon of water, and mixed well. Once it had gotten to the consistency I was looking for, I started painting.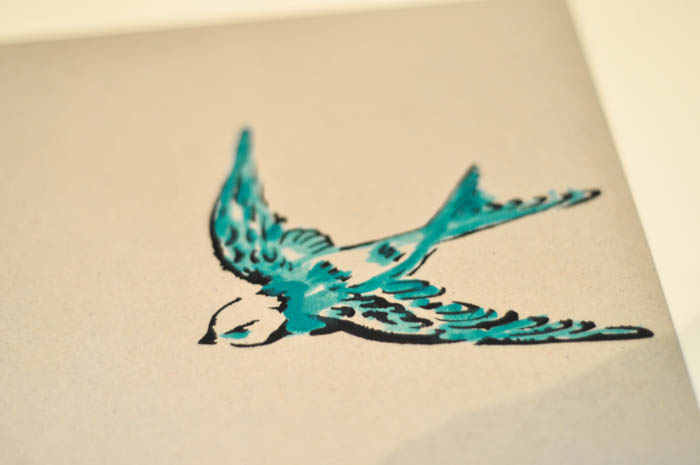 Using the swallow's feathers as a guideline, I highlighted different aspects of the bird with the slightly-diluted paint. I tried not to have too heavy of a hand with this step, as I knew that I would be using a different mixture for the body of the bird.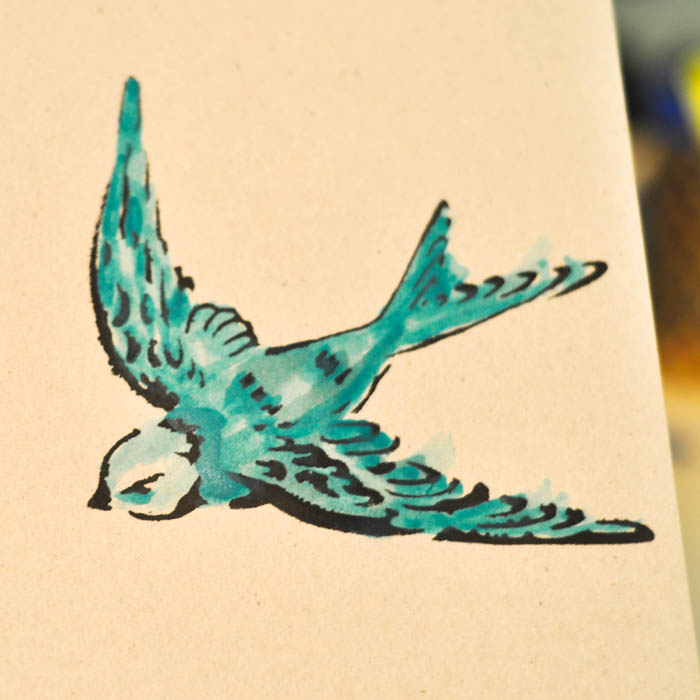 Once I had finished the "highlights" of the swallow's body, I then diluted the paint with nearly a quarter cup of water. I wanted the paint to be just a wash over the bare parts of the stencil.
Watered-down acrylic doesn't behave the way typical watercolour paint does. Once it's on, it's on. Water won't help it to blend or move. So it's important to use a fine-tipped paintbrush and some patience while you paint.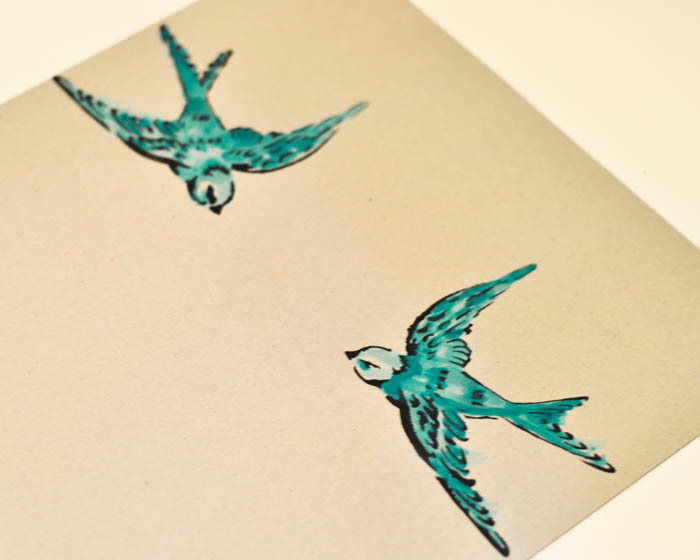 I was thrilled with how my swallows turned out. Yes, there may not be teal swallows darting around our backyard, but I think they look just darling on the wall.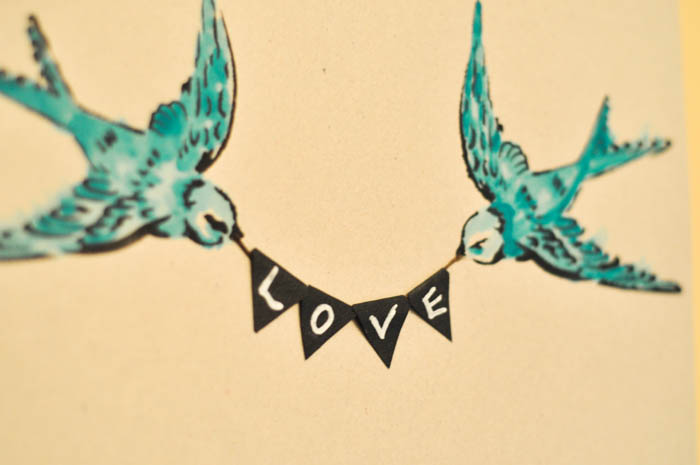 To complete the project, I cut little diamonds out of black cardstock and then wrote the word LOVE on their bottom halves. I folded the diamonds over a piece of waxed thread and glued them together to create a miniature piece of bunting. Then I glued the bunting to the swallows' mouths.
And now they're twitterpaited.
Awww…..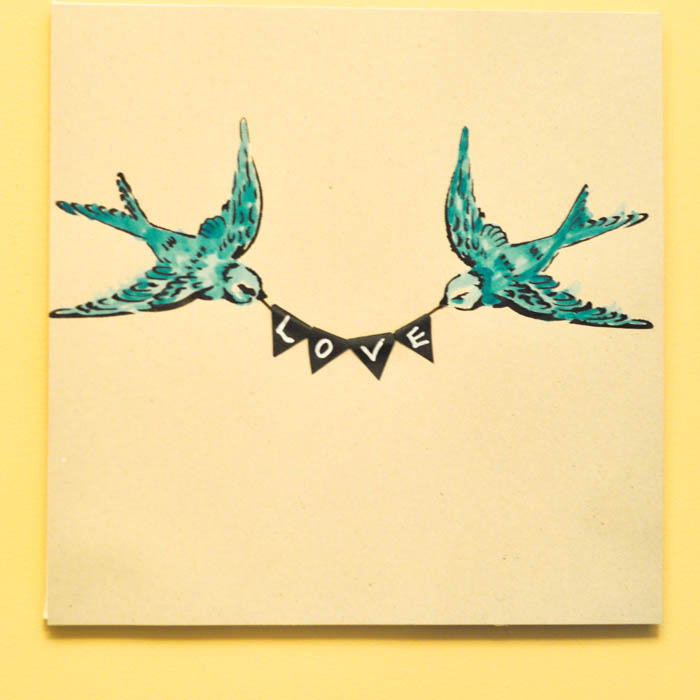 I love the simplicity of this piece. The "faux-watercolour" look of the acrylic paint is one that I'm definitely going to use again in another piece.
Perhaps this little beauty from the Stencil 1 line?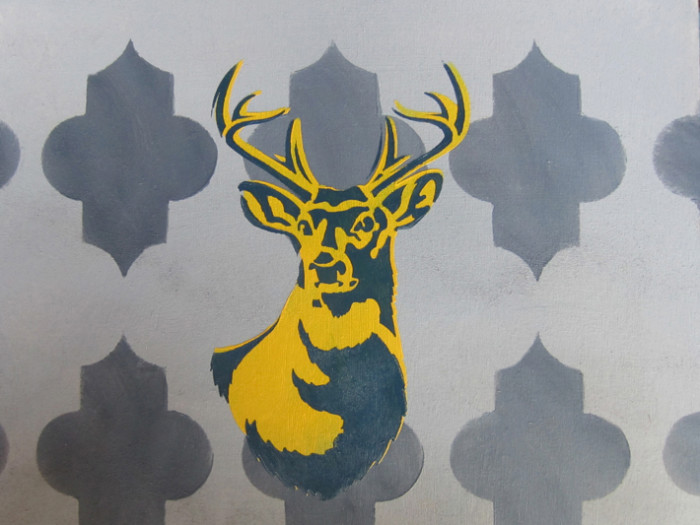 I want it.
Follow Plaid and stay on top of all-things-painted-and-wonderful:
Blog / Facebook / Pinterest / Instagram / Twitter / YouTube