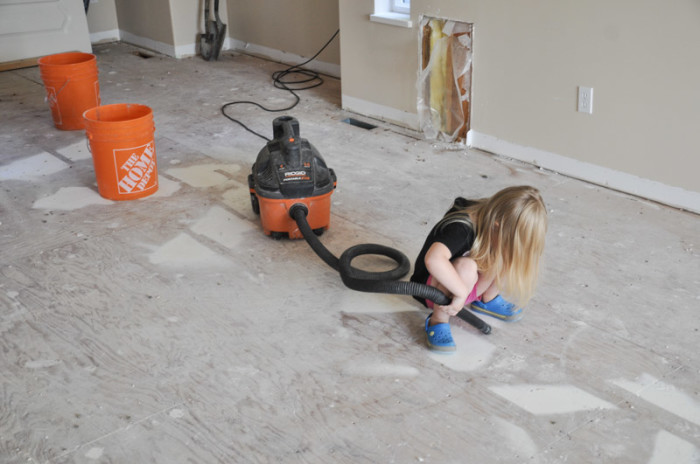 My girls can proudly say that they spent their summer picking nails for their mother.
$.05 a nail. I'd say it's a pretty good deal.
The house is coming along. It's actually starting to get to that part where stuff is being put back together, rather than being torn off of the wall and being chucked into a bin. Mr. Suburble heaved a huge sigh of relief when the drywallers marched through the front door.
This meant that I couldn't rip anything apart. The bones of the house were set. Tara was halted.
(Structurally. You know that I've got all SORTS of ideas for the decor.)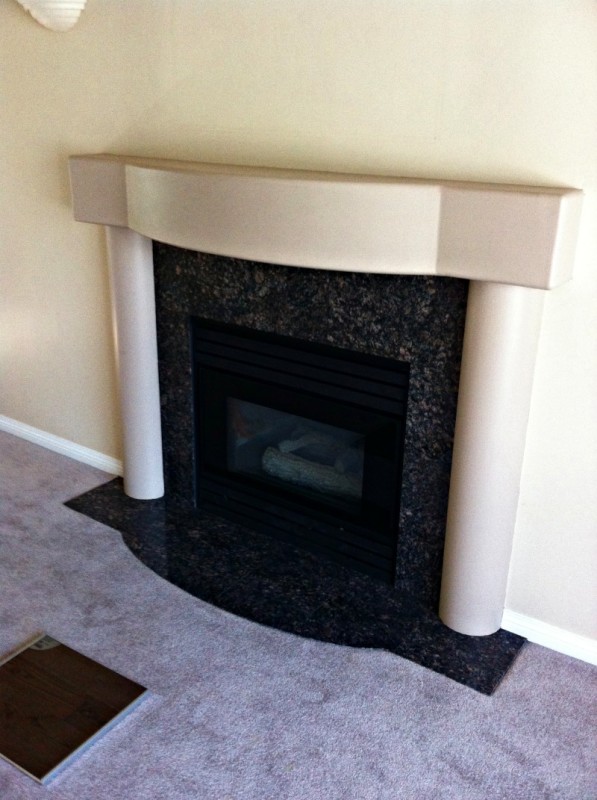 Remember this? The Blanche Deveraux mantel?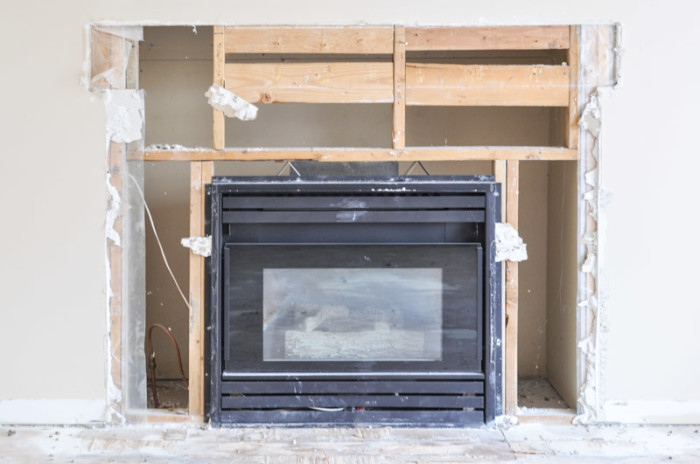 This is what happens when Tara gets an idea.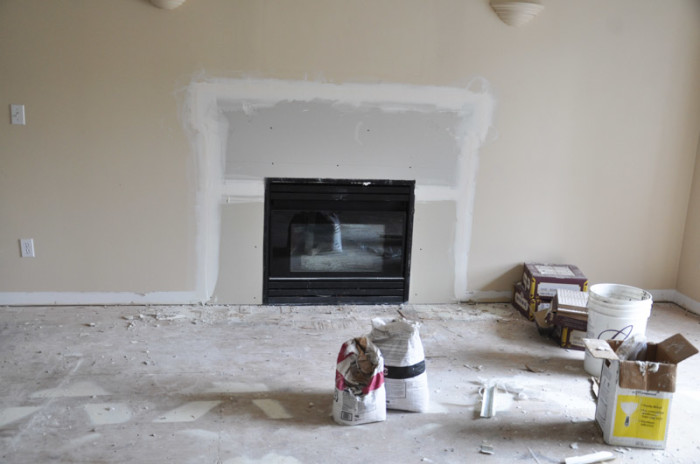 And this is what happens when a drywaller swoops in. The Fairy Godmother of home renovations… the drywaller makes magic happen.
And leaves clouds of "fairy dust" everywhere. Fairy dust that will continue to fall for MONTHS.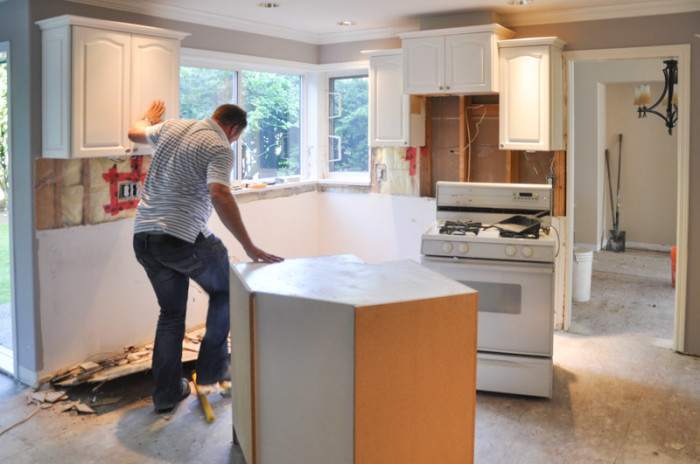 The kitchen was not immune to the Tara-tornado. Here, Mr. Suburble is ripping up the remainder of the subfloor (and tile!) that ran all the way under the cabinets.
I am being thrifty with my kitchen renovation; I'm saving the cabinets. As you can guess – typical of most cost-effective plans – this is a giant pain in the ass.
We have dragged those cabinets all over the place. They are the albatross of this renovation. I cannot WAIT to bolt them back to the wall where they belong. They are heavy, clumsy… and white. White kitchens are timeless. And cabinets cost a mint.
They stay.
Whining aside – I made not-so-short work of the backsplash while Mr. Suburble was working elsewhere in the house. He tromped into the kitchen after hearing the sound of sledge hammer against porcelain and said, "So… I guess we're getting a new backsplash."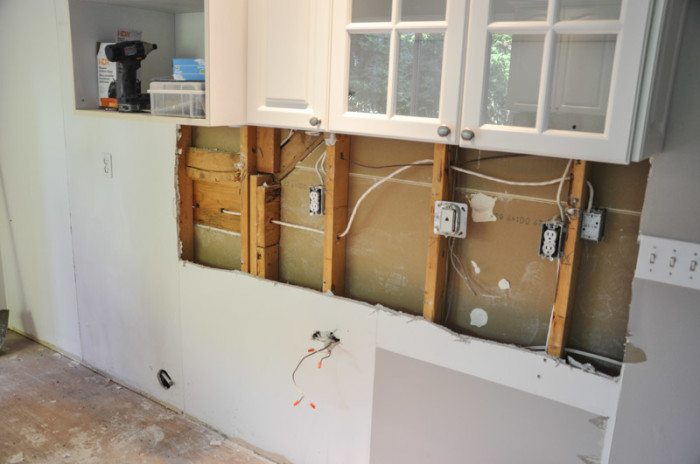 That we are, Mr. Suburble.
And we're replacing the drywall. Your wife may have ripped it off of the wall in a fit of renovating.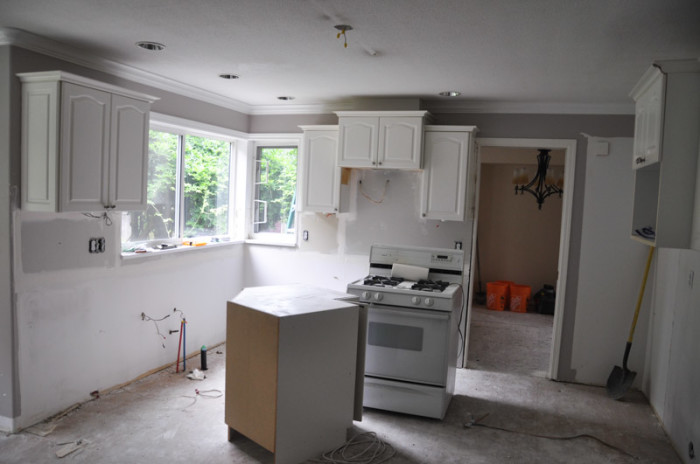 Ta-daahhhh!
The Drywaller Fairy Godmother was here! You can tell by the haze of white dust all over everything. So long, studs and exposed wiring!
Hellooooo paint, screws, floor, cabinets, countertops and tile. (Gah!)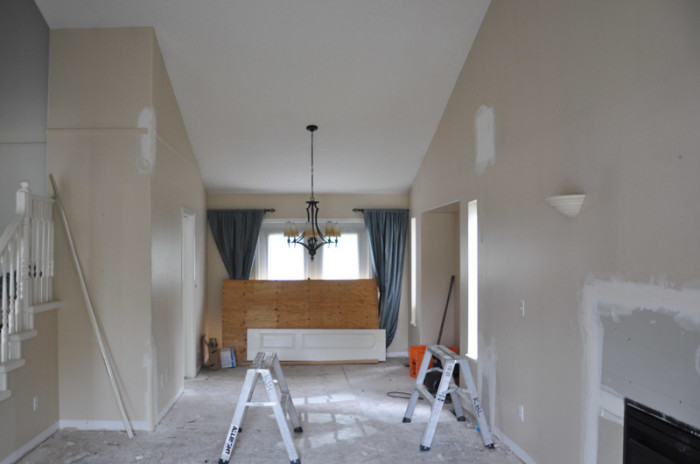 Before you know it, only memories of an archway (and a little greek restaurant, as I have affectionately come to call this style of decor) will exist in the living room. Patchwork is complete.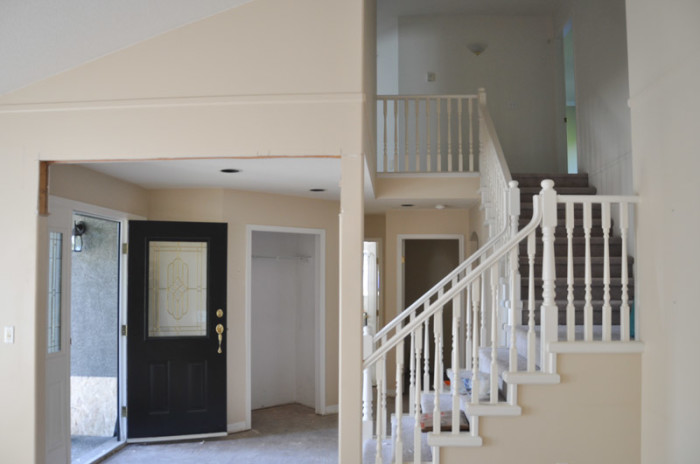 And we figured: while we've got the crew in here — you know that we means ME, right? Mr. Suburble is getting pretty comfortable just shaking his head as I ask someone, "We can just cut this out, right? — let's get rid of the curved arch into the living room.
I don't have a before picture, but imagine a curved arch there – starting about a foot below the new cut-out.
It was a last-minute cut. And I think it was a good one. The difference in light and feeling of spaciousness, simply by slicing out that arch?
Amazing. Sometimes it's the little things that can make such a large impact.
I feel like we're gotten over the peak of the mountain. We're standing at the summit, looking at the way down. It's going to be a bit of a walk. But change is happening.
We may be able to live in this house after all.
Before long, this project will no longer be "the new house". It will be our home.