We were lucky enough to have the fantastically talented Lindsay Faber capture our event. I encourage you to visit her site to see more of her inspired work.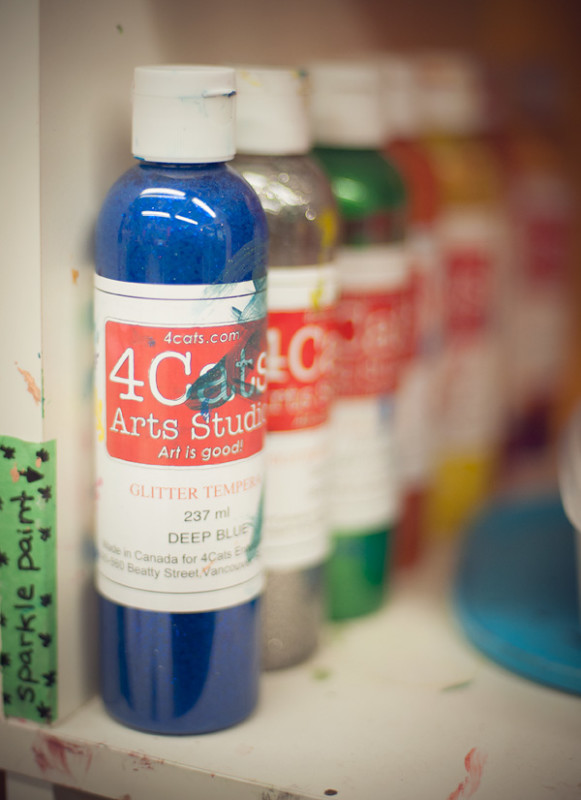 Some of you may remember the first West Coast Creative event that Crystal and I put on this past May. As we cleaned up the plates and wine glasses from that evening, we both knew in our hearts that we had to do it again.
To be surrounded by so many inspiring and talented people – and to be creating and chatting and learning from each other – it was energizing.
And so we planned another night. Simone from 4Cats Studio in Kerrisdale was our generous hostess.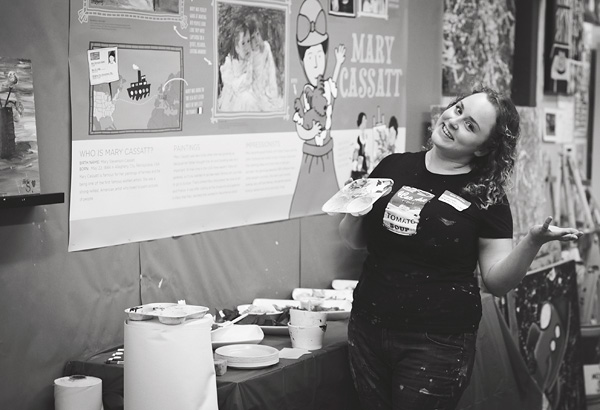 Her studio is a paint-spattered sea of inspiration. The walls are full of colour and creativity created those who have sat in front of canvases, clay, and paint . (It's a great place to have a birthday party, if you're local!)
She led us through a painting lesson – one that was both challenging and liberating at the same time.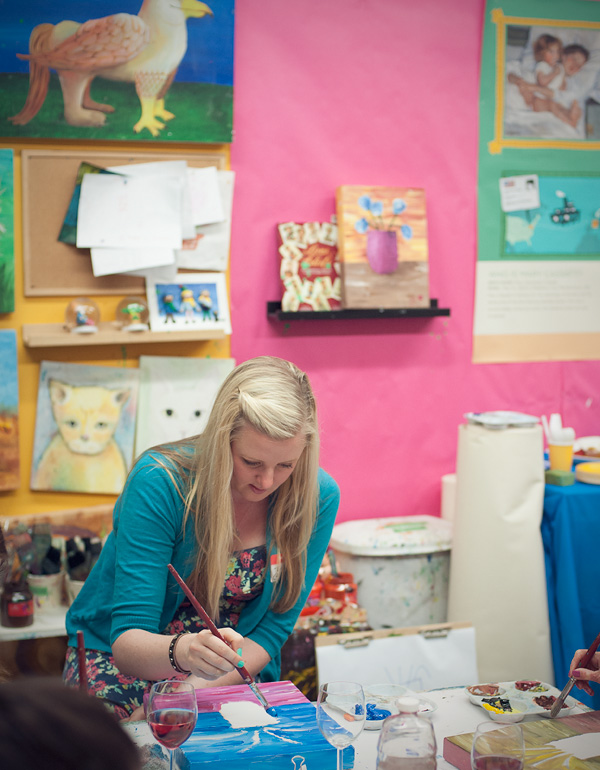 We painted a picture of flowers in a vase.
Here, the artists were separated from the not-so-artistically-inclined girls. Some women created true works of art!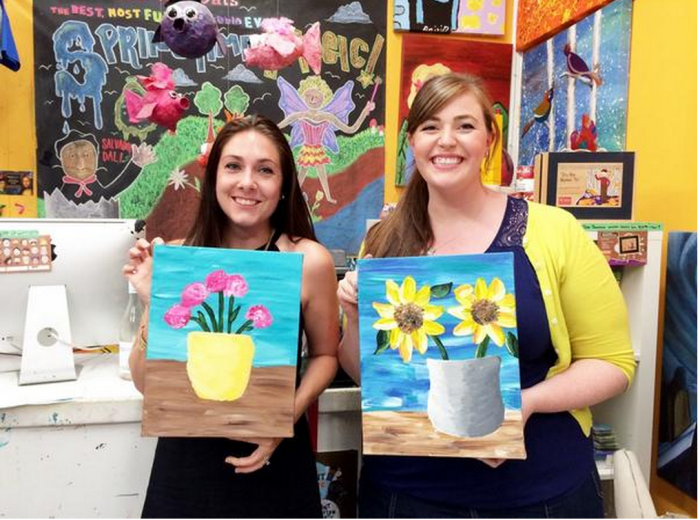 … I love Tamara's smile in this picture! The sunflowers were a perfect choice for her.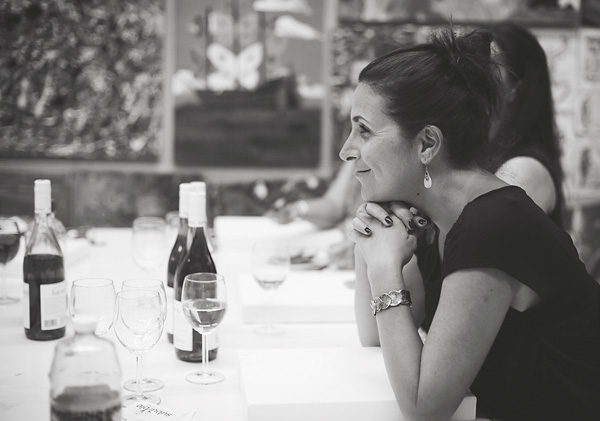 When we weren't painting and comparing brush technique, we were talking. Bloggers are great for being an overflowing fountain of words – and more often than not, they're also great for conversation. The room was loud with chatter and laughter.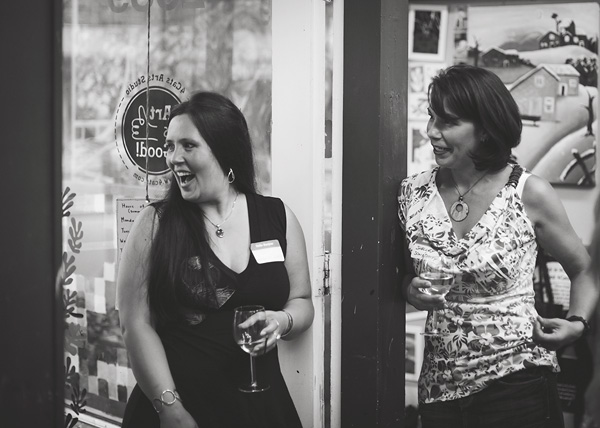 It was a friendly and warm atmosphere: an environment that I felt privileged to be a part of.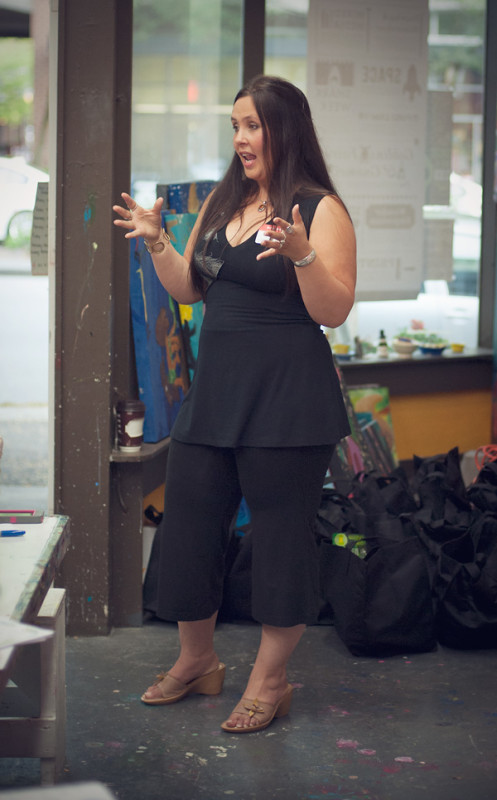 One of the goals that Crystal and I have set for our events is to showcase creative and talented people – they share their stories and their inspiration for creating.
Sky, from Mandala Sky Clothing, spoke to us about how she started her (multiple!) companies, and the dream she carried with her for years. She designs gorgeous active wear that is flattering on so many different body types.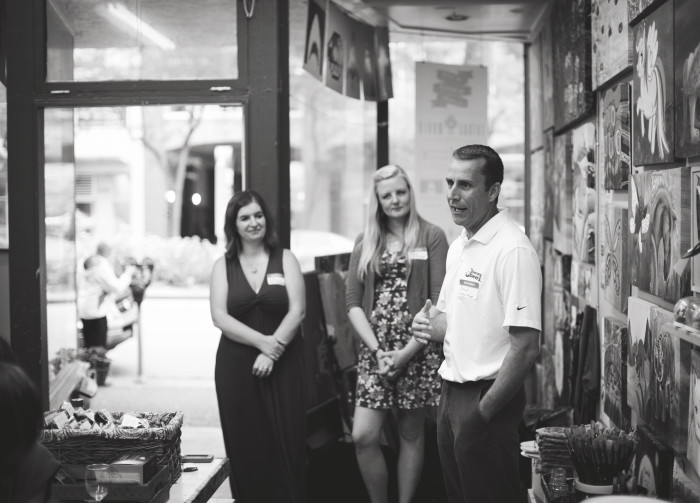 Deland, from Counting Sheep Coffee, spoke to us about how a conversation with his wife about coffee (she loves coffee at night, but had trouble sleeping), resulted in the creation of a coffee that actually causes you to be sleepy. He spoke about how he started his company and landed a deal on Dragon's Den (the Canadian version of Shark Tank).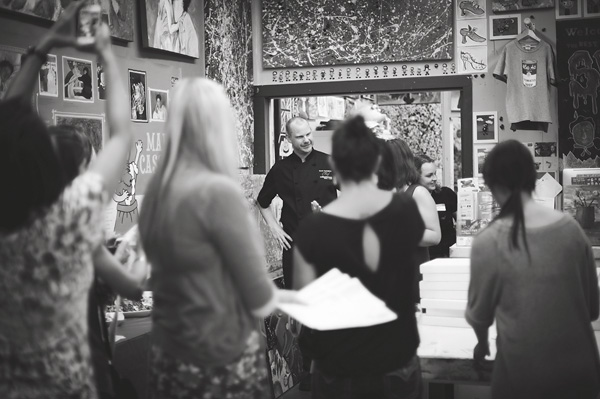 And then, we were treated to another presentation – but this one was to inspire our tastebuds. Milestones on Robson provided us all with a sampling of their decadent and beautiful fall appetizers.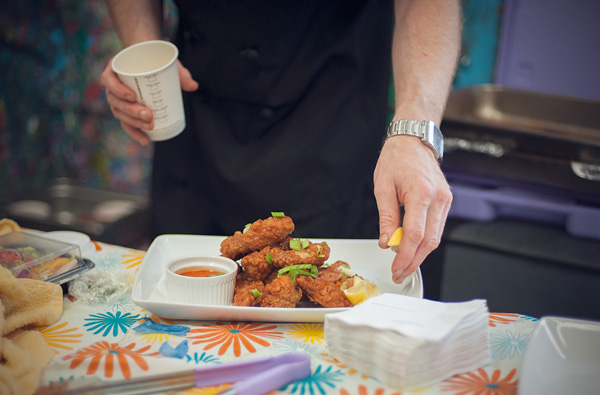 We nibbled on some delicious fare.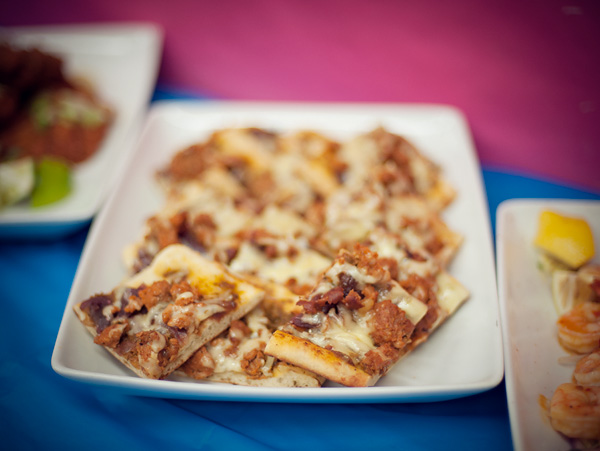 It was the perfect spread of appetizers for a gaggle of women to sample while we talked and laughed and drank.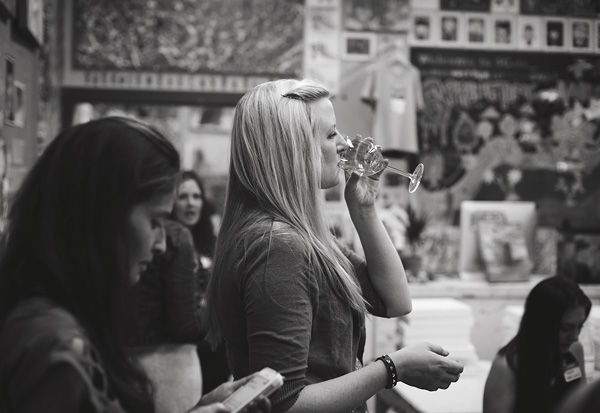 We sipped on Haywire wine – both the rose and the pinot gris – while we picked up our paintbrushes and got chummy with our neighbours.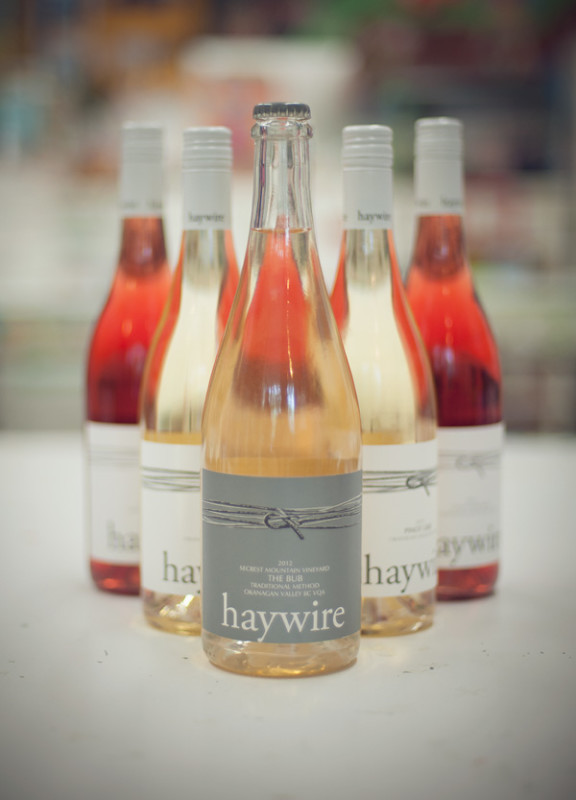 There was even a bottle of Bub to give away!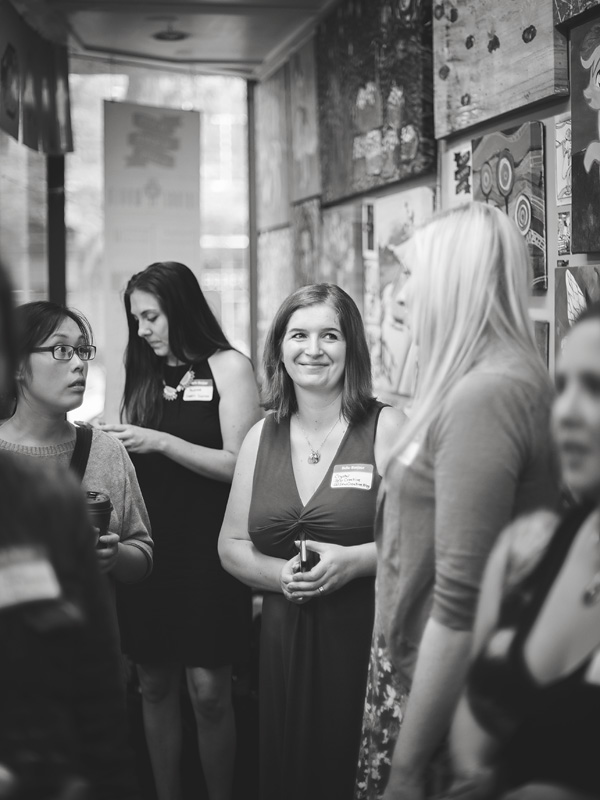 The evening slipped away quickly, filled with colourful chatter and paint – and when it was all over, I wondered how the hours had gotten away from me. There was so much more to talk about!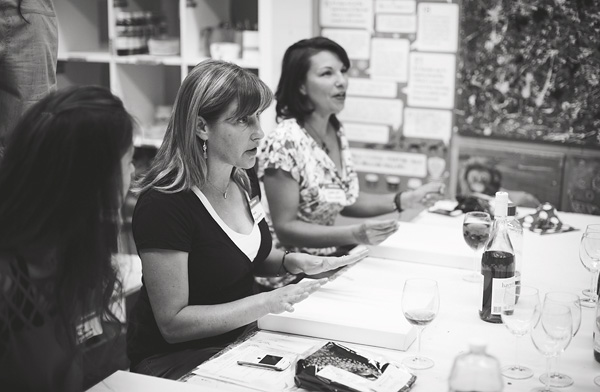 I feel very lucky to have met and spent the evening with these women. I always feel so invigorated after our events. It's as if I absorb their energy through osmosis.
And as each attendee hugged and exchanged email addresses, Crystal and I handed them a bag. We had some truly wonderful sponsors for our swag bags: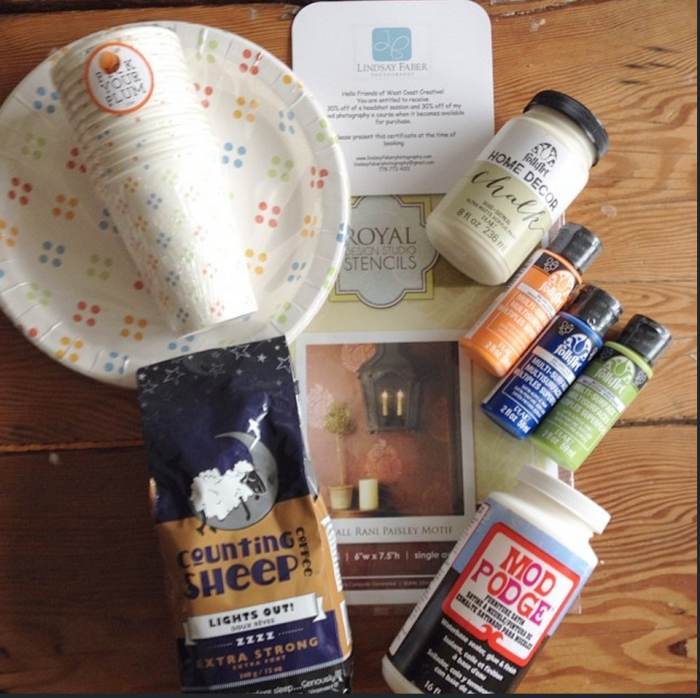 Adorable picnic ware provided by Pick Your Plum – Stencil from Royal Design Studio – Chalk and Acrylic Paint from Folk Art – Mod Podge Furniture from Plaid Crafts – Lights Out coffee from Counting Sheep Coffee
And Sky sent every gal home with a custom designed Mandala Sky t-shirt. Such a generous gift.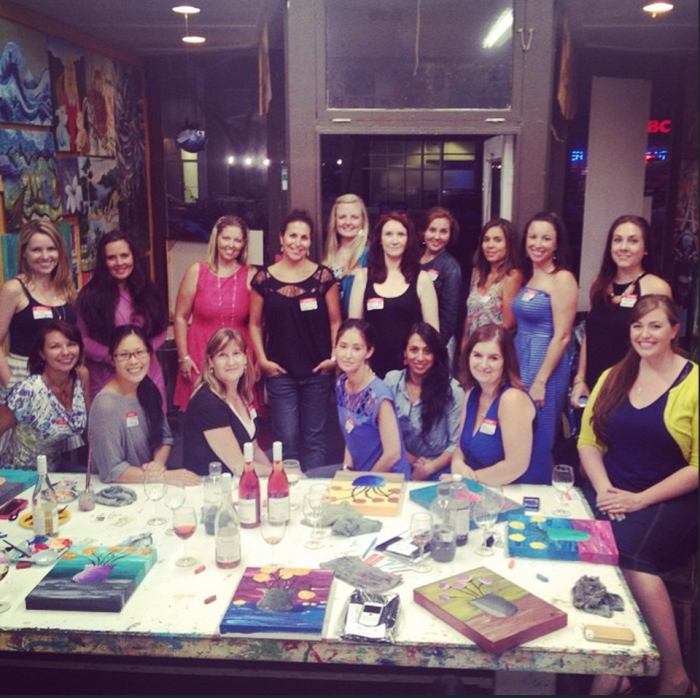 I invite you to meet the attendees of our 2nd West Coast Creative Company event. Head to the links below and get to know them!