Huge huge thanks to Delta, who provided us with our fancy porcelain thrones. All that aside, all words, thoughts, and potty-talk in this post are my own. As always.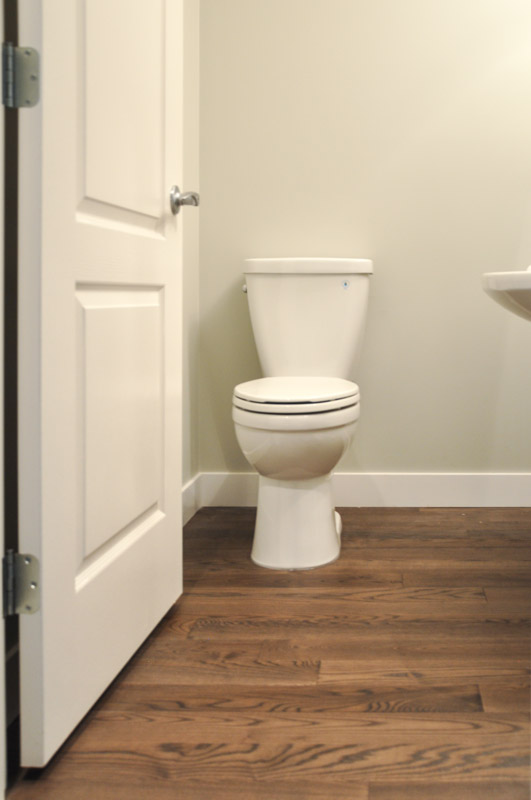 When Mr. Suburble and I first started renovating (back at our old house, almost 8 years ago), we tackled our bathrooms. We went into Home Depot and bought a low-flow toilet, without really even thinking about the specs.
How do you shop for a toilet? Don't you just decide on the looks of one, and then drag it onto your flat-deck trailer/cart/giant orange toilet-dolly thing?
No. You don't.
If you've purchased or used a low-flow toilet from years before, you'll know – not every toilet is created equally. Here is where I have to jump in – you may be asking: am I really going to talk toilets on the blog?
Yeah, I am.
Have you ever been a guest at a house, and the toilet is a bit…. *ahem*… inefficient? You try to flush again, but oh NO… it's the pathetic swirl of death. The tank hasn't filled up and now you're forced to wait while you listen to water trickle into the reservoir. Now you are the person who is spending WAY too much time in the bathroom.
Thank you, terrible low-flow toilet, for that stress. Why can't you flush reliably?
You had one job.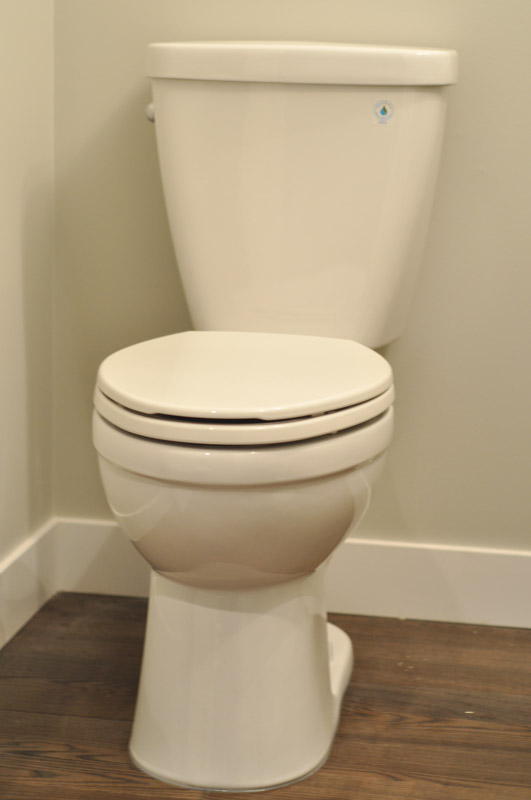 Delta – the people you know for faucets and bathroom fixtures – have created two toilets that are now available at Home Depot. We are lucky enough to have one of each in our house. This fancy little guy – the Prelude – is in our powder room. He meets all of the criteria for being a good toilet.
And before you go out and hastily grab a giant box o' toilet and heave it on the cart, consider these criteria for a good, loyal toilet. One your guests will love.
5 Things To Look For In A Toilet
1. The flush
A low-flow toilet is better for the environment, your water bill, and can sometimes get you a rebate with your municipality. But in the case of Original Low-Flow, the flush is pathetic and embarrassing.
You need to consider the Maximum Performance (MaP) of a toilet. Typically, 250g of waste is the minimum standard to be moved in a single toilet's flush.
Really, your toilet should have a rating of 1000g of waste per flush. Let's get real, guys. You don't want to double flush. And you do NOT want a clog.
Both of our Delta toilets – the Prelude and the Corrente – have flush ratings of 1000g. They're serious about their jobs.
2. The bowl
Do you have room in your bathroom for an elongated seat? The round seated toilets will take up less space, but the elongated seat is comfier. Think about your space, and then how important it is for you to feel good while you're having that five second break from the kids.
Just kidding. You know the kids will just burst into the room anyways.
3. The height
Speaking of comfort, taller toilets are also a more pleasant seat than their lower counterparts. Delta toilets are taller than average without a designer price tag; it's a really nice feature. Standard height is 14-15″, and chair height (which is the taller throne) is 16″-17″. If you have back or joint issues, a taller toilet will make a difference.
4. Ease of Assembly and the Accessories
When you install a toilet, you need more than the tank and bowl to get things started. You also need water lines, a wax ring, a wrench, and a toilet seat. All of these things are typically purchased separately from the toilet and are tacked onto the bill.
Delta toilets are an all-in-one deal, right down to the wax ring. Open up the box, and get that baby set up! Each toilet comes with: tank and bowl, toilet seat, wax ring, installed no-leak tank bolts, mounting hardware, installation multi-tool and instructions.
It's pretty awesome. You can't get home, start unwrapping your fancy new toilet and realize, "I forgot to buy the wax ring! ARGH!"
Nope. Won't happen.
5. The price
Toilets can start at bottom-basement prices right up to designer-and-pricey. Some of the fancier models can cost hundred and hundreds of dollars. But for the same flushing power, height and comfy bowl, you can get a Delta toilet for the price of a less-efficient swirl-of-death model. The Prelude is $189 and the Corrente is $240 at Home Depot. They're pretty affordable! (Especially when you consider all of the accessories you get as well!)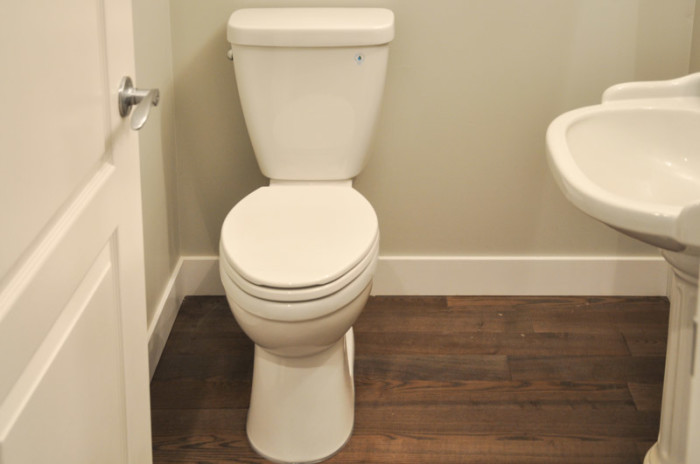 All of that awesomeness aside, I'm really happy with our toilets. When I tell them to flush, they flush. Every time.
They're pretty. And they aren't wimpy. And that means a winner in my books.
And yes, I just wrote a whole post about a toilet. That's what renovating means to me. It means all of the details – right down to the flush.
Tell me honestly, guys, have you had a terribly sad excuse for a low flow toilet? Have you had to deal with the swirl-of-death?
I get nervous just thinking about it….