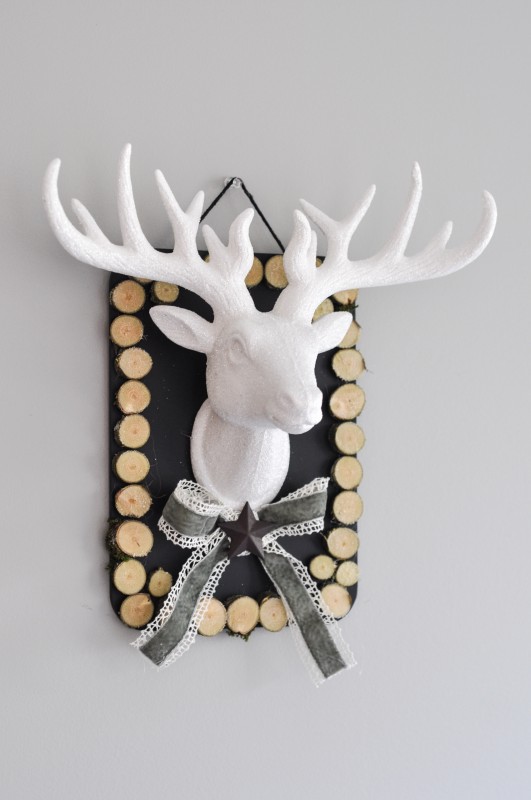 Once upon a trip to Walmart, I found a styrofoam stag head in the Christmas section.
He practically leapt into my cart. I swear.
I left him in the craft room for a while until just this weekend. His destiny was realized the moment I started making wood slices.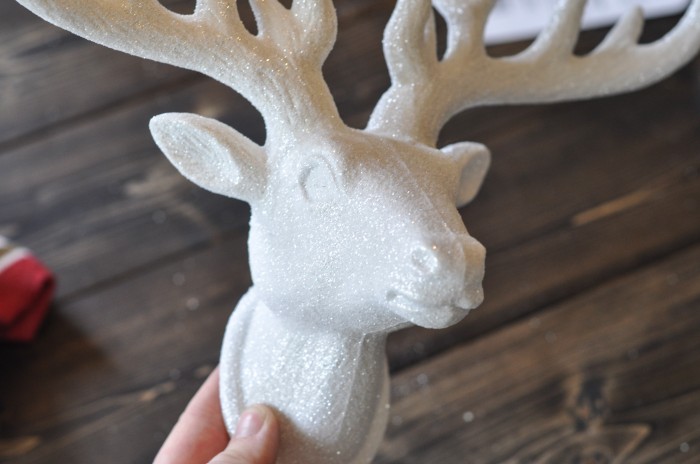 He's giving some serious side-eye in this picture.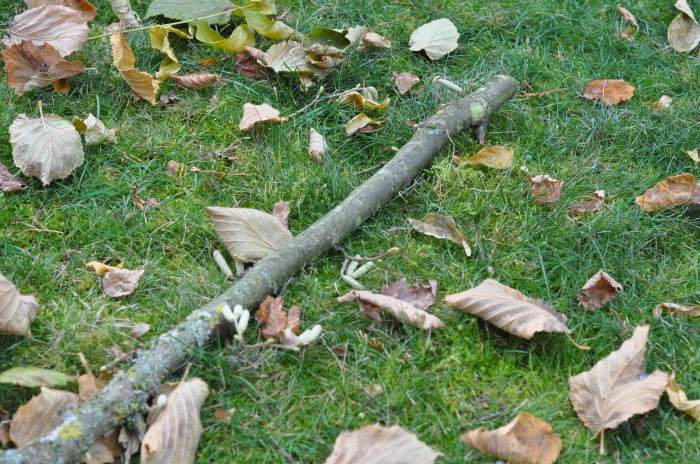 A year ago, I made wood slice magnets. Krista from The Happy Housie had her husband slice the wood up, and then sent the slices to me. She's a doll. Who does that!??! For some reason, I had convinced myself that I was unable to make my own wood slices.
I can use a circular saw. There really isn't a reason why I couldn't slice up my own slices. There was plenty of wood just being lazy and hanging out in the backyard right now.
I found a twig – well, a branch, really – sitting, unsuspectingly, on a the tree he was attached to. Thankfully, he was willing to sacrifice himself in the name of wall art.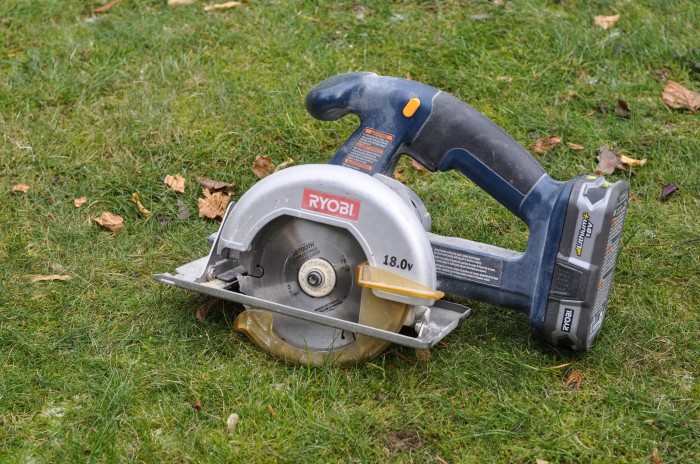 I got out my Ryobi Circular saw. This little guy is a workhorse. I knew that he would do the job.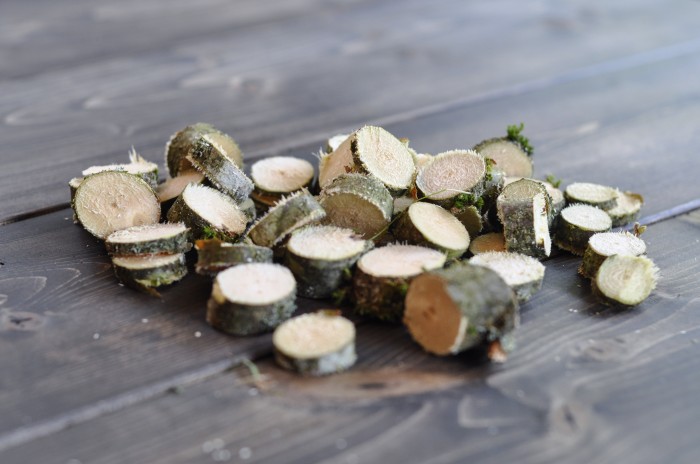 … and he did. In a matter of minutes, I had a pile of little wood slices. They varied slightly, but were about 1/4-1/2 inch thick. I loved the little knobs and mossy bits on the slices. I wanted that to stay.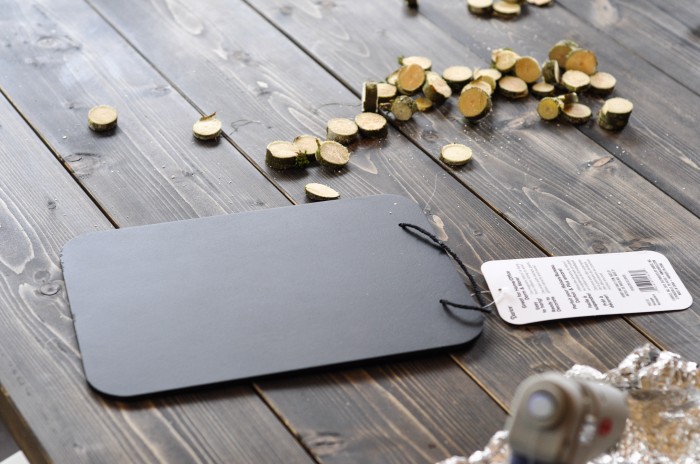 I grabbed this chalkboard plaque and immediately envisioned a wood-slice border. I thought about having this as a message board, but then that stag head starting staring at me.
He wanted to show off. So I let him.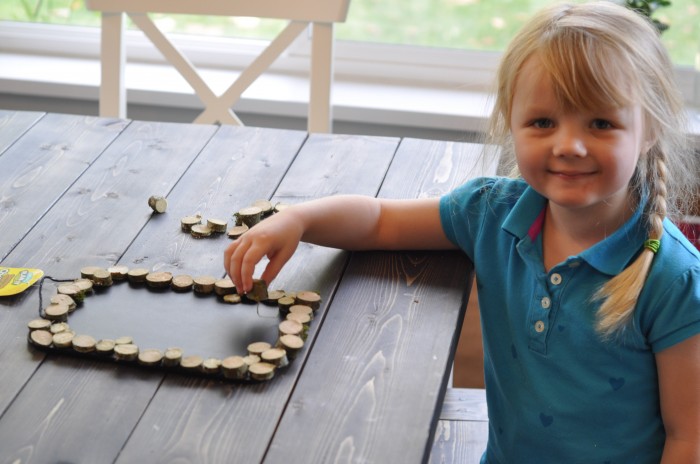 My helper was instrumental in the design portion of the project – Lucy decided where the slices were to go. We mapped it out before I broke out the glue gun.
I will admit – I had a minor incident at this point. I wasn't paying attention and put my thumb into burning hot lava glue.
Pro tip: Don't put your finger right into scorching hot glue. You'll get a big white blister, and it will completely ruin the crafting buzz you have going.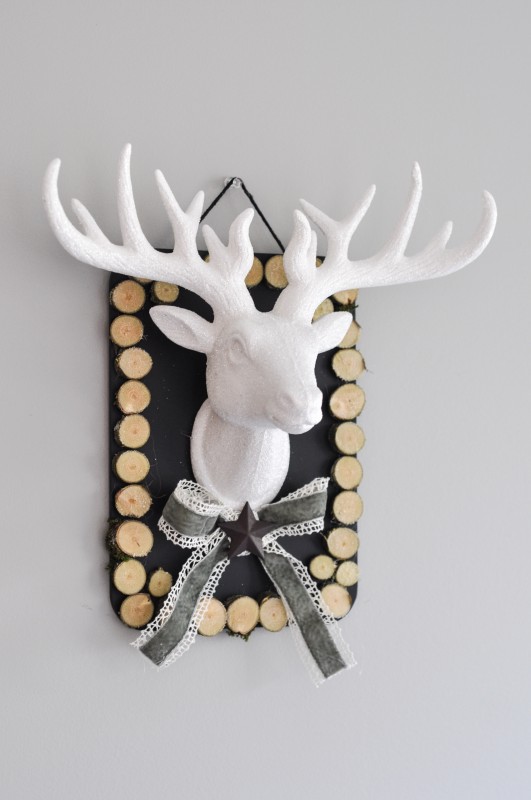 Wounded thumb aside, the rest of the project went of without a hitch! The little stag now sits proudly on the wall! Isn't he noble?
I added a little velvet and lace bow (made from the fabulous May Arts ribbon) topped with a tin star. I feel like he's rustic, yet fancy.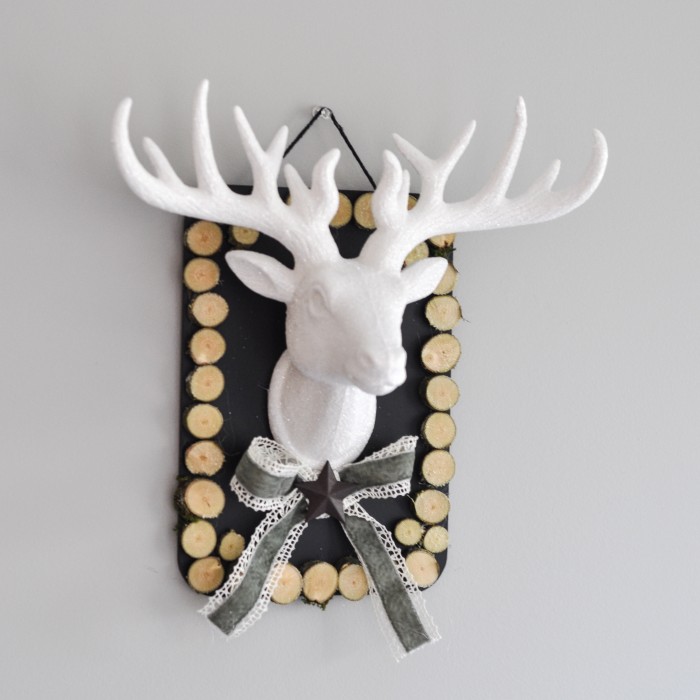 It's kind of how I like to do Christmas – a little bit country, and a little bit dressy.
And now I can make my own wood slices! Watch out, handmade Christmas gifts – things just got real!
If you're hankering to make more Christmas decor with your power tools, check out the sled that Virginia from Fynes Designs created!
It cost her less than $10, and only involves using the Ryobi jigsaw, brad nailer, and drill!