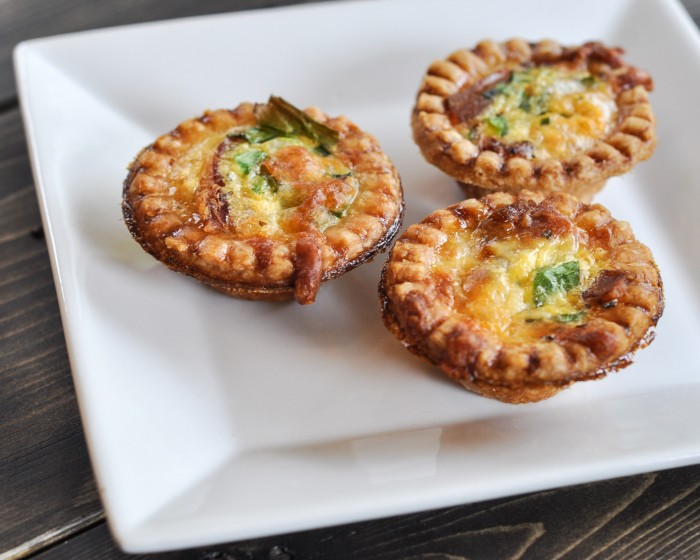 Both of the girls have always been interested in things-happening-in-the-kitchen. Whether it's baking, cooking, making a mess, or clinging to my leg, they've never seemed to lose their thirst for kitchen-events.
And more recently, Lila has become obsessed – absolutely OBSESSED – with learning how to cook. We PVR "Master Chef Junior" every week for her. She watches it hungrily, often commenting on the food, the ingredients, and most often, the chefs and their ages.
She asks me, "Do you know what I want to be when I grow up, mommy?"
"I don't know… what?!?!"
"A chef…. and a rock star."
Both very good careers. I may slightly prefer one over the other, but I won't let her know that.
Mr. Suburble and I talked about perhaps getting Lila into a children's cooking class. She took a cooking camp over Spring Break and still talks about it. I hopped onto the Google machine and started researching.
Google told me that cooking classes were out there! They were helpful and hands-on and….. for children 8 years old and up.
I closed the laptop, disappointed. She had to wait three years? What if the excitement had worn off by then? Even if she eventually loses this curiosity surrounding food, this was the time for her to explore it. Her passion was there, and her brain was absorbing everything at rapid pace.
Plus, cooking is a life skill. Whatever she learns, she will use every time she walks into a kitchen.
Welp, there's more than one way to skin a kiwi. I decided if we couldn't go to cooking class, then cooking class would come to us. We were going to have hands-on cooking lessons in our house. It would be a small class of two eager pupils. And the teacher (or mother) would put on her very best patient pants before every lesson.
We started with quiche. In miniature.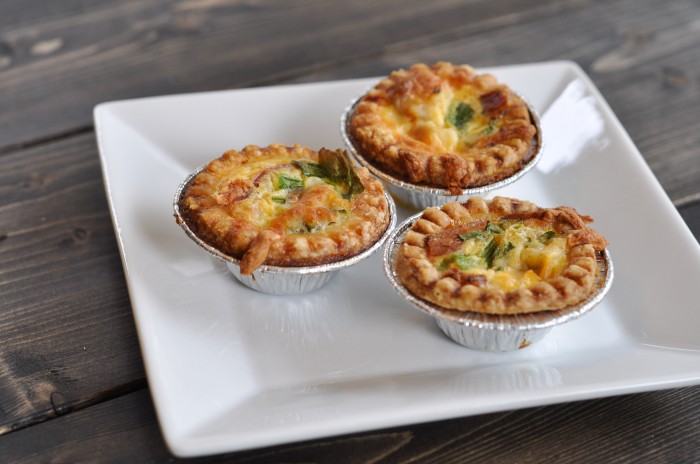 I was immediately drawn to mini quiches for two reasons: they're adorable and small, like children are, and they're also a perfect recipe for the coming holiday season. Mini quiche are such a hit at gatherings.
It must be the bacon.
Mini Quiche
2014-11-20 00:18:20
Ingredients
4 eggs
1 cup milk
1 cup shredded cheese (We used Tex Mex cheese)
5 slices bacon, cooked and crumbled
3 or 4 green onions, diced
Salt and Pepper to taste
30 frozen mini tart shells, thawed to room temp
Instructions
Preheat oven to 375
Thaw the mini tart shells and place into mini muffin tin
Pierce crust with fork (to prevent rising)
Pre-bake tart shells for 5-8 minutes, until lightly browned
Remove tart shells and set aside to cool
In bowl, mix eggs, milk, and salt and pepper - put aside
In each tart shell, sprinkle bacon, green onions and cheese, leaving a little room for the egg mixture
Pour in the egg mixture until just slightly below the edge of the crust
Bake quiches at 375 for approximately 25 minutes
Set out to cool slightly - serve them warm or cold
Notes
These are great frozen as well! Just cook them in the oven for approximately 20 minutes, until they are hot in the center.
Suburble https://www.suburble.com/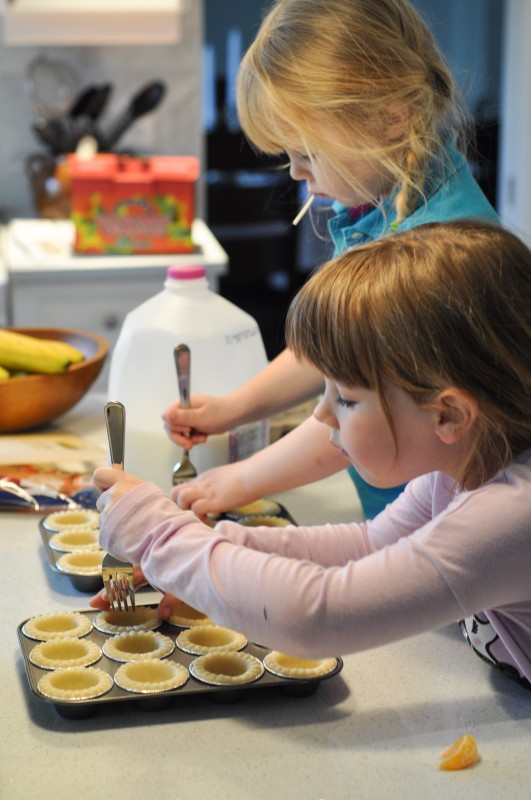 We "blind-baked" the crusts – meaning that we pierced the crusts with forks and then pre-baked them before filling them. There was talk on the internet of putting beans in each crust, but I quickly put an end to that.
Lucy rocked the sucker hanging out of her face for most of our cooking adventure. I think she was going for the "devil may care" preschooler look. I've also noticed an abandoned orange slice in many of the pictures.
This is our reality, people.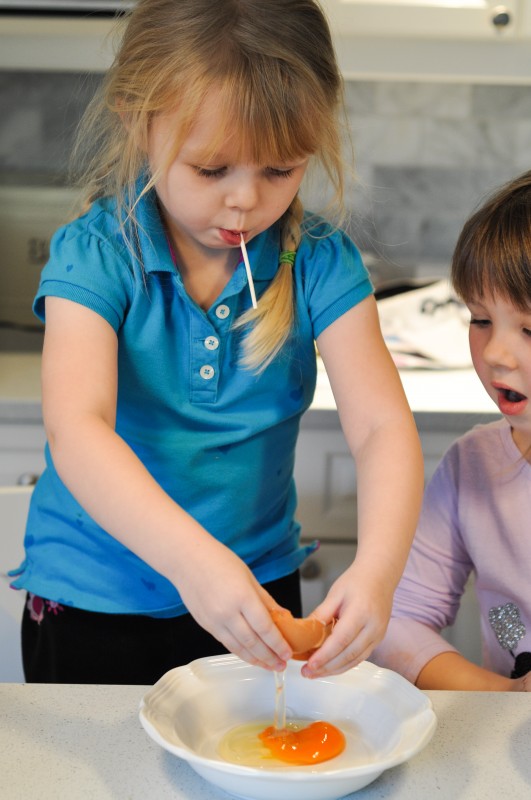 Lucy cracked her very first egg. Lila's face says it all.
They both insisted on washing their hands between each egg-cracking.
Kid Tip: To crack an egg and avoid having shards of shell in your recipe, have them crack their eggs into a separate bowl. Also, teach them to hit the eggshell on the flat side of the counter, not the edge. Hitting the egg directly on the top of the counter will cause the egg to cleanly split down the middle, and won't push shell into the yolk and whites.
If shell DOES get into the egg white, use a piece of the larger eggshell to fish it out. The shell will stick to itself, and you won't have to fish around in goo for a tiny little speck.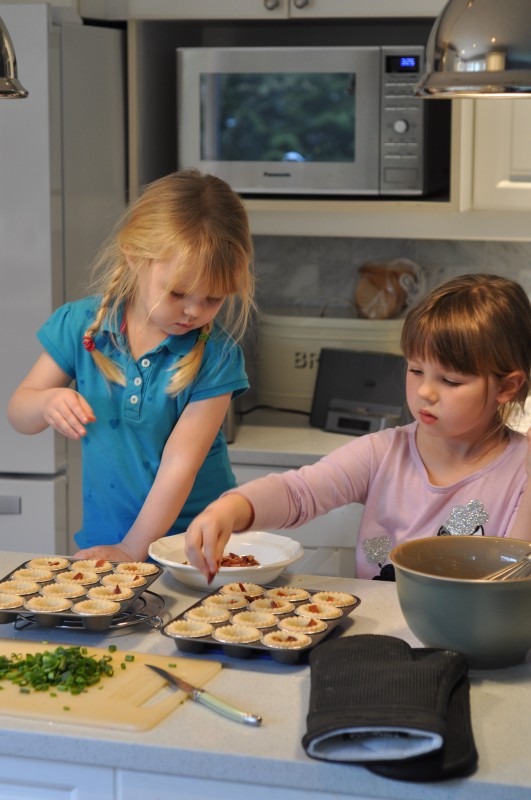 The filling was quickly distributed to the shells and then the tricky business came…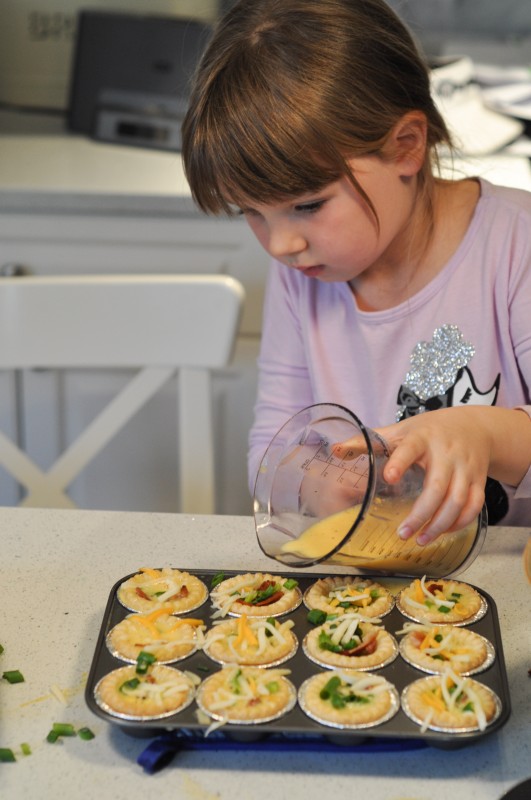 Lila maintained her steady hand as she poured the egg mixture into her quiche cups. She was quite proud of herself once she'd finished.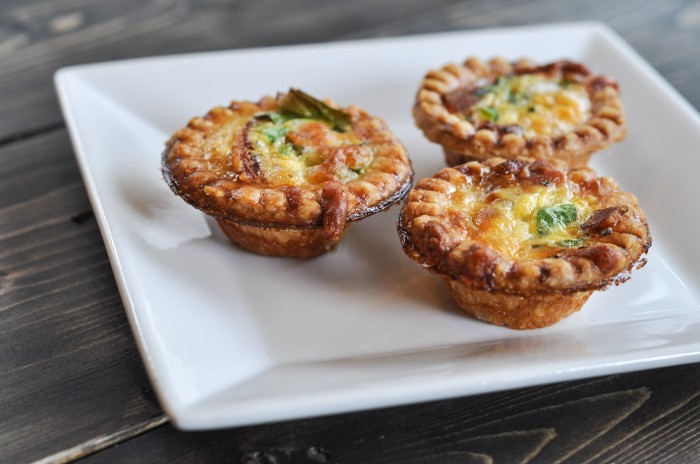 And after 25 minutes in the oven, the mini quiches were done! They were delicious right out of the oven, and just as good the next day.
I won't lie, I may have had a couple for breakfast.
The girls were thrilled with their "grown-up" recipe success, and were itching to move onto the next recipe.
I can't promise that I will always have a Kids Can Cook recipe every week, but I will try to post them on a regular basis. Lila is just desperate to try her hand at everything to do with cooking, and hounds me to let her help with my meal prep.
I can't deny her enthusiasm. It's time to harness it.