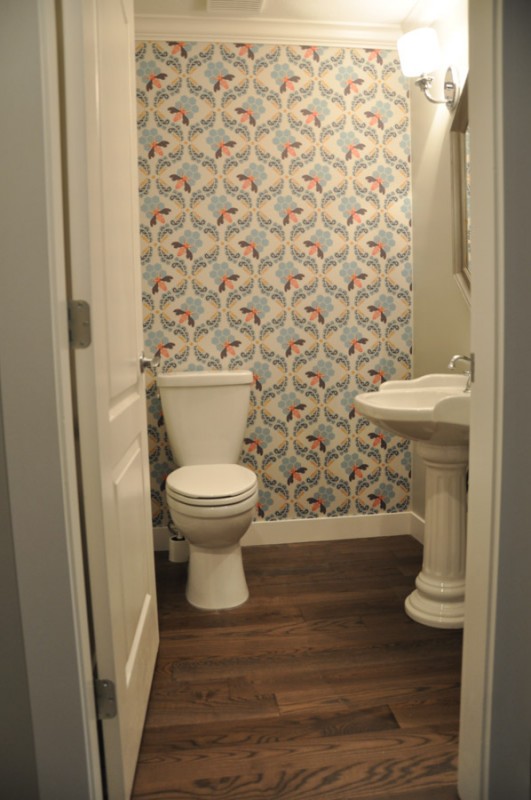 Wallpaper is something that daunts many people, not excluding myself.
I sigh over pictures in magazines with accent walls. I flip through sample books whenever I might be near one.
But it was always the installation and the finicky paste/glue/mess/oh-my-god-am-I-going-to-regret-this? thing that held me back. Wallpaper seemed so…. permanent.
I'd seen the design shows. I know all about steamers and scrapers and sweaty brows. Wallpaper was serious business.
Then I learned about this awesome product called Wall Appeals by Wallternatives. It's wallpaper that you can stick on, but then take off – whenever you need to.
I know. It's crazy, isn't it?
I chose the Bee Sweet Bonnie Christine Wall Appeal panels. I loved the colour combination, and the fact that there was a bit of drama happening.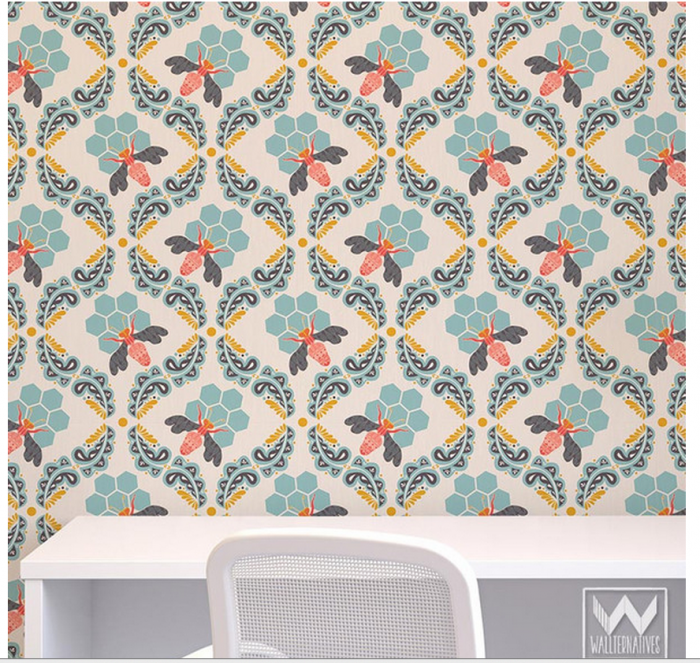 Each panel is 2′ wide by 4′ high. They're self-adhesive panels and can be peeled right back off of the wall at any time.
It's totally wild. I couldn't believe that I was putting up wallpaper. By myself. With my children at home.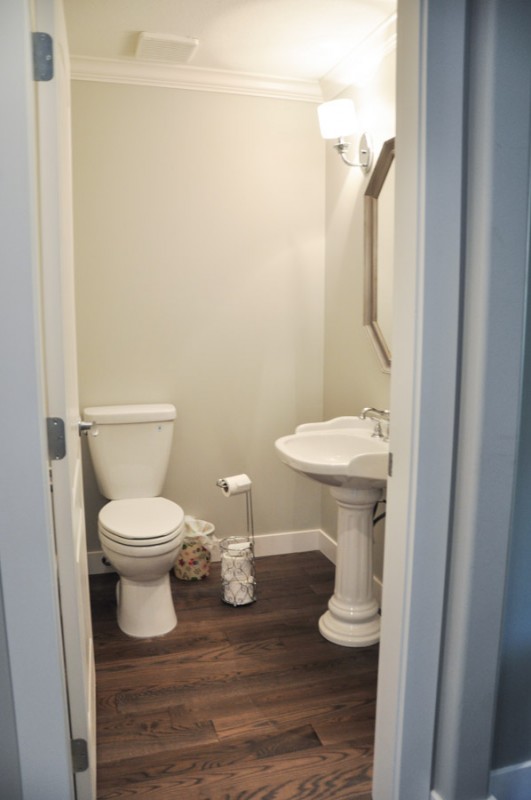 The room I chose to gussy up was my powder room. It's a small, basic bathroom just hanging out on our main floor. Aside from our floors (which I looooove and I should write about soon), there's isn't much in the way of colour.
It's just a bunch of wall.
And toilet paper.
Don't you feel like that picture is just yelling about the TP? At least you know we have plenty of it, if you're coming over for a visit.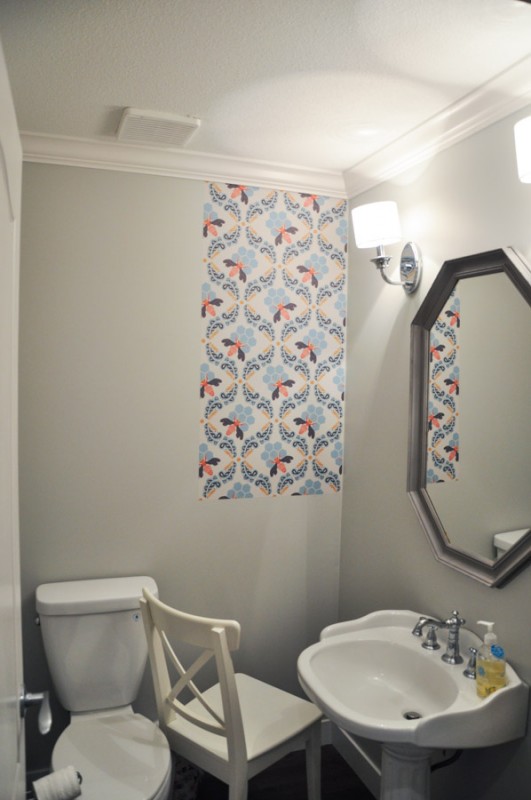 I decided on one rainy day that I was going to hang the wallpaper. The children were being unusually independent. It was time to gussy up the bathroom.
I grabbed my Wall Appeal panels, a chair, and my box cutter. Kadie, my dear bloggy friend at Seven Alive, wrote that she used a paint stick to get the air bubbles out of her own Wall Appeal panels, so I hastily grabbed one of those, too. (Good tip, Kadie!)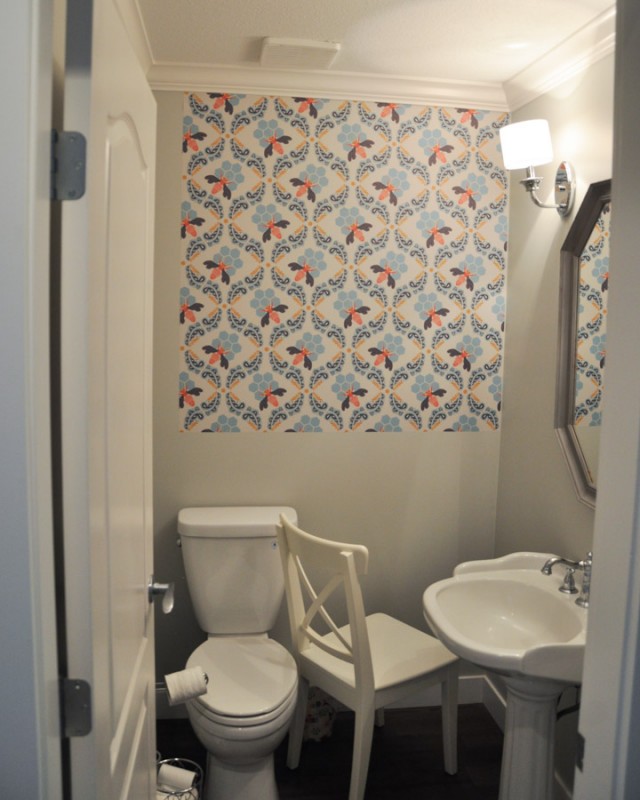 Because the panels are 2X4 feet, the room came together very quickly. And because I love me some instant gratification, this was fabulous for me. I was wallpapering, people! Isn't this amazing?!?
The trouble with having only small children at home while you're doing projects like this is that nobody can photograph you doing something as awesome as wallpapering your bathroom. So… just imagine me in there, smoothing out bubbles and being medium-to-very-awkward over the toilet.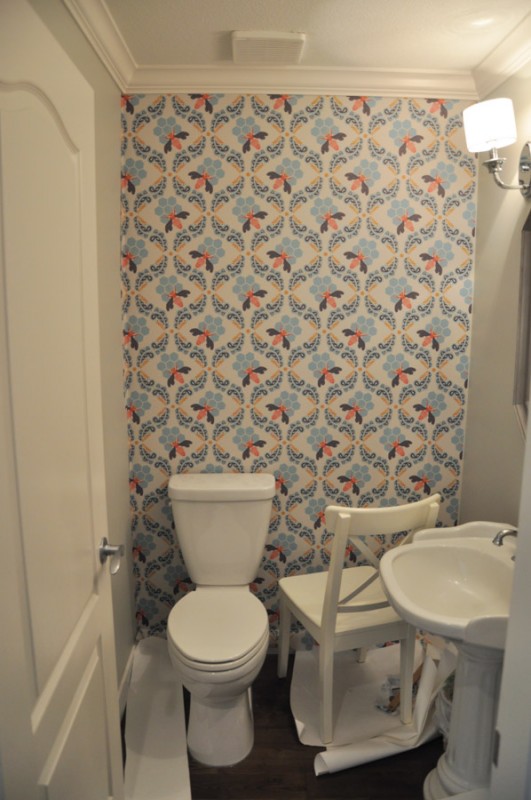 When Mr. Suburble came home, he did a double-take as he walked past the bathroom. "Whoa! What happened here?!?"
It's an amazing impact. I've had so many comments and gasps as people walk past the bathroom. And when I show them that it's really just giant wall-stickers? Ones that don't damage the wall?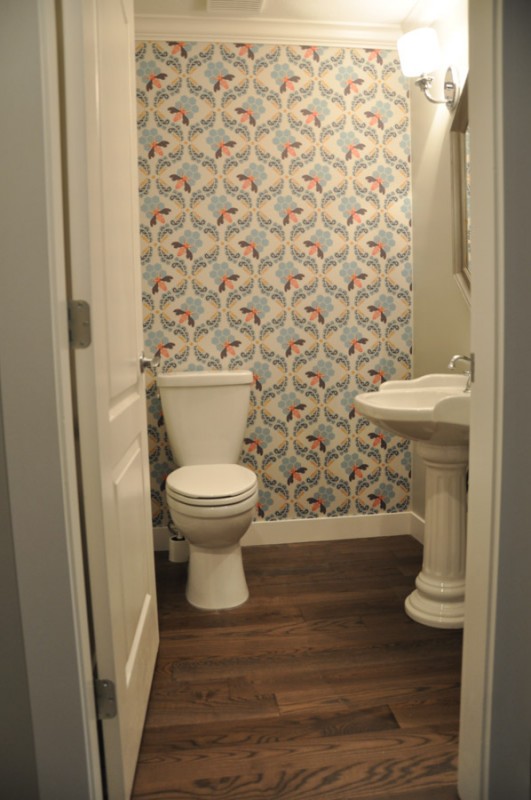 People are incredulous then. No scraping? No permanency? No risk?
Nope. It's easy. And you can do it in about an hour.
Head to the Wallternatives website to see all of the other amazing patterns you can choose from (or decals, if that's more your thing).
But before you go, a question: would you hang a picture, a mirror, or a picture rail on this wall?
I'm leaning one way, but I'm curious what YOU would do.