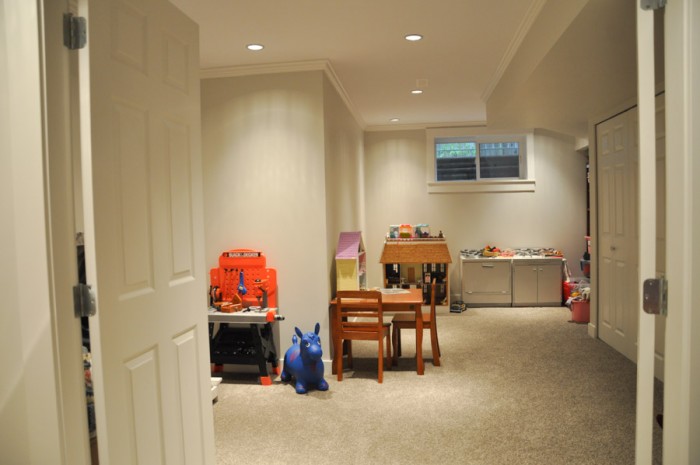 Where we are right now…
I know it's been a while since I brought up the basement. When I last showed a picture of the basement, it looked like this: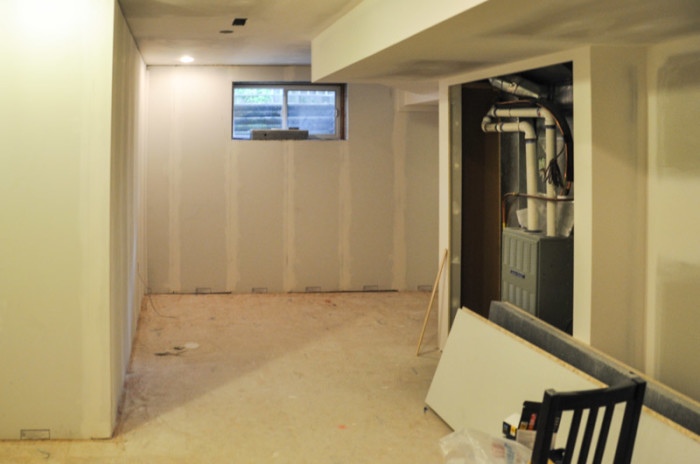 We had just finished putting up the SMARTWALL and were heading towards the finishing portion of the basement.
And it was a blur. A frenzy of paint and carpet and trim and decisions that all needed to happen at once.
I look back and think, "Wow. We finished a basement. That is CRAZY."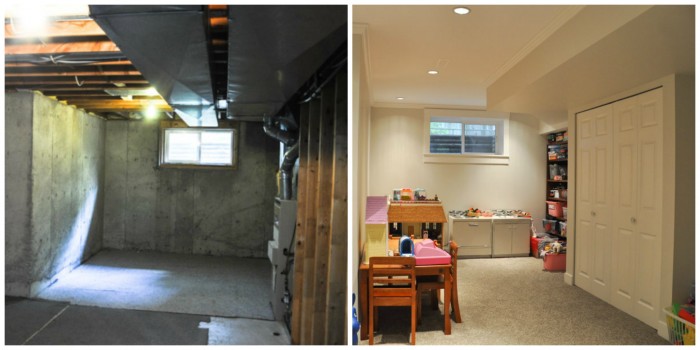 And when I say WE, I mean, me, Mr. Suburble and a whole bunch of other people who came in and brought their skills with them.
What we did right #1:
At the time that we were finishing the basement, we were also doing a LOT of work in other areas around the house. We were still living with my sister-in-law and her family, and we wanted to move in before the school year started. There was a deadline looming over our heads.
We relied on bringing in skilled tradespeople to help us get things done properly and on time.
I don't regret the money spent at all. We were in a pinch (of both time and sanity), and this got the job done WAY faster than if Mr. Suburble and I had done it entirely by ourselves.
We were able to DIY what we could, but when it came to electrical, priming ceilings, and crown moulding, we knew that bringing in the trades was going to save us grief.
What we did right #2: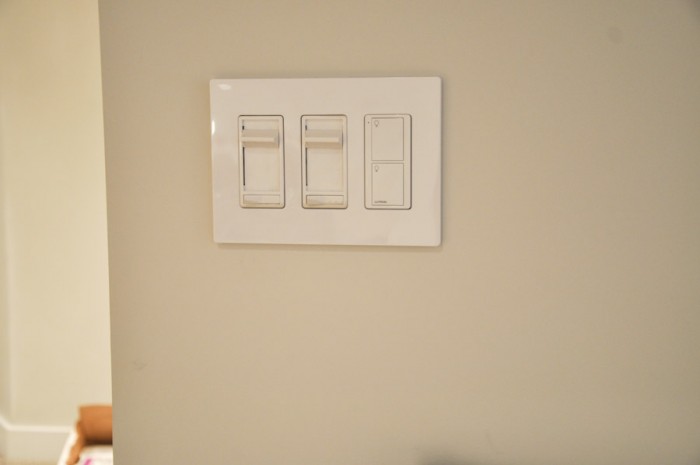 With the help of our electrician, we installed dimmers and a remote switch in our basement space. This way, we can dim the lights for movie or TV watching – or leave it full-tilt brightness when the kids are downstairs.
We installed a LOT of potlights in our basement – 25 pots in three rooms, not including the two we put in the bathroom – mostly because I wanted it to be a light and bright space. The dimmers allow us to have control over the amount of light depending on what's happening in the basement.
This is great for sleepovers in the playroom. Kidlets can sleep in a dark – but not pitch black – space.
The remote switch is genius, and it was all my electrician's idea. Our playroom is off of Mr. Suburble's man space. If I pop downstairs to make sure the lights are off, I can turn the playroom lights off at the doorway of the man room (it's the switch on the far right). This is SO wonderful. We didn't have to run any new wires to do this – it's essentially a remote control that talks to his friend in the playroom.
I want these all over the house. Having a "command center" for light switches near the entrance to the basement has made it much easier to quickly shut lights off as we leave the room or head to bed.
What we did right #3: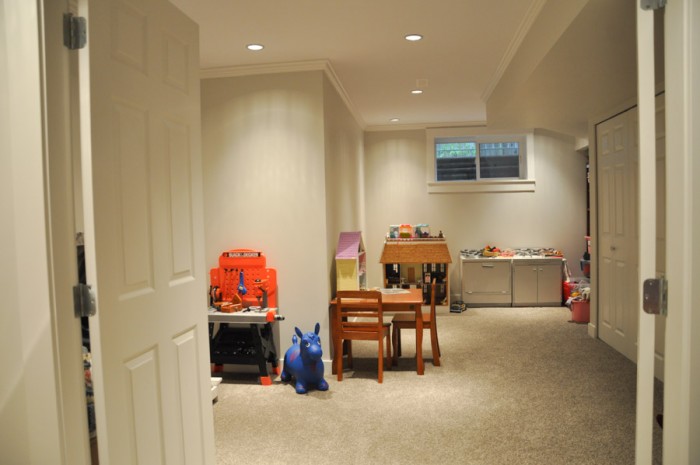 We broke up the spaces between the playroom and the man room with double doors. This was one of our contractor's suggestions. We thought about doing a barn door, but it was cost prohibitive… (well, unless I DIY one in 2015, which is entirely possible). We could have gone with only a single door width, but having the double doors creates a very open feeling to the space. Kids bounce back and forth and it's unnoticeable that you're walking through a doorway.
What's even better is that the doors can be closed – whether it's for sleepover visitors, or simply to hide the chaos of the playroom.
I have many dreams for this playroom, but right now, it's doing okay. I think I need to hit the aisles of IKEA and get serious about shelves and benches.
What we did right #4: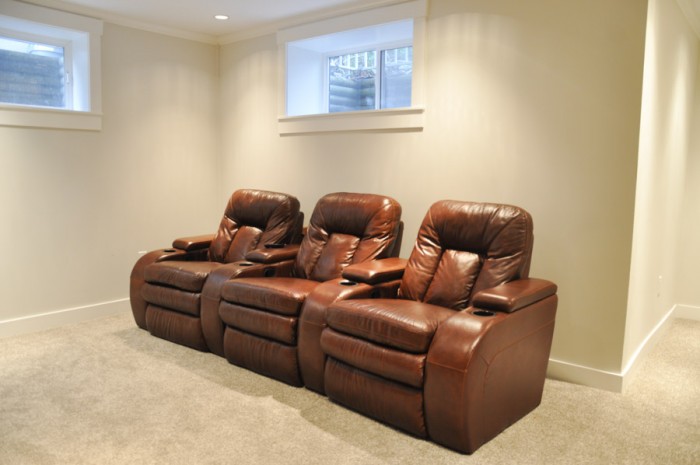 We framed out the windows with casing on the sides and bottom of the windows. This gave the appearance of a MUCH bigger window in the space.
For reference: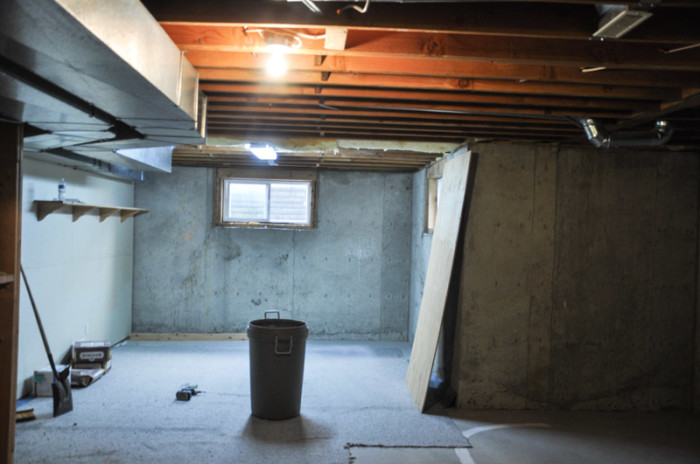 This is the man room, pre-renovation. You can see that the windows are not all that big. By framing them out with 3″ casing (and a thicker, larger 4″ header), we gained the appearance of a much larger window. The sills were created/finished with pieces of meddite board and then cased with trim. A few coats of paint and voila! Fabulous windows!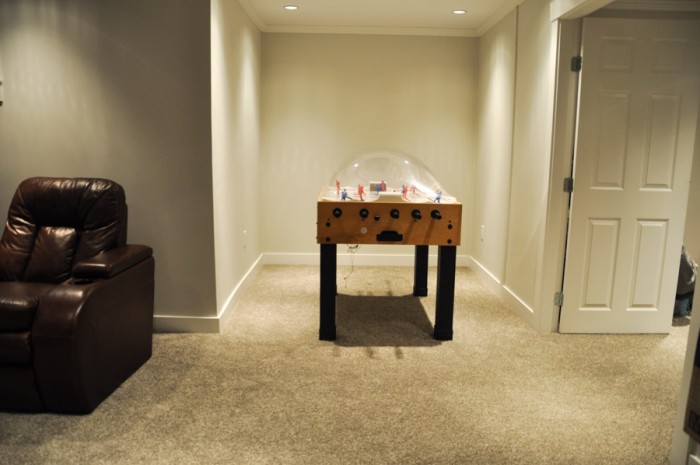 The little nook in our basement has become the home for Mr. Suburble's bubble hockey game. He's had this game since well before we had the girls. I'm so happy that he gets to have a man space again.
And did you get a load of that couch?!? That is strictly a MAN ROOM couch. It's incredibly comfortable and was an absolute steal on Craigslist. Perfectly fine for times when you need your couch to have a cup holder – if there are those times, ever. But in this house, it lives downstairs. Never a living room or family room couch will it be.
What I would change: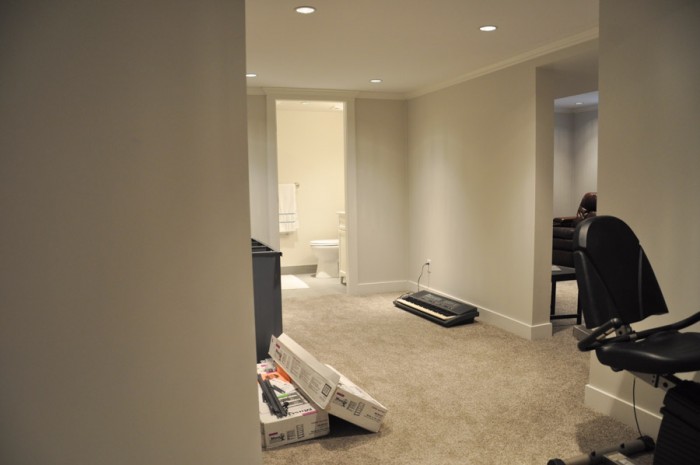 When you come down the stairs, there is this space (excuse the shelves and the keyboard, there's some creativity happening here). The original layout of the basement already had this funny little nook. The original owners had lined the walls with shelves and used it as storage.
We knew we wanted to put a bathroom downstairs (that adventure is going up on the blog very soon!) and every single person that walked through our unfinished basement said, "It should go right here."
The bathroom was put against a wall, at the end of the weird storage room-place.
Now, after having finished the basement and lived in it, I wonder why we didn't move the bathroom up to meet the entrance into the man room. We could have created a storage room behind it (with access through the man room).
It's not a huge deal, but we now have this flex space in the basement that doesn't have a defined purpose. And being a self-acknowledged lover of the hoard, any storage space is welcome into my life.
It's hindsight. And all renovations have that. But for those of you who are just starting a basement renovation, I say, slow down, and think about what the purpose is behind every space.
If it doesn't have a purpose, give it one, or find a better arrangement.
I've come up with some really great ideas for the space, and I can't wait to show them to you. But there is that nagging feeling in the back of my mind that says, "Storage rooms are pretty nice. Did you know that storage rooms can hide all of those things you find on the side of the road. Mr. Suburble would never know….."
That one small hiccup aside, the basement renovation has been a smashing success. From the scary cement walls, to installing the DRIcore subfloor, the SMARTWALL and finally the finishing touches of paint, carpet and trim, it really went rather smoothly.
And now there is a place to house toys, hockey games, and guests. It's been the dream since we got the keys to this place – a finished basement!
It's not done yet. This is very much an in-progress post. There is decorating and pictures and shelves and curtains…. but we're getting there.
Source list: Wall colour: Intense White – Benjamin Moore | Carpet – End of the Roll | Subfloor: DRIcore Subfloor | Wall panels: DRIcore SMARTWALL |