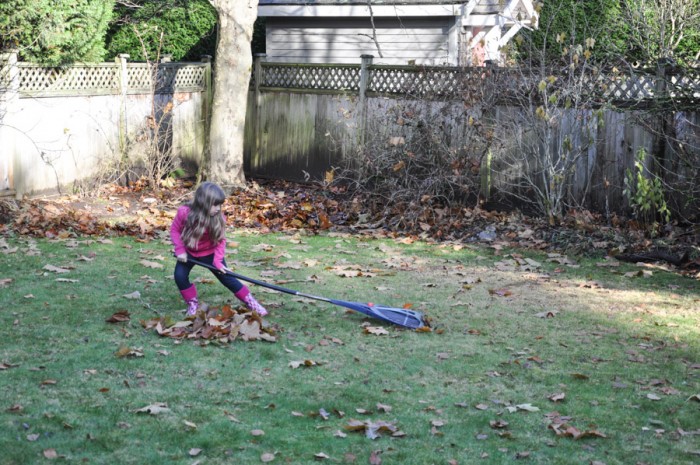 Where we live, Winter takes a long time to come around.
Fall shows up in a big dump of leaves. The trees suddenly want to be naked, so they shake off every. single. leaf. they've ever grown.
And they chuck them on my back lawn.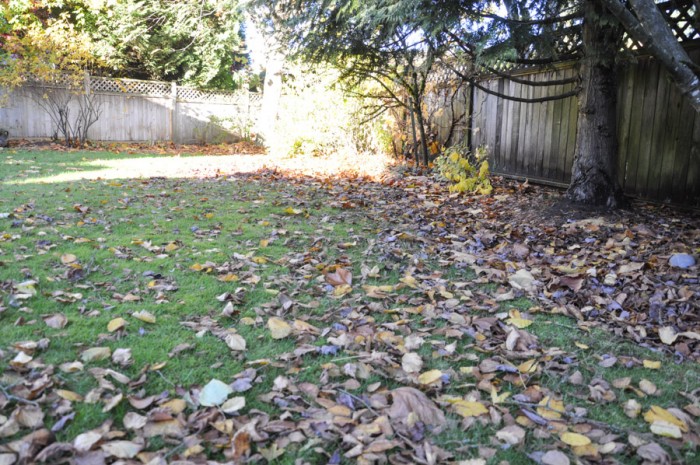 Our new backyard isn't huge, but it's big enough for us. The perimeter of the yard is garden beds, full of established perennial shrubs and trees. There is also a maple tree that offers shade and privacy for 8 months of the year. And then for 4 months, he's a jerk.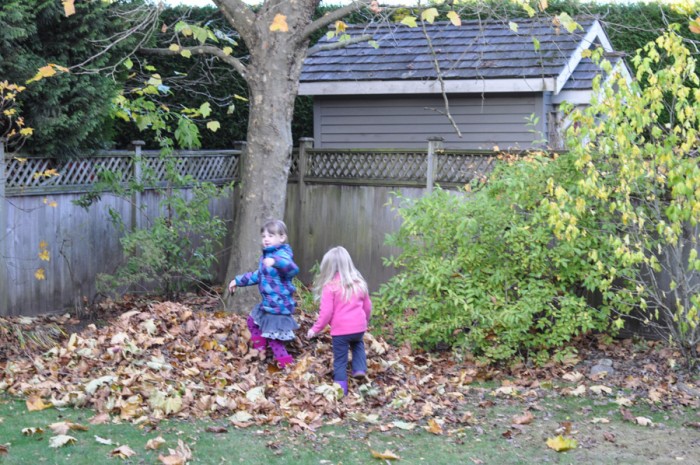 We've been learning a lot about winterizing our backyard. In the last house, we lived on a ravine with a big patch of green space behind us. When we raked leaves, we would dump them in the compost over the fence. No fuss, no muss.
If we dumped our leaves over our current fence, I'm pretty sure that the neighbours would have something to say about it. Instead, we rake, blow, and bag.
And then we do it all over again.
Leaving the leaves on the ground – (the English language is weird… "leaving the leaves?!?!") as tempting as that sounds – isn't really an option. There are FAR too many of them, and it isn't good for the grass. Grass needs to breathe, and during the cooler months, it strengthens itself and gets ready for Spring. Plus, leaves just make the whole backyard a wet, messy place. Because it rarely snows here, there isn't anything to cover up the sight of unraked leaves.
Thus, they must be bagged and carted away by the Green Waste fellas.
We partnered with Ryobi Canada to get our backyard ready for the Winter. Some parts of our backyard had been neglected during the renovation. I figured we would eventually get to it.
And eventually was right.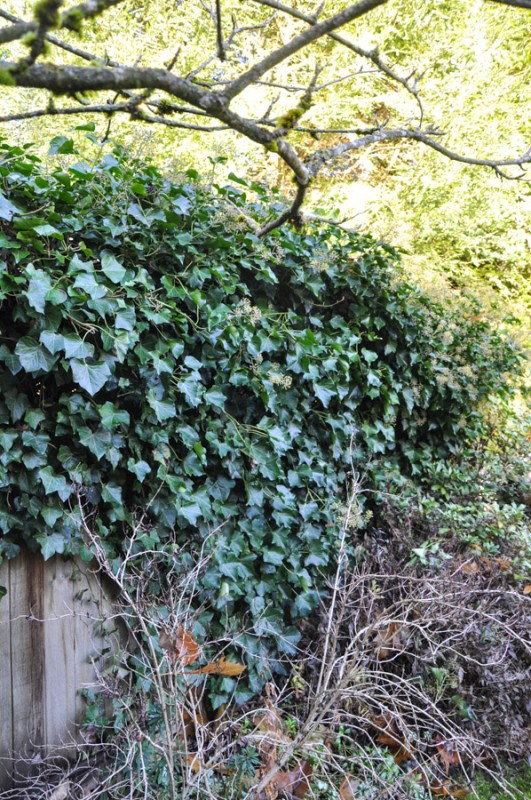 Our neighbour has an ivy bush (vine? death-web?) that he loves. I'm a bit more meh about it. We had ivy at the last house and it spent all of its time trying to kill the trees and take over the whole yard.
But my neighbour is wonderful and so we decided to just keep the ivy trimmed to a reasonable level. Ivy is insanely hardy – you can pretty much hack at it, and it will still come back.
Invasive is also a word that comes to mind.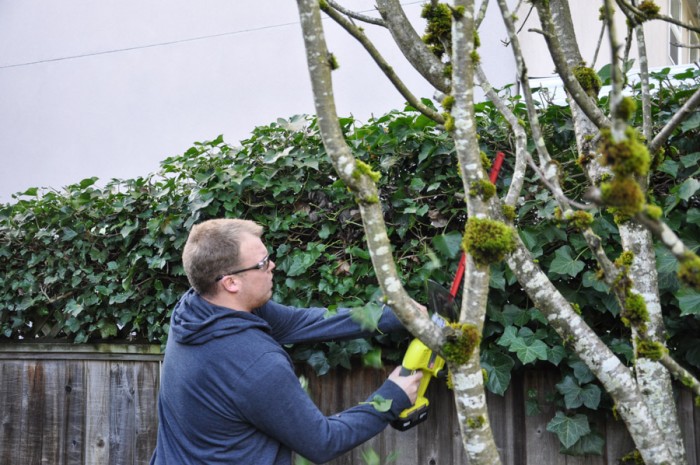 Here is Mr. Suburble showing that ivy who's boss.
The cordless hedge trimmer runs off of the same 18V batteries that we use for our power tools.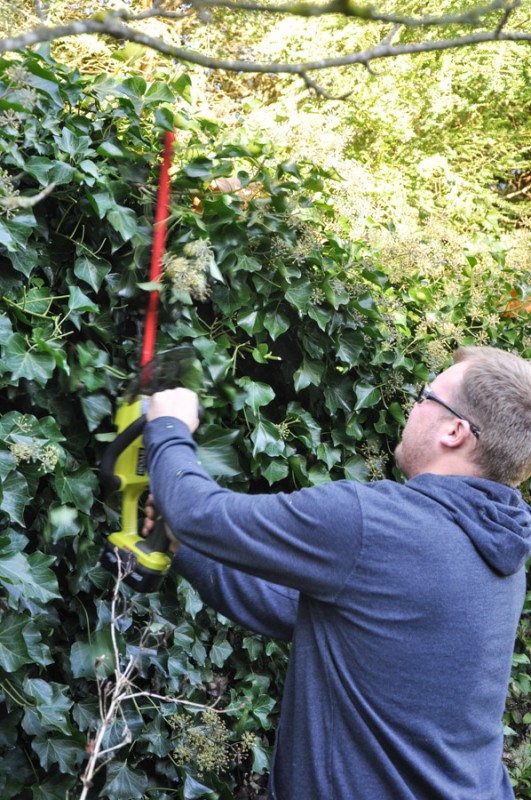 It made short work of the giant mass of ivy we have climbing all over the fence. It was quite the haircut – but I like the managed look much better.
We immediately bagged up the trimmings and put them by the curb. We don't want this stuff all over the yard.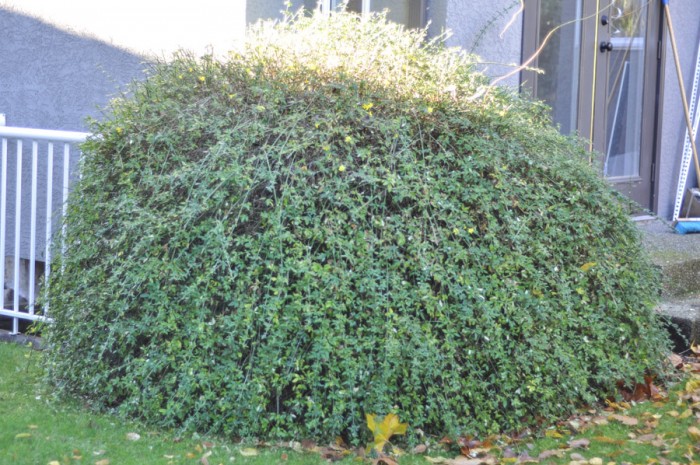 The trimmer is lightweight and made short work of the job. I figure it will come in handy in the Spring when we have to do something with THIS.
It's like the Jabba the Hut of shrubs.
Plant people: what IS this?!?! I have a love/hate relationship with it… and it's HUGE.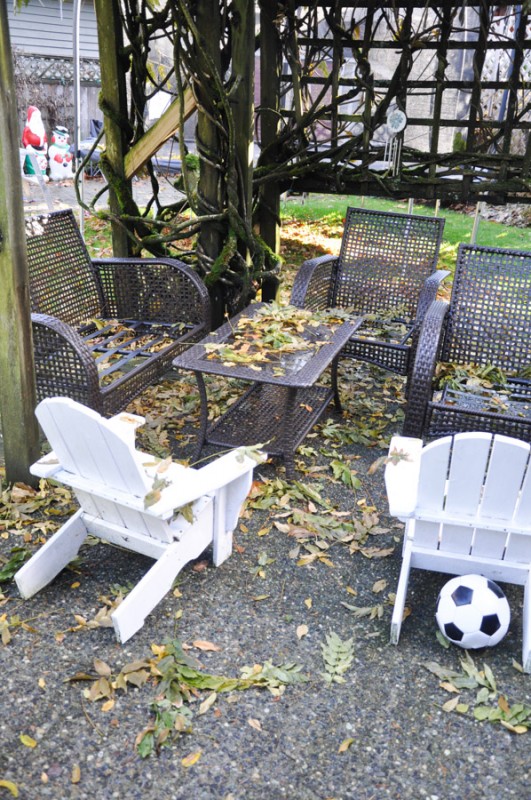 There really wasn't a surface in our backyard that was impervious to leaves. The wisteria was dropping leaves like crazy, and it covered our entire patio.
Leaves on concrete are slippery and can stain the surface, so we had to get them up.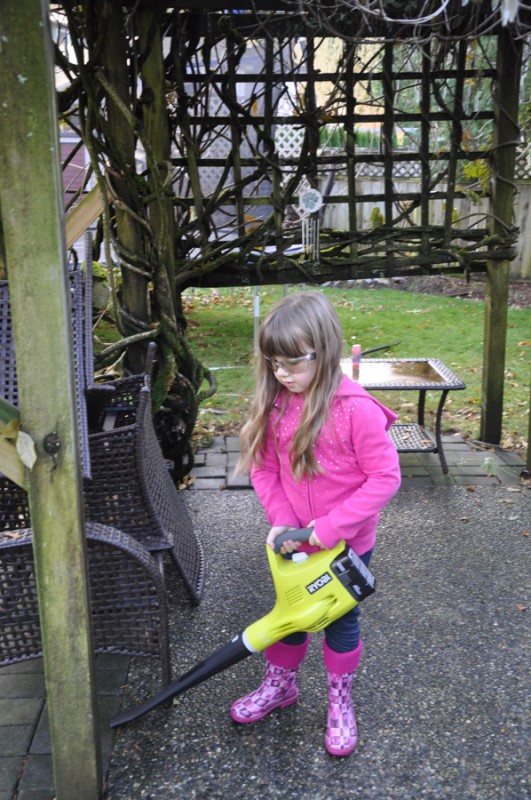 Our trusty helper, Lila, was eager to help. She used the Ryobi cordless blower – yes, cordless! It runs on the same batteries – and blew the leaves off the concrete. The blower is lightweight enough that she could manage the job all by herself, but still had enough power to clean the entire patio space.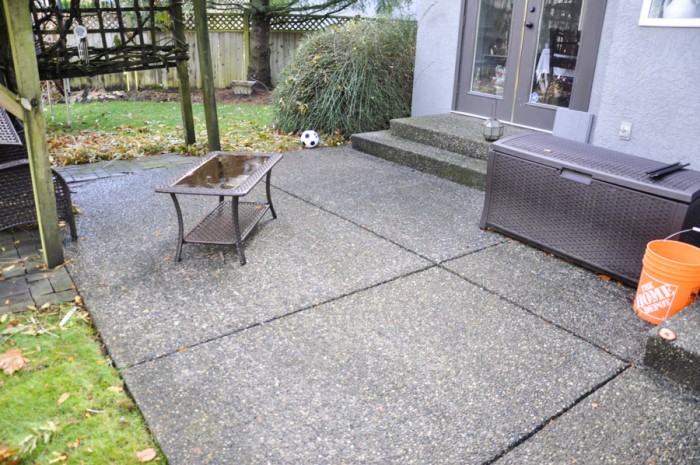 Here is Lila's "after". She was pretty proud of herself – she did it all by herself. You can see Jabba in the corner. It is a truly bizarre shrub.
Both of these tools were a great help in the first day of getting our backyard ready for the Spring. We dusted off our hands and said to each other, "We'll finish this off tomorrow."
We woke up the next day to a blanket of snow. On EVERYTHING.
What are the odds!?!?

As a result, we had to break up our yardwork over a few days. The Part 2 of Putting out Backyard to Bed will be up on Friday this week. See how we used a trimmer to make short work of clearing dead foliage and what bulbs we planted for the new year!
And if you're looking for a last-minute gift for the gardener/yard-management person in your life, check out the Ryobi Outdoor line. They get the job done!
Huge thanks to Ryobi for letting us play with these new tools. As always, all opinions, adorable children, and buff gardner-hubbies are my own.