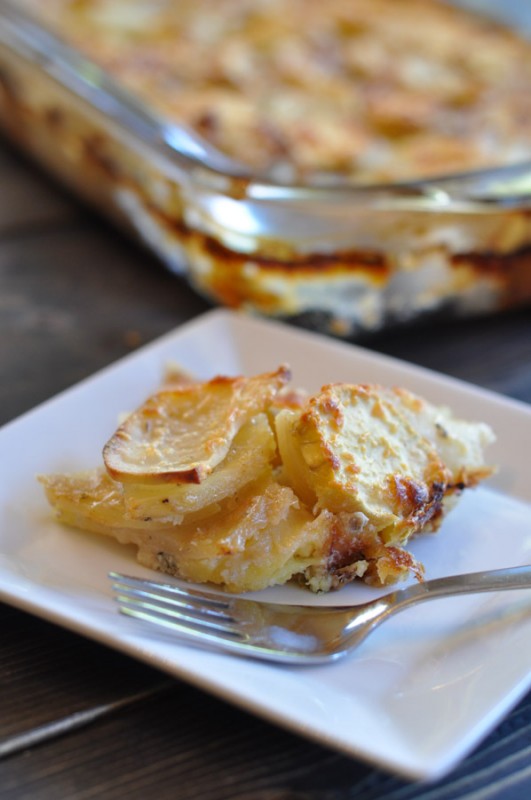 Scalloped potatoes are a perfect comfort food. You have the starchiness of potatoes combined with the creamy cheesiness of the casserole. And if you crisp up the top a bit for some crunch?
Welp… you've got the trifecta there.
For a really long time, I thought scalloped potatoes came from a box. You just added some water, regenerated the potatoes, and a meal was born.
Because boxed potatoes were NOT my thing, I thought I didn't like scalloped potatoes. Until I had the ones that required peeling. And slicing.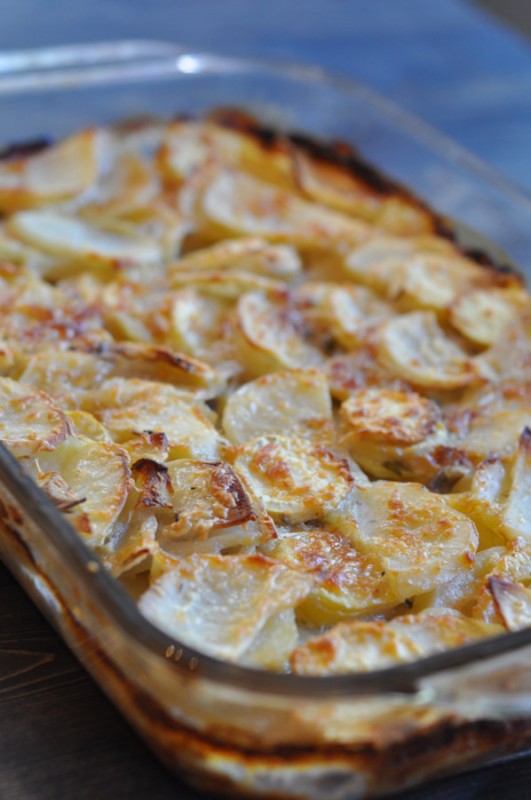 This recipe has not only regular white potatoes as the main starch, but also sweet potatoes. These add a really nice full flavour to the dish.
Note: there are two kinds of sweet potatoes – the firm and soft kind. The firm are the white ones that are typically called sweet potatoes in the grocery store, whereas the orange ones (which you probably call a yam) is actually a soft sweet potato. Real yams aren't often found in our grocery store.
Typically, you would buy a soft sweet potato (your orange "yam") for most yam bakes, but if you want a potato that isn't quite as soft, try the firm sweet potato. It's what I used in the recipe below.
Ingredients
Ingredients
1 can (10oz/284mL) CAMPBELL'S® Condensed Low Fat Cream of Mushroom Soup
1/2 cup (125mL) 1% milk
3/4 cup (175 mL) shredded part-skim Mozzarella cheese
1 large onion, thinly sliced
1 tbsp (15 mL) chopped, fresh oregano leaves
2 cloves garlic, minced
1/8 tsp (0.5 mL) ground black pepper
3 cups (750 mL) peeled white potatoes, halved, very thinly sliced
3 cups (750 mL) peeled sweet potatoes, halved, cut into 1/4" (0.5 cm) slices
1/3 cup (75 mL) shredded light Parmesan cheese
Instructions
1. Mix soup, milk, mozzarella cheese, onion, oregano, garlic and pepper in shallow 4 qt (4 L) baking dish.
2. Stir in potatoes and spread evenly.
3. Sprinkle Parmesan cheese on top.
4. Bake, uncovered, at 375°F (190°C) until potatoes are tender – about 1 hour 15 minutes. Let stand for 5 minutes before serving.
https://www.suburble.com/2014/12/comfort-food-thy-name-scalloped-sweet-potatoes.html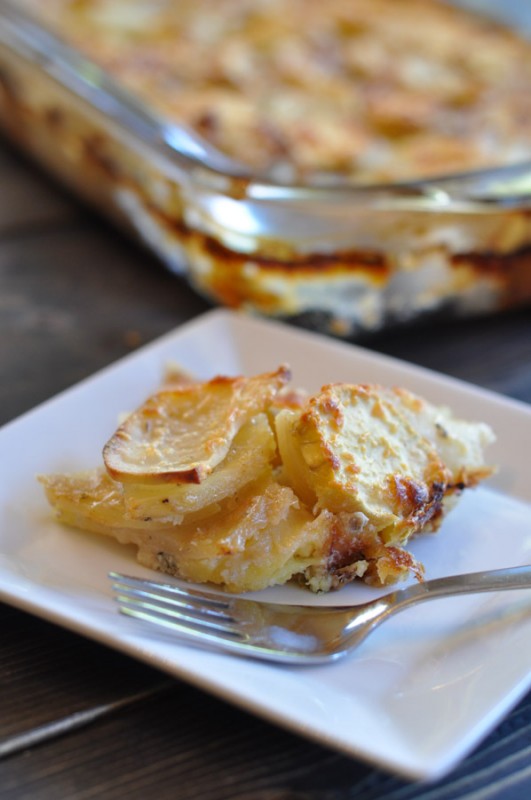 This recipe uses Campbell's Cream of Mushroom soup as its base. This makes the dish that much easier to throw together – in fact, I might put this on the list of dishes that my girls can tackle. I made these with ribs and beans, and they were a crowd pleaser. I broiled the potatoes just a bit to get a crispy top – but that's my preference, and is totally optional.
Scalloped potatoes are also fabulous as a make-ahead meal. Keep it in the fridge and then pop it in the oven when you're starting meal prep.
If you're daunted by slicing all of those potatoes (because who has time for that?), break out your food processor. The slicing blade will make short work of any potato – white, firm, or soft – and will ensure that every slice is the same thickness (great for checking "doneness" of your potato casserole).
Also, you'll notice that this recipe doesn't require par-boiling the potatoes ahead of time. I think the secret to getting the potatoes cooked all the way through is by spreading them over the pan, thus the casserole isn't a very thick one. This way the potatoes cook completely and you get nothing but delicious cheesiness. If you've ever had a bite of not-quite-cooked potato, you'll know why I'm stressing that the potatoes MUST be cooked all the way through.
If you're looking for a new side dish to put on the holiday table, or simply want to change it up during the weekday – try this simple recipe.
It's easy, delicious, and with the sweet potato – just a little bit different!
Disclosure: I am part of the Campbell Company of Canada Ambassador program with Mom Central Canada and I receive special perks as part of my affiliation with this group. The opinions on this blog are my own.