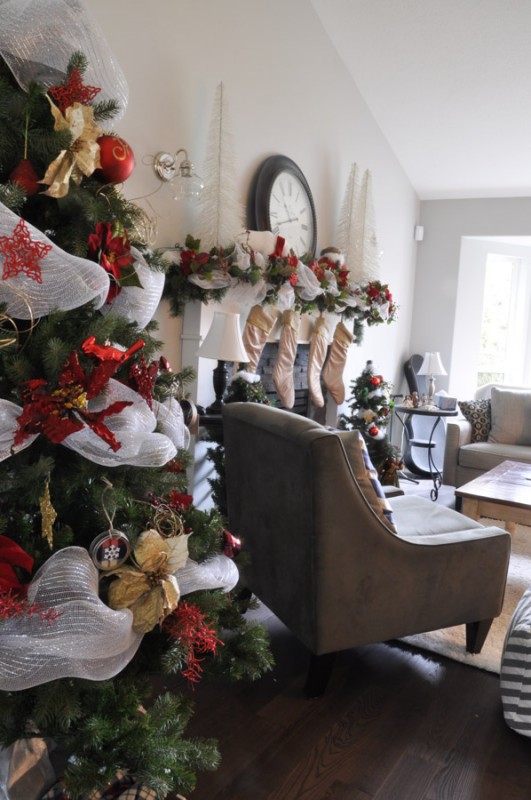 I love Christmas. I decorate halfway through November and keep everything up until after New Year's. I love the opulence and coziness of the season. I love that you get to merge the worlds of tackiness and tradition and not have to make a single apology.
And I love just a dash of things-that-are-tacky. They put a smile on my face.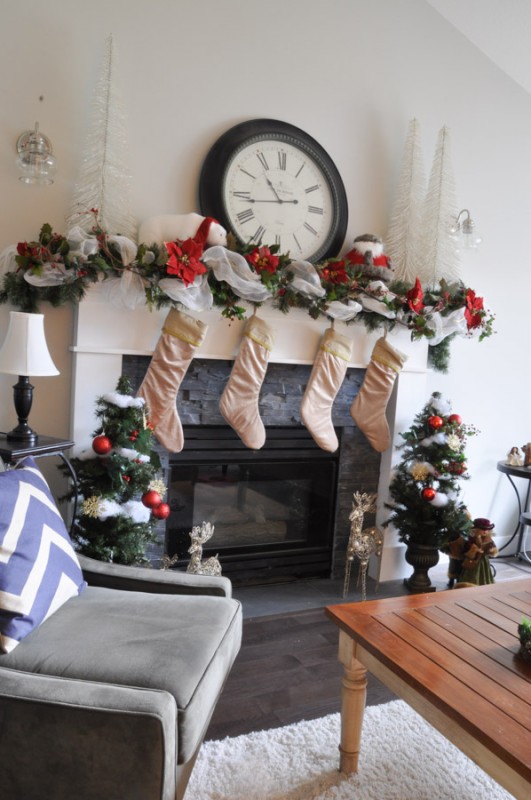 There have been some absolutely jaw-dropping holiday home tours this season. It's *almost* enough to keep me from posting my own decor.
But comparison be damned.
I'm posting it anyways.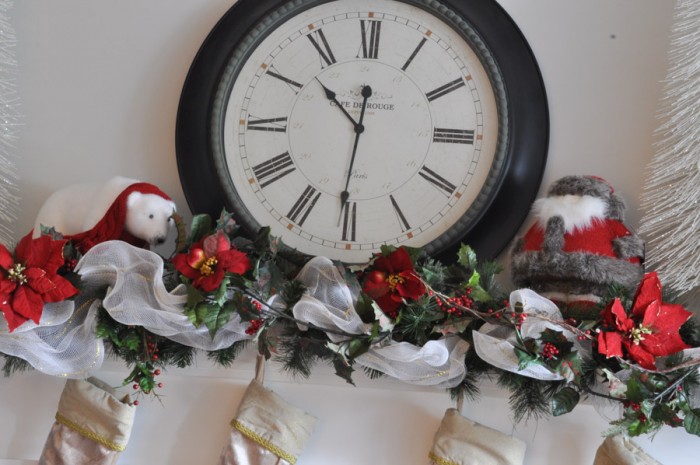 I'm a big fan of shopping the clearance sections right before and after Christmas. While I adore the season, I don't always agree with the price tags that some retailers slap on Christmas decor. This polar bear and Santa are from Superstore's giant Christmas sale last year – I think I paid around $2 each?
And now that that they're sitting happily on the mantel, I don't know how I did without them.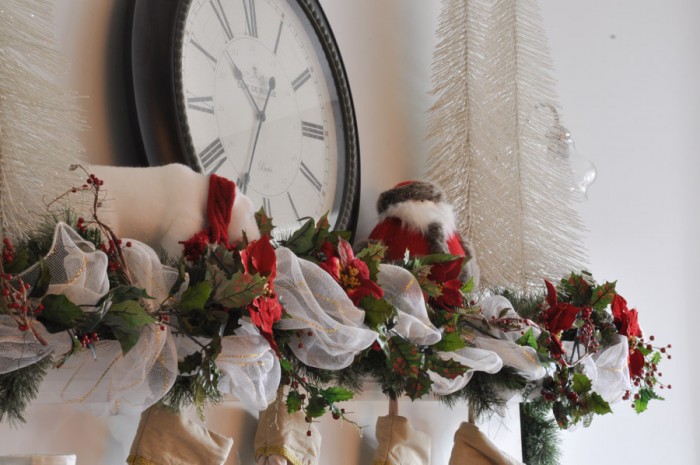 The tall bottlebrush trees are from HomeSense this year. I've never had a vaulted ceiling before, and so I'm learning about scale and height when decorating the mantel. I love that they're subtle, but still add a bit of drama to the vignette.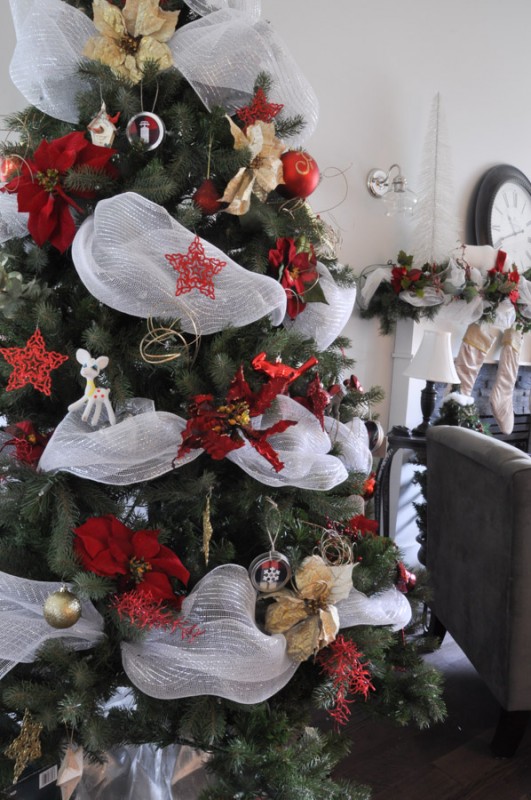 Now that we have room for two trees, I jumped onto the chance. Using sinamay (the mesh fabric) and various poinsettia and berry sprays, I decorated the tree. I treat the tree more like a floral arrangement than a traditional tree.
Mr. Suburble just stands back and lets me fret and fuss over it.
It's safer that way.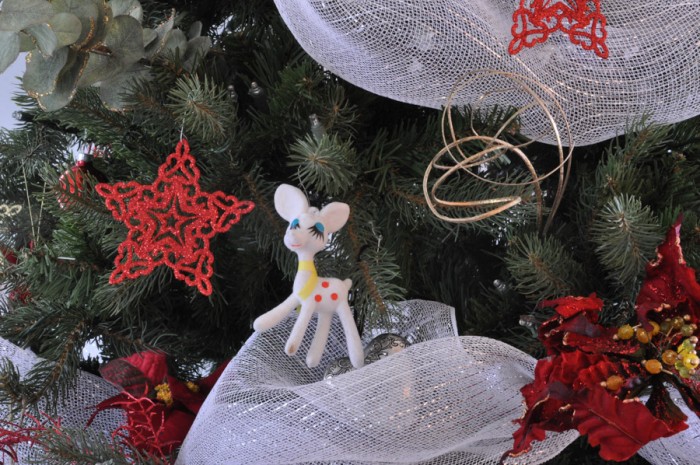 This little deer is a thrift store find. She came in a bag of miscellaneous bits and bobs for wreath decorating. Lila is enamoured with her and moves her around the tree constantly.
I have to admit, I really like her. I'm going to keep my eyes peeled for more vintage ornaments the next time I head to the used shops.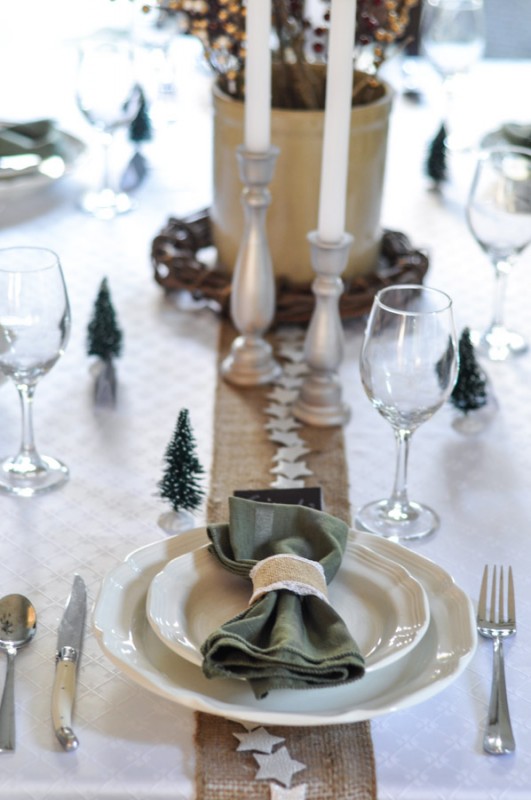 Our table setting in the dining room is made of things that were just waiting in the craft room. The napkin ring tutorial is a quick and easy one.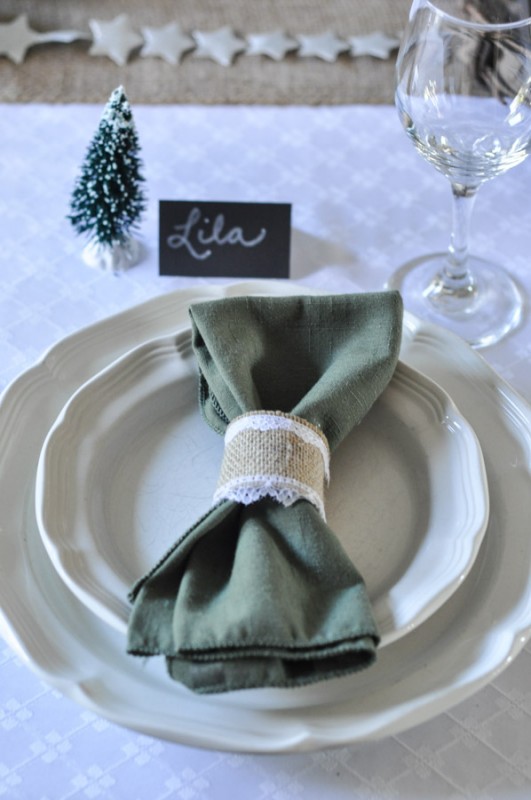 My bloggy friend, Virginia, got me hooked on bottle brush trees this year. I want to put them EVERYWHERE.
(pro tip: they're 4 for a $1 at Dollarama!)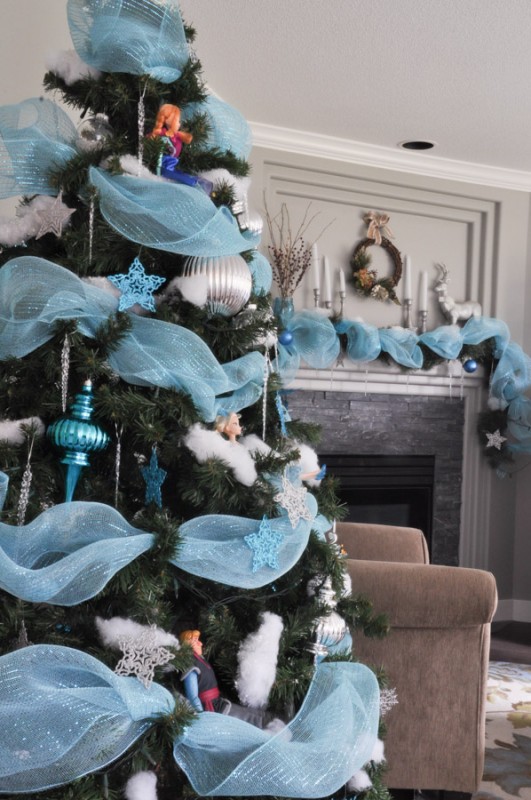 In the family room, the girls and I have been working on a special tree just for them. It's our Frozen themed tree!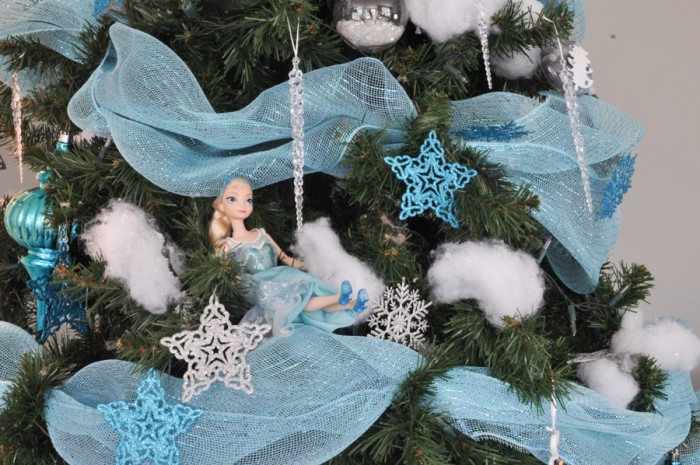 We used fake snow – the blanket and the loose version – on the tree, and then added light blue sinamay. We've been adding little silver and blue accents to as we find them.

We decided that Anna, Elsa, and Kristoff can spend Christmas in the tree, just to keep things more authentic.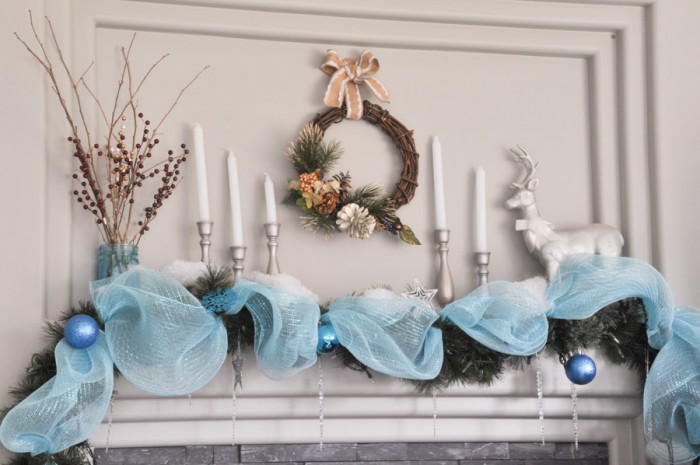 We kept things icy on the mantel too. Icicles hang from the garland, and silver accents intermingle with natural textures.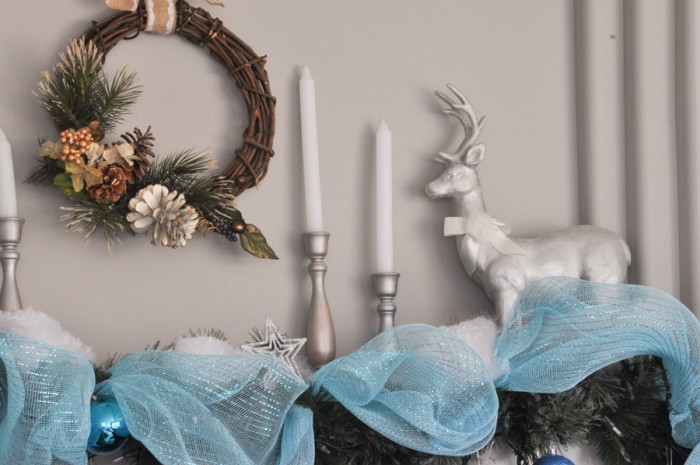 The wreath was thrown together with a grapevine wreath form and the contents of that thrift store bag in which I found the little deer ornament. It took no time at all.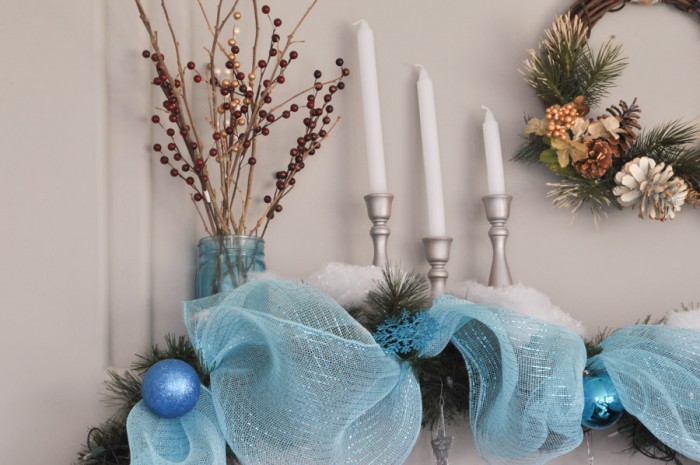 Twigs from the yard were mixed with berry sprays and put in a vintage-blue mason jar.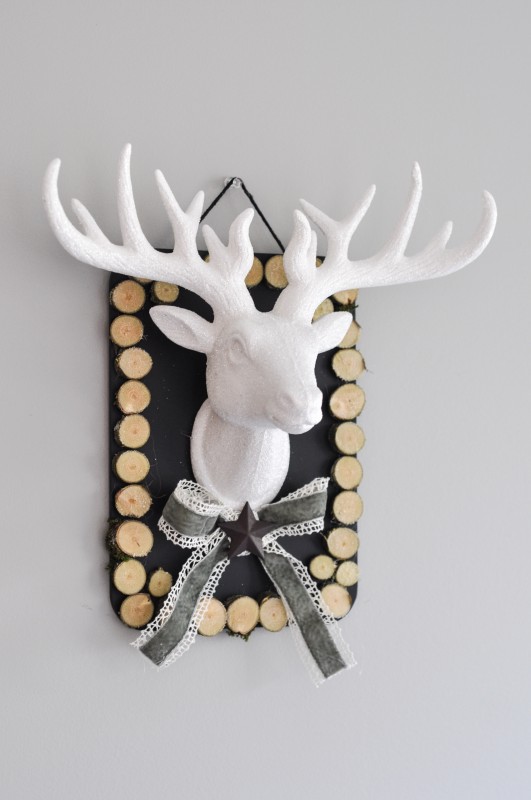 And of course, the buck's head is in this room. I can't get enough of deer!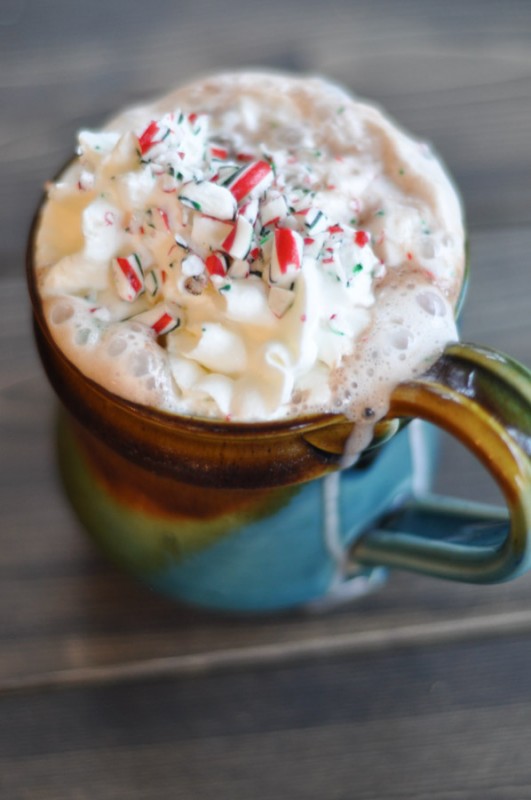 If you were visiting at my house, I'd offer you a boozy candy cane hot chocolate (recipe on the blog tomorrow!) and we'd sit in the living room and gab.
But alas, you're not. So I can only wish you the most wonderful of Christmas holidays, and thank you for coming on a walk through my home.
Do you deck the halls right out at Christmas? Are you another two-tree decorator?
I'd love to hear where you find your decor.
And if you know of any super-good deals, tell me!