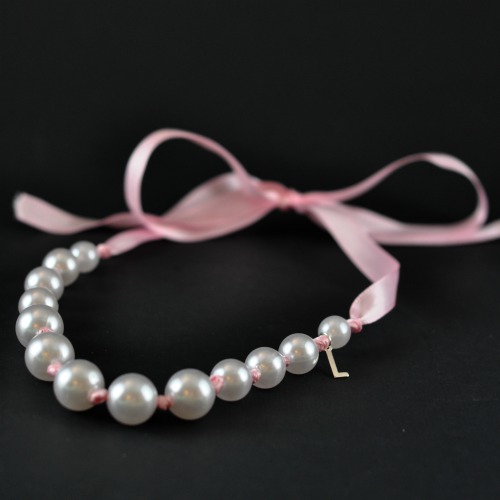 I have just embarked on my jewelry making career, and I can safely say that I'm already hooked.
And because this week – the last week of the One Item Challenge – focuses on ribbon, I'm even more thrilled to show off this project!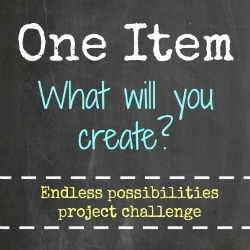 It was when I was visiting a friend's house (at a jewelry party, no less) just this past weekend, that I was struck with the realization that I could now knock-off retail jewelry pieces. I was incredible inspired by this revelation… especially when I saw these pieces from the Stella and Dot girls' collection.
These two pieces are lovely – and perfect for little girls. I studied them… considered them… and then marched home to make them myself.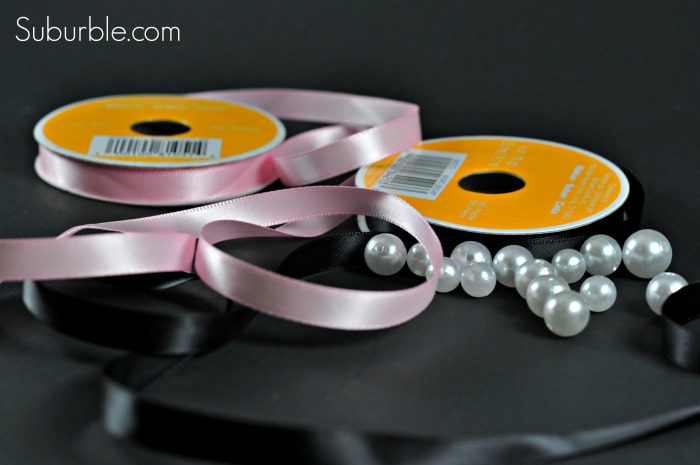 To make this super-simple knock-off, you will need:
– satin ribbon (3/8″ in wide)
– assorted faux pearls (be mindful of the width of the holes in the pearls – larger is better)
– a large needle (I used a yarn darning needle – I think that a sail/canvas needle would work as well)
– a charm (optional)
– long-nosed jewelry pliers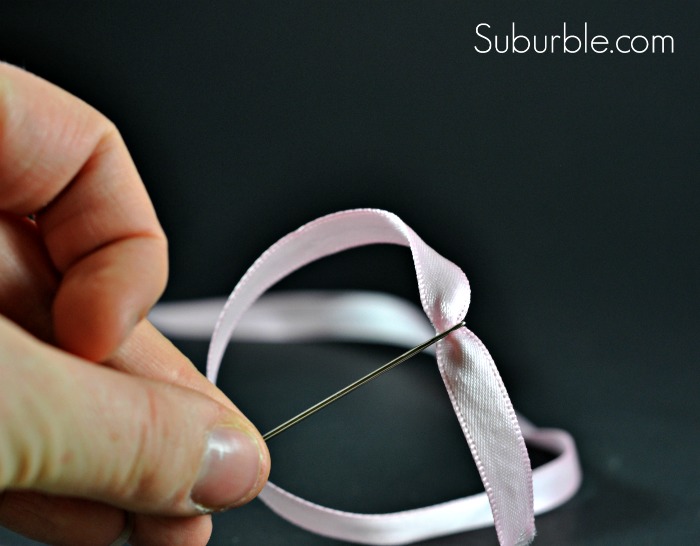 To start, thread the ribbon through the needle. You should double the length of ribbon that you think you would like the necklace to be. (i.e. if you think the necklace should be 12″, then cut 24″ of ribbon)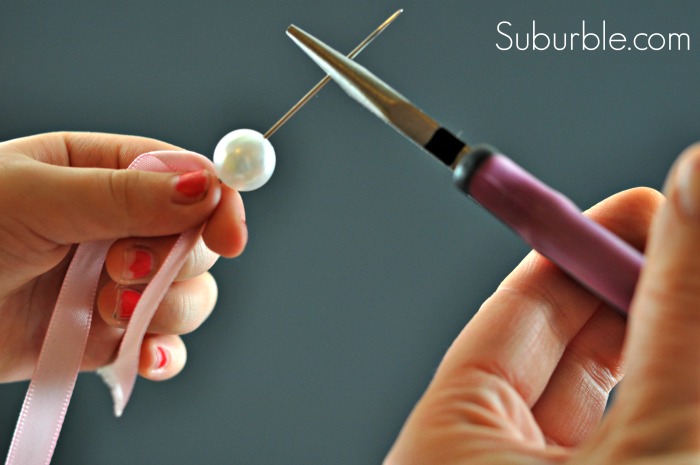 Here's the part where you may need a bit of muscle. Depending on the size of the holes in your pearls, you may have to use some oomph to get the pearls onto the ribbon. Just grab the needle with your pliers so that you have a firm grip. Then pull the pearl onto the ribbon.
Start by placing the largest beads in the center of the ribbon, tying a tight knot between each bead.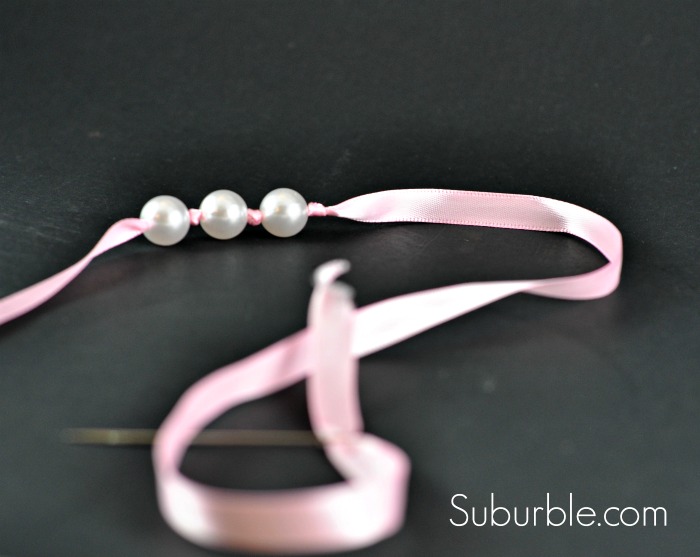 Work your way up one half of the necklace. Once you've completed that side (the number of beads is up to you – I chose to add 6 beads off of a center bead for a four year old. If your kidlet is older, you may want to add a few more beads on each side), then thread the needle with the other side of the ribbon and create a symmetrical pattern to the side you've just completed.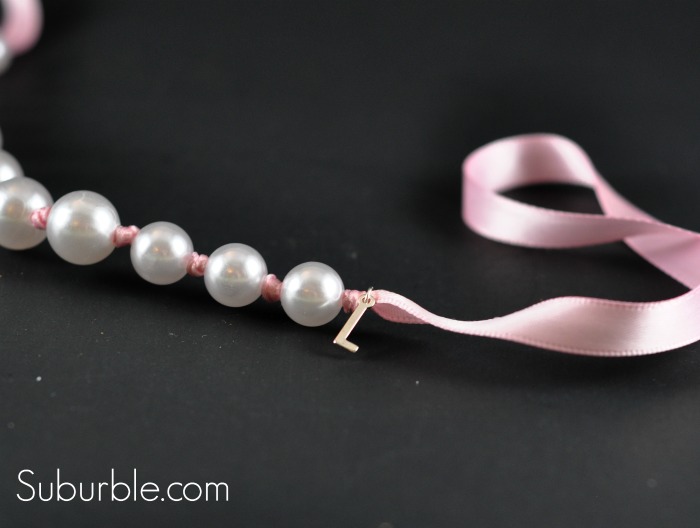 Looking at the inspiration piece, I saw the large rhinestone number positioned on the right hand side of the necklace. I wanted this necklace to be more simple, a bit more every-day-wear.
I decided instead to add a little charm to the necklace. This "L" is one of Martha's charms from her jewelry line – so sweet!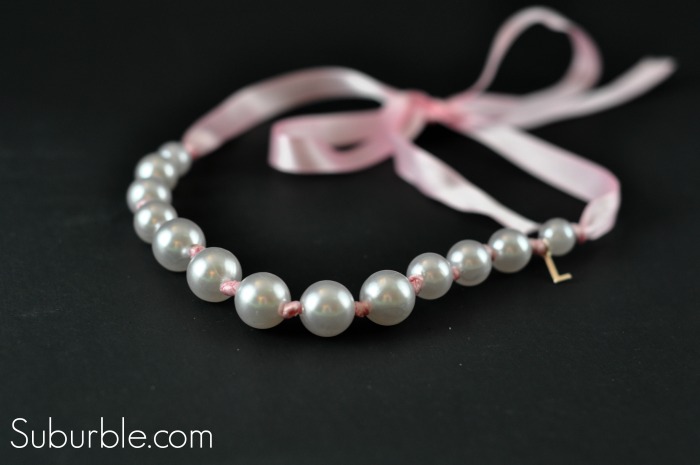 And here is the necklace – a simple, yet elegant little number.
I love that it's strung on ribbon, which means that it would be nearly impossible to have the necklace break, and pearls clatter to the floor.
The "clasp" is also very simple. Just a quick bow (or a double-knot, for the fidgety types), and the necklace is slipped on. The length can be easily adjusted!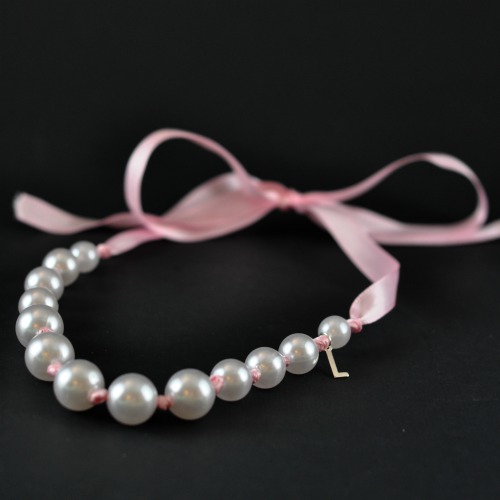 I think that this necklace will be a perfect addition to Lila's Christmas dress. And I'm actually considering slipping some beads onto the black ribbon for me! How lovely would this be over a long sweater or a sharp black top?
What's best about this piece is that it's easy! Jewelry novices can tackle this without much difficulty.
The ribbon inspiration doesn't stop here!
Check out the amazing projects by these fabulous bloggers:
Shauna at Satori Design for Living
Kristin at My Uncommon Slice of Suburbia