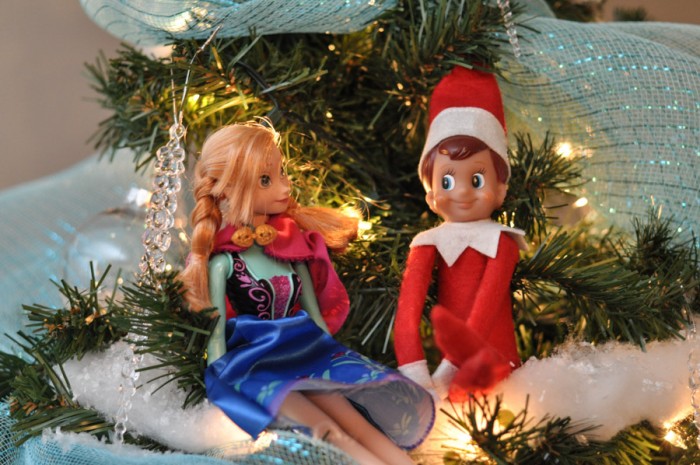 See the smirk on his face? Yep. He knows he's a giant pain in the ass.
I'm a big fan of the Elf on the Shelf phenomenon. Last year, I wrote a post supporting the Elf's existence and decrying the negative press he gets from bloggers, moms, and people-who-have-Facebook-accounts. (You can read it here, if your curiousity asks you to)
We've "done" the Elf on the Shelf for two years now.
And we're on our second elf.
The original didn't ever return after his year-long break, so we had to pop out and buy another one. Max #2 was diligently wrapped up in a plastic bag and jammed into a box as we packed up the Christmas decorations. I will admit, my packing was hasty and panicked. We were mid-renovation and about to list our house. I thought, "I'll put him in this box. I'll remember he's here."
And then he left my mind entirely.
Last night, I heard Mr. Suburble excitedly talking with the girls. "Tomorrow is December 1st… you know who is going to visit us then?!!?"
"Santa!?!??"
"No. No… not Santa. MAX!"
"Hooray!" *Jumps of glee* *Big Smiles* *General 4 and 5 year old craziness*
And my stomach dropped.
Where the hell was Max?
I hadn't seen him in months. What box was he stuffed in? That plastic bag had to be somewhere.
Probably in the garage.
Oh god, the garage. It's a pit of despair right now. It's where clutter and indecision come to die.

I cursed Max's existence. I cursed Mr. Suburble.
My kids can't read a calendar. December 1st means NOTHING to them unless their father is ramping them up with anticipation.
Wait. When does Target close on a Sunday?
I was seriously considering Max #3. I fail at organization. And tradition.
I waited until the children fell asleep and then my forked tongue hissed at Mr. Suburble. "Do YOU know where Max is?"
We started digging through boxes in the garage.
"I found the extra smoke alarms!" I called.
"Hey! Look – here's that present you bought a few months ago. " More failure. Excellent.
"Oh look! The box grater!"
I was hating Max even more now. He was rubbing all of my terrible moving skills right in my face. Yes, I hadn't unpacked the box grater, even though we've lived here for over two months. And no… I didn't know where that present was. I figured it was probably in a box. With stupid Max.
"I found him! Woo hoo! I've got him!"
Mr. Suburble waved Max in the air triumphantly, standing in a sea of boxes and tools. He threw the little red doll toward me. "Thank god. I thought we were going to have to buy another one."
Jinx. You owe me a Coke.
I slipped inside and tucked Max into our "Frozen" tree. He sits next to Anna, giving her weird creeper-eye.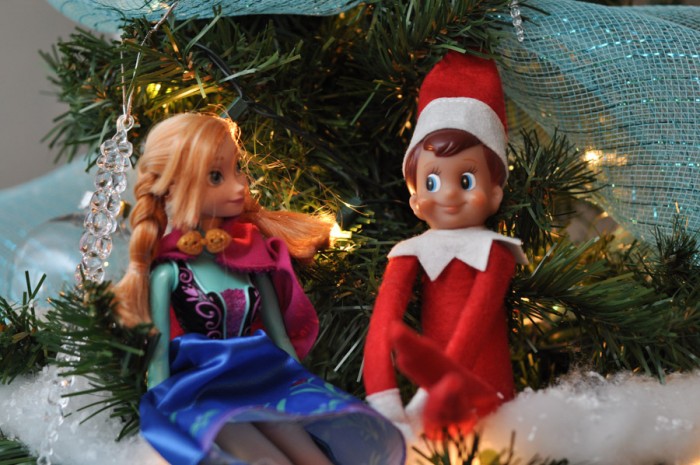 Oh, Max. I love you and how much my kids love you, but you force me to face my procrastination and organizational shortcomings.
I'm not ready to unpack every box. There's Christmas to make. And laundry. Laundry always seems to get in the way.
But at least we're still on Elf #2.
So far.