Whirlpool Canada and I have been working together on my kitchen project. Today the dishwasher gets his turn in the spotlight. It's about time – dishwashers rarely get their praises sung!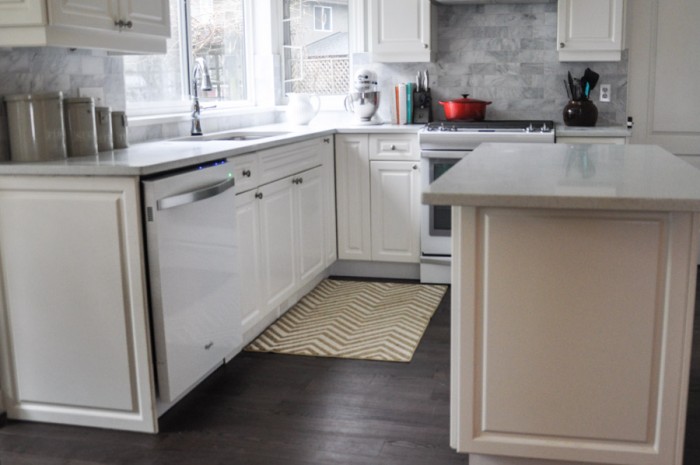 In the last two posts I wrote about my new Whirlpool White Ice kitchen appliances, I used references to the rap/pop/media king and queen, Jay-Z and Beyonce. This is because a) my appliances also have a bit of bling and b) they're easy on the eyes.
As I considered the last member of the team – my dishwasher – I suddenly panicked.
Would the extended metaphor die here? How could I further interweave my love of pop culture into my chatter about my kitchen?
And then I realized: a dishwasher is like a baby (i.e. Blue Ivy Carter – the creatively named spawn of Jay and Bey). The time it is immediately noticed…. is when it isn't there.
For example:
Upon seeing your mom-friend walk up to you, unencumbered by a baby/carrier/stroller/vomit in her hair:
"Look at you! Where's the baby?"
Upon walking into a kitchen that is sadly, sans dishwasher:
"Look at this?!? There's no dishwasher!"
The realization of no dishwasher usually elicits looks of pity. Sometimes there are groans.
The dishwasher is the workhorse of the kitchen that does its job quietly. It takes a lot of bruising, jamming of things, creative-stacking, and overloading in its life.
It also has to be part-magician. "This doesn't need to be rinsed. It'll be fine!"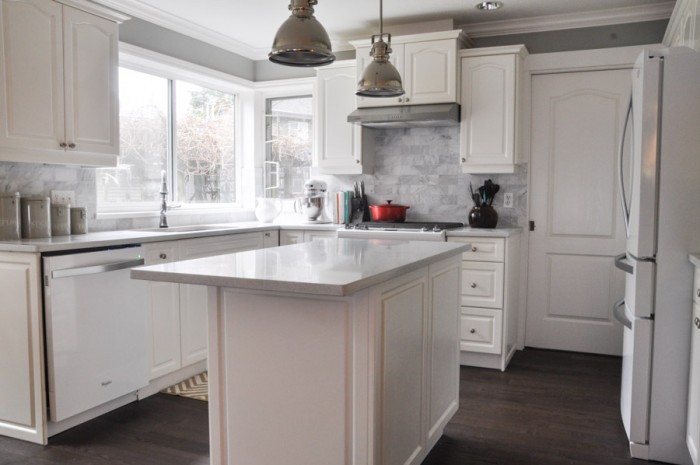 See that green light on the dishwasher? That means it's running. There is NO way that my kitchen could be this clean and sparse unless that little green light was on.
Dishwashers don't get the glamour. They get the nitty-gritty jobs.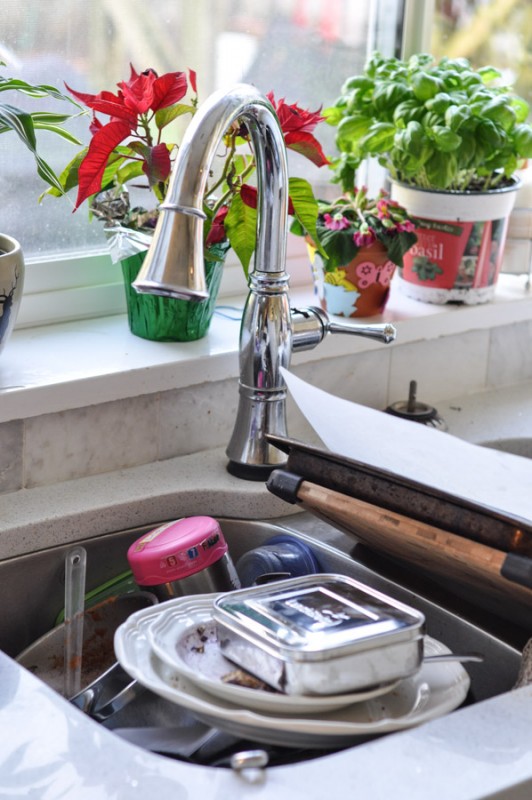 My dishwasher has to deal with sink-fulls like this on a regular basis. And if he could leap up and also get rid of those nearly-dead plants, that would be fantastic. Sorry, little Poinsettia. Christmas is over.
And while my White Ice dishwasher seems to blend neatly into the kitchen, it is as equally relied upon as its two counterparts. With various settings – from one hour clean to heavy duty – I have been pleased with the cleanliness of the dishes that are stacked in the drawer. It uses a Sensor Clean technique to determine the amount of dishes and the soil level during the prewash cycle in order to do the best of of cleaning during the wash cycle.
Mr. Suburble has said more than once, "This dishwasher does a good job."
And that means he put dishes in there willy-nilly with all sorts of food left on it – and they came out clean.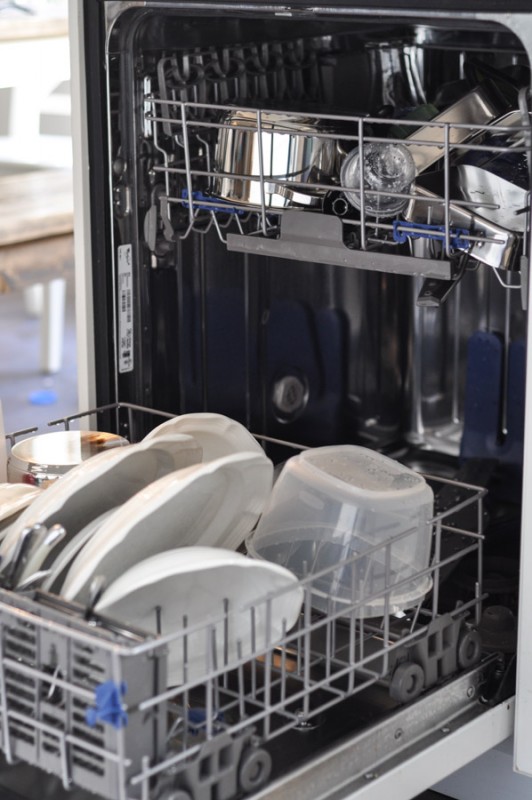 There is a "target clean" option, where casserole dishes and large pots can be pointed towards the back of the washer: high-powered jets will blast off food and grime. The top rack can be raised for these large pots and pans to fit on the bottom rack, or it can be lowered, for those tall glasses and bowls to sit on top.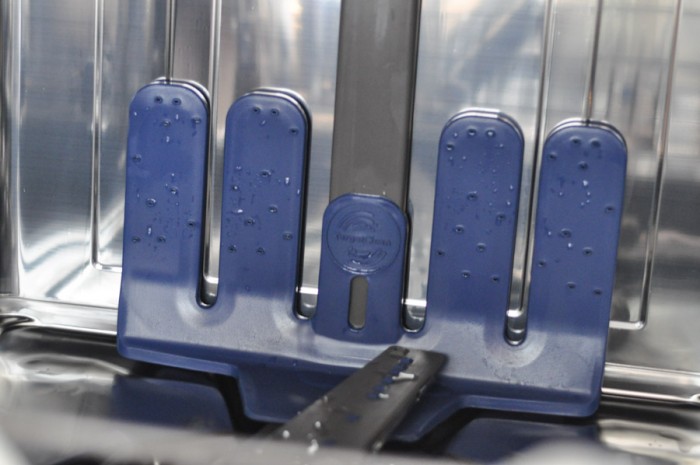 The cutlery rack can move into five different places, including the door. The filter – a place in nearly every dishwasher that collects little food bits and occasionally the stickers that you were too lazy to take off of the bottom of your mug – is easily removed without having to break out a torx bit.
And having had to take apart a dishwasher to fish out bits of broken glass (and a gutter clip for Christmas lights…. that was a puzzler) – this easy-to-remove filter makes a WORLD of difference.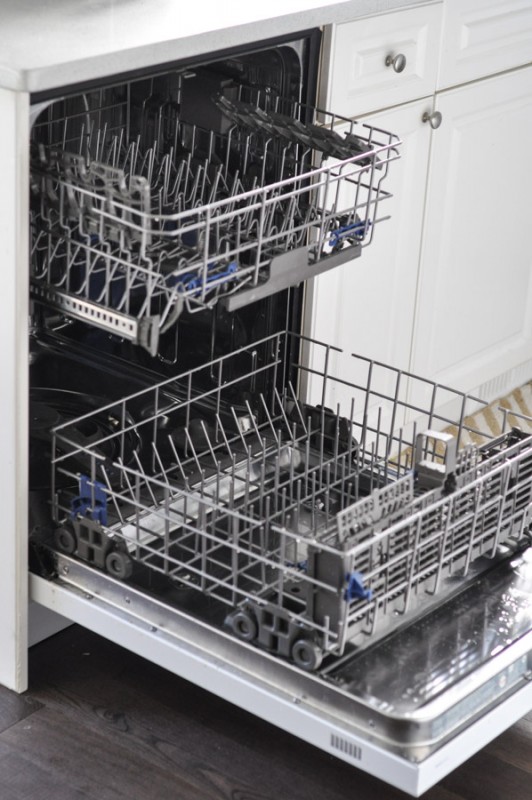 And like its appearance in the kitchen, the dishwasher is quiet while working too. Guests can't even tell that it's on. How wonderful to not have to turn up the television because of the hum and whooshes coming from the kitchen.
Like I said before – it's a silent partner. And that's the way I like him.
A good dishwasher is one to keep – and one to recommend. Head to the Whirlpool Canada site to learn more about my fabulous worker-bee and his White Ice friends. We've been very pleased with the performance and appearance of our appliances, and would happily recommend them to friends and family.