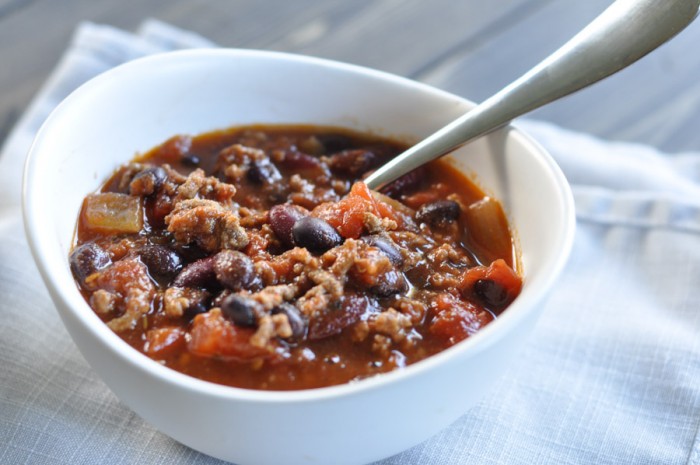 Chili is a perfect one-pot meal. I love the beans, the tomatoes, the onions, the heat… Whether it's a cold day or camping or even just because I had all of the ingredients in the pantry, I love a good pot of chili.
I knew that curry paste would make an excellent heat source for that bite that chili is supposed to have. A little Indian flair would take this dish to a new level. Then, when I was dilly-dallying on the internet, I came across a recipe that used mango chutney.
I paused for a minute. Really? Would that be any good?
I love Patak's Sweet Mango Chutney ; it's lovely with chicken or spread on bread. And honestly, what harm could it do? I grabbed a jar of it and added a 1/2 cup of chutney to the pot. Don't think too hard about it, Tara, just do it.
So I did.
And it was delicious. There was a hint of sweetness in every bite, but not overwhelmingly so.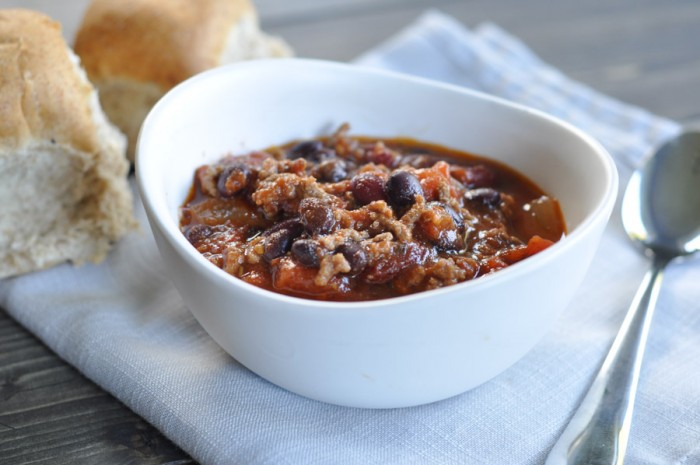 Curried Chili (with Sweet Mango Chutney)
Ingredients
1 small onion, diced
1 drizzle of olive oil
1 tbsp Patak's Hot Curry Paste
1 tsp cumin
2 cloves of garlic, crushed
1 lb extra lean ground beef
2 796 fl oz (28 oz) cans of diced tomatoes (the big ones)
1 19 oz can of tomato sauce
1 19 oz can of black beans, rinsed
1 19 oz can of red kidney beans, rinsed
1/2 cup Patak's Sweet Mango Chutney
Instructions
Over medium heat, heat olive oil in a large dutch oven or sauce pot
Sautee onions and garlic for 2-3 minutes, until near transluscent
Add curry paste and stir with onions and garlic for 2-3 minutes, to release flavours
Once onions are completely translucent, add tomatoes, sauce, beans, chutney and cumin
In a separate frying pan, heat and cook ground beef until no longer pink
Add beef to chili mixture and stir well
Heat chili to a boil and then reduce heat to a simmer
Simmer for at least 45 min to an hour. I like to let it simmer for a couple of hours prior to eating, as the flavours are much better
https://www.suburble.com/2015/01/curried-chili-sweet-mango-chutney.html
I found that a tablespoon of the Patak's Hot curry paste was more than enough to add heat to the entire pot of chili. Hot means HOT. You have to heat the curry paste at the early stage of making the chili in order to get the fullest flavours released into the mix. I've mentioned it before, but I love a bit of cumin added to my spicy meals – it adds a nice depth of flavour, and a hint of that delicious earthy taste.
But let's talk about that chutney. I admit, I was nervous when it plopped into the chili. But oh… it is SO good. Trust me on this, guys. The chutney adds such a nice sweet note to the chili. I am a huge fan.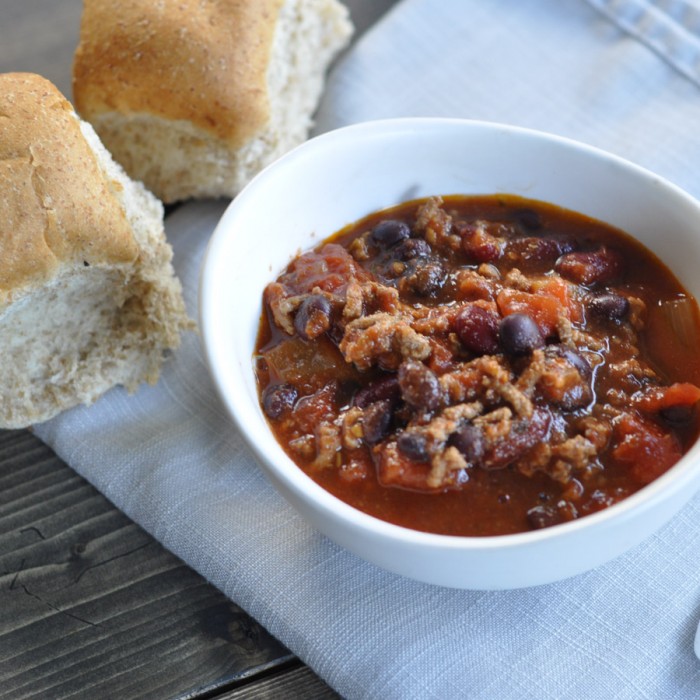 All this month, Patak's Canada has been asking its fans: do you prefer curry paste or sauce?
For me, I love the versatility of the pastes, because you can build your own sauce (or stew, soup, bread) from those concentrated flavours. But for convenience? Give me a jar of Spicy Butter Chicken sauce and call 'er a day. It's my favourite go-to Indian meal in under 20 minutes.
If you like a milder curry, the Mild Curry Sauce would be a great addition to a soup or stew with the added richness of the sauce. Really, it's your call: what do you prefer – curry pastes or sauces?
Looking for more delicious and spicy Indian dishes? Check out Patak's Canada's collection of recipes at Good Korma.
I am part of the Patak's Canada ambassador program and I receive special perks as part of my affiliation with this group. The opinions are this blog are my own.