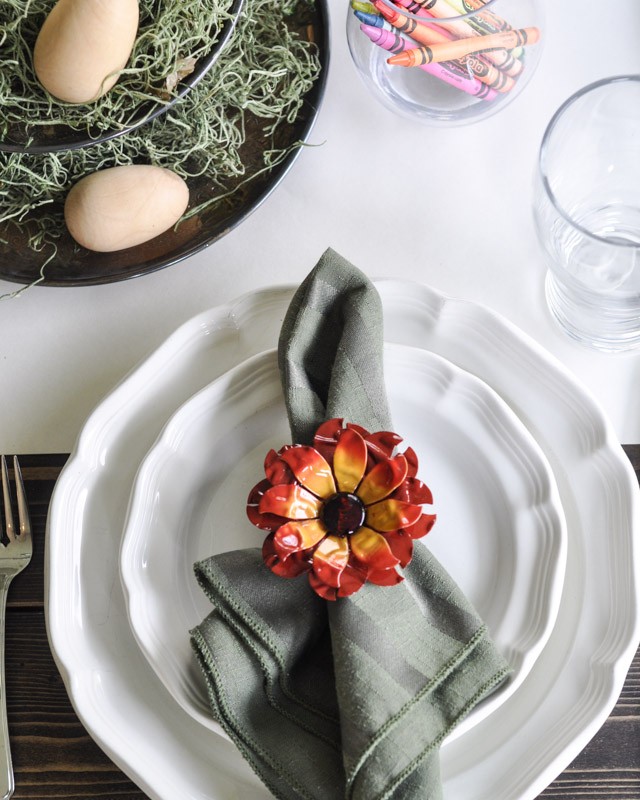 Call me an exclusionist – or even a selfish host – but I like having a kids' table.
I think it's lovely to have a place where the kids can tell their loud stories, drink punch, and generally make a mess and not-really-eat their meals, away from the parents.
And when they leave after twenty minutes – in hot pursuit of play – there aren't holes in the dinner table. Parents can still sit and have an after dinner drink or coffee. The kids' table is over there… away from the nice grown-up tablescape with candles and glass and two forks at every setting.
Today I am a part of a blog hop – the theme is Spring Dinner Party. I decided that it would be perfect for me to feature how I would style a kids' table. I know that Lila and Lucy like cloth napkins and a slightly fancier setting than silverware dumped in a heap in the middle of the table.
But I like unbreakable things. This is how the two ideas merged in my mind.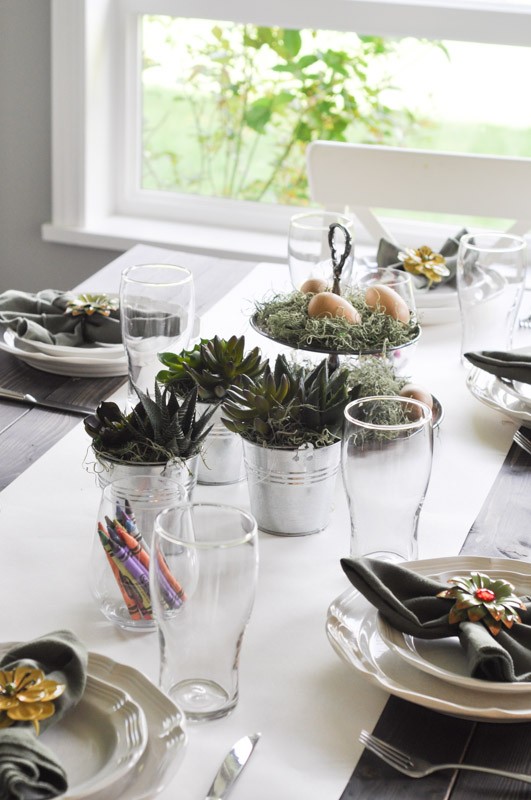 It's very green. And a titch on the Easter-y side. But my girls loved this setting.
And aside from the water glasses and plates (which can be easily swapped out with unbreakable versions – i.e. Corelle or plastic), everything on the table is unbreakable.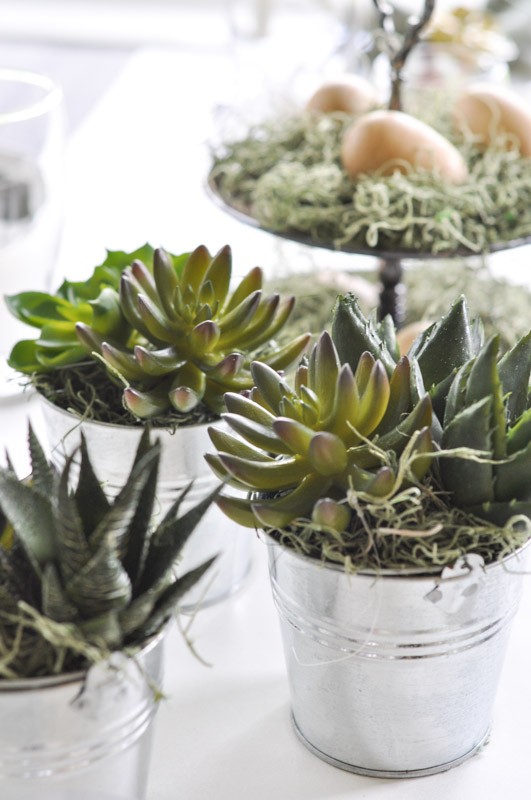 These succulents may be my new favourite thing in my house. They're fake!
Even though succulents are supposed to be some of the hardiest plants around, I do love that I can put these anywhere and not worry about plant-neglect. And if they fell over, there won't be a crash nor a tumbling of soil.
You'd just pop them up back upright and continue on chattering.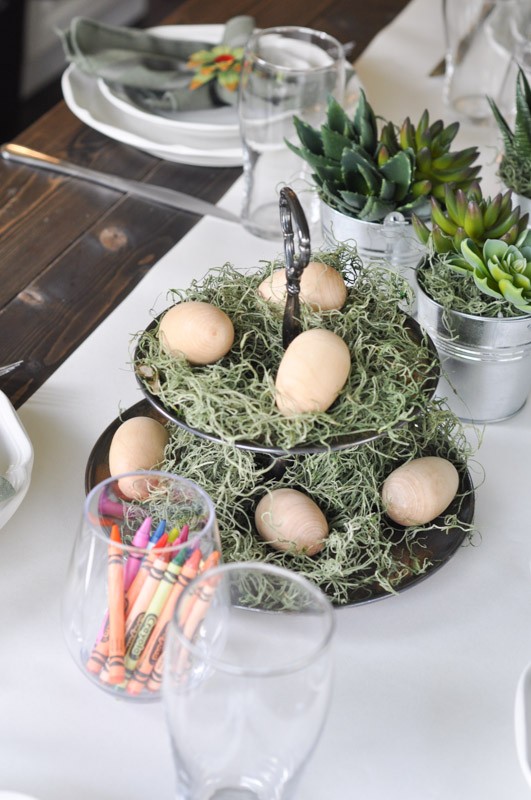 I found this tray at the thrift store. It's a very tarnished brass dessert tray from some-long-ago-scattered tea set. I love it!
The wooden craft eggs – left untouched, thought the girls are itching to paint them – are nestled in a bed of spanish moss. I'm still torn as to whether I'm going to properly polish the tray or leave it with its aged patina. I kind of like it in its antique-y-ness right now.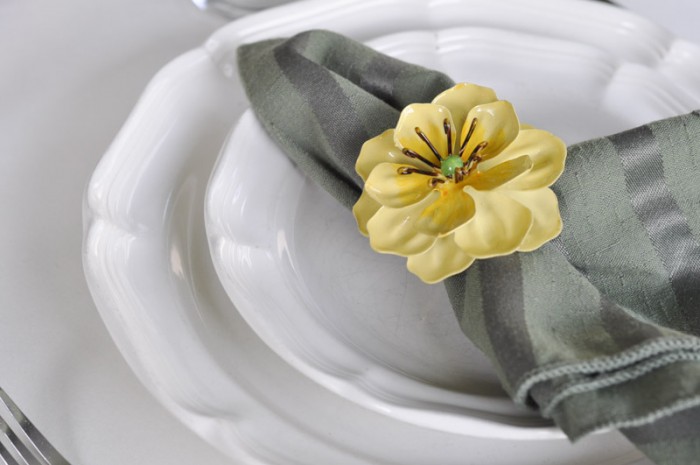 Each table-setting has a cloth napkin, a fork and a knife. The napkin rings are metal flowers from Pier 1. My sister gave these to me a couple of years ago, and I've been tempted to go buy another six every since.
They're perfect for the kids' table – so happy and bright.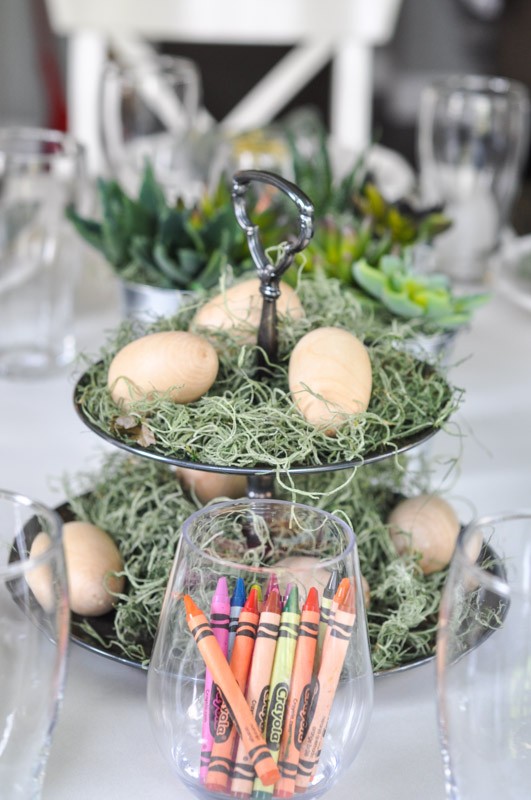 The table runner might look familiar to some – it's paper from the kids' section at Ikea. I just cut a long piece of it and ran it lengthwise down the table. In a plastic glass, I put a handful of crayons to occupy little children.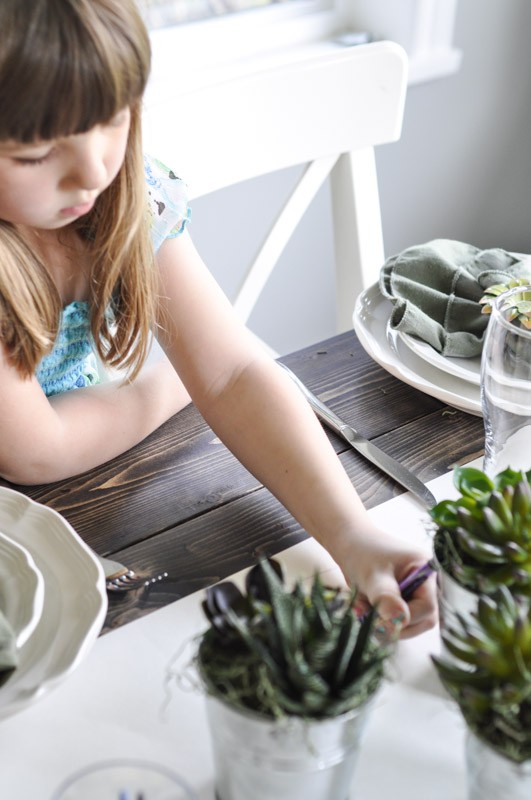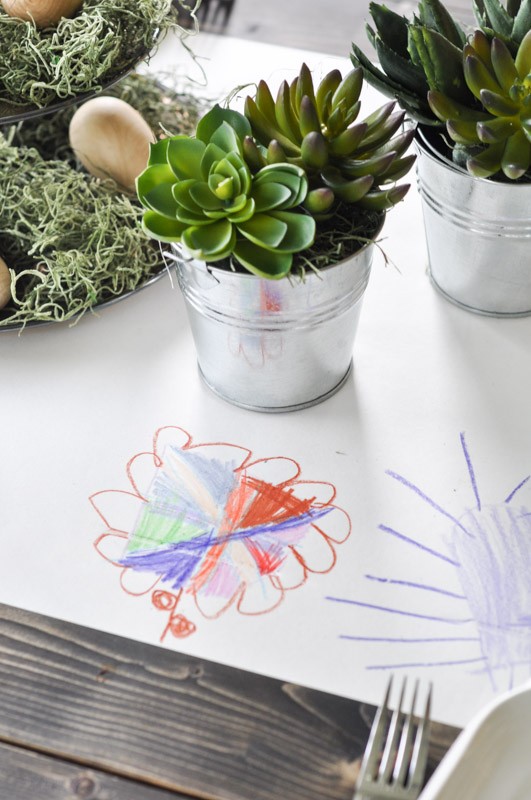 And they gladly obliged.
I think that the kids' table at any dinner party can be special. Just because they don't sit for as long, and don't reminisce for hours over salad, the main, and then the dessert, doesn't mean they aren't welcome guests.
I just like them to have their own reservation.
Over there.
Before you run off to check out the six other beautiful Spring Dinner Party Ideas, tell me this, friends – what's your stance on the kids' table – yay or nay?
And visit my fabulous friends – they've created some gorgeous projects:

>Jo-Anna of A Pretty Life in the Suburbs made a delicious Strawberry Shortcake dessert
Virginia of Fynes Designs put together a beautiful Easter table setting!
Lucy of Craftberry Bush made a Customizable Watercolour Printable Menu
Gemma of The Sweetest Digs made beautiful DIY Paper Flowers
Jenn of Clean & Scentsible made delicious Vegetarian Mexican Roll-Ups for appetizers
Tara of Suburble has some fun ideas for the Kids Table
Christina of The DIY Mommy put together a Fresh & Happy Spring Dessert Table